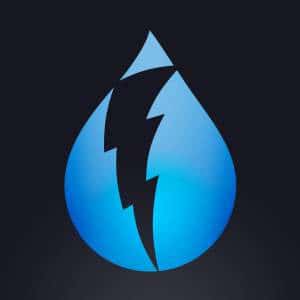 For local weather hourly, noaa.gov or weather.com will suffice. But what if you want to know if a storm will start in the next few minutes? The Dark Sky weather app accomplishes just that. Why have local weather hourly when you can view an up to the minute forecast of the spot you are standing?
Dark Sky is one of the most accurate weather apps available, and it's arguably the best weather app for iPhone or iPad.
Better Than Local Weather Hourly
Instead of showing the percent chance of rain or snow in your area like other weather apps, Dark Sky looks at your exact location and predicts the expected precipitation down to the minute.
For instance, the app may tell you "heavy rain starting in 13 minutes", so you can take the dog for a quick walk before the storm hits. Dark sky will also display a graph informing users how long that rain will last and how heavy or light it will become.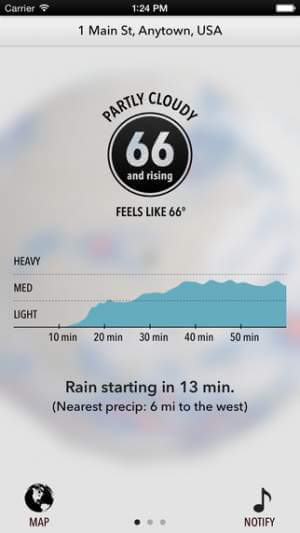 This weather app also provides the temperature at your location, the wind chill, and whether the temperature is rising or falling. Typically a weather forecast app provides information based on your zip code, but Dark Sky is based on where you are standing.
Weather Alerts
Dark Sky also functions as a weather alerts app. It can send users weather alerts always providing Dark Sky owners a warning of incoming rain and snow based on their current location.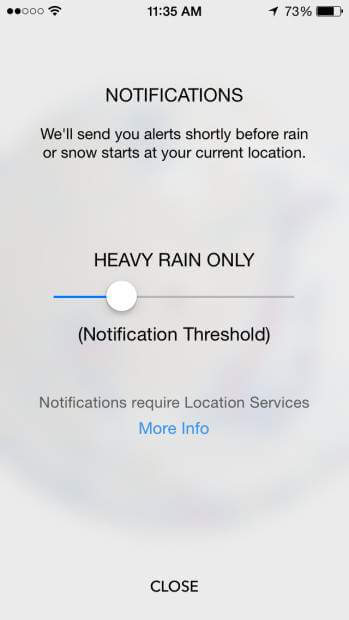 For the weather bugs out there Dark Sky can act as your own portable weather station, giving a hyper local breakdown of wind speed and direction, humidity, dew point, and barometric pressure.
Instant Weather Maps
Need to know the weather beyond the detailed down to the minute forecast over the next 24 hours? Dark Sky also provides a day-by-day weather summary of the next week. Furthermore, it provides detailed instant weather maps that allow users to zoom in and out of, showing weather patterns both globally or in your neighborhood.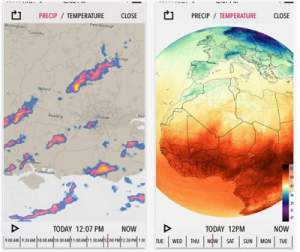 Not only are these weather maps real time, but they are also weather simulations allowing the user to view current weather patterns and fast-forward to view the weathers progression in the future.
The instant weather map functionality feels extremely fluid, which is remarkable considering the amount of data that needs to render for a simulation.
An Accurate Weather App
With weather down to the minute, I expected a high rate of error. However, Dark Sky is incredibly accurate. Occasionally it may miss a prediction, but overall the app hits the mark.
This is all made possible by the weather service Forecast.io, which was designed specifically for Dark Sky. Forecast.io takes take weather data from numerous sources, including NOAA, the UK Met Office's NIMROD system, METAR weather reports, the US Navy, and the Norwegian Meteorological Institute.
Forecast.io aggregates these various data sources to provide the and extremely accurate weather prediction at any location.
It's the Best Weather App
Dark Sky comes highly recommended and I have to agree.  It's the best weather app I've come across.  It's accuracy and function make it well worth the $3.99 price tag, and it blows away the iPhones basic weather app. Give it a try, you won't be disappointed.
Currently, Dark Sky can be purchased for $3.99 and used on both iPhone and iPad.  That's quite a bargain considering the functionality. Dark Sky is only available in the U.S, UK, and Ireland, but the company wants to expand the app to other countries.

| | Click the iTunes Store Icon to Purchase |
| --- | --- |
| "Dark Sky – weather app | |