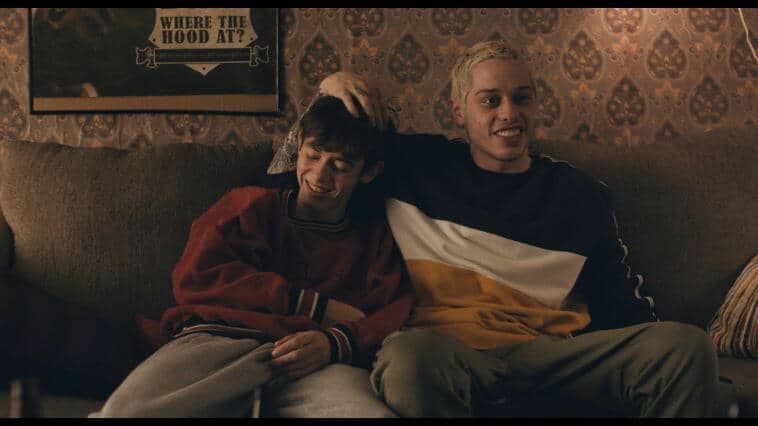 Until recently, Hulu hasn't made a big name in original film content, a market that Netflix and Amazon have led pretty strongly. The few releases it has picked up for exclusivity have been either horror or to add to their growing list of documentaries it streams. That may be starting to shift, as Hulu seems to continue to find ways to compete with the other big streaming services. This month Hulu will be the primary distributor for Big Time Adolescence, a 2019 Sundance Festival popular film starring Saturday Night Live's Pete Davidson.
Big Time Adolescence focuses on a bright, straight-laced 16-year-old named Mo (Griffin Gluck, American Vandal, Locke & Key), whose best friend and mentor inexplicably become a 22-year-old drug-dealing college dropout, Zeke, played by Davidson. While the overall storyline is a rather standard coming of age film about a teen boy, critics specifically praised the performances of Gluck and Davidson as the oddball pairing. Davidson brings both a wacky enthusiasm as well as a clear intent that all his character's boisterous show is just that—an act. 
How to watch Big Time Adolescence
Big Time Adolescence starts a limited theatrical release on March 13, and will be available to Hulu subscribers starting March 20. New subscribers can sign up here, and then choose from three plan options:
$7.99/month with limited commercials
$17.99/month commercial free
$54.99/month commercial-free + live TV of up to 50 channels, as well as on-demand feature.
Hulu can be watched through Hulu.com online, as well as apps for Apple TV, Roku, Chromecast, Amazon Fire, Xbox, and mobile devices. See our in-depth review of Hulu for more details.
Why Watch Big Time Adolescence
While not all critics favored it, the film overall has an 89% rating on Rotten Tomatoes, and the overall consensus was that the comedy was heartwarming, wacky, and a fresh take on the coming-of-age tale. Some critical attention is on Pete Davidson's performance, and the nuance he brings to what on the surface seems like a manic character reminiscent of one of his SNL routines. However, much of that credit is also due to Davidson's costar. Griffin Gluck brings an eager authenticity to Mo, the teen who idolizes the stoner's life, and follows his lead into drug dealing, partying, and ghosting his high school love. What could go wrong?
Big Time Adolescence is the directing debut of screenwriter Jason Orley, and costars Jon Cryer (Two and a Half Men, Supergirl) as Mo's dad; Sydney Sweeney (Euphoria, Sharp Objects) as his sister and Zeke's ex, Oona Lawrence (Pete's Dragon) as Mo's crush; and Machine Gun Kelly. The film comes to Hulu on March 20, a week after launching in select theaters.