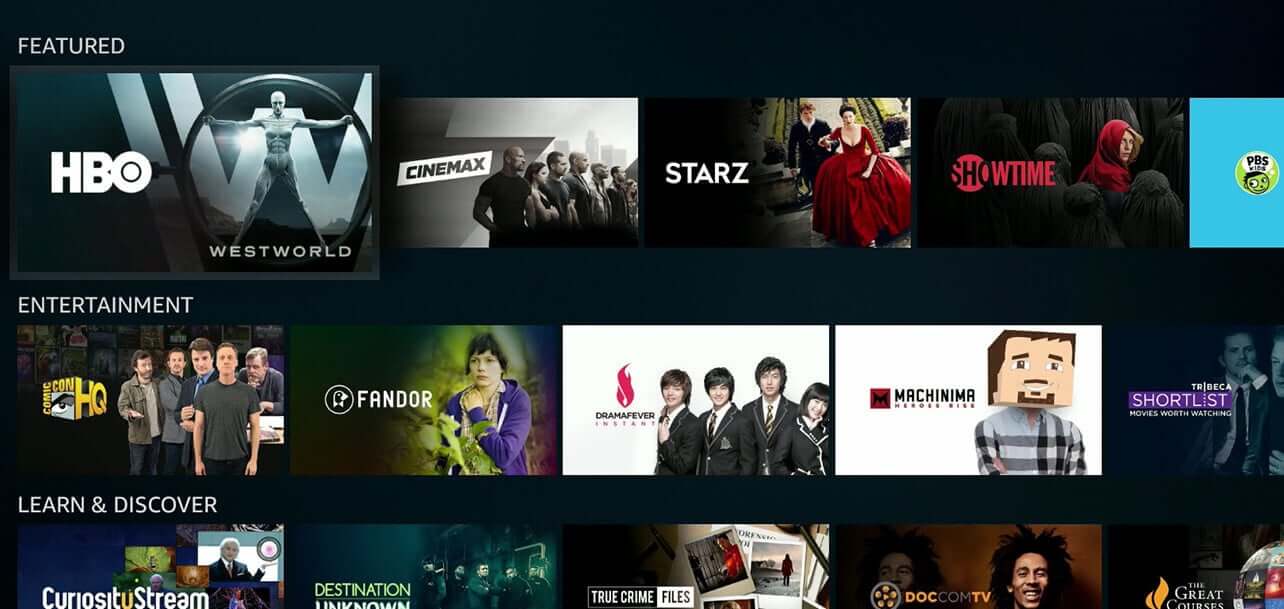 You already shop there for your favorite shampoo, your nephew's birthday gift, that bright green wig that you simply must have in two days.
Why not stream your favorite shows at Amazon, as well?
At least, that's the idea behind Prime Video Channels. They offer an a la carte way to add programming to the series and movie options already included with Prime Video, a benefit of an Amazon Prime membership.
It's a tempting option for those of us cord cutters who love our stand-bys Netflix and Hulu but still crave seeing premium cable shows like Game of Thrones and Outlander.
What is Prime Video Channels?
Through Prime Video Channels, you can purchase Starz, HBO, CBS All Access, or any of about 100 more, and then that channel's shows will appear alongside the other Prime video options. Each one will cost you an additional monthly fee on top of the $12.99 you already pay for Prime membership.
Check Out Prime Video Channels.
In a way, it's the ultimate deal for the busy cord cutter. You don't need to worry about remembering which show is on which app or navigating different app menus. And it's all in the same space as your shopping cart full of wish list items you are buying for yourself.
Watch "Star Trek: Discovery" right alongside "American Gods" (if you pay for both CBS All Access and Starz, that is.) Choose just the channels that work for you and know just where your shows are and how to get at them. Your channel's shows will be available on the Prime Video app on Roku, Apple TV, etc., as well as on your phone and your desktop browser.
As far as cost, the price per month is generally the same as it would be if you signed up for these channels with their own stand-alone apps. Most, but all, do have these stand-alone subscriptions available.
You might even acknowledge that hey, you pay a huge chunk of your monthly budget to Amazon anyway, why not keep tack a bit more on? It will help fund the drones! (It's good to be nice to the robot overlords, right??)
Not just anybody can purchase these channels on Amazon, however. You can only get them if you are an actual paying Prime member. Those of you who simply get Prime shipping because of sharing an account with a member will have to get your own account. (I suppose we all have to leave the nest some time, right?)
Also, before thinking of this as a viable option to save money, consider that the cost of all these channels rapidly add up. If you get HBO at $14.99 per month plus Starz at $10.99 a month as well as the $12.99 fee for Amazon Prime, you are at almost $40 per month in Amazon fees alone – and you probably won't want to be giving up Netflix or Hulu, either.
If you really want to save money, you may need to be more judicious what deciding exactly how many of a channel's shows you'll watch. Do you really need all of HBO, for example, or just "Game of Thrones"?
Also, you'll want to consider what kind of a viewer you are. If you are a binger, you may want to get (for example) one month of HBO for $14.99 (plus your free 7 day trial period). Binge all of "Game of Thrones" in one whirlwind of dragons and gore and you'll have gotten your money's worth. Then again, if you like to take your time, it might be better to just purchase Season 1 for $9.99 on Itunes and watch it at your leisure, without the pressure of being charged monthly.
In any case, whether or not you actually want to sign up for these channels, they do offer Prime members a nice opportunity for another free trial. If you've already used your free trial for a stand-alone service, this can be your chance for another seven glorious days of premium shows for nothing.
What's Available on Amazon Prime Channels
Starz including "American Gods" and "Outlander": $8.99 per month after 7 day free trial (same as stand-alone Starz subscription).
Showtime including "SMILF" and "Black Monday": $10.99/month after 7 day free trial (same as stand-alone Showtime subscription)
PBS Masterpiece including "Victoria" and "Poldark": $5.99 per month after 7 day free trial (actually slightly pricier than a PBS Passport membership which is at a minimum $5 a month)
CBS All Access including "Star Trek: Discovery" and "Young Sheldon": from $5.99/month after 7 day free trial. (same as signing up for stand-alone subscription with commercials.)
HBO including "Game of Thrones" and "Veep": $14.99/month after 7 day free trial. (same price as subscribing to HBO NOW).
PBS Kids including "Daniel Tiger's Neighborhood" and "Odd Squad": $4.99/month after 7 day free trial. Some episodes are free on the PBS Kids app but this allows you access to all episodes.
Noggin including "Paw Patrol" and "Peppa Pig": $7.99/month after 7 day free trial (same as stand-alone subscription)
Britbox including "Poirot" and classic "Doctor Who": $6.99/month after 7 day free trial (same as stand-alone subscription)
Cinemax including movies like "50 First Dates" and "Red Sparrow": $9.99/month after 7 day free trial. No stand-alone subscription is available.
This is just a small subsection of what is available. Check out Amazon's Prime Video Channels page for all that is available.
Need More Information?
If this article didn't answer your specific question, head over to our Home Page! It will guide you to affordable internet providers, streaming services to meet your needs, information on antennas, and many more tools and resources to help you save money on TV and Internet access.
For the latest news tips and tricks on cutting the cord and other tech topics be sure to follow our Google News Feed, like our Facebook Page and Follow Us on Twitter.
Join Millions of Cord Cutters
*
Disclosure: Grounded Reason is supported by a small commission for purchases made through product links on this website. We do not accept compensation from companies attempting to sway our review of products.