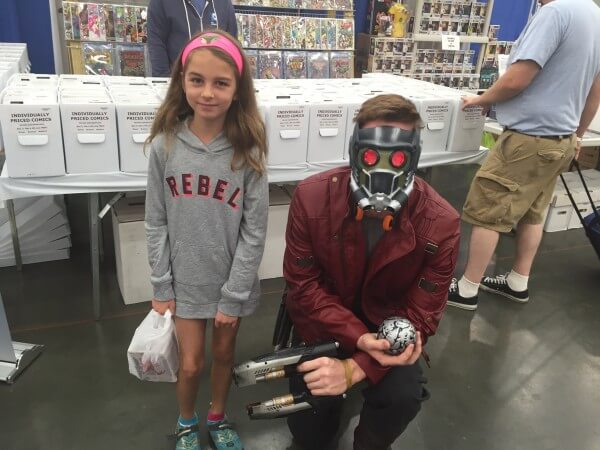 As a cord cutter and a bit of geek, I've always wanted a streaming channel that catered to things like Comic Books, B horror, 80 cartoons, and Anime. It took me a while, but I think I found just what I'm looking for in ConTV.
Being a kid that grew up in the 80's, I developed an early love of comic books. While I stopped obsessively buying comics just before the infamous "Death of Superman", I still occasionally buy trade paper backs to catch up on great storylines like Marvels Civil War, and World War Hulk.
Up until a few years ago, a grown man in his 30s reading comic books would have been considered odd by many. However, with the recent success of films like the Avengers and Guardians of the Galaxy, comic books are now a part of mainstream culture. Comic Book Conventions used to be viewed as "Nerd-a-palooza." These days, the San Diego Comic-Con is a Red Carpet event full of A-List celebrities.
My daughter and I recently attended Baltimore Comic-Con. This Comic-Con is a more traditional Comic Con focused on comic book artists and dealers. However, the bulk of the crowd consisted of families who were simply out doing something fun for the day.
There was enough there to fill your weekend. Aside from looking at the millions of comic book that surrounded us. We could check out panels on numerous panels dealing with everything from comic history and entertainment to social justice issues in comics.
There we're ample opportunities to meet and talk to comic book creators. And for a fee, we would could even meet the stars of Arrow and Agents of Shield.

Comic Con Live Stream with ConTV
While there, I discovered a way to enjoy every major Comic Con from the privacy of your own living room. ConTV is a streaming channel that live streams Conventions for Comic Books, Sci-Fi, Fantasy, Gaming and more. ConTV provides access to every major Con I can think off. They've streamed Screamfest Horror Film Festival, New York Comic-Con, Pax Prime, Wizard World, and countless other conventions.
The best part is, most of the bet moments from conventions around the country are available to watch on demand. There are also a near endless libraries of Movies and TV available for streaming. But I'll get to that in a minute.
ConTV offers a ton of content for free. To check it out you simply need to create an account. The free account allows you to watch the available content until your heart's content. However, the free account does have advertising and doesn't make all the TV, Movies, and On Demand Convention content available.
ConTV is supported by various platforms. You can watch on iPhone, iPad, Select Android devices, Roku, or with a PC or Mac using Chrome or Internet explorer. If you sign up for VIP, there is no contract or commitment so you can cancel at any time. Below is an idea of the content available upon signing up. Keep in mind that the content is always being updated at ConTV, so these are examples of what is currently available.
Free account members will have access to interview and Panel clips from recent Cons. At the moment you can check out clips of Michael Rooker from Guardians of the Galaxy, Ted Raimi from Evil Dead, and the Cast of Gotham. The VIP account will provide all ConTV exclusives providing all the convention panels and interviews. This includes fan favorites like Bruce Campbell, William Shatner, and Jason Mews . . . Snoogans.
B Movies Online
As for TV and Movies, your have access give you numerous cult classics like 21 Jump Street starring a young Johnny Depp and Trancers staring Helen Hunt.
With Halloween approaching the B Horror and Sci-Fi movies available numbers in the hundreds. There is even a section called "It's So Bad, It's Good." Anyone remember C.H.U.D? You can watch C.H.U.D. online right now with ConTV.
Watch Classic Cartoons Online Free
If you are getting nostalgic for those classic Saturday Morning Cartoons we all watched as kids, you can stream every episode of He-Man and the Masters of the Universe online. There is a whole Saturday Morning Cartoons section with shows like Voltron, Popeye, and She-Ra.
There is also endless amounts of Anime, Martial Arts, Comedy, Action, and Adventure movies and TV. The amount of content is hard to believe. You really need to just see for yourself. You can sign up using the affiliate links below.
Create Free ConTV Account
Become a ConTV VIP