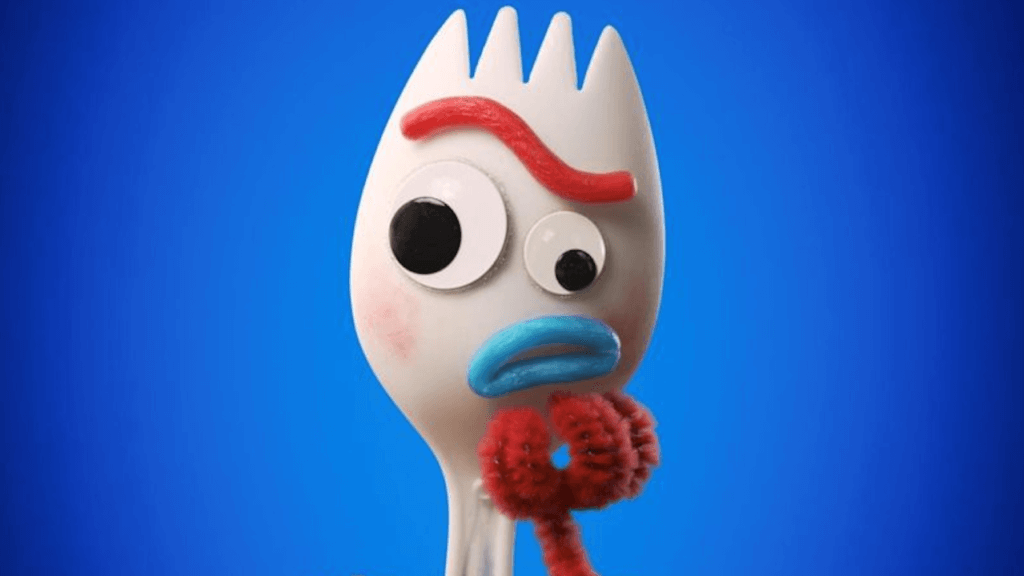 A bright-white character made onscreen who exists to provide plucky comic relief – and the occasional glib wisdom?
No, I'm not talking about Olaf, the hugely popular snowman in the "Frozen" movies. The latest quirky sidekick is Forky, a newcomer to the Toy Story gang since this year's "Toy Story 4." He is the star of the new Disney+ comedy series "Forky Asks a Question." (There is a 7-day free trial to Disney+)
Forky is made from a fork (or to be more precise a spork) that was dug out of the trash and turned into art by the movie's Kindergartner character, Bonnie. He sports two googly eyes, pipe cleaner arms that slide up and down his body, and feet made of a broken popsicle stick and clay. Forky is delightfully bizarre, even more so when you consider he spends a good chunk of the movie trying desperately to get back into any trash can he comes across. Voicing him is Tony Hale, master of weirdo manic exasperation since "Arrested Development" and "Veep."
Like Olaf, Spock of "Star Trek," and other quirky fish-out-of-water characters, Forky gives us a unique perspective on things we otherwise take for granted. His antics in the movie earned him a beloved place in the hearts of fans. So much so that this past Halloween, we had children dressing up as forks. Most strangely of all, kids can now buy a large plastic fork pre-decorated with eyes and pipe cleaners for $15.
Does that make for adorable playtime or the worst of first-world excess? Maybe both. But provided parents saved any of their money after all the toys (or bulk disposable cutlery), they probably spent the rest on a subscription to Disney Plus. There you'll find even more Forky – enough Forky, in fact, for him to have his own show.
"Forky Asks a Question" is a series of ten episodes released one by one, each about a question Forky is contemplating. So far there are three – "What is Money?", "What is Art?" and "What is a Friend?" They aren't long, only about 5-10 minutes each, but they still serve up more of that delightful bizarreness that Toy Story fans know so well.
My favorite is probably "What is a Friend," in which Forky attempts to delve into the question by asking a ceramic mug with a smiley face on it. He believes the mug is named "What? NO!" because of how Bonnie's mom carries it around while on the phone saying, "What? NO!". Hale's rapid-fire delivery is hilarious, packing every moment and building on the joke. Eventually Hamm the pig comes in and tells him he's talking to an inanimate object, which is ridiculous. Only *toys* can speak, naturally.
Every episode is different, with the writers riffing seemingly endlessly on what may lie in all the crazy corners of Forky's plastic mind. The shortened length is probably just enough to suit the format, as well, making "Forky Asks a Question" an excellent addition to the Disney Plus line up. It's almost enough to make you happy you've decided to shed your resolution for "not one more streaming service" and resigned your wallet to another monthly cost.
After all, if you can spend $20 on a plastic reproduction of a plastic fork, paying to watch that fork talk on your screen only makes sense, right?
How to Watch Forky
"Forky Asks a Question" is only available on the streaming service Disney+. It costs $7.99/month or $79.99/year and features no ads and a wide range of shows and movies produced by Disney. Check out this 7-day free trial to Disney+.