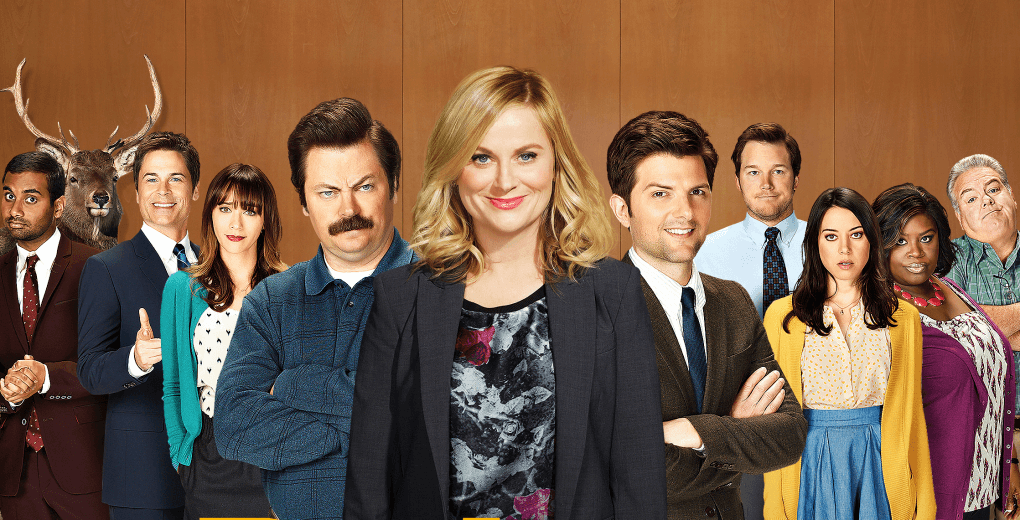 Who would have known that a modest government office building could play host to one of the most inspiring shows of the 2010s? To this day, I can't see a sign advertising our local parks department without getting a warm, fuzzy feeling thanks to the show "Parks and Recreation." It aired on NBC from 2009-2015, but in April, we got the gift of a new special set in the era of COVID-19.
Now is a great time to watch the show, whether you are brand new to Leslie Knope and her co-workers/friends or are right now eating waffles in your "I met Li'l Sebastian at the Pawnee Harvest Festival" t-shirt. At this moment, "Parks and Recreation"'s 125 episodes are readily available on Netflix, Hulu, and Amazon Prime. However, the coming of NBC Universal's Peacock streaming service later this year means it's going to be a lot harder to find. As of October 2020, it looks like the only way to watch the entire series will be on Peacock, which will offer some but not all of the episodes for free. To see every episode, it looks like you will have to pay for yet another subscription – or buy the entire series.
Thank goodness this summer, we can still have "Parks and Recreation" around on Netflix, Hulu, and Amazon Prime to act as a balm for our quarantine-afflicted souls. And you don't need cable to tune in.
How to Watch Parks and Rec
Netflix – for now
Currently, "Parks and Recreation" is included in Netflix's streaming library, although it looks like it will leave in October for the new Peacock streaming service. Netflix starts at $8.99/month for one screen and goes up to $15.99/month for four screens.
Hulu – for now
"Parks and Recreation" is also in Hulu's streaming library – at least until October. Hulu starts at $5.99/month with add-on options up to $60.99/month with no ads and Live TV. See out review of Hulu for details on this streaming service.
Amazon Prime Video – for now
You can also watch all the original episodes of "Parks and Recreation" on Amazon Prime Video, a service that comes with your Prime membership. It costs $12.99/month ($6.49/month for students) or $119/year ($59/year for students) and also includes shipping benefits.
Buying the Series
If you buy "Parks and Recreation," you can watch it whenever you want – and you can rest secure knowing it won't matter to you when they take it off Netflix and Hulu. You can buy the show by the season or by the episode on a variety of platforms. Vudu, Google Play, and Itunes all offer cost around $2.99HD/$1.99SD an episode and $24.99-19.99HD/$17.99-19.99SD per season.
You can also buy the DVDs of the entire series for $45.99 on Amazon. The whole series is available on Vudu for $69.99.
What Makes it a Good Binge
Lately, "Parks and Recreation" has had a resurgence in popularity thanks to the special produced in April during the COVID-19 quarantine. Never before had there been a better invitation to "treat yo self" as the news that it would air, bringing back Leslie and crew with brand new content. It was all filmed in the actors' own homes and shown in the "Zoom" format that we all know so well now.
In the special, the characters were getting through the pandemic the same way they did with all minutiae of small-town bureaucracy – together. When they sang the memorial song for beloved small horse L'il Sebastian, I can guarantee there wasn't a dry eye among those watching from our quarantined living rooms.
Keep the warm fuzzies going, watch the first seven seasons now – before they disappear like L'il Sebastian into the great beyond.
Need More Information?
If this article didn't answer your specific question, head over to our Home Page! It will guide you to affordable internet providers, streaming services to meet your needs, information on antennas, and many more tools and resources to help you save money on TV and Internet access.
For tips and tricks on cutting the cord and other tech topics be sure to join our Facebook Page.
Join Millions of Cord Cutters
Disclosure: Grounded Reason is supported by a small commission for purchases made through some product links on this website. We do not accept compensation from companies attempting to sway our review of products.