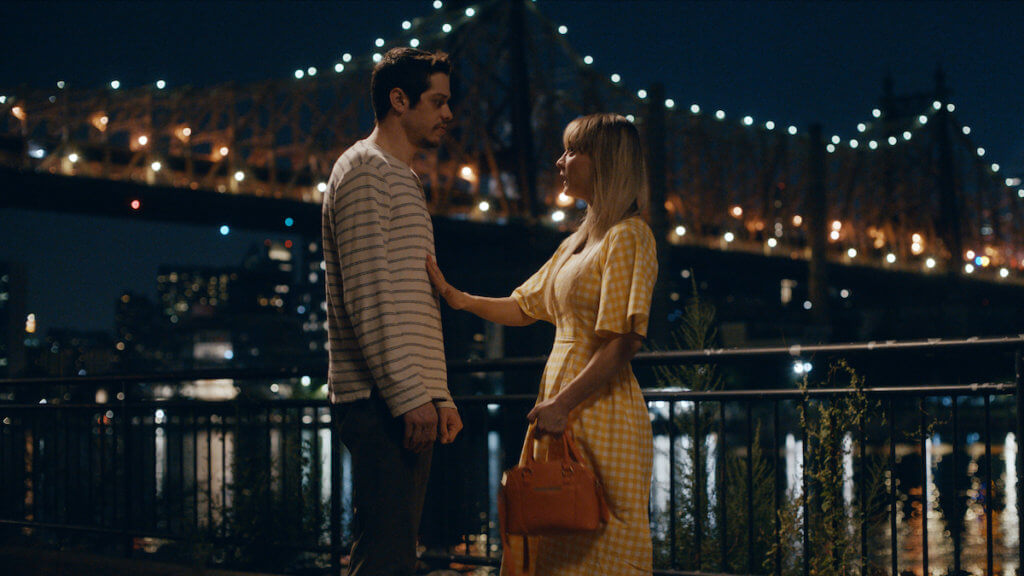 Ever had such a great first meeting you wanted to do it again and again? The new dark romantic comedy Meet Cute does just that. The movie, which stars Kaley Cuoco and Pete Davidson, premieres Wednesday, September 21, on Peacock TV.
In Meet Cute, Sheila and Gary have an incredible love at first sight first date, from drinks at a bar to a romantic evening getting to know each other all around New York City. But it turns out it wasn't a chance encounter or fate at all. Sheila is from the future and has been looping in a time machine to relive their perfect first date over and over again. With a few tweaks each time, she is slowly trying to make "perfect" better and tweak Gary while she's at it. Can true love be crafted, and can it survive the process? Read on for more on how to watch Meet Cute.
When Does Meet Cute Premiere: Meet Cute premieres on Wednesday, September 21.
Where To Watch Meet Cute: Meet Cute airs on Peacock Premium (sign up).
Where to stream Meet Cute
Meet Cute will stream exclusively on Peacock. Peacock is the over-the-top streaming service from NBCUniversal, with video-on-demand and some live events. In addition to TV shows and movies from the NBC and Universal libraries, plenty of third-party content is available from Lionsgate, Starz, Warner Bros, A&E Networks, ViacomCBS, Paramount, Cinedigm, and more.
Peacock has free, premium, and ad-free options; however, most Peacock originals like Meet Cute are on the premium tier, which is $5.99 per month and will let you watch new NBC episodes one day after they air, as well as offer full access to original programming. Peacock also has a premium ad-free subscription for $11.99 per month. Not only will this subscription eliminate ads, but also provide a live stream of your local NBC station..
Peacock supports iPhone, iPad, iPod touch, Apple TV 4K, Apple TV HD, Xbox One S and Xbox One X, Android devices, Android TV, Chromecast, and Chromecast built-in. New episodes of the latest season become available within eight days of airing on NBC. You can learn more in our review of Peacock. You can sign up for Peacock on their website.