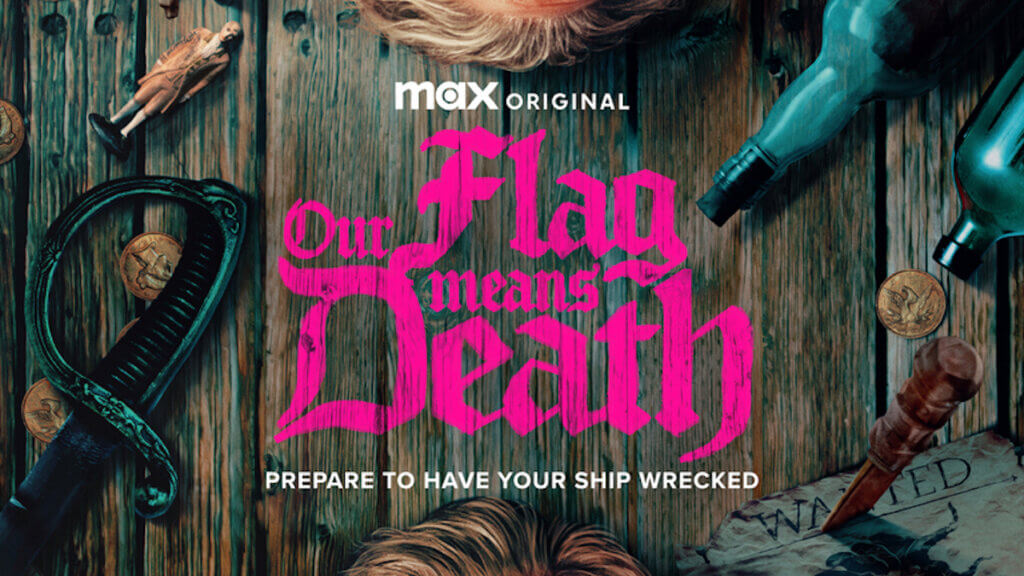 The pirate comedy Our Flag Means Death premiered last year on Max, and while it was a slow burn for some, it quickly developed a major fan following. The announcement of a second season was met with much rejoicing, and now that it's here, we can hardly wait.
About the Show
The series stars Rhys Darby (Flight of the Conchords) as Stede Bonnet, a would-be gentleman pirate who gave up a comfortable life for piracy on the high seas and whose adventures bring him into the path of the famed pirate Blackbeard, played by Taika Waititi (Jojo Rabbit). While that sounds amusing enough on its own, what it quickly became was so much more.
The show balances bitingly dry New Zealand humor with mildly violent and crude piratical antics and then comes out with a surprisingly big heart. All that is topped off with the graceful and natural integration of queer storylines that rapidly drew support and fans in the LGBTQ+ community, who lovingly dubbed it "the gay pirate show."
Who's Who and What's to Come
The cast features an incredibly funny and diverse ensemble, including Joel Fry, Samson Kayo, Vico Ortiz, Kristian Nairn, Matthew Maher, Nathan Foad, Ewan Bremner, Samba Schutte, and Con O'Neill. The first season's guest stars were a roll call of comedy stars: Fred Armisen, Kristen Schaal, Leslie Jones, and Will Arnett among them. Most of the original main cast returns for season 2, along with newcomers Minnie Driver as real-life Irish pirate Anne Bonny, Ruibo Qian, Madeleine Sami, and Anapela Polataivao.
The second season also promises some emotional turmoil between the laughs following the [spoiler] breakup of Stede and Blackbeard at the end of season 1. While Stede is on a mission to find and win back his erstwhile love, Blackbeard's heart is broken, and a broken pirate is a dark and dangerous thing. But the show promises the same balance of heart and humor in season 2, and I'm all here for it.
What are you waiting for? Get in on this delightful show now! It's easy enough to watch, you just need to subscribe to Max (the streaming app of HBO), which starts at $9.99.
When to Watch: Our Flag Means Death drops new episodes weekly on Thursday, with the first three episodes dropping together on October 5.
Where to Watch: Our Flag Means Death is available on Max. You can sign up here to watch.
Where To Watch Our Flag Means Death
Our Flag Means Death airs exclusively on Max, which starts at $9.99 per month for their ad-supported service (meaning a few commercials with every episode), and $15.99 per month for their ad-free plan. They often also run a discounted annual plan option. You can view plans and sign up here. Max is supported on Android, iOS, Apple TV, Chromecast, Playstation, Roku, Amazon Fire TV, and more. You can check out my review of Max for more details on this streaming service