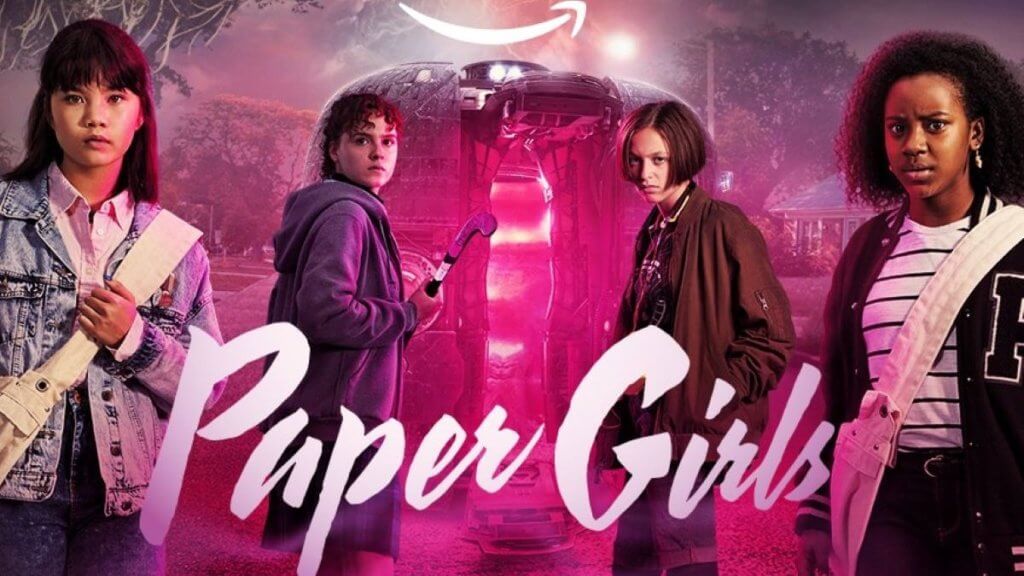 The new sci-fi adventure series Paper Girls premieres on Friday, July 29, on Prime Video. Based on the comics written by Brian K. Vaughan (Y: The Last Man, Marvel's Runaways, Ex Machina) and illustrated by Cliff Chiang, Paper Girls is about four paper girls who, while on their delivery route in 1988, get caught up between warring time-travelers and find themselves transported to the future. In their quest to find their way home, they come face-to-face with their grown-up selves and have to come to grips with the possibility of personal futures much different than they imagined at 12 years old.
Paper Dolls stars Camryn Jones, Riley Lai Nelet, Sofia Rosinsky, and Fina Strazza as the 12-year-old girls who must band together to survive both their strange surroundings and the militant Old Watch faction who have banned time travel and are attempting to hunt them down. The cast also includes Ali Wong and Nate Corddry. Read on for more on how to watch Paper Girls without cable.
When Does Paper Girls Premiere: Paper Girls premieres on Prime Video on Friday, July 29. (Try a Free Trial To Prime Video)
How Many Episodes in Season 1: There are 8 episodes in the first season of Paper Girls.
Where to Watch Paper Girls

:

You will be able to stream Paper Girls on Amazon Prime Video (free trial)
How to Watch Paper Girls
Paper Girls is a Prime Video original and streams on Amazon's Prime Video platform. Suppose you aren't a subscriber to Prime Video. Don't worry. Just sign up for a free trial to Amazon Prime, and you can try out Paper Girls for free!
The service costs $14.99 per month after the free trial, but you won't be charged if you cancel before the trial expires. While a subscription to Amazon Prime provides access to thousands of movies and TV shows through Prime video, there are also a ton of other benefits like free shipping on prime eligible purchases on Amazon. You can learn more about the other benefits of Prime in our review of Amazon Prime.
Amazon Prime video is supported on the following devices:
Amazon Fire TV
Amazon Fire TV Stick and Stick Like
Amazon Fire Stick 4K
Google Chromecast
Roku
Apple TV