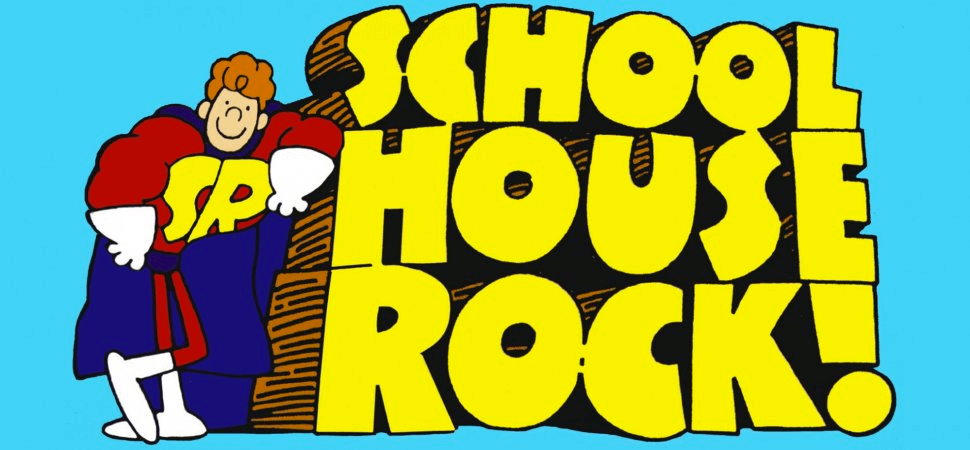 In a time before YouTube, a cartoon bill sat on the steps of the U.S. Capitol building and pondered how to become a law. His plight, condensed into just over 3 minutes of song and animation, became the seeds for knowledge in a generation of school children raised in the 1970s and 80s. "I'm Just a Bill" is perhaps the most popular of the series of cartoons called "Schoolhouse Rocks," which from 1973-1996 introduced children to academic lessons in what was then a novel form: they featured quick, funny animation set to songs. In addition to the bill's category of "America Rock," they also had shorts in the categories of "Multiplication Rock," "Grammar Rock," "Science Rock," and "Computer Rock." In 2009 eleven additional episodes were released straight-to-video brought an environmental message in "Earth Rock."
Fortunately for the legions of people who learned about conjunctions from "Conjunction Junction" and their skeletons from "Them Not So Dry Bones," the series of cartoons is now readily accessible on Disney Plus. This month the series was included in the streaming service's library.
How to Watch School House Rock
Almost all of the "Schoolhouse Rock" shorts are available on the streaming service Disney Plus. The service includes 51 of the 53 episodes made between 1973 and 1996. It does not include the "Earth Rock" episodes released in 2009 direct to video. See Schoolhouse Rock on Disney+
Disney Plus costs $7.99/month or $79.99/year and features no ads and a wide range of shows and movies produced by Disney. The shorts play one after the other so you can sit back and absorb (almost) the whole classic "Schoolhouse Rock" experience in a few hours.
Disney+ is available on numerous streaming devices and is full of great movies and shows for both kids and adults.
Purchasing Episodes of Schoolhouse Rock
Officially if you are watching "Schoolhouse Rock" on YouTube, you have to buy it. It's only 49 cents an episode. However, as with many classic short animations, with a few google searches, you can find just about all the episodes from unofficial sources. Many of the popular shorts, including "I'm Just a Bill", can be found this way, although there will likely be ads that play before the cartoon.
"Schoolhouse Rock" episodes are available to purchase on Amazon Prime or Vudu for $1.99 per episode or about $11 per season. Each of the four seasons includes 11 episodes and a mix of subject areas. On Amazon Prime the fourth season is available, which includes all 11 environmental episodes released in 2009. These episodes are not currently available on Disney Plus.
Schoolhouse Rock is Great For Today's Kids
Today's children were raised on short blips of entertainment, many of them educational (at least initially when the parents are trying hard.) But they will still find plenty to learn in "Schoolhouse Rock." Although the original air date of 1973 was quite some time ago, our bodies are working pretty much the same way – and grammar and multiplication are relatively constant, despite the addition common core curriculum.
The one subject that might raise modern eyebrows is the group of shorts in "America Rocks." The "hooray for America" vibe does not quite fit into the zeitgeist right now – and watching happy Pilgrims colonize the new world is a tough pill to swallow for some. That said, watching these shorts could start meaningful conversations with today's children. As America struggles to reckon with its past, it's vital to know the background. Much as it seems that "Schoolhouse Rock" was trying to be inclusive, it leaves out other perspectives. Watching it with your kids using new, fresh eyes might help us all know more. And as the beginning of each episode says, "knowledge is power."
Need More Information?
If this article didn't answer your specific question, head over to our Home Page! It will guide you to affordable internet providers, streaming services to meet your needs, information on antennas, and many more tools and resources to help you save money on TV and Internet access.
For the latest news tips and tricks on cutting the cord and other tech topics be sure to follow our Google News Feed, like our Facebook Page and Follow Us on Twitter.
Join Millions of Cord Cutters
*
Disclosure: Grounded Reason is supported by a small commission for purchases made through product links on this website. We do not accept compensation from companies attempting to sway our review of products.