Heather C. Jackson is a freelance writer, editor, costume designer, and self-proclaimed television junkie located in Baltimore. Her writing work includes copywriting and editing art books, play scripts, and academic work; time as an editor, communications specialist, and publicist in regional theatre; and several years as a home and lifestyle writer and editor.

Latest posts by Heather C. Jackson (see all)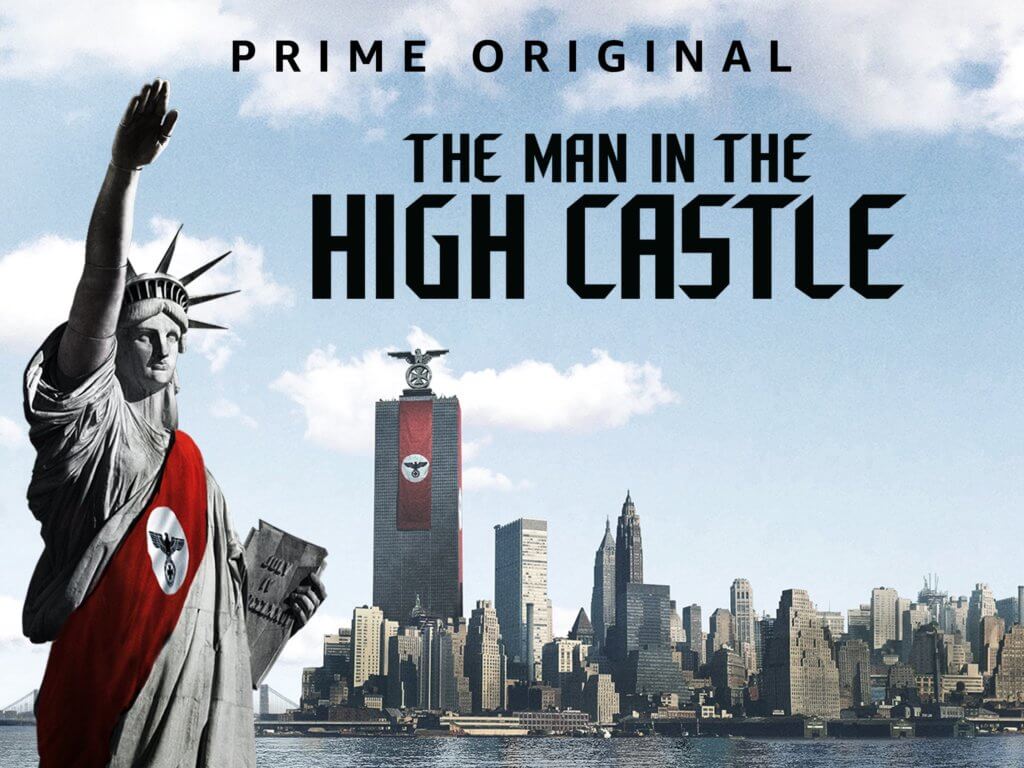 In 1963, Philip K. Dick published his novel, The Man in the High Castle, an alternate history set 15 years after a World War II in which the Axis powers won the war and Imperial Japan and Nazi Germany rule over the former United States. The book, which received the 1963 Hugo Award for Best Novel, also features a novel within the novel in which a fictional writer postulates another alternate history—one in which the Allies won, but it is still a world well removed from history as we know it.
Watch The Man In The High Castle on Amazon
On January 15, 2015, Amazon Studios launched the pilot for a new adaptation of Dick's novel, developed, created, and produced by Frank Spotnitz (The X-Files), and executive produced by Ridley Scott. The full 10-episode season arrived in November 2015 to rave reviews and was hailed as one of the most engrossing and original new programs on TV, with a 95% on Rotten Tomatoes, and Rolling Stone included it on a list of 40 best science fiction TV shows of all time.
While the second season in 2016 received a more lukewarm reception, the complex storylines and broadening science fiction elements kept watchers intrigued. Just last week, on October 5, the long-anticipated third season dropped, and as of this writing, is already creating fresh buzz for the series.
What is The Man in the High Castle?
Following the rough outline of Dick's novel, the show is set in 1962, in an alternate post-war history. Washington, D.C. has been wiped out by the hydrogen bomb. The United States is divided between the Greater Nazi Reich on the east coast, and the Japanese Pacific States in the west. Between the two regions is the Neutral Zone, running through the Rocky Mountains, both politically neutral but economically dependent on the two political powers that surround it.
From the first episode, we are engrossed in the stories of at least five central characters whose destinies will repeatedly diverge and intertwine throughout the series: Juliana Crain, Joe Blake, Frank Frink, John Smith, and Nobusuke Tagomi. The connective tissue of their journeys stems from a series of propaganda films that show a very different version of history than what these characters know. Believed by some to be simply anti-fascist films devised by the titular "man in the high castle," the films soon take on a deeper mystical quality of their own.
Perhaps what is most engaging about the show is that while there is this growing science fiction element around the films (which increases each season), it is not this element that is the only—or often even primary—story we are following through the first season. Rather it is the complex journeys of these characters as they struggle for survival and purpose in this alternate history. This commitment to the slow build of the world and the people who inhabit it is one of the key elements that lured me in.
San Francisco resident Juliana (Alexa Davalos) is the first character we see in an encounter the newsreels, passed to her by her sister moments before she is killed. The reveal of the film's content is directorially beautiful, as we linger on the changing expressions on Juliana's face while she repeatedly watches the footage. From curiosity to stunned disbelief and growing tearful hope, we are taken in by the impact it has on her before we ever see the familiar footage of the Allies winning the war. From then on Juliana step's into her sister's shoes, heading out of town on an unknown mission for the American resistance. In the Neutral Zone, she meets the disarming Joe Blake (Luke Kleintank), who is on a mysterious mission of his own.
Juliana's boyfriend Frank (Rupert Evans) is left behind and struggles with the repercussions of her departure. An artist at heart, he has a factory day job making reproduction Americana pistols for Japanese collectors, since more creative work has been deemed "degenerate." He comes under scrutiny after Juliana disappears, and his treatment at the hand of the Japanese police led by the ruthless Inspector Kido (played by Joel de la Fuente) will put him on his own path to resistance.
In the ranks of the powerful, Obergruppenführer John Smith (Rufus Sewell) leads the charge on routing out the resistance and finding the source of the films. A natural born American who switched ranks, his terrifying and unwavering support of the regime could come into question if his own family isn't the perfect example of Aryan health.
Japanese Trade Minister Nobusuke Tagomi (Cary-Hiroyuki Tagawa), struggles with his own quiet political intrigues. As the health of the Reich's Führer Adolf Hitler wanes, members of both governments are wary of the shift in power, and more aggressive and ambitious Nazi leadership could threaten the tentative cold war between the two.
The Man in the High Castle invests in visual style and detail to help tell its tale, and it is there that the show really excels, taking Creative Arts Emmys for cinematography and main title sequence, as well as numerous nominations for production design and visual effects. Opening with an eerie rendition of  "Edelweiss" by Jeanette Olsson, the title sequence chillingly sets the tone from the first moment. The production design is incredibly thorough, capturing both the essence of a period piece, but painting into every layer a history that is very much not one we recognize. From the presence of German technology—slick high-speed monorails replace New York's subway—to street patrols and propaganda posters, every corner is both familiar and terrifyingly strange, as is life in this horrifying new world.
How To Watch The Man in the High Castle
The Man in the High Castle is an Amazon Studios production, meaning it's currently only available through Amazon Prime. However, that makes it free to all Amazon Prime subscribers to watch now. If you aren't an Amazon Prime member yet, they offer a free 30-day trial, and then subscription options include:
A video-only plan for $8.99 a month
Monthly Amazon Prime rate of $12.99, including all Prime benefits
Annual Amazon Prime rate of $119, including all Prime benefits
Check out our full review of Amazon Prime for more information on the service.
(There are also discounted plans for students and members with valid EBT or Medicaid cards.)
Episodes can be streamed on the Amazon website, or watched through any device that hosts the Amazon Video app, including Roku, Apple TV, Tivo, as well as smart TVs, gaming consoles, and mobile devices. Shows and movies can also be downloaded for offline viewing in-app.
Deal of The Month
Offering 58 cable channels for $20 per month, the best deal in live streaming right now is Philo Live TV.
Need More Information?
If this article didn't answer your specific question, head over to our Home Page! It's designed as a guide to our most important articles to help you ditch pay TV.
For tips and tricks on cutting the cord and other tech topics be sure to join our Facebook Page and follow us on Twitter @Grounded Reason.
Join Millions of Cord Cutters
Disclosure: Grounded Reason is supported by a small commission for purchases made through some product links on this website. We do not accept compensation from companies attempting to sway our review of products.