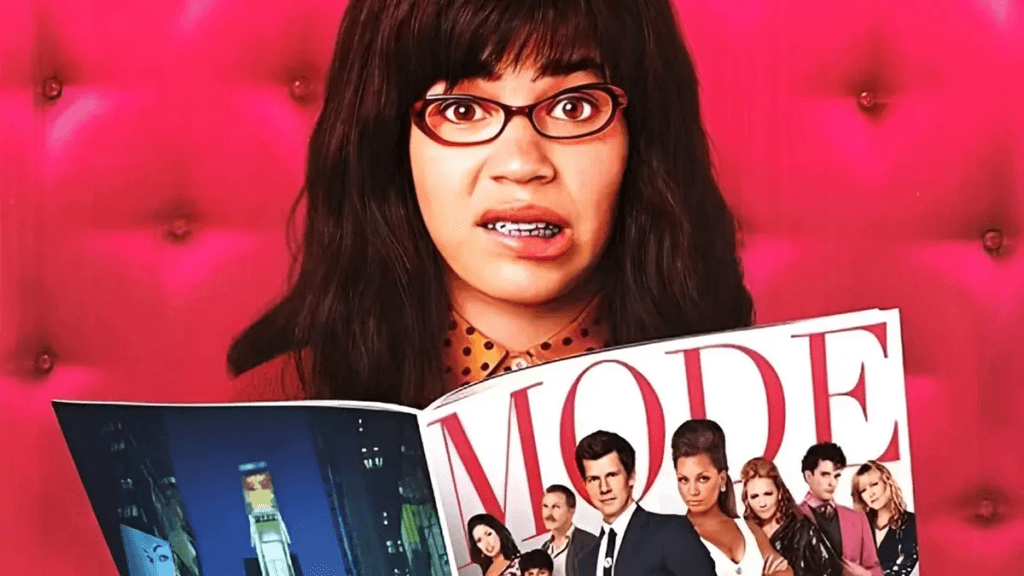 Fashion is fabulous, but family comes first.
It could have been your typical brains-to-beauty trope or another cheesy soap opera (okay, it kind of was), but the ABC comedy Ugly Betty somehow was more than either of those. Betty Suarez played with pure joy and comic timing by America Ferrera, won over fans with her passionate beliefs, a mix of intelligence and naïveté, and an unusual sense of style.
The series ran for four seasons, 2006-2010, but recently returned to streaming on Netflix, and has been inching up into the Top 10 series as fans discover or rediscover it. It couldn't hurt that Ferrara herself seems to channel much of Betty's staunch feminism, both in her real life and in a little summer flick called Barbie.
Meet Ugly Betty
Beloved, bitchy, problematic, but all-in-all delightful, Ugly Betty was a charming comedy/drama. Yes, it had ridiculous plotlines, as much like Jane, the Virgin, it was based on a telenovela, or Spanish-language soap opera, known for dramatic acting and over-the-top stories.
Ugly Betty revolves around Betty Suarez (Ferrera), a smart, quirky, 22-year-old Mexican American from Queens who has always dreamed of working in publishing. Unexpectedly, when she interviews at the massive Meade Publications, she ends up being hired by the company's flagship fashion magazine, Mode, despite her rather quirky sense of style. It turns out that the owner, Bradford Meade (Alan Dale), selected her in an attempt to keep his womanizing son and new Mode editor-in-chief, Daniel (Eric Mabius), in check.
A Colorful Cast of Characters
At Mode, Betty is frequently the butt of jokes and mockery by her stylish coworkers, mostly from Amanda (Becki Newton), a receptionist in competition for Betty's job, and Marc (Michael Urie), assistant to the magazine's chief fashion editor Wilhelmina Slater (Vanessa Williams). Williams is in her peak villainess role here, constantly scheming to wedge her stiletto one step higher in the Meade ladder, with Marc as the lackey in her plans.
Betty has a few allies in the form of Claire Meade (Judith Light), the estranged wife of Charles Meade; the magazine's seamstress Christina McKinney (Ashley Jensen), and nerdy accountant Henry Grubstick (Christopher Gorham), who soon becomes her love interest as well.
At at the end of the day, however, the heart of the show is Betty's family. She lives in Queens with her widowed father Ignacio (Tony Plana), who struggles with immigration challenges; her sexy and brassy older sister Hilda (Ana Ortiz); and her sister's young pre-teen son Justin (Mark Indelicato), who turns out to be much more knowledgeable on Betty's new job in the fashion world than she is.
Aging Gracefully — or Not
Overall, Ugly Betty is still a heart-warming series, with wacky hijinks, characters that are bigger than life, and deliciously fun storylines. In addition, it embraced a Latina lead, challenged traditional Western white beauty standards, and focused on strong female empowerment in the early 2000s.
Not to say it's all perfect. One of the more problematic aspects of the show is a major character plotline that does not age quite so well. That comes in the form of Rebecca Romijn playing the Meade's eldest child, Alexis. Formerly known as Alex, she reenters the picture after having undergone gender reaffirmation surgery.
In the 17 years since this show premiered, we've learned a lot–and are still learning– about trans issues and representation in media. From being played by a cisgender woman to the frequent dead-naming, victim-blaming, and conflation of gender identity with sexuality, the show got a lot wrong, despite the good intentions of having a major trans character.
At the end of the day, Ugly Betty has largely stood the test of time, and, since its arrival back on Netflix, has proved it is still a beloved story.
Where to Watch: All four seasons of Ugly Betty are currently on Netflix.
Watching Ugly Betty
Ugly Betty is available to stream on Netflix, and you can subscribe via one of the following plan options:
Premium – $19.99 per month – 4K HDR – allows four simultaneous viewings
Standard – $15.49 per month – HD – allows two simultaneous viewings
Standard with ads – $6.99 – HD – but you have to watch ads, and can't download content for offline viewing.
Also, check out our review of Netflix for more information on the service.