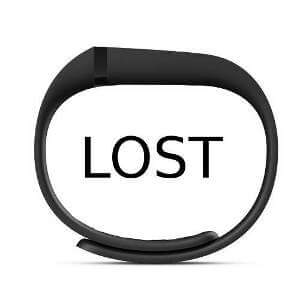 I know we typically write about saving money by using cable TV alternatives, but today I wanted to share a story about this cool app that saved us a lot of stress.
My wife rarely gets emotionally attached to electronic gadgets. However, she has developed a very special relationship with her Fitbit Flex. You will always find it on her wrist tracking her steps, making sure her sleep is restful, and counting burning calories.
So when she lost it in the yard raking leaves last weekend, I was prepared for a week fraught with sadness and grief. However, thanks to a simple iPhone/iPad app called the Fitbit Finder, the crisis was averted.
A Hopelessly Lost Fitbit
While we live in a modest 1200 square foot house, our yard is .5 acres of 100 year old oak trees that rain leaves down for weeks every fall. Picture trying to locate a wristband sized gadget in a leave covered football field. After an hour of searching, my wife's mood turned to despair as the search seemed hopeless.
At that point my wife bursts into tears. She rarely treats herself to gadgets, and she formed a bond with the tiny task master that used to live on her wrist. While I don't fully identify with the Fitbit craze, I do understand the attachment formed with a tool that helps further your goals. We have all had favorite hammers, or a go-to wrench.
I have a number of friends that treat their phone as if it's another body part. So after hours of exhausting yard work and an hour of hopeless searching, the tears over the loss of her favorite gadget were justified.
The App That Found It
Typically, I reach out to Google in times of need. This habit tends to extremely annoy my wife. So when she told me she needed help searching, I immediately joined her in the yard instead of jumping on the computer. However, once I saw the tears I knew she needed a break. I told her to go get cleaned up and relax, and we'll figure it out.
She agreed. I immediately jumped on the computer and searched for an app to locate this thing. Fitbit Finder from Front Seat, LLC. was the first app I stumbled upon. It cost $5 to download, and I knew nothing about the app. However, I didn't care. I'd try anything at this point, so I ponied up the 5 bucks and hit download.
The setup was simple. Once the app started, it began to search for nearby Fitbit devices within 150 feet of my iPhone. It immediately notified me that it found a Fitbit Flex. It sounds an audible ping similar to that of a submarine using SONAR. There was also a graph that indicated the strength of the signal coming from the nearby lost Fitbit.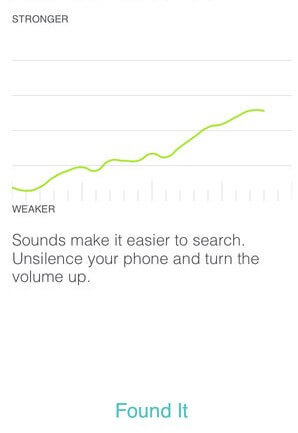 I turned up the sound and just walked in the direction that gave the strongest signal. As I walked in the correct direction, the iPhone in my hand pinged louder and louder until it brought me to a flower pot in our driveway on the side of the house. Sure enough, the lost Fitbit was hanging off a plant in the pot as if it were a Christmas tree ornament.
I walked into the house holding the formerly lost Fitbit Flex and showed it to my wife. She wrapped her arms around me and gave me a great hug. Oddly, the flower pot where I found the Fitbit was nowhere near my wife when raking leaves. She moved the pot from the backyard to the front of the house before she started raking. If it wasn't for the Fitbit Finder app, we never would have found her lost Fitbit.
I know it was just a Fitbit, but I felt like I slayed a dragon. Being a hero in my wife's eyes was definitely worth the $5 gamble on what turned out to be a must have app if you own a Fitbit.
Download the Fitbit Finder
Here is my affiliate link to Purchase the Fitbit Finder. It works with any iPad or iPhone newer than the iPad3 or iPhone 4s. It also requires iOS 7.1 or later. It is designed to specifically find Fitbit Flex, Fitbit Force, Fitbit One, and Fitbit Zip models. If you have the Fitbit Charge, a reader recommended giving the BTLExplorer a try.
What About Android Users?
While I haven't attempted this myself, I have heard of Android users utilizing the Bluetooth Finder. It's free from Google Play store.
Still Can't Find It?
If you haven't had any success finding your Fitbit, then I recommend contacting Fitbit support. Who knows? They may take pity on you and help you replace it. They have great customer service.