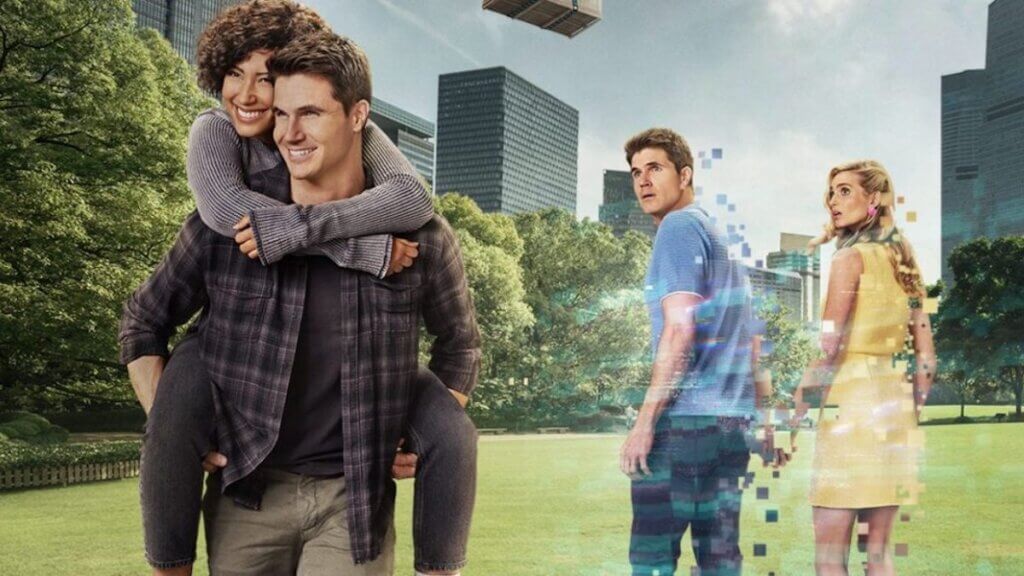 Welcome to the future, where self-driving cars are the norm, phones are a holographic swipe away, and you save not for retirement but the afterlife. This is the world of the Prime Video series Upload, a dark sci-fi comedy from Emmy-Award-winning writer Greg Daniels (The Office, Parks, and Recreation).
The satirical show hits on everything from the loss of privacy and power in the wake of big tech companies to growing income inequality in the modern world. While at heart, it's a comedy about the battle of love over death—assisted by a little science–it is tinged with the darkness of corporate greed having control over human life, and the rise of unexpected heroes to stop it.
About Upload
Nathan Brown (Robbie Amell) is an app developer who is hospitalized after a freak self-driving car accident and is rushed into deciding to upload his consciousness into the afterlife. Thanks to his shallow but wealthy girlfriend, Ingrid (Alleger Edwards)he finds himself in her family's luxurious Lakeview, a classic Americana rustic mountain resort version of heaven.
In Lakeview, he meets Nora Anthony (Andy Allo), his customer service rep, who herself lives on the lower end of the economic spectrum of the real world and spends her days guiding the recently uploaded in their new digital afterlives. The show centers on their growing relationship, and as Nathan adjusts to "life" at Lakeview, the two start to uncover some questions about the accident that led to his death.
Upload's Dark Humor
Daniels' other hit series are known for a somewhat off-kilter sense of humor and awkwardly flawed but eventually heart-warming characters (for the most part). While very different in tone than his popular hit comedies, Upload seems to hit on some of that. The show has a long-form format, sci-fi themes, and a bigger budget. It is a slicker environment that these awkward characters make their world, lavish with CGI to make the futuristic tech look flawless.
The polished high-tech future has a bit of a magical flair at times, and the afterlife takes a dash of The Good Place and a little Pushing Daisies to add to the concoction—with maybe a nod to Black Mirror in its clever world-building of where technology might be headed. Upload's view of the future is a delicate balance between scarily prescient and over-the-top ridiculous, with the luxury-hotel-meets-video-game whimsy and the ability to enter the afterlife with a cut-and-paste stylus swipe.
Each season embraces the darkness a little more, but the heart of the show is still its kooky characters. Nathan is a surprisingly kind-hearted egomaniac at a loss of how to deal with his fate who eventually turns into the show's hero against the greedy corporations literally killing the poor. Nora is achingly real at times in her struggles to get by and make a difference.
The show costars Kevin Bigley (The Moodys) as Nathan's afterlife bud Luke and Zainab Johnson (American Koko) as Nora's fried and fellow Lakeview digital manager Aleesha.
When to Watch: New episodes of Upload are available on Fridays.
Where to Watch: Upload streams on Prime Video.
How to Watch Upload
An Amazon Original production, Upload is distributed exclusively through Amazon Prime. If you aren't an Amazon Prime member yet, they offer a free 30-day trial, and then subscription options include:
A video-only plan for $8.99 a month
Monthly Amazon Prime rate of $12.99, including all Prime benefits
The discounted annual rate of $119, including all Prime benefits
Episodes can be streamed on the Amazon website or watched through any device that hosts the Amazon Video app, including Roku, Apple TV, Tivo, as well as smart TVs, gaming consoles, and mobile devices, either by streaming or downloading to watch offline. Visit www.amazon.com/howtostream to learn more about what devices are compatible.