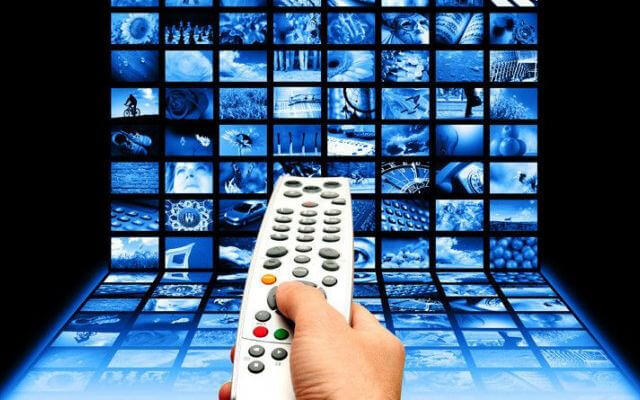 A smart DNS Proxy service is a tool everyone should take advantage of to access more content online. Did you know access to much of the video available on the web is blocked simply based on where you are streaming the content from?
Streaming video providers like Netflix, and Amazon are typically bound to licensing agreements with content distributers. These agreements dictate the regions, countries, and states where they are allowed to provide access to content. Therefore, content providers will block access to content based on your streaming devices location to honor their agreements.
In my post on how to watch baseball online, I explain how to use a smart DNS proxy to watch your local baseball team online through MLB.TV. Today, I want to go into a little more detail on what a smart DNS is, how it works, and how it open up access to content blocked due to your location. I'll also explain everything about how to use the smart DNS service I'm familiar with from Overplay.
What is a Smart DNS Proxy Service
A smart DNS proxy service is a service provided online for managing the physical location you want to present to a given website. For instance, you can indicate that you would like to appear as though your computer is based in London when accessing MLB.com.
MLB blocks access to certain teams based on the location you are streaming from due to blackout rules established by each team. This is due to the archaic TV licensing rights used by Major League Baseball. A smart DNS unblocks access to the home team by using a proxy server that substitutes your location for it's own.
This is just one example of how a DNS proxy can provide access to more video content for cord cutters. Now I know some are already getting nervous and thinking; "This is way too nerdy for me to pull off" or "Isn't this illegal?"
Are Smart DNS Legal?
Using a DNS proxy is legal in the U.S. and in a majority of countries around the world. Notable exceptions are Cuba, Iran, Libya, North Korea, Sudan, and Syria.  Of course, if you have any concerns you should check with your local laws and regulations.
What if I'm not A Computer Whiz?
Using a smart DNS proxy takes no special nerd powers. In fact, once you register with the smart DNS service, all you do is pick the streaming services you want to use with the smart DNS. I'm familiar with Overplay's smart DNS and will go over how to use it  later in this article. First I want to go over the relation between DNS,your geographical location, and how it's used by content providers.
Content Providers, DNS, and Location
The content provider uses the information associated with your IP address to determine your location. They then use that location to determine what TV, Movies, and videos you are allowed to stream. So, how did they get this location information from your IP address?
When you type a web address into your browser, that request is forward to a DNS server which translates the human readable name you typed to the IP address of the actual website. Translating these internet and host domain names to IP addresses used by the servers that power them is referred to as the Domain Name System.
While there isn't a direct relationship between a geographic location and an IP address, Internet Service providers register their blocks of IP addresses with their Regional Internet Registry. Each Regional Internet Registry keeps a "whois" database where domain and IP address information can be queried; even the physical location to a certain extent.
While relating IP addresses to physical location has evolved, this is the basic example of how these two pieces of information are linked. One way this relationship is used, is to block access to content on the internet based on your location.
This is done for a number of reasons; from governments controlling the information their citizens can access, to enforcing licensing contracts that involve geographic borders.
How A Smart DNS Works
A smart DNS proxy uses a DNS server  and a list of URL domain names. The smart DNS behaves as a normal DNS server except when you are going to a domain on the list.   In that case, the smart DNS forwards your traffic to a proxy server that obscures the geographic location of your IP address.
For example let's assume you want to stream a U.K. TV show online and you live in the U.S. However, due to licensing rights, only people living in the U.K. are allowed to access the TV show. You simply tell the smart DNS proxy service to change your location to the U.K when accessing the website. The site then thinks you are in the U.K. and allows you to stream the TV show.
Using A Smart DNS Service
Overplay has an extremely easy to use smart DNS service that costs less than $5 per month. They also offer a "SmartDNS with VPN" service. The big difference between the two is security. The VPN adds a layer of encryption making your connection secure and private.
While a SmartDNS obscures your location, your true IP location and other information can be discovered if someone possessing the skill actively attempts to figure out the true origin. If your interested in learning more about what a VPN is and how it benefits you, check out my article on using an online VPN.
Signing up for a Smart DNS
If you searched the web before looking for a SmartDNS or VPN provider, there are many to choose from. I've personally used overplay and can vouch for their service. To get started with either service follow these steps
Start the signup process using this link. There you choose between the basic SmartDNS service and their SmartDNS with VPN service. I use the VPN for peace of mind when it comes to security and anonymity when surfing the web.
Setup your account information and agree to the terms of service.
Provide your billing information. There is no contract and you can cancel any time.
Setting up Overplay SmartDNS
In order to start using Overplay SmartDNS you need to change the DNS settings on the device you want to use. If you have never done this before it may sound complicated, but it's fairly easy. You can either set up SmartDNS to work on individual devices or at the router for all devices.
Personally I just use the SmartDNS on my Mac and PC. To give you an idea of how simple it is to set up, you can check out their video instructions below.
Overplay SmartDNS on Mac
Overplay SmartDNS on Windows
Overplay documents the setup steps for almost any device you can think of.  The documents to change your DNS settings on various devices is found here. Once your DNS settings are properly set complete the following steps to finish setting up the service.
Log into your account at Overplay and click "My Account"
Click on "SmartDNS"
You may see a button requesting you update IP address. If so click it. You should see the message below if everything is properly set.

Once you see the message above, the SmartDNS is working. You can then look at the various channels   and websites and set the location for each. By default, many are set for you to open up content as you can see in the image below.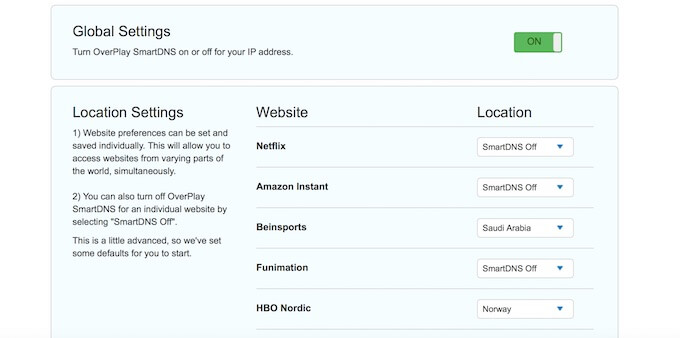 You can click on "View More Channels" to get an idea of all the streaming sites that are supported by Overplay SmartDNS.
SmartDNS In Action
To demonstrate that this works I want to show you an example. "Now TV" is a U.K. based internet streaming channel over live and on demand TV shows on Sky Networks, Fox, MTV and more. However, it's based in the U.K. so I should not be able to access it in the U.S. As you can see below, when I try to sign up, I get the following message.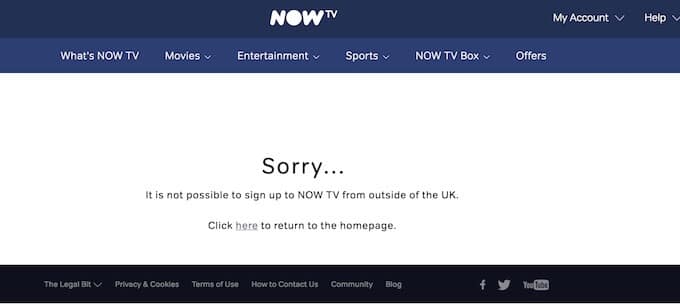 However, lets see what happens when I change my SmartDNS settings to change my location to the United Kingdom when accessing Now TV. To do that, click on the "View More Channels" at the end of the channel list and scroll to Now TV. From there, change the location to the U.K. as pictured in the image below.

Once this is set I navigate back to Now.TV and attempt to sign up for their service. Take a look at what happens now.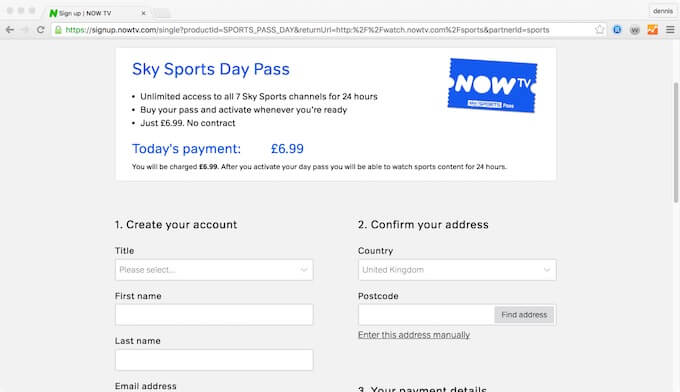 The website now allows me to sign up and watch the service. Overplay SmartDNS is focused on unblocking TV and movie content for it't users. You can look here to see which channels are supported in each country and which devices you can use there service to access content on.
So a SmartDNS is a great way to open up a literal world of video content. However, keep in mind that while SmartDNS and VPNs are not illegal, they typically violate the terms of service of the content provider.
Netflix has been facing pressure from content makers to crack down and implement greater measures to prevent the usage of a SmartDNS with their service. On the other hand, those using a SmartDNS are paying for their service, so many just turn a blind eye. If you are interested in the security aspects of a VPN, check out this detailed article where I explain what a VPN is, and what to look for when choosing one.
Need More Information?
If this article didn't answer your specific question, head over to our Home Page! It will guide you to affordable internet providers, streaming services to meet your needs, information on antennas, and many more tools and resources to help you save money on TV and Internet access.
For the latest news tips and tricks on cutting the cord and other tech topics be sure to follow our Google News Feed, like our Facebook Page and Follow Us on Twitter.
Join Millions of Cord Cutters
*
Disclosure: Grounded Reason is supported by a small commission for purchases made through product links on this website. We do not accept compensation from companies attempting to sway our review of products.