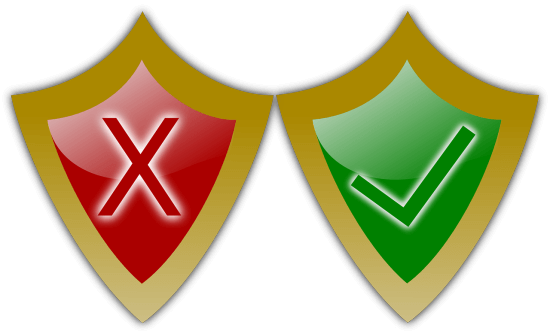 In today's digital world, internet safety should be a consideration for everyone.  We provide information about ourselves to people and companies online every day.  Information provided to one entity could be combined with information given to another and used to compromise our privacy.
Those searching the web for video streams online should be extra cautious.  Anything recommended by this site is guaranteed to be safe. However, there are times where the lure of free TV or Movies in a search results page is too hard to ignore.
Searching the web for torrents of movies and TV shows can lead to websites full of malware, viruses, and other exploits looking to leverage your information and even your computer or mobile device for its own purposes.
For these reason I want to share these important internet safety tips for safe web browsing and other online activity.

Update your Software
It may seem like an annoyance when a new version of an app or operating system is released, forcing you to update your computer, tablet or smartphone. Nevertheless, it is in your best interest to have these updates installed as soon as possible.
Often times these patches and updates contain fixes for security vulnerabilities in the software. These vulnerabilities can be used to steal personal information, or even take control of the device without your knowledge.
Keeping automatic updates enabled for your device will ensure your operating system and software managed by the operating system is up to date. Below are resources explaining how to enable automatic updates for various operating systems.
Configuring Automatic Updates in Windows
Adjusting  Software Update for MacOS
iOS Automatic Updates for iPhone and iPad
If you have installed a web browser on your PC that isn't managed by the operating system, you can use this resource to ensure it's up to date.
Protection From Malware, Viruses, and Spyware
The best advice is never click on a link you do not trust. However, when we are deep in search mode this can be tough advice to follow.
If you're the type that is searching online for torrents and live streams of your favorite TV shows, movies, or live sporting events, then you are most likely walking through a minefield of malware.
Furthermore, if you have kids that have their own devices, or use the family computer, good luck keeping them away from malicious links.
When looking for software that will offer the most prevention, protection from, and removal of malicious software I recommend Norton Security.
Norton Security is a security suite combining antivirus, firewall, browser protection, password management, identity theft, and browser protection in one package.
This product real strength is preventing infection in the first place. It has an excellent URL blocker, preventing navigation to malicious websites. It also prevents you from running files it doesn't trust.
This can be annoying to those always downloading freeware and other software. However, if your aim is to protect your system, then this is what you want.
Another reason to choose Norton is if you actually get infected.  Norton offers a "100% virus protection promise." They provide online or phone access to a Norton technician to assist you with removing the malware.
If they cannot remove the virus, then they give you your money back. However, Norton is so good at prevention; I seriously doubt it will come to that point. Norton is currently offering a deal to install Norton Security on up to 5 devices for the price of 1.
Anonymous Browsing
Everywhere you go on the web is traceable by various companies, government organizations, and your internet service provider. Those that value their privacy and feel they should be free to surf the web without having their surfing or downloading habits tracked can take a couple precautions.
No Plug-ins
Plugins pass a ton of user data from your browser.  For that reason, I recommend surfing the web plug-in free. I understand some out there love their browser plug-ins. If you're one of those folks, then it may make sense to have a second browser that you can use when you want to increase your privacy.
A second browser is also a good idea if you are concerned about tracking cookies. You can configure this browser to delete the cookies every time you close the browser.  Theoretically, combined with the right information a cookie can be used to identify you.
Use a VPN
There are many benefits to having access to a Virtual Private Network.  They encrypt your connection and when you visit a website, the website sees the VPNs identifying information and not yours.
These are great for anonymous browsing, as not even your ISP can see where you've been. It is possible, that your VPN provider keeps server logs that can be used to identify you. However, there are several VPN providers, like IPVanish, that promise not to keep information that can identify you in their logs.
Check this article on using a VPN for more information.
Online Safety Resources
I have mainly covered the technical aspects of staying safe online. However, there are a number of behavioral practices you should keep to maximize your internet safety. Below is a list of excellent resources for practices on avoiding internet scams.
What is Phishing and How to Avoid It
Need More Information?
If this article didn't answer your specific question, head over to our Home Page! It will guide you to affordable internet providers, streaming services to meet your needs, information on antennas, and many more tools and resources to help you save money on TV and Internet access.
For the latest news tips and tricks on cutting the cord and other tech topics be sure to follow our Google News Feed, like our Facebook Page and Follow Us on Twitter.
Join Millions of Cord Cutters
*
Disclosure: Grounded Reason is supported by a small commission for purchases made through product links on this website. We do not accept compensation from companies attempting to sway our review of products.