Showtime is known for providing high-quality prestige TV like "Homeland," "L Word: Generation Q" and "Billions." However, it also is a source for movies, both classic favorites and newer hits. Every month a new selection of film drop for Showtime subscribers. In fact, you can watch all these movies free for 30 days! While it's $10.99 per month to subscribe after the 30-day trial, you can cancel before the trial is up and pay nothing. For more information, see out guide to watching Showtime without cable.
Top 7 Movies New to Showtime in February
Here is are top movies coming to Showtime this month.
1. When Harry Met Sally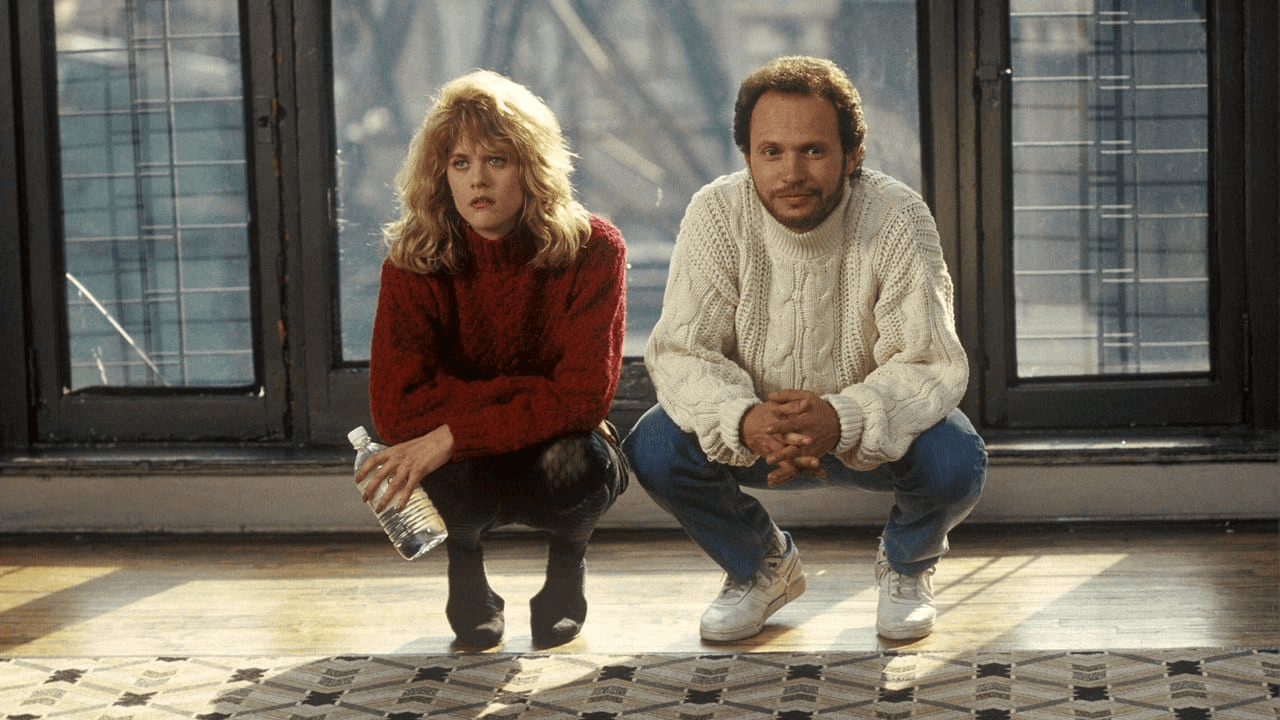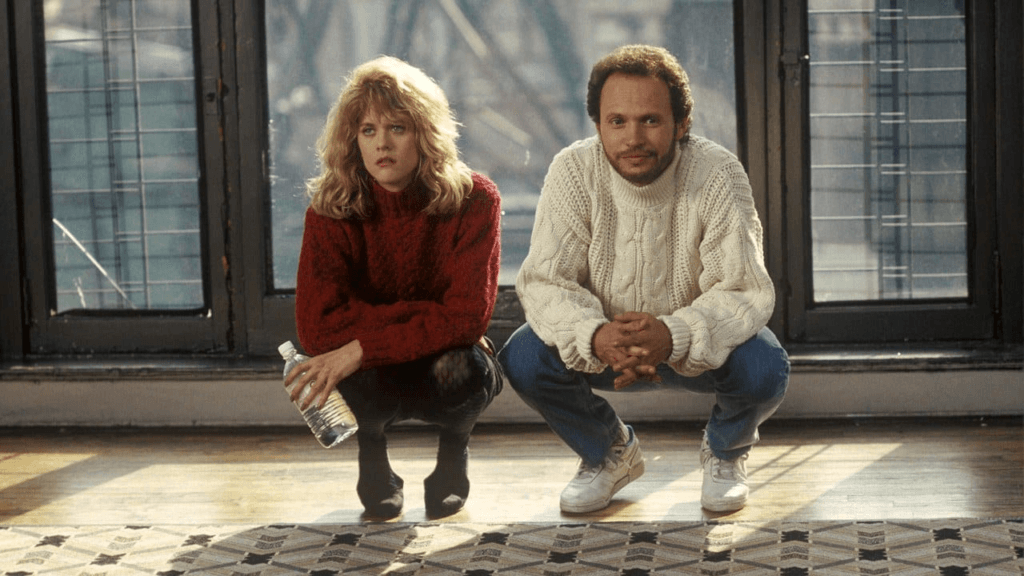 This 1989 romance comedy set a new standard for the genre. Meg Ryan is Sally, and Billy Crystal is Harry, and we follow the two through their first meeting right after college and on through the next 12 years of their relationship. The two New Yorkers attempt to do what some consider impossible: they try to have a friendship without being romantic, even as both are recovering from major breakups. Romance, however, inevitably creeps in. Also starring are Carrie Fisher and Bruno Kirby as their friends.
Why it's Worth Watching
There are few more iconic movie scenes than one shot in Katz's Delicatessen for this movie. In it, Sally famously fakes an orgasm to show Harry how easy it is – and an older woman immediately deadpans, "I'll have what she's having." The movie is well worth watching for that moment alone, but there are oh so many more. In so many, the jokes are solid, and the actors are charming and relatable. Beyond that, the movie posits questions about relationships that still resonate today. Can a man and a woman be just friends? How can we help each other recover after heartbreak? Does anyone actually want a wagon wheel coffee table?? Watch and see.
2. Risky Business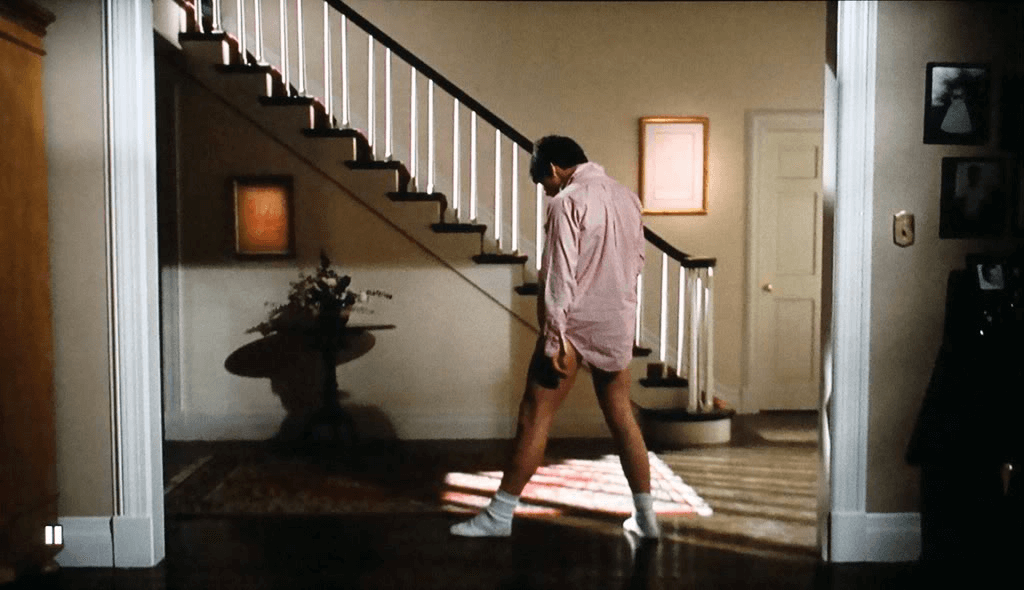 A young Tom Cruise stars in this 1983 comedy about the escapades of privileged teenagers. He plays Joel, a high-achieving high-schooler whose parents leave him home alone. Encouraged by a friend to let loose, he first dances around in his underpants and then becomes involved with the prostitute Lana, played by Rebecca De Mornay. When her pimp becomes involved, and Joel's father's Porsche is wrecked, he has to use his smarts and teamwork with friends to come up with the money – while also making it into Princeton. 
Why it's Worth Watching
Tom Cruise has been around a long time, and he has come a long way since he so famously danced around in his underpants to "Old Time Rock and Roll." Those who know him for his action roles may get a kick out of him acting the part of a repressed teen. It also makes sense for anyone with interest in cinema to see the dancing scene for themselves. For extra intrigue, pair it with "Ferris Beuller's Day Off," another 80s movie that includes a teen wrecking his dad's car.  
3. Lethal Weapon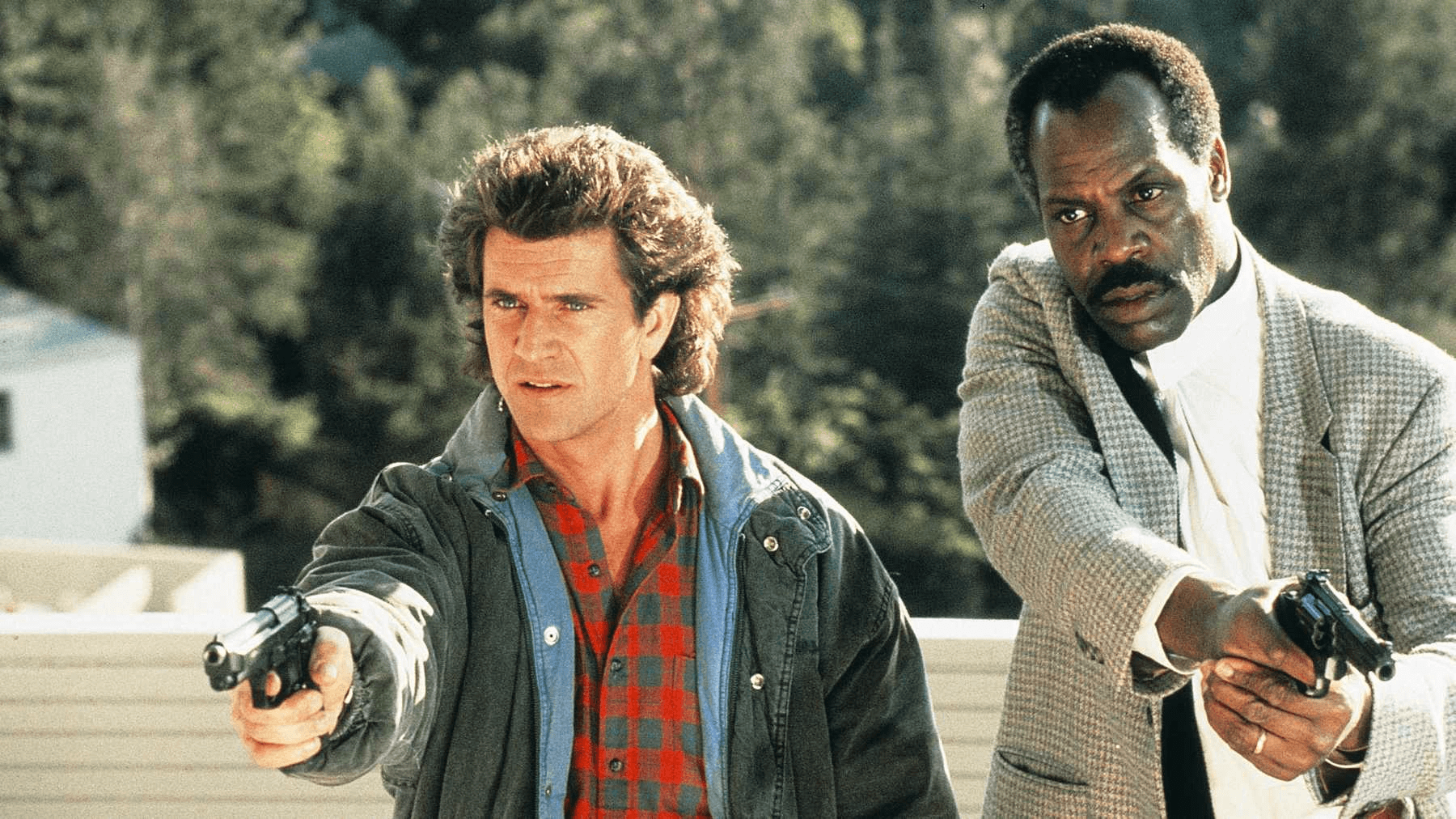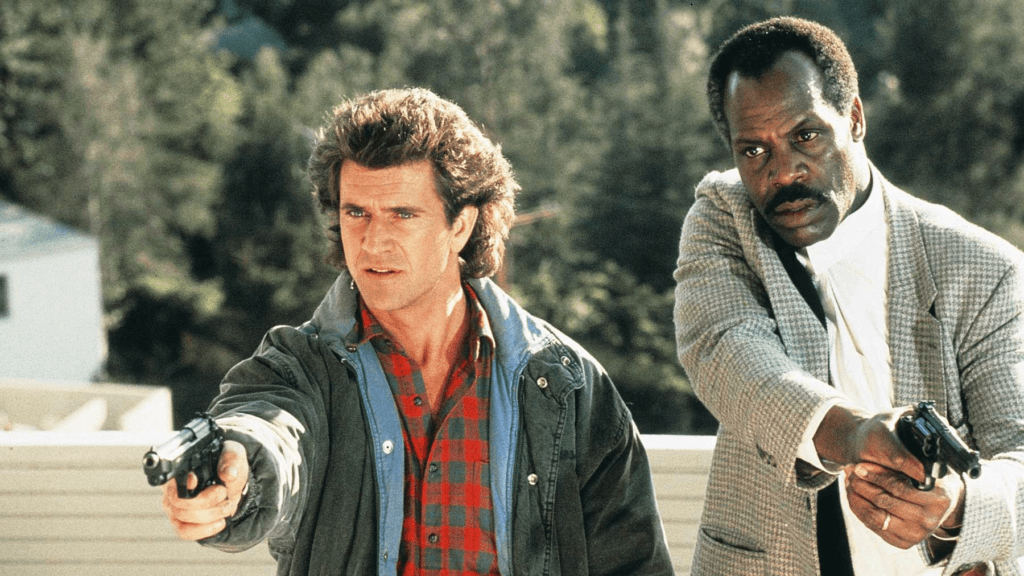 The classic buddy cop movie from 1987 is coming to Showtime, along with the sequels on through "Lethal Weapon 4." This movie started the franchise, branding Mel Gibson as an action hero and instilling the trope of the old cop/young cop firmly into our hearts. In it, Gibson is Martin Riggs, a young widower, and veteran of the Vietnam war. He teams up with Roger Murtaugh (played by Danny Glover), a family man on the verge of retirement. Together they must face the bad guys and their own inner demons as they grow from enemies to friends.
Why it's Worth Watching
Sure, Gibson turned out to be kind of a terrible person. Sure, we aren't necessarily into shoot-them-up movies as a culture. At the heart of this movie is a friendship between two unlikely people. One is white; one is black. One is old, and one is young. At a time when our country is fractured, and we don't know how to get along, it might well be worth our time to see how.
4. The Truth About Cats and Dogs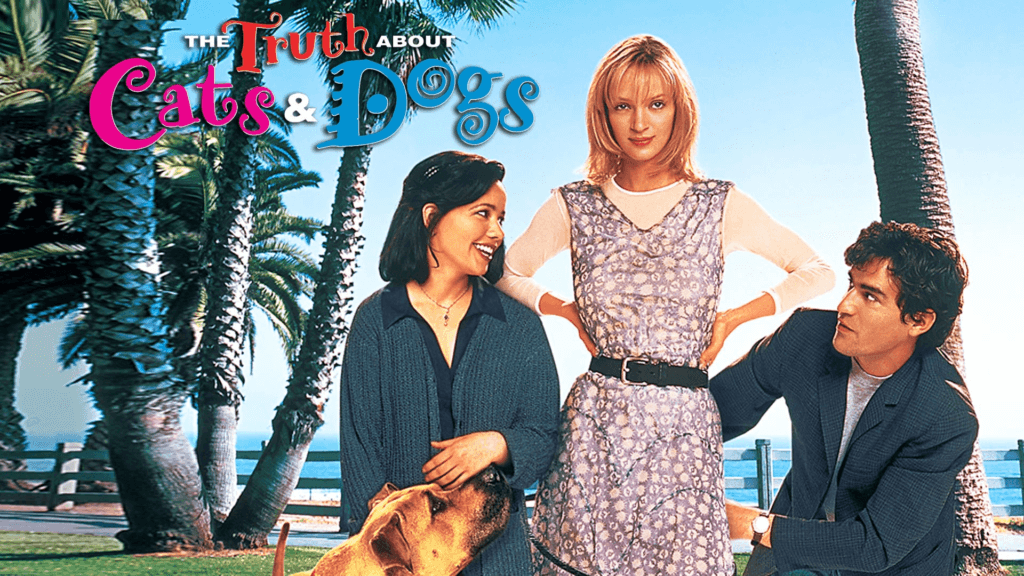 Uma Thurman and Janeane Garofalo star in this 1996 romance comedy. Garofalo is Abby,  veterinarian, and host of a radio show about pets. Thurman is her neighbor, Noelle, a model. When handsome listener Brian (Ben Chaplin) pays a call to the radio station, Abby is nervous and has Noelle pretend that she is Abby. Shenanigans ensue as the two try to continue the charade, with Abby as the voice he talks to on the phone and Noelle as the woman he dates – and both starting to fall for his charms.
Why it's Worth Watching
In the 90s, disputably the heyday of romance comedies, those of us who are fans of the genre hardly knew how good we had it. In 1996 we got this rom-com that was a case of mistaken identity and threw in animals. It's a silly situation made all the more preposterous by today's standards when googling someone's name once instantly gives you their picture. But all the silliness mixed with the charm of Thurman and Garofalo gives you a frothy confection sure to take you away from your modern-era woes. After all, there is little angst that can't be assuaged by a dog in roller skates.
5. Strictly Ballroom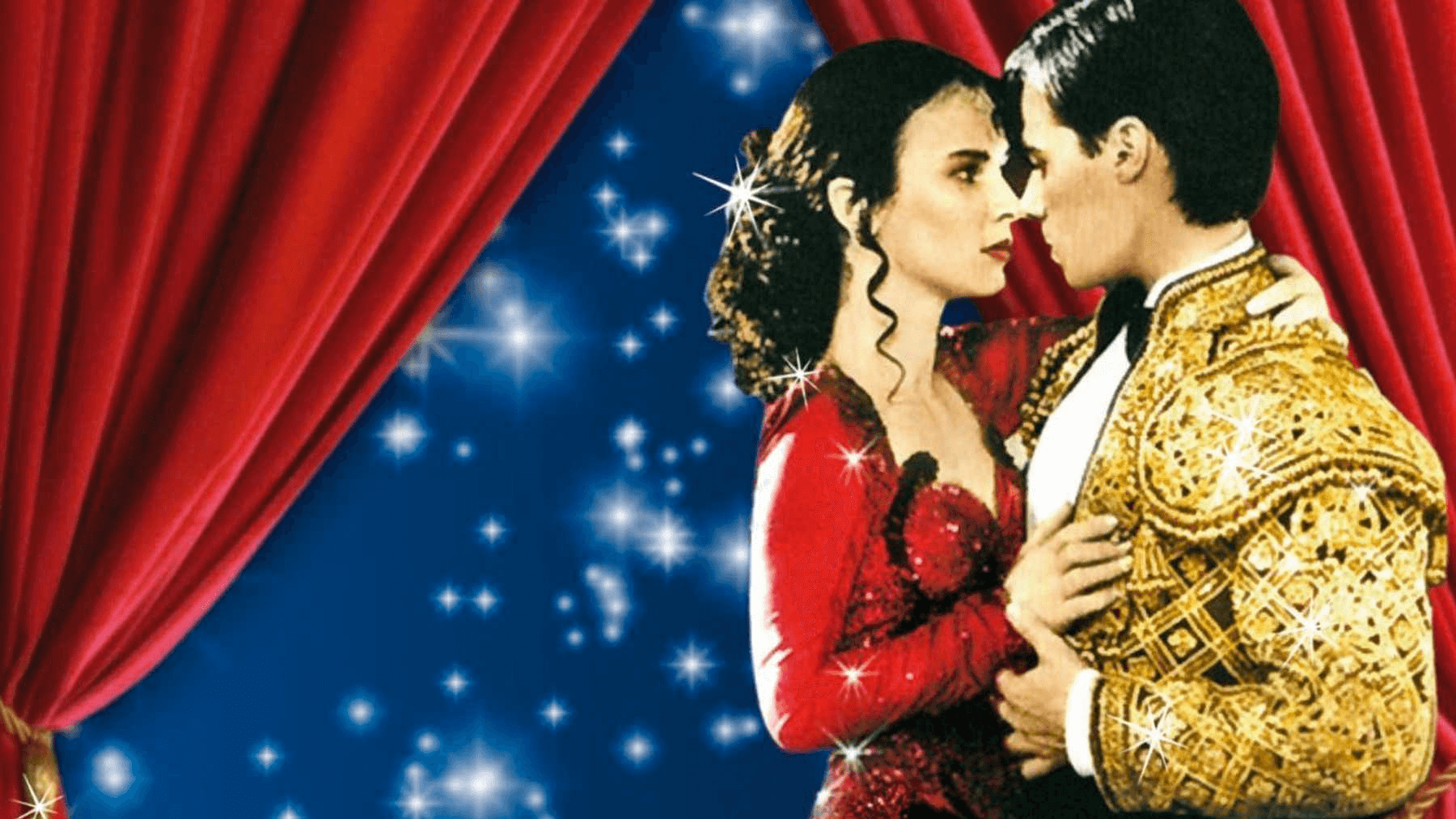 The world of ballroom dancing gets center stage in this 1992 romance comedy from Australia. It was directed by Baz Luhrmann, whose glitzy style later was seen in "Moulin Rouge!" Paul Mercurio plays a talented ballroom dancer, Scott, who longs to dance in his own style. His parents, dancers themselves, thwart this desire, and by his arrogant partner Liz. Scott eventually finds a beginner dancer called Fran, played by Tara Morice, who is willing to stray outside the strict ballroom dancing rules. Drama ensues, but ultimately, Fran and Scott get their chance at competition glory.
Why it's Worth Watching
Ballroom dancing is full of drama already, with its flashy costumes and movements full of faked emotion. Adding personal stories is often good fodder for shows, most famously recently in the show "Dancing with the Stars." Even during COVID, the show has managed to bring celebrities into the dancing world and compete against each other and their own limitations. Before all of that, "Strictly Ballroom" showed us all how great dance drama can be, especially when combined with the quirky Luhrmann and the Australian aesthetic. 
6. The Adventures of Sharkboy and Lavagirl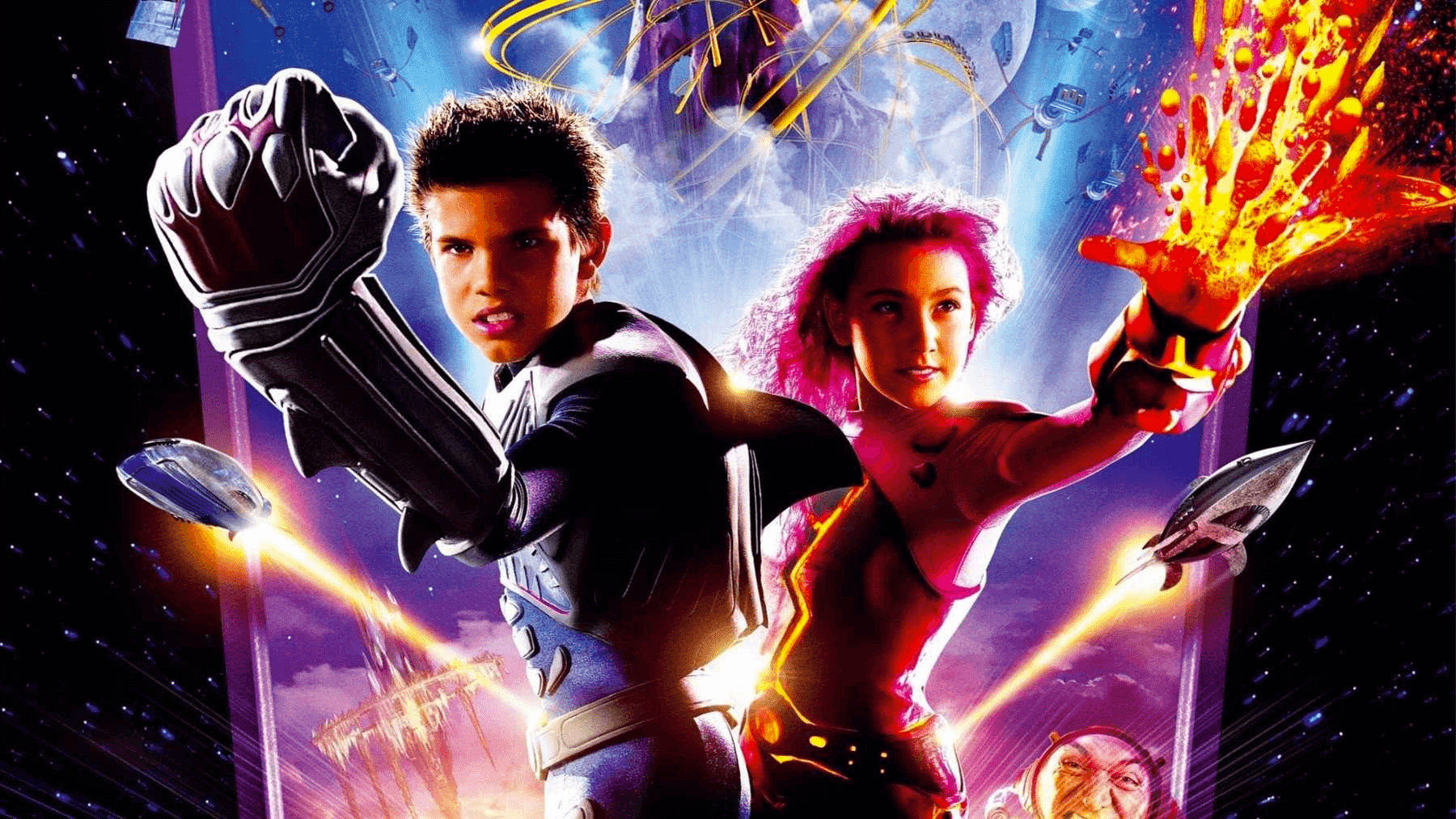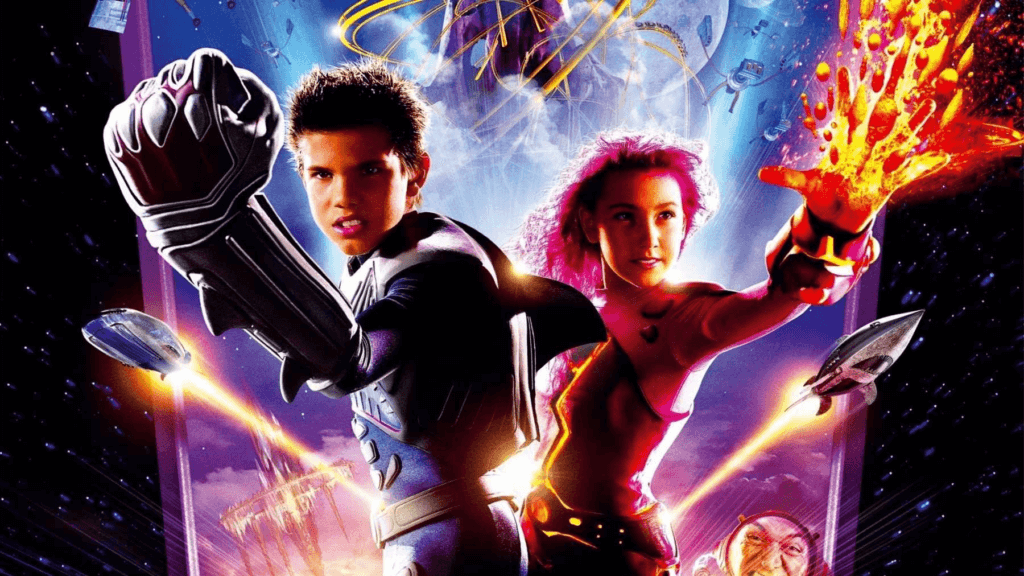 Two heroes from a child's imagination come to life in this adventure from 2005. Max, played by Cayden Boyd, is a lonely 10-year-old who deals with his difficult family life and bullies at school by daydreaming. Among his characters are Sharkboy, played by Taylor Lautner, who has gills and shark powers, and Lavagirl, played by Taylor Dooley, who has fire powers. They burst into reality one day, needing Max for a mission to the planet he created, Drool. There he must battle the villain and embrace the power of his dreams.
Why it's Worth Watching
This movie is cheesy even when compared to other cheesy kids' movies. That said, there is a certain campy fun in the cheese brought to life by Robert Rodriguez (who also made the "Spy Kids" series.) Watching this can also prepare you to watch the new Netflix movie "We Can Be Heroes," which is set in the same universe and features a grown-up Taylor Dooley as Lavagirl and her daughter (the dad is Sharkboy, of course).
7. America's Sweethearts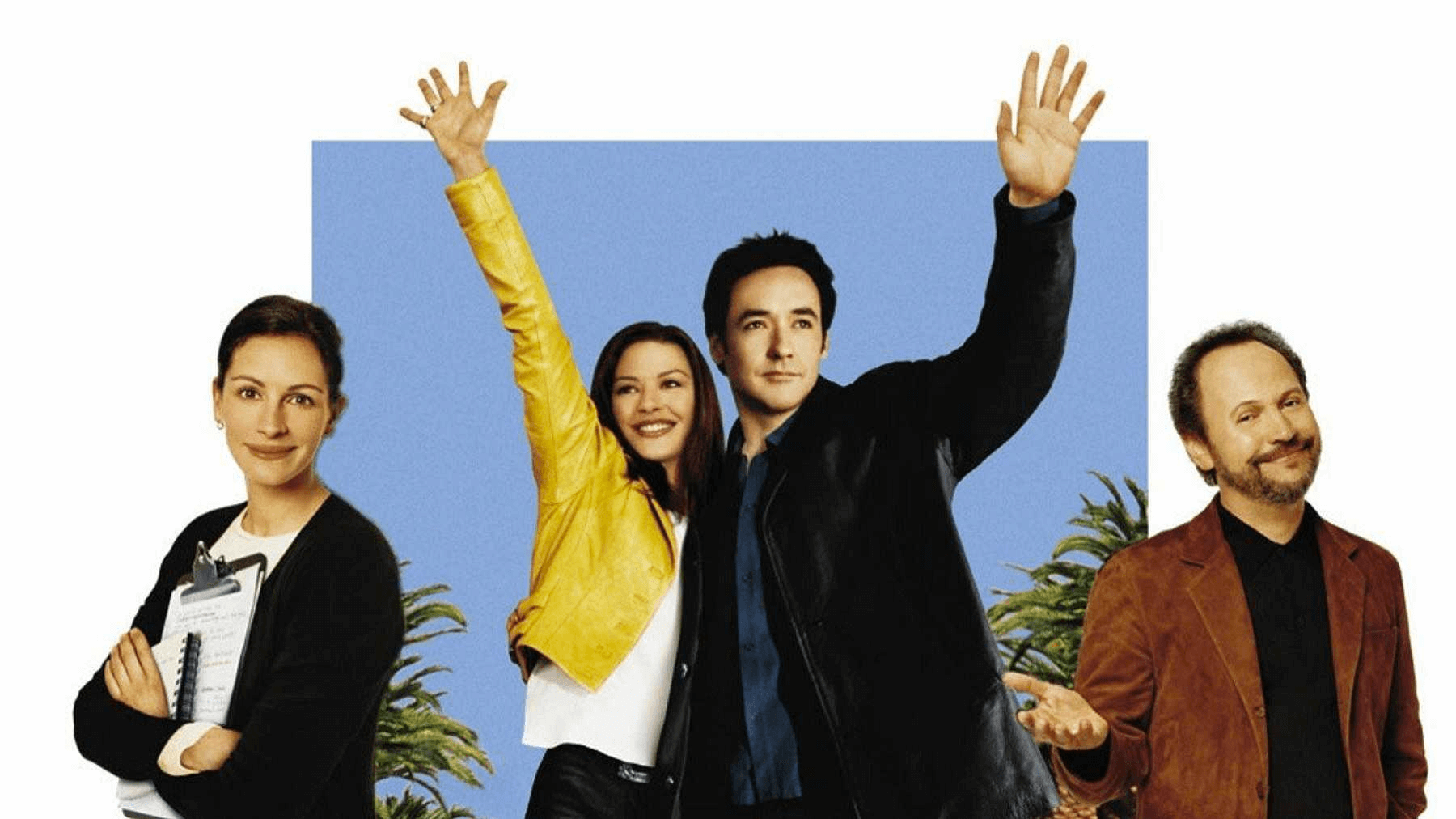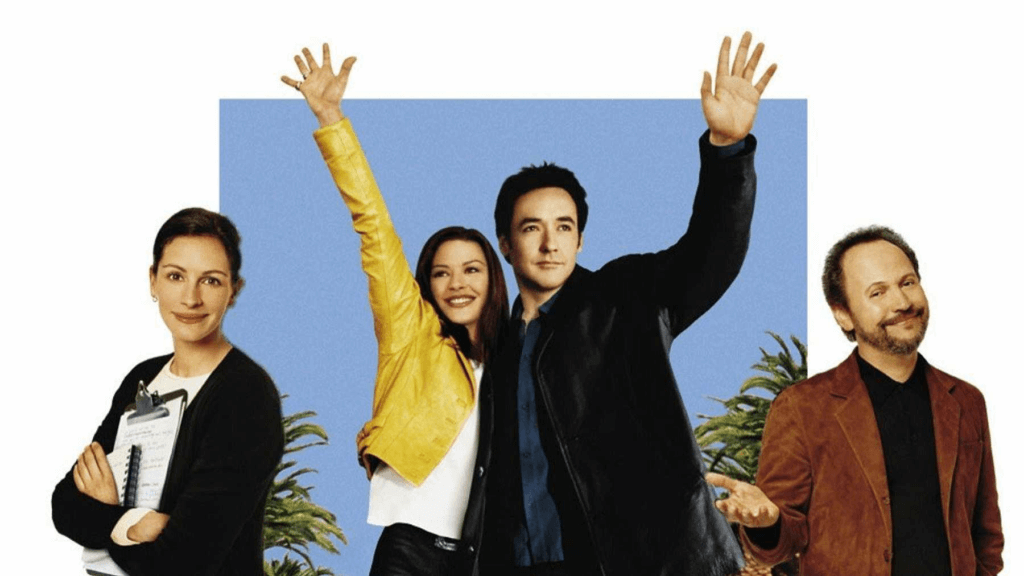 This 2001 romance comedy features Gwen (Catherine Zeta-Jones) and Eddie (John Cusack), a married Hollywood star whose relationship has recently crashed and burned. Unfortunately, however, they still have to promote their latest film. They attempt to do so with Lee's help, a film publicist played by Billy Crystal, Kiki, Gwen's sister, and Julia Roberts's assistant. Kiki and Eddie find they have feelings for each other, but the show of Gwen's mistreatment of them both looms over their relationship. Also, starring is Hank Azaria, who plays Gwen's new love interest.
Why it's Worth Watching
This movie is made up of a powerhouse of people famous at the time. From the much-beloved Billy Crystal to the always-funny Hank Azaria, the movie feels like visiting with some of your favorite friends. Added to that is Julia Roberts, who is the remote movie star in "Notting Hill" and here is the down-to-earth assistant. The script may not be Shakespeare, but it is silly, sunny, fun well suited for a winter afternoon.
Best Movies Still On Showtime
Here are the top movies that are still available on Showtime's streaming library from prior months:
Ex Machina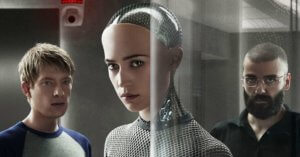 The nature of artificial intelligence is examined in 2014's "Ex Machina," a sci-fi thriller starring Oscar Isaac, Domhnall Gleeson, and Alicia Vikander. Vikander plays the robot Ava who is human-like in many ways, including her face and hands. Gleeson is Caleb, a programmer hired by the rich, eccentric Nathan, played by Oscar Isaac. Caleb must test how intelligent Ava is through a series of meetings that get more and more intense. Viewers are left to wonder who controls who and what it means to be human or machine. The movie was critically well regarded and earned a variety of awards, including an Academy Award for Best Visual Effects.
Why it's Worth Watching
Ever since we started making robots, we have been fascinated with what happens when they get intelligent. Will those we made to serve us end up conquering us? Such was the plot of both the classic and the rebooted "Battlestar Galactica" TV series. "Ex Machina" takes a much more personal approach. We get to examine one robot and interact with one human and see how far their relationship goes and what it ultimately means to both of them. Oscar Isaac also gets to showcase the (often quite disturbing) nature of the creator. As our society delves more deeply into artificial intelligence, it is increasingly important to consider what we make of the life we create and what it makes of us.
Being John Malkovich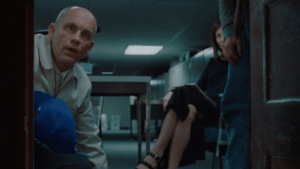 Watch On Showtime (Leaves 3/31/21)
This strange film from 1999 stars John Cusack as a down-on-his-luck puppeteer, Craig, who discovers a door that leads to the mind of John Malcovich, who plays himself. The door is part of an office squished between two floors of a building, and after spending some time there, Craig is deposited by the side of the New Jersey turnpike. As bizarre a concept as this is, it gets even better when the door is discovered by his wife, played by Cameron Diaz, his coworker, played by Catherine Keener, and even Malcovich himself.
Why it's Worth Watching
In terms of absurd concepts, it's hard to find a better one than "Being John Malkovich." The premise is so bonkers it's incredible the film ever got made – but it was, and thank goodness for that. Never perhaps has it been so needed than now, when everyday life has become dull and predictable for so many. Put this movie on and sink deep into complete and total weirdness. You might find yourself looking for a small door on a half-floor yourself.
Fast Times at Ridgemont High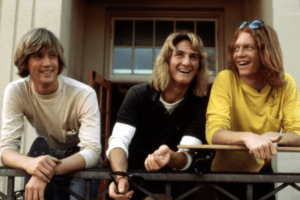 Watch On Showtime (Leaves 2/28/21)
"Fast Times at Ridgemont High" is a 1982 comedy about teenagers hanging out, hooking up, and trying to get through high school. It is based on a book written by Cameron Crowe, who actually went undercover in a real high school to understand what it's like, and it is directed by Amy Heckerling of "Clueless" fame. Among the cast are Sean Penn (who plays the always-stoned Spicoli), Jennifer Jason Leigh, who plays Stacy (a 15-year-old who lies about her age), and Brian Backer (who plays her fast-food-slinging brother Brad.)
Why it's Worth Watching
Every few years, it seems, there is a movie all about teenagers being complete doofuses. And so in 1982, the world got "Fast Times at Ridgemont High," in which the characters indulge in all their base instincts in the context of their school and the mall. Their exploits are funny; for all that, they make some very questionable decisions, and we do see the characters tackle subjects that are taboo even today, like abortion. Fans of "Stranger Things" or any recent take on the 80s will enjoy seeing the genuine article, albeit without spies and monsters.
The Blues Brothers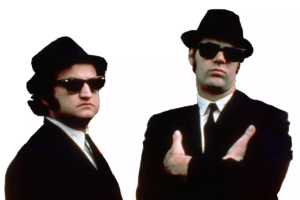 Watch On Showtime (Leaves 2/28/21)
John Belushi and Dan Aykroyd star in "The Blues Brothers," a 1980 musical comedy. Based on the actors' segments on Saturday Night Live, Belushi and Akyroyd play two blood brothers who play blues in dark suits and sunglasses. They believe they are on a "mission from God" to raise money for the orphanage where they grew up and reunite their band. As they attempt to do so, they encounter many blues legends and engage in various high-speed car chases, including one through a mall. Carrie Fisher plays a mysterious woman who continuously tries to attack them from afar.
Why it's Worth Watching
If you're of a certain age, it's almost inevitable you watched "The Blues Brothers" in college. Its chill-but-wacky tone, eternally-quotable lines, and spectacularly messy car crashes make it a dorm room favorite. And then there are the musical numbers. "The Blues Brothers" is packed with performances by none other than legends Aretha Franklin, Cab Calloway, Ray Charles, and James Brown. Occasionally a cast of extras gets in the act, at one point in huge numbers twisting in the street. Whether you think Aykroyd and Belushi are super cool or not, the spectacle of it all makes it necessary to see at least once.
Legally Blonde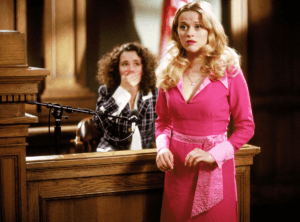 Watch On Showtime (Leaves 3/31/21)
Reese Witherspoon's Elle Woods stands up to the stuffy world of Harvard Law in this 2001 movie. A college socialite, Elle is at the top of her game and can't wait to get engaged to her boyfriend. But when he breaks up with her because she isn't serious or smart enough, she applies to Harvard's law program. Although Elle, with her pink dresses and the little fancy dog, isn't anything like the other students, she manages to use her unique strengths to show her ex-boyfriend and the entire program just how successful a blonde can be.
Why it's Worth Watching
In degrees of discrimination, well-off, blonde, white women haven't suffered the most by far. That said, a tale of tolerance is always welcome. People can be cruel to each other in ways big and small, and watching someone stand up to that cruelty is satisfying no matter the context. Plus, it is fun to see Elle defy stereotypes and show that people can, in fact, both accomplished and also quite different than what you'd expect.
Pleasantville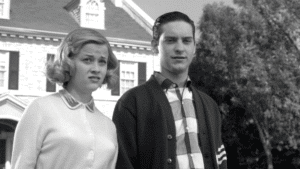 Watch On Showtime (Leaves 2/28/21)
Two modern teens end up trapped in a 1950s sitcom in this 1998 fantasy drama. Toby Maguire is David, and Reese Witherspoon is his sister, Jennifer. A struggle with a strange new remote control lands them in "Pleasantville," David's favorite cheesy black and white show. Everything is perfect but bland in their grayscale world until the modern era starts crashing in the form of sex and art, bringing color along with it. The town struggles to cope as some thrive in color and others live in fear.
Why it's Worth Watching
Taking a shot at 1950s sitcoms seems almost too easy. It's pretty common knowledge that the fantasy of a knowing-dad, serving-wife, and "aw shucks"-kids were always just that, a fantasy. That said, vestiges of this idea as ideal are still to be found today, just as much as they were in 1998. A world where your role is laid out but limited can still seem comforting until it becomes stifling. Lives without the full expression of art become boring, as we know all too well from quarantine. Watching it explored is satisfying, especially when combined with the color gimmick that surprisingly works.
Ghost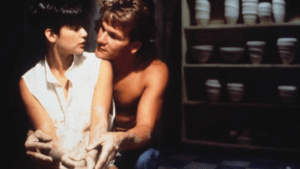 Watch On Showtime (Leaves 2/28/21)
Demi Moore and Patrick Swayze star in this 1990 supernatural romance. They play a couple, Sam and Molly, who are mugged one night in New York. Sam dies in the attack, but their relationship is not over – he becomes a ghost, watching over her and trying to save her from the criminals who have even more nefarious schemes. Whoopi Goldberg plays Oda Mae, a supposedly-fake psychic who is surprised to find that she can actually hear Sam and relay messages from him to Molly.
Why it's Worth Watching
Never has pottery been so steamy. The infamous scene where Sam comes up behind Molly as she is at the pottery wheel gave people a whole new reason to make their own bowls. "Ghost" managed to be surprisingly romantic, in fact, for a movie in which the protagonist is dead. It also was a murder mystery, adding in quite a bit of tension. Whoopi Goldberg's character effectively diffused all of that, giving a few laughs as well. Watch it now and then book yourself a session at your local pottery studio for after quarantine – you'll need it, trust me.
The First Wives Club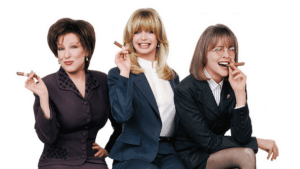 Watch On Showtime (Leaves 3/31/21)
Diane Keaton, Goldie Hawn, and Bette Midler star in this 1996 comedy. They play three middle-aged friends who have lost touch with each other over the years but reunite at a mutual friend's funeral. The three eventually discover they share a similar dissatisfaction with life, particularly that their husbands are leaving them for younger women. Seeing these great comedic actors band together to take revenge on their men was and remained a hugely satisfying cinematic experience.
Why it's Worth Watching
Before the "Me Too" movement, there was "The First Wives' Club." Women's stories were (and are) often untold or from the perspective of victims. Middle-aged women's stories are even rarer. But these characters gave agency to people who are often invisible in society, or at least irrelevant. These women became heroes, taking back their lives through gumption and friendship. Today more than ever, women are in the mood not to "get mad" but to "get everything," as the movie suggests.
Anna Karenina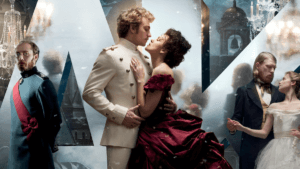 Watch On Showtime (Leaves 3/31/21)
Keira Knightly is the title character in "Anna Karenina," a 2012 drama adapted from the same name's classic 1877 novel. Anna is a Russian socialite married to Count Alexei Karenin, played by Jude Law. She becomes entangled in a passionate affair with the dashing Count Vronsky, played by Aaron Taylor-Johnson. Also starring are Alicia Vikander, who plays the young princess Kitty, and Domhnall Gleeson as Levin, a rural landowner in love with her. It won an Academy Award for Best Costume Design.
Why it's Worth Watching
Leo Tolstoy's novel "Anna Karenina" is beloved as a classic not just of Russian literature but also literature. It is considered one of the best books of all time. However, cracking a Russian tome may seem a bit intimidating. If you want to understand the story and have a modern lens to see it through, this film version will work well. Stoppard's device of setting the film's scenes in an old theater gives it just enough artistic flair that you feel like you are doing something intellectual or at the very least a bit interesting. You only need to invest a few hours in digesting it all, and you'll get gorgeous costumes to boot.
Crocodile Dundee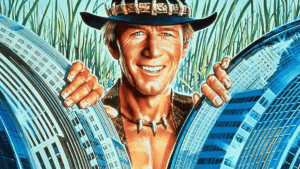 Watch On Showtime (Leaves 6/30/21)
In the 1986 film "Crocodile Dundee," Paul Hogan stars a comedy all about a rough, rugged man from Australia. He encounters the New York reporter Sue Charlton, played by Linda Kozlowski, and introduces her to the wild and strange ways of things down under. Dundee himself becomes the fish out of water when they travel to New York, where his swagger and charm are wildly out of place. The film soon became popular around the world.
Why it's Worth Watching
While it has been well over 30 years since we all learned the phrase "that's not a knife, that's a knife!" the cultural memory of "Crocodile Dundee" lives on. Hogan's swashbuckling hero spurred a new interest in the continent, its animals, and its people. Plus, the financial success led to sequels, including "Crocodile Dundee II" in 1988 and "Crocodile Dundee in Los Angeles" in 2001. This year there was even a semi-sequel released in 2020 on Amazon Prime called "The Very Excellent Mr. Dundee," which focuses on Paul Hogan as an actor in his older years. Even if his brand of toxic masculinity has worn thin, it's worth watching for the cultural history and the gorgeous scenes of Australia.
Twilight
(New Moon, Eclipse, Breaking Dawn Parts 1 and 2)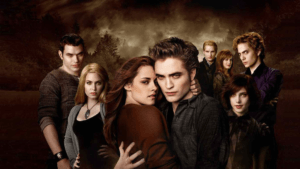 Watch On Showtime (Leaves 6/30/21)
From 2008-2012 there was a flurry of excitement over five supernatural films made from the Twilight book series. The latter four of them are coming to Showtime this month, giving people a chance to catch up on the exploits of the teenage Bella (played by Kristen Stewart) and her attractions to the vampire Edward (Robert Pattison) and the werewolf Jacob (Taylor Lautner). The movies proved to be a great commercial success and spawned a teen generation's obsession with vampires that turn sparkly in the sunlight.
Why it's Worth Watching
Some of us watched "Happiest Season" on Hulu this Christmas, excited to see Kristen Stewart in a gay relationship in a romantic comedy. Whatever you thought of that movie, you might not have realized that she is better known for another character with far more alternative romantic proclivities – sparkly vampires. The Twilight series of books and the subsequent movies were incredibly popular with teens in the early 2000s. While they were (quite rightly) criticized for their portrayal of a rather passive heroine, it is interesting to explore the world created by author Stephenie Meyer. And with so many movies to go through, like Bella, you'll feel like you too have dabbled (perhaps too much?) in the supernatural world.
Need More Information?
If this article didn't answer your specific question, head over to our Home Page! It will guide you to affordable internet providers, streaming services to meet your needs, information on antennas, and many more tools and resources to help you save money on TV and Internet access.
For tips and tricks on cutting the cord and other tech topics be sure to join our Facebook Page.
Join Millions of Cord Cutters
Disclosure: Grounded Reason is supported by a small commission for purchases made through some product links on this website. We do not accept compensation from companies attempting to sway our review of products.