Showtime is known for providing high-quality prestige TV like "Homeland," "L Word: Generation Q" and "Billions." However, it also is a source for movies, both classic favorites and newer hits. Every month a new selection of film drop for Showtime subscribers. In fact, you can watch all these movies free for 30 days! While it's $10.99 per month to subscribe after the 30-day trial, you can cancel before the trial is up and pay nothing. For more information, see out guide to watching Showtime without cable.
Top 7 Movies New to Showtime in May
Here is are top movies coming to Showtime this month.
Silver Linings Playbook
This 2012 romance drama stars Bradley Cooper and Jennifer Lawrence as two people trying to cope with the hard hand life has dealt them. Cooper is Pat, a man with bipolar disorder who has just been released from a psychiatric hospital. He befriends Tiffany (Laurence), a young widow with her own significant issues. She agrees to help him get back his ex-wife if he participates in a dance competition with her. Also starring is Robert DeNiro as Pat's father who wagers all his money on a football game.
Why it's Worth Watching
Much lauded by critics, "Silver Linings Playbook" gave Cooper and Lawrence plenty of space to explore the intricacies of grief and overcoming mental disorders. In a time with a lot of us struggling with how to get on with day to day life, it may be cathartic to see this unlikely pair grow together and help each other learn to see the good in all of life's bad.
Fatal Attraction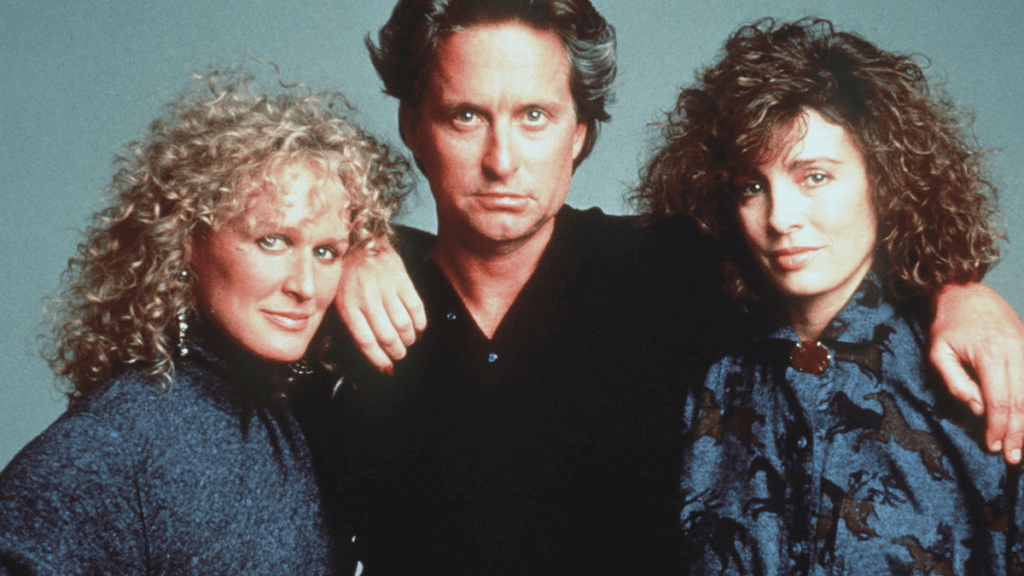 A classic psychological thriller, this movie spent weeks as the number one movie in the U.S. when it came out in 1987. It stars Glenn Close as Alex, a woman who has an affair with the married Dan, played by Michael Douglas. After their brief affair, Alex obsesses over Dan and his family, growing more and more unhinged and violent. 
Why it's Worth Watching
Audiences found it hard to look away from the sordid world depicted in "Fatal Attraction." There is often something obsessive about love and attraction – who among us has not let it go a bit too far? Hopefully in the case of most people, however, there were no weapons or small animals around to abuse. Watching it all go to its most stalker-y extremes is at the same time horrifying and compelling, as people in the 80s found out. Even today the themes of infidelity and obsession can continue to tantalize.
The Exorcist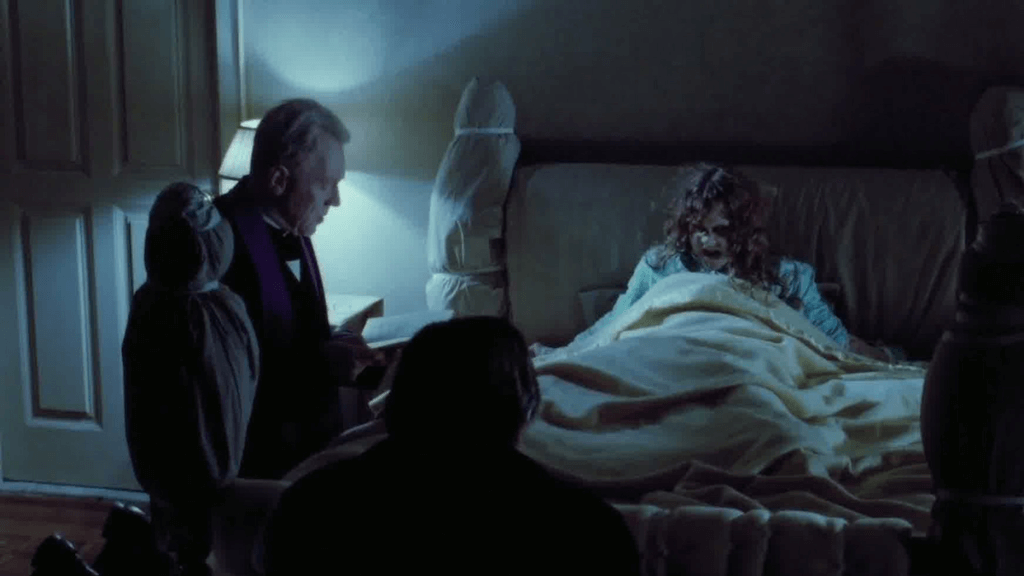 This classic horror movie from 1973 started a franchise and haunted the nightmares of a generation. It stars Linda Blair as 12-year-old Regan who becomes possessed by the demon Pazuzu. Her desperate mother played by Ellen Burstyn first tries medicine and then when that fails goes to the church to try to exorcize the demon out of her. Terrifying images of the possessed girl ensue as they all grapple with the creature.
Why it's Worth Watching
"The Exorcist" is counted among the scariest movies of all time and has spawned many a reference, perhaps most famously for Regan's head spinning around 180 degrees. To be a true horror aficionado, it is required viewing. It is also a master class in how to make an audience feel terror without the benefit of CGI.
Hulk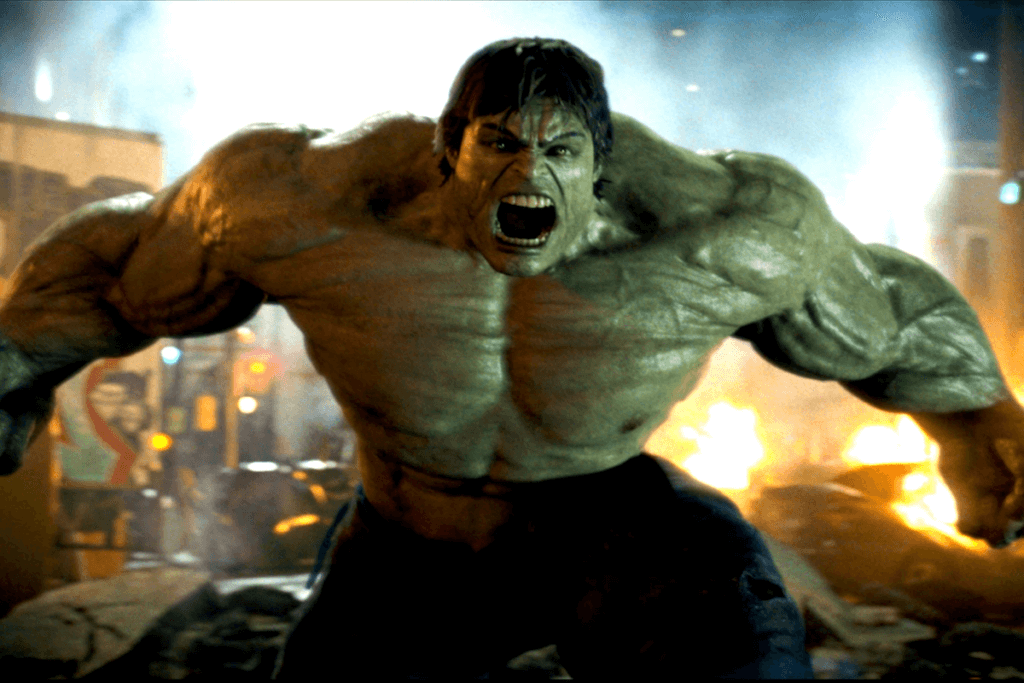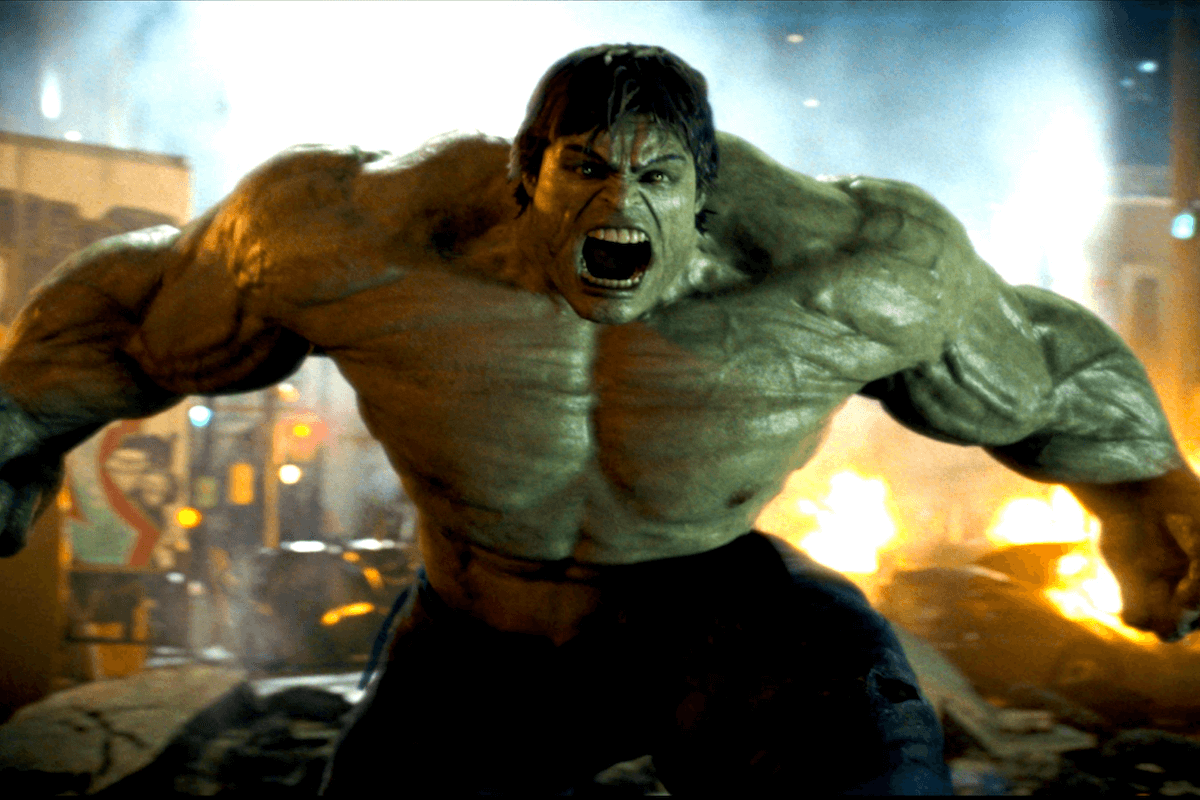 Directed by none other than Ang Lee, this 2003 action-adventure film stars Eric Bana as the scientist-turned-big-green monster. Bana is Bruce Banner, who is exposed to gamma radiation and as a result, transforms into the Hulk whenever he is angry or upset. The movie explores his origin story as the son of David Banner (Nick Nolte), himself a scientist who tinkered with his own DNA in a lust for power. Jennifer Connelly is Betty, Banner's ex-girlfriend, and fellow scientist. Banner must try to protect Betty from his father as the elder Banner as his plots become more sinister.
Why it's Worth Watching
It can be a bit confusing to pin down exactly which Hulk is which and what universe each is in. This Hulk started the recent slew of films with the prestige of having Ang Lee at the helm. Despite that pedigree, this Hulk wasn't all that well-received and soon after Marvel acquired rights to the hero and made "The Incredible Hulk" in 2008. Although that 2008 movie is part of the official Marvel Cinematic Universe, it does not star Mark Ruffalo, the Hulk we came to know in later movies. The 2008 film instead starred Edward Norton, with Ruffalo taking over afterward. The Hulk might just need his own Hulk-verse like Spider-man has the Spider-verse. For now, however, to be a big-green-guy completionist you'll need to watch them all.
Heartbreakers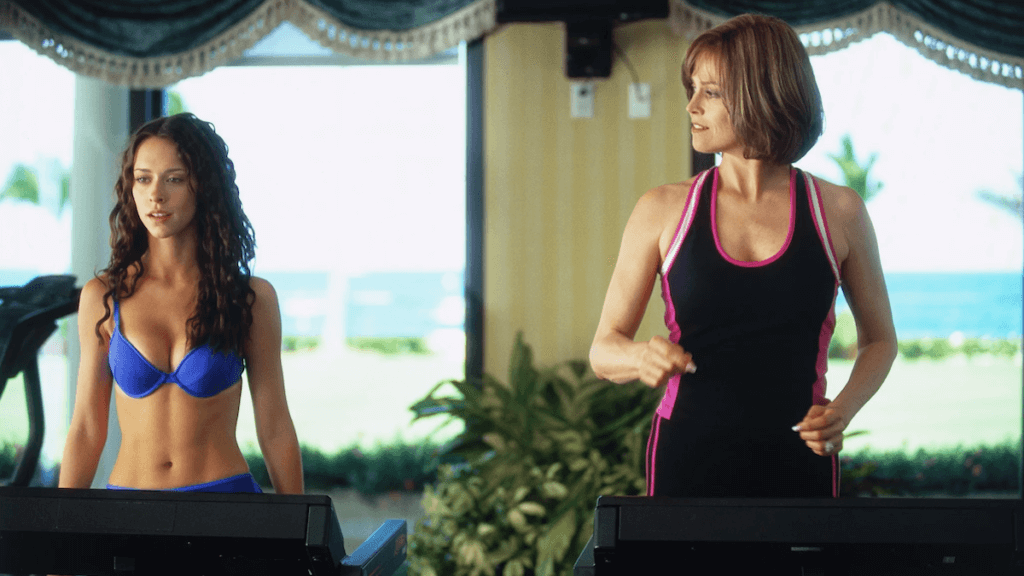 Sigourney Weaver and Jennifer Love Hewitt star as a mother/daughter con team in 2001's "Heartbreakers." The pair make their money by Weaver's Max getting men to marry her, only to have her daughter Page (Love Hewitt) tempt them into a compromising position that leads to immediate divorce and settlement. Things get complicated, however, when they attempt to pull the con on Gene Hackman's William Tensy, a tabacco baron. One of their previous cons, played by Ray Liotta, shows up and wants a cut. Meanwhile, Page has real feelings for a bartender played by Jason Lee.
Why it's Worth Watching
Women are often sex symbols, and Weaver and Love Hewitt here are no exception, but in this case they are also physical comedians. Watching their machinations is delightful. Their attempts to manipulate the men around them are sometimes far-fetched, but seeing two women take charge and be sexual and also silly and flawed is a satisfying change of pace.
The Holiday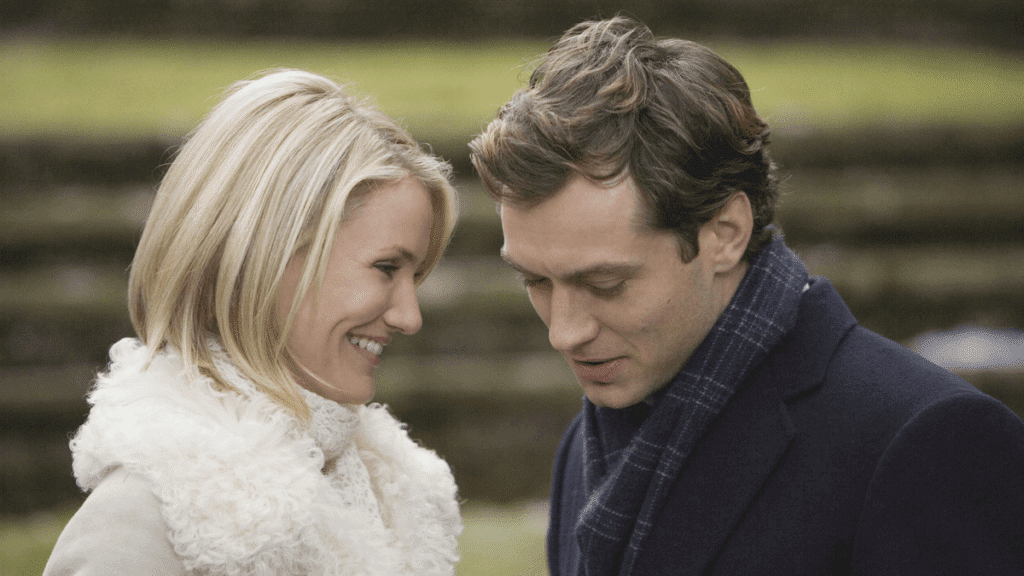 Cameron Diaz, Kate Winslet, Jude Law, and Jack Black star in this romance comedy from 2006. Diaz's Amanda, from California, and Winslet's Iris, from England, are both jilted in love. They agree to swap houses to have a holiday and recover. While in England, Amanda becomes interested in Iris' brother Graham (Jude Law). Likewise, Iris comes across and falls for music composer Miles (Jack Black). "The Holiday" was written and directed by Nancy Meyers.
Why it's Worth Watching
"The Holiday" is pure fluff but its casting makes it a worthy addition to your rom-com arsenal. Having watched so many of their movies, Winslet and Diaz feel like old friends to me, so it's always good to check in. The men are more remarkable as romantic leads, in particular Jack Black, who is more often known for boisterous comedy. It's refreshing to see someone who isn't a typical leading man in the role. Jude Law, meanwhile, is traditionally handsome but I'm more used to seeing him in "Gattaca"'s dystopia or in Hogwarts. I'm glad these versions of these people found each other if only in this small fictional world.
Annie Hall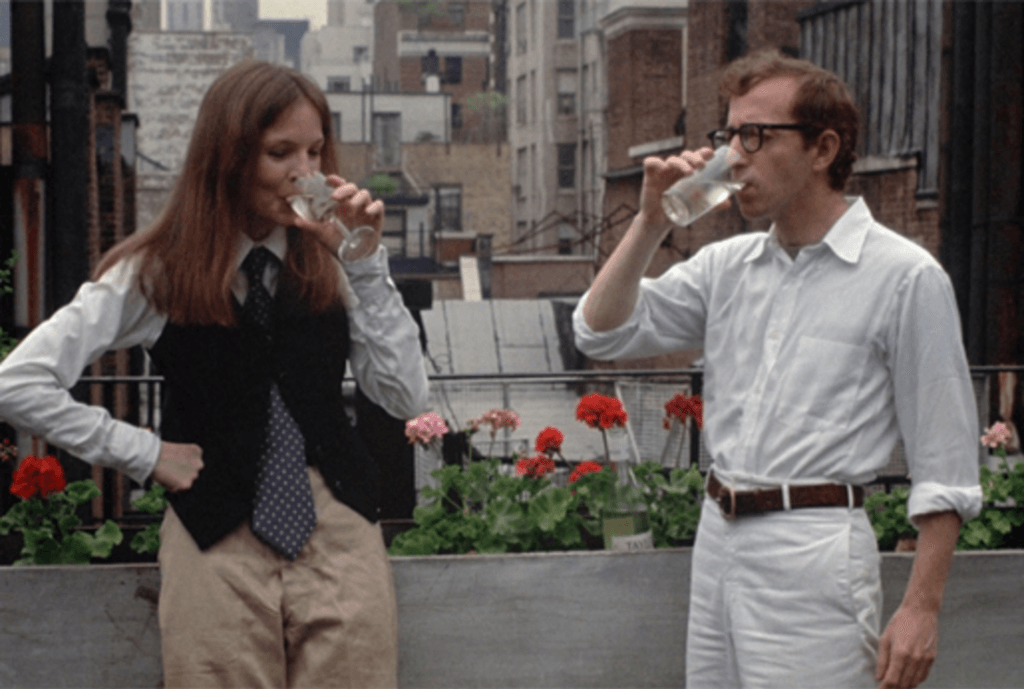 Woody Allen and Diane Keaton star in 1977's "Annie Hall." Their characters, Alvy and Annie, get together and talk, have trouble and talk, and finally break up and talk some more. Along the way Allen pontificates on life, his anxiety, and the nature of relationships. The supporting cast includes Carol Kane, Paul Simon, Shelley Duvall, Christopher Walken, and Colleen Dewhurst. The movie won four Academy Awards including Best Picture.
Why it's Worth Watching
"Annie Hall" is a study in anxiety, a love letter to New York, and a trend setter in relationships filled with ennui. While many romance comedies cover the lead up to getting together, this film examines the slow and painful process of falling out of love. It does that so well, in fact, that "Annie Hall" has a film legacy, much of which comes from the wordy banter in trademark Woody Allen-style. The situations are well-known as well, like when Alvy sneezes all over a pile of cocaine. Plus there's Annie's fashion, like wearing a man's tie, that was copied after the movie came out. It's hilarious, it's cringe-worthy, but it's also required viewing for any fan of film.
Best Movies Still On Showtime
Here are the top movies that are still available on Showtime's streaming library from prior months:
Ex Machina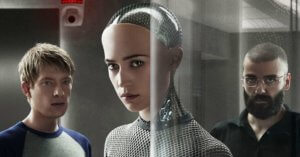 Watch On Showtime (Leaves 7/25/2022)
The nature of artificial intelligence is examined in 2014's "Ex Machina," a sci-fi thriller starring Oscar Isaac, Domhnall Gleeson, and Alicia Vikander. Vikander plays the robot Ava who is human-like in many ways, including her face and hands. Gleeson is Caleb, a programmer hired by the rich, eccentric Nathan, played by Oscar Isaac. Caleb must test how intelligent Ava is through a series of meetings that get more and more intense. Viewers are left to wonder who controls who and what it means to be human or machine. The movie was critically well regarded and earned a variety of awards, including an Academy Award for Best Visual Effects.
Why it's Worth Watching
Ever since we started making robots, we have been fascinated with what happens when they get intelligent. Will those we made to serve us end up conquering us? Such was the plot of both the classic and the rebooted "Battlestar Galactica" TV series. "Ex Machina" takes a much more personal approach. We get to examine one robot and interact with one human and see how far their relationship goes and what it ultimately means to both of them. Oscar Isaac also gets to showcase the (often quite disturbing) nature of the creator. As our society delves more deeply into artificial intelligence, it is increasingly important to consider what we make of the life we create and what it makes of us.
Dr. Strangelove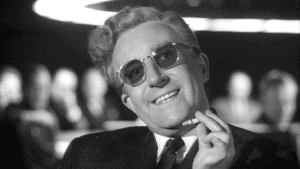 Watch On Showtime (Leaves 5/31/2021)
Also called "Dr. Strange: How I Learned to Stop Worrying and Love the Bomb," this 1964 movie is one of cinema's greatest examples of gallows humor. Set in the Cold War, the movie features a mad U.S. general who launches an unprovoked nuclear attack on the Soviet Union. This will provoke a massive retaliatory strike, so a group of American men and Dr. Strangelove, an ex-Nazi scientist, attempt to stop it. The movie features Peter Sellers playing various roles, including Dr. Strangelove himself, and broadly satirizes the idea of "mutually assured destruction" as a nuclear deterrent.
Why it's Worth Watching
In the midst of all your worries about the pandemic and climate change, did you perhaps forget about nuclear weapons as well? Watch this, and you will certainly be all too aware of that other looming danger that keeps people up at night. That said, it is somehow both funny and important, included as it is in the Library of Congress for its cultural significance. Stanley Kubrick's classic reminds us all of what happens when human foibles and foolishness mixes with all-powerful weapons. Laugh, cry, and take note since this movie and its issues aren't going away any time soon.
Amelie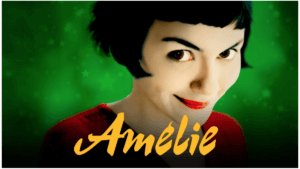 Watch On Showtime (leaves 6/30/21)
This 2001 romance comedy is famous for the delightful, whimsical atmosphere it conjures. It stars Audrey Tautou as Amelie herself, an isolated waitress. She has a way of seeing the joy in the little things in life, like cracking the top of crème brulè with a spoon. Over the course of the film, she applies this skill to the people in her life, concocting elaborate schemes that bring happiness to one after the other, ultimately finding companionship for herself.
Why it's Worth Watching
Few films are quite so evocative of whimsy as "Amelie," which brings joy not only through its use of the French language and its graphic flair but also through top-notch cinematography. It is impossible to watch "Amelie" and not come away feeling that life truly does have moments worth fighting for, especially if they are simple and mundane. You'll want to book a trip to Paris, and even it features a Paris that only exists in dreams. At the very least, you'll want to get yourself a nice dish of crème brulè – crack it and realize life does have meaning, after all.
Stargate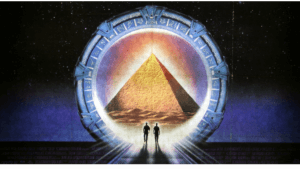 Watch On Showtime (leaves 6/30/21)
This 1994 science fiction movie features James Spader as Daniel Jackson, a scientist who discovers that Egyptian hieroglyphs were actually clues to uncovering a Stargate. The Stargate can be used to travel quickly throughout the universe. He ventures through one with a crew, including Colonel Jack O'Neil, played by Kurt Russell. There they meet a far-flung tribe of humans who worship the god Ra – an adversary who must be defeated to save humankind.
Why it's Worth Watching
It's been a few years now, but there was a time in the early 2000s when Stargate was a major science fiction franchise force. The movie spawned multiple TV spin-off's including the ten-season "Stargate SG-1". Traveling through the ripply gate became nearly as common a sight as people driving off in their Hondas. It ended in 2007 with "Stargate Atlantis" and "Stargate Universe" wrapping up a few years after, but the legacy remains. If you'd like to dip your toe into the Stargate fandom, start with this movie and move onto the rest of the universe.
Mystic Pizza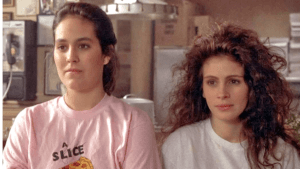 Watch On Showtime (leaves 6/30/21)
Three friends work at a pizza parlor in Mystic, Connecticut in this 1988 romance comedy. Julia Roberts is the free-wheeling Daisy, while her nerdy sister Kat is Annabeth Gish. Their friend Jojo, played by Lili Taylor, is trying to get out of marrying her boyfriend. Through rocky relationships and the daily drama of serving up pizza, the three women learn to navigate the adult world together.
Why it's Worth Watching
"Mystic Pizza" has become something of a cult classic, even in the modern era. Of course, part of the reason is Julia Roberts, whose wide-mouthed smile seems to spark success in almost any movie. Plus, there's female friendship, a topic that there is never enough of. Sure, they mostly talk about their relationships, but it is a rom-com, after all. And then there's the pizza part – I'm convinced Americans love pizza so much we even like to watch it eaten in the movies.
Robocop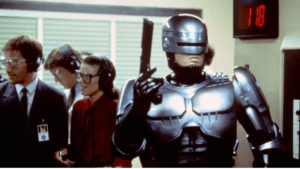 Watch On Showtime (leaves 6/30/21)
Peter Weller stars in this 1987 science fiction action movie as Robocop, a murdered police officer transformed into a cyborg. Unaware of his previous identity, Robocop goes about on his mission of fighting crime with his enhanced equipment and skills. His humanity is still under the hardware, however, and after many brutal, violent shoot-outs he comes to understand a bit of his life as a man. The sequels "Robocop 2" and "Robocop 3" are also on Showtime this month.
Why it's Worth Watching
What is in the soul of a police officer? The question is perhaps more pertinent now than it was when "Robocop" was made. Underneath all the gore (and there is quite a lot of it), the movie asks how far the police can and should go to combat crime. How much force is necessary – and how much of an officer's humanity must be lost in the process? "Robocop" is worthwhile viewing for modern audiences if only to add a voice from the past in the discussion on what is police force and what is police brutality.
Fargo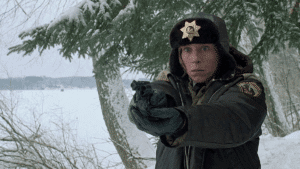 Watch On Showtime (leaves 6/30/21)
The Coen Brothers' 1996 black comedy movie "Fargo" earned many accolades, including an Academy Award for star Frances McDormand. McDormand plays Marge Gunderson, a pregnant police chief investigating murders happening around Fargo, Minnesota. The crimes begin when car salesman Jerry, played by William H. Macy, hires two criminals to kidnap his wife so that he might get a ransom from his rich father-in-law. The murders pile on as Gunderson attempts to solve the case.
Why it's Worth Watching
The Coen brothers have a distinctive sort of style, a quirkiness that transcends the subject material. In this case, the grisly murders take place in the backdrop of the quaint town, complete with Minnesota accents. The mix of funny and gruesome has proved to be compelling since the image of a wood chipper with a foot coming out of it is forever etched in the audience's minds. The movie inspired a television series in the same universe. So far it has run for four seasons on FX, each featuring a different setting and set of characters.
Hannah and Her Sisters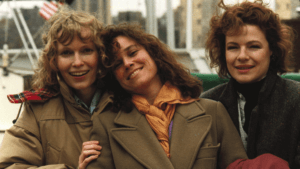 Watch On Showtime (leaves 6/30/21)
An ensemble cast stars in this 1986 comedy by Woody Allen. Mia Farrow plays Hannah, whose husband Elliott (Michael Caine) is in love with her sister Lee (Barbara Hershey). Her other sister Holly (Dianne Wiest), is involved with Mickey, played by Allen himself. In the film, Allen pontificates his angst and existential dread while Hannah and her sisters attempt to find relationship success.
Why it's Worth Watching
With the recent release of the "Allen v. Farrow" HBO documentary series, Woody Allen is again in the news. Like many, I grew up finding Allen's movies charming if self-indulgent. Since learning about his family controversies, however, it's harder to appreciate his sense of humor. Now, he is being accused of sexual abuse by his adopted daughter Dylan Farrow. Watching "Hannah and Her Sisters" will give you a sense of how and why Woody Allen came to his position of popularity and power. At the same time, you can do your own psychoanalysis of the man who has searched for his own motivations a brand.
The Last Temptation of Christ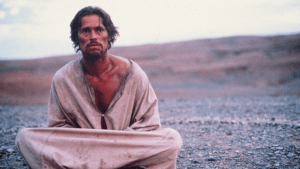 Watch On Showtime (Leaves 5/12/2021)
Martin Scorsese directed this 1988 version of the story of the life of Jesus. In addition to relating the more well-known stories in the Bible, the movie probes what Jesus' temptations might have been like. Jesus, played by Willem Dafoe, struggles with whether to peruse violent revolution or preach peace. He is also tempted by more carnal pleasures. The movie was well-reviewed but controversial in its time.
Why it's Worth Watching
Easter is fast approaching, and with it, we usually get viewings of religious movies – "The Ten Commandments" at the very least. Sometimes we also get movies about the life of Jesus, of which many choose from. In fact, there have been so many that we are getting nearly Spider-Man-like in numbers of iterations. In comparison to the others, this one is a bit more out there. Scorsese explores more of the grittier side of what Jesus's mind might have been going through, so much so that the movie led to protests and death threats. However, I would say take of it what you will, and if it bugs you, just hop on over to another Jesus in the movie multiverse.
Teen Wolf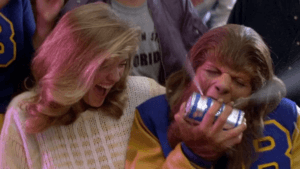 Watch On Showtime (Leaves 5/31/2021)
Michael J. Fox stars in this 1985 comedy about a teen boy, Scott Howard, who discovers he is a werewolf. Scott uses his wolf nature to his advantage, skyrocketing in popularity among friends and becoming a basketball superstar. His father, Harold, played by James Hampton, is a werewolf and teaches him about his new powers. At the same time, Scott connects romantically with two girls at school, including Lisa "Boof" Marconi, played by Susan Ursitti. In the end, he must whether being a wolf or being a boy will help him become the person he needs to be.
"Teen Wolf Too," its sequel starring Jason Bateman, is also on Showtime this month.
Why it's Worth Watching
Werewolves are big now among the younger set thanks to "Zombies 2," a recent movie that features dancing, singing teen werewolves. Supernatural transformations will always be interesting as coming-of-age stories, after all, since their bodily changes are so much cooler than the real thing. Parents who have endured numerous times listening to the werewolves' song "Flesh and Bone" might enjoy going back and reliving their own coming-of-age werewolf story, which has considerably less singing and the ever-charming Michael J. Fox as its star.
A Fish Called Wanda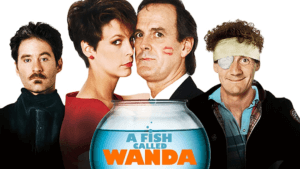 Watch On Showtime (Leaves 5/31/2021)
This heist film came out in 1988 and remained a classic for fans of British comedy. It features Jamie Lee Curtis as Wanda; an American con artist hired to help with a diamond theft by the gangster George (Tom Georgeson) and his animal-loving friend Ken (Michael Palin). Also, starring is Kevin Kline as Otto, Wanda's lover and pretend brother, and John Cleese as Archie, her other lover. Shenanigans ensue as they all double-cross each other in pursuit of riches.
Why it's Worth Watching
Heist movies are always rife with hijinks, and even more so when they are British and full of quirky comedy. This movie is considered to be especially smart and enjoyable, especially considering its cast. Simply having John Cleese is enough for most Anglophiles to watch, but when combined when Jamie Lee Curtis and the rest of the talented cast, "A Fish Called Wanda" becomes required viewing for fans of the genre.
Crocodile Dundee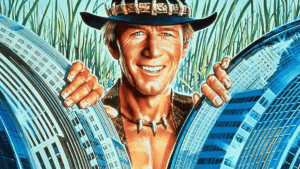 Watch On Showtime (Leaves 6/30/21)
In the 1986 film "Crocodile Dundee," Paul Hogan stars a comedy all about a rough, rugged man from Australia. He encounters the New York reporter Sue Charlton, played by Linda Kozlowski, and introduces her to the wild and strange ways of things down under. Dundee himself becomes the fish out of water when they travel to New York, where his swagger and charm are wildly out of place. The film soon became popular around the world.
Why it's Worth Watching
While it has been well over 30 years since we all learned the phrase "that's not a knife, that's a knife!" the cultural memory of "Crocodile Dundee" lives on. Hogan's swashbuckling hero spurred a new interest in the continent, its animals, and its people. Plus, the financial success led to sequels, including "Crocodile Dundee II" in 1988 and "Crocodile Dundee in Los Angeles" in 2001. This year there was even a semi-sequel released in 2020 on Amazon Prime called "The Very Excellent Mr. Dundee," which focuses on Paul Hogan as an actor in his older years. Even if his brand of toxic masculinity has worn thin, it's worth watching for the cultural history and the gorgeous scenes of Australia.
Twilight
(New Moon, Eclipse, Breaking Dawn Parts 1 and 2)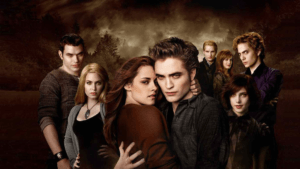 Watch On Showtime (Leaves 6/30/21)
From 2008-2012 there was a flurry of excitement over five supernatural films made from the Twilight book series. The latter four of them are coming to Showtime this month, giving people a chance to catch up on the exploits of the teenage Bella (played by Kristen Stewart) and her attractions to the vampire Edward (Robert Pattison) and the werewolf Jacob (Taylor Lautner). The movies proved to be a great commercial success and spawned a teen generation's obsession with vampires that turn sparkly in the sunlight.
Why it's Worth Watching
Some of us watched "Happiest Season" on Hulu this Christmas, excited to see Kristen Stewart in a gay relationship in a romantic comedy. Whatever you thought of that movie, you might not have realized that she is better known for another character with far more alternative romantic proclivities – sparkly vampires. The Twilight series of books and the subsequent movies were incredibly popular with teens in the early 2000s. While they were (quite rightly) criticized for their portrayal of a rather passive heroine, it is interesting to explore the world created by author Stephenie Meyer. And with so many movies to go through, like Bella, you'll feel like you too have dabbled (perhaps too much?) in the supernatural world.
America's Sweethearts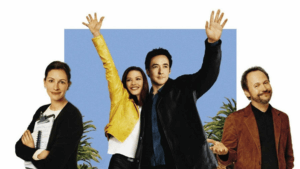 Watch On Showtime (7/31/21)
This 2001 romance comedy features Gwen (Catherine Zeta-Jones) and Eddie (John Cusack), a married Hollywood star whose relationship has recently crashed and burned. Unfortunately, however, they still have to promote their latest film. They attempt to do so with Lee's help, a film publicist played by Billy Crystal, Kiki, Gwen's sister, and Julia Roberts's assistant. Kiki and Eddie find they have feelings for each other, but the show of Gwen's mistreatment of them both looms over their relationship. Also, starring is Hank Azaria, who plays Gwen's new love interest.
Why it's Worth Watching
This movie is made up of a powerhouse of people famous at the time. From the much-beloved Billy Crystal to the always-funny Hank Azaria, the movie feels like visiting with some of your favorite friends. Added to that is Julia Roberts, who is the remote movie star in "Notting Hill" and here is the down-to-earth assistant. The script may not be Shakespeare, but it is silly, sunny, fun well suited for a winter afternoon.
Need More Information?
If this article didn't answer your specific question, head over to our Home Page! It will guide you to affordable internet providers, streaming services to meet your needs, information on antennas, and many more tools and resources to help you save money on TV and Internet access.
For tips and tricks on cutting the cord and other tech topics be sure to join our Facebook Page.
Join Millions of Cord Cutters
Disclosure: Grounded Reason is supported by a small commission for purchases made through some product links on this website. We do not accept compensation from companies attempting to sway our review of products.