Starz is so much more than just a place to catch up on the adventures of Scotland's steamiest couple. Of course, you can see "Outlander" there, but in addition to its series, Starz also features a wide variety of movies that you can't necessarily find streaming elsewhere. Starz adds new movies every month, so it's worthwhile to check up on the latest in the Starz streaming library.
You can subscribe to Starz with its app (normally $8.99/month), Check out this 1-week free trial. That is just enough time to watch all 7 of the movies below. See our guide to watching Starz online for more information on this streaming service.
Top 7 Movies on Starz in April
Here are a few of the top movies that will be added to the Starz streaming this month.
Dodgeball: A True Underdog Story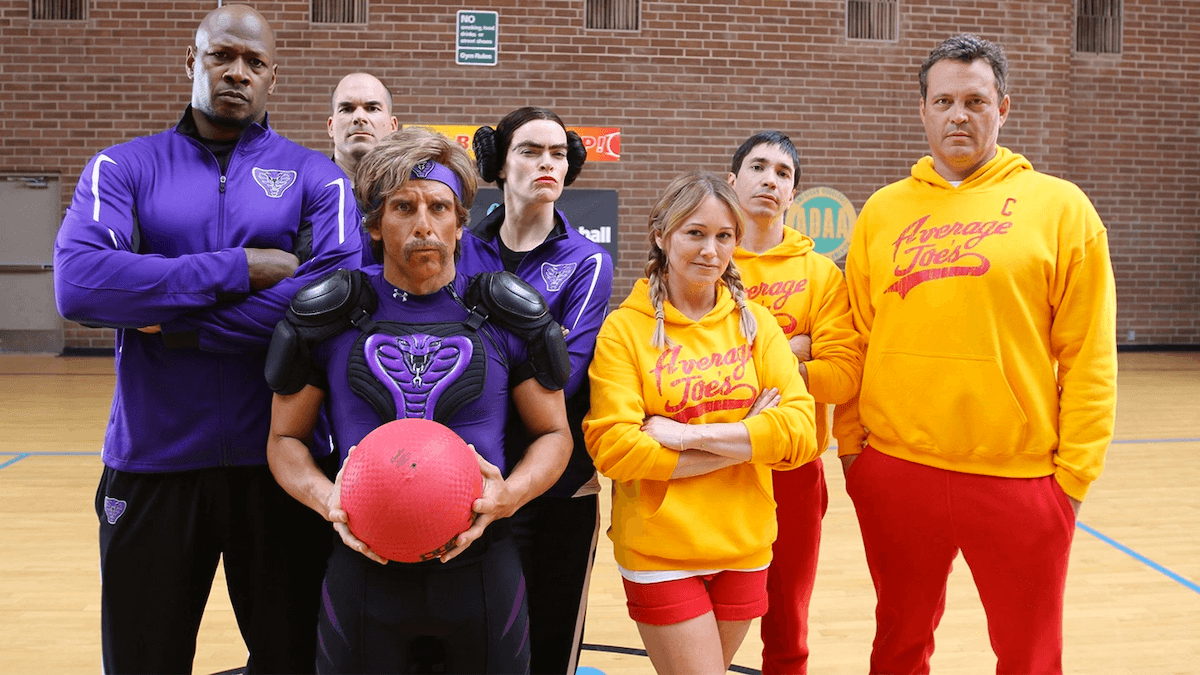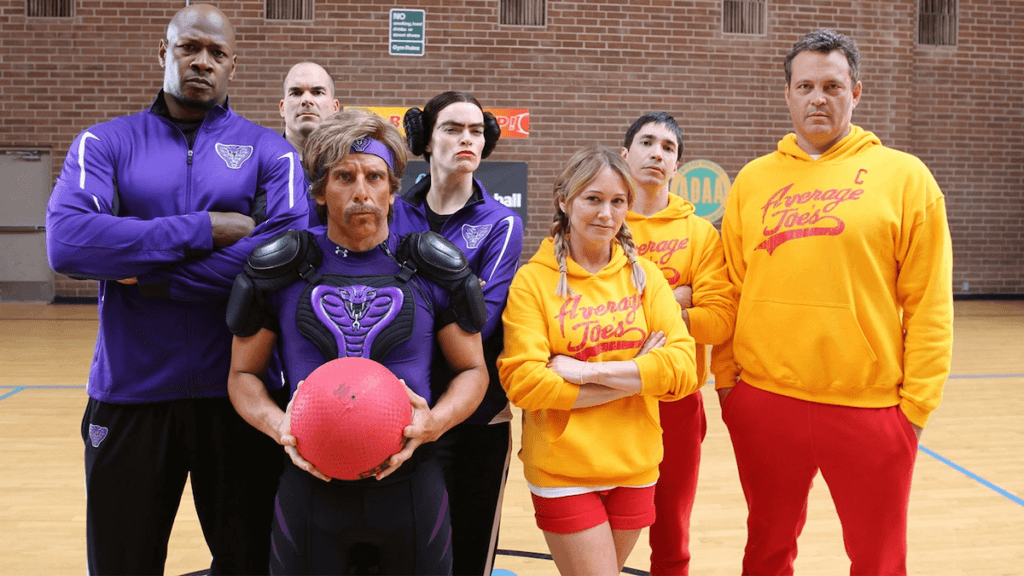 A 2004 sports spoof, "Dodgeball," stars Vince Vaughn as Peter, a small gym owner with just a few members. It is threatened when Ben Stiller's White Goodman attempts to buy the gym to make a parking lot for his own big, fancy "Globo Gym." If Peter and his gang of gym misfits can earn $50,000, they can save his gym, so they go on an unlikely quest to win a dodgeball tournament in Las Vegas and get the prize money. Also starring is Christine Taylor as Kate Veatch, a lawyer-turned-player, and Rip Torn, the grizzled dodgeball coach Patches O'Houlihan.
Why it's Worth Watching
Back before they were superspreaders, gyms were more than just a place to work out. This movie celebrates the camaraderie at places people get together and the deep weirdness of those other people. Plus, who doesn't have repressed trauma of elementary school dodgeball? Red rubber balls can bring out the vicious in humanity, it seems. Ben Stiller is fabulous at wielding them as well as his over-the-top, scenery-chewing performance. Watch and wonder at how bizarre our pastimes can be.
Steel Magnolias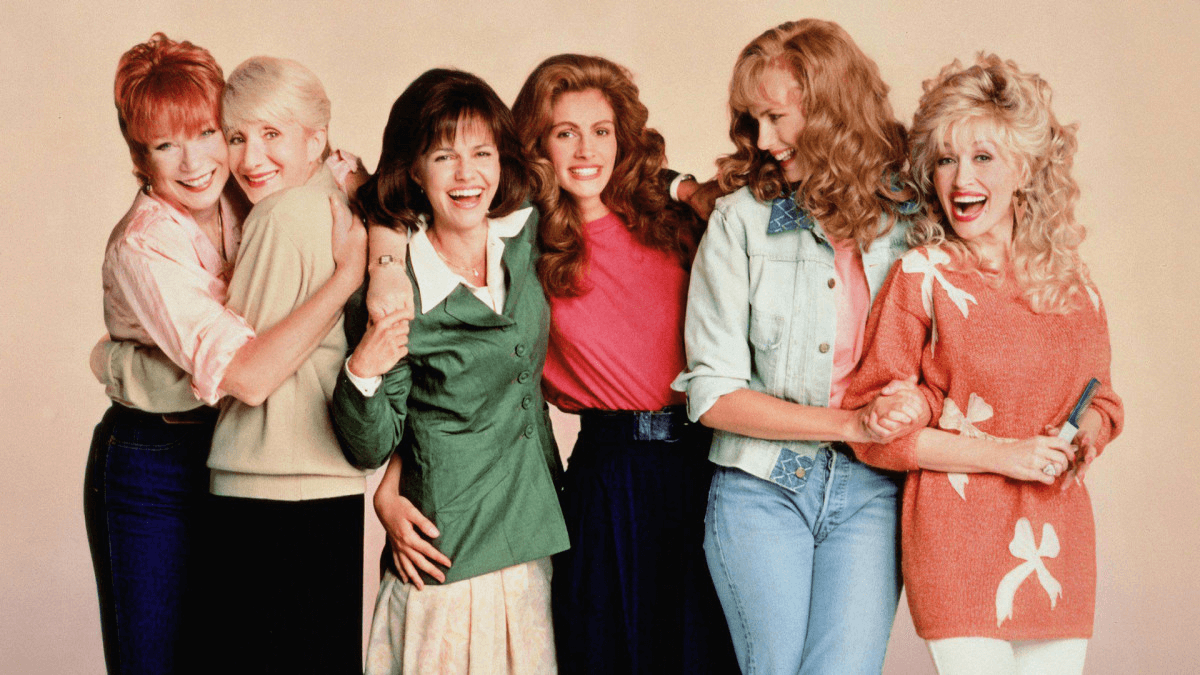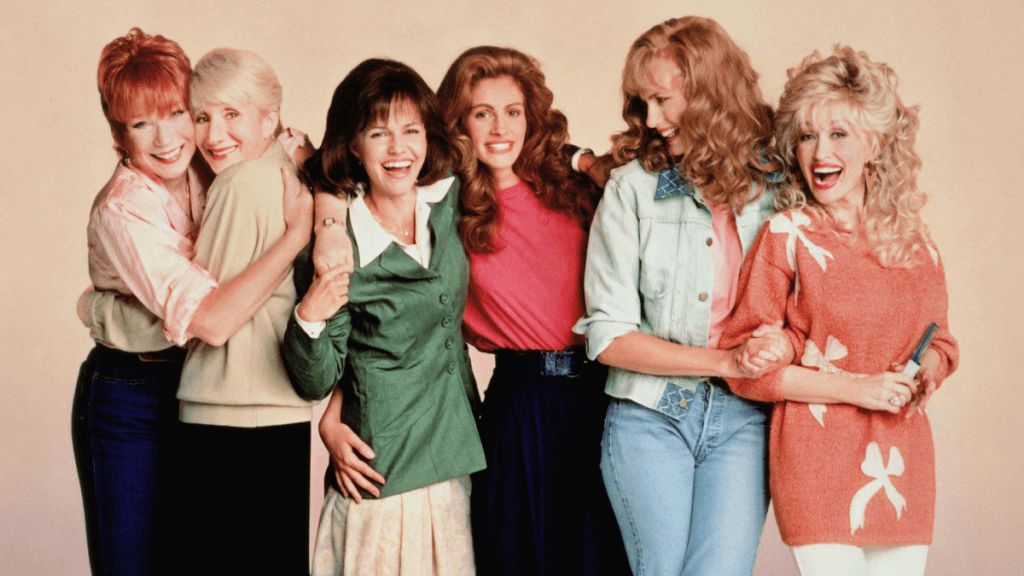 A group of women in a small southern town is the subject of this 1989 comedy/drama. In it, Shelby, played by Julia Roberts, is about to get married, and she is helped by her mom M'Lynn (Sally Field), and older friends Louisa (Shirley MacLaine) and Clairee (Olympia Dukakis). Shelby gets her hair done at a hair salon owned by Truvy (Dolly Parton), who has just hired the new and awkward Annelle (Daryl Hannah). Despite the risks inherent in having children and a Type I diabetes diagnosis, Shelby longs to have a baby.
Why it's Worth Watching
This movie's tagline was "the funniest movie ever to make you cry," and you can consider that your Surgeon General's warning for the film. Yes, it's very well done and shows the bonds of female friendship and mature female friendship. Yes, the actors are amazing. But oh boy, will the ending hit you like a ton of bricks. Cry, as it suggests, or sob like a total baby into your couch cushions as I did. 
Groundhog Day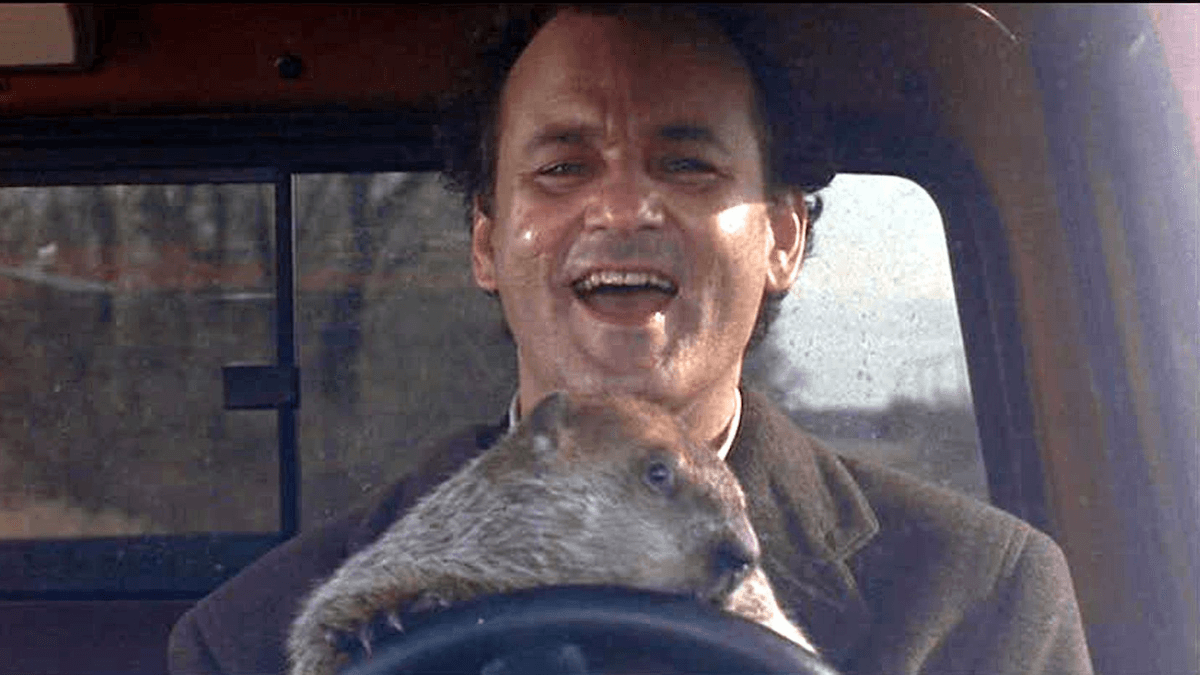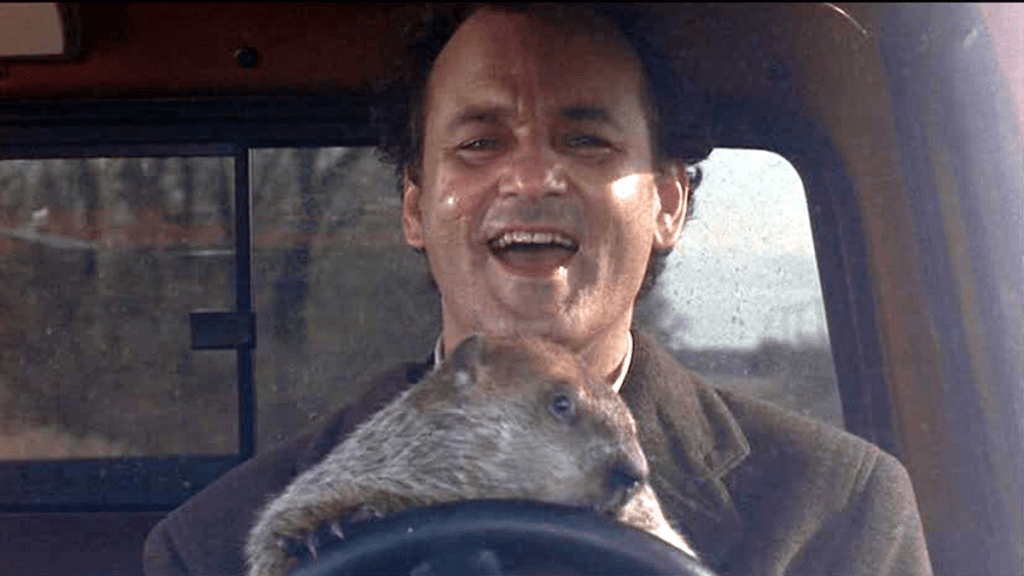 This 1993 classic comedy stars Bill Murray as Phil, a weatherman forced to relive the same day over and over again. For him, it's always Groundhog Day in Punxsutawney, PA, and the cynical Phil must cope with getting stuck in a place he can't stand. Despite all his best efforts and even suicide attempts, he wakes every morning on Feb. 2. In order to escape, he must learn to embrace his situation and care about others, including his charming coworker Rita played by Andie MacDowell.
Why it's Worth Watching
This classic is perennially popular for its comedy as well as for its philosophy. There's remarkably a lot to think about while watching this movie and many life lessons to be learned. In particular, this movie has been referenced lately since quarantine life likewise seems to repeat itself over and over in the same way. Whether we will all learn to care about others is still up in the air, but giving this movie a few more viewings certainly can't hurt.
Bewitched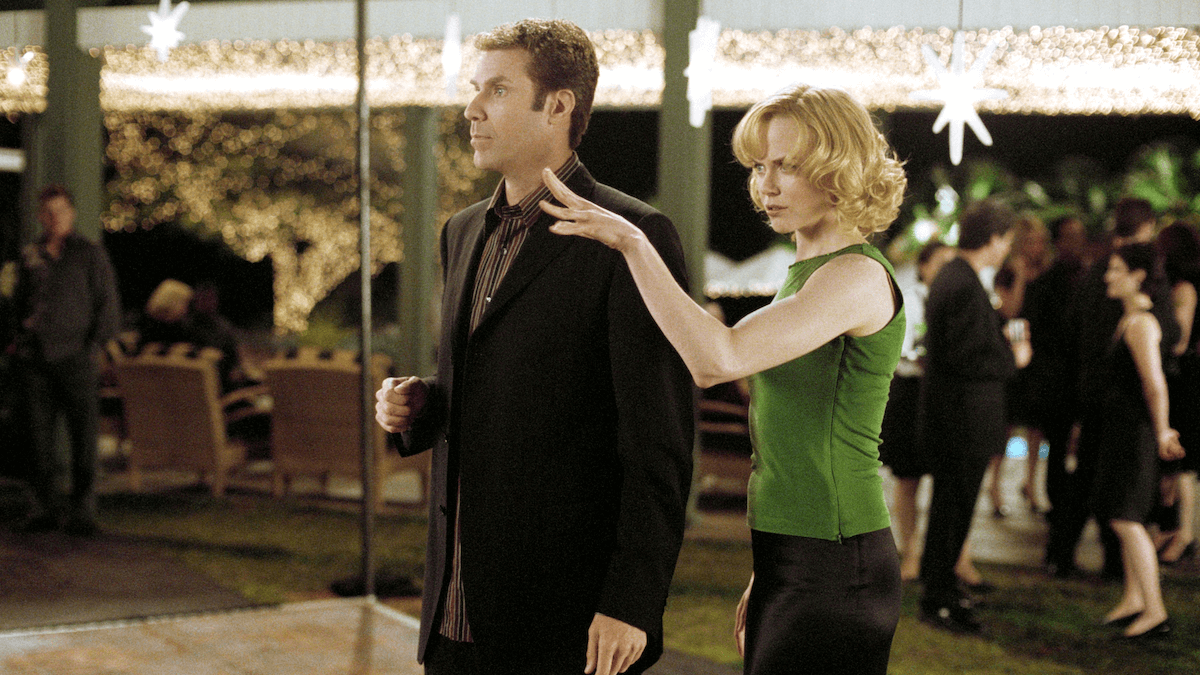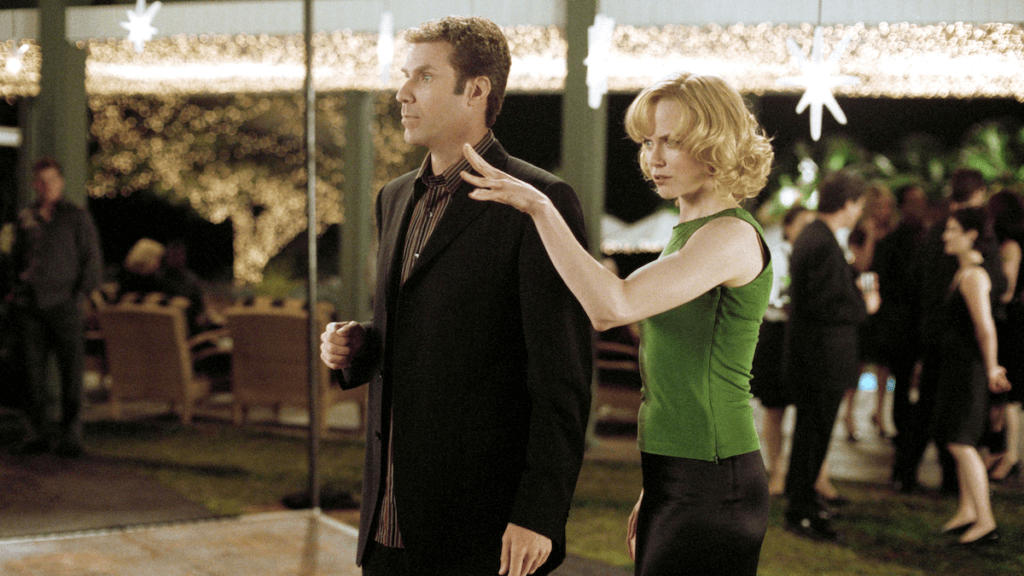 Based on the 1960s sitcom, this 2005 romantic comedy features Nicole Kidman as Isabel, a witch who decides to renounce her powers and live a normal life. Meanwhile, actor Jack Wyatt (played by Will Ferrell) is looking for a costar for a "Bewitched" sitcom reboot. Isabel seems perfect for the role, but things get complicated when Isabel's romantic feelings and Jack's ego clash.
Why it's Worth Watching
Sure, this isn't the best rom-com ever made. But "Bewitched" has been on people's minds lately because the series was spoofed on the Disney+ show "WandaVision." The characters on that show mess about with old-fashioned romances to great effect, and so it's worth a try to see how "Bewitched" translated to the early 2000s. Even if Jack's a bit annoying, Kidman's Isabel saves the day with a wry, clever performance that just might charm you. 
As Good as It Gets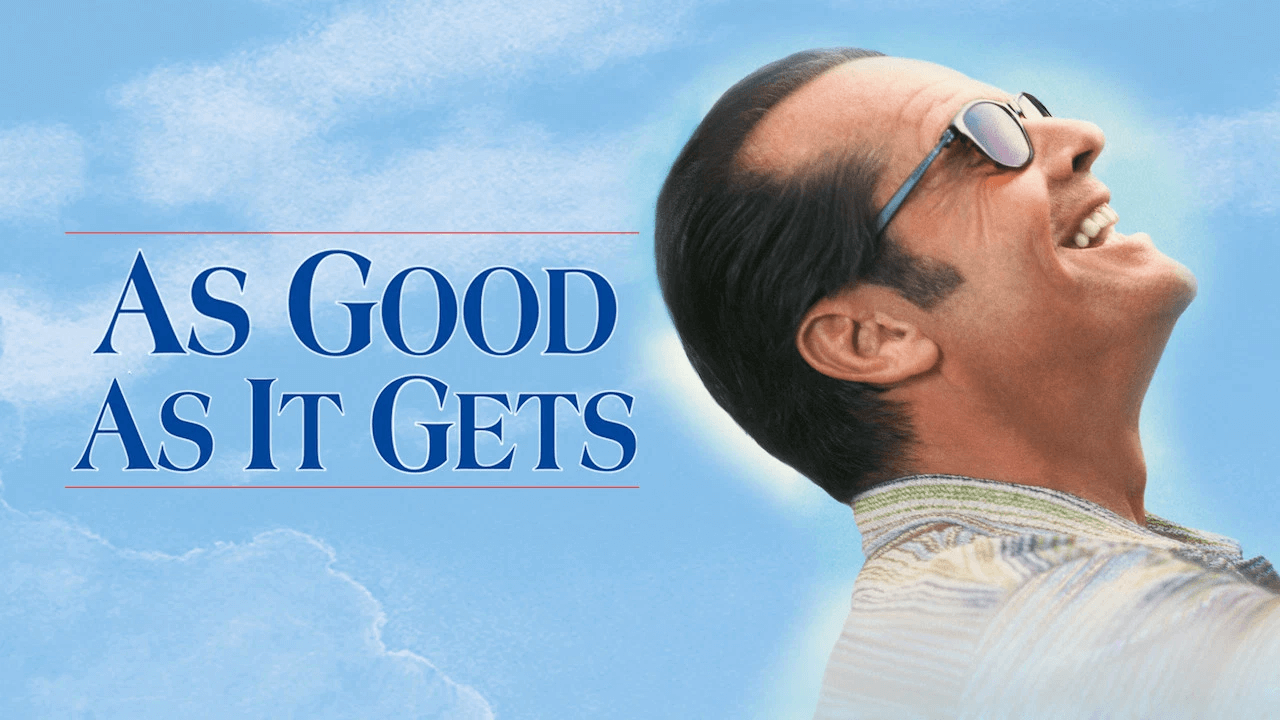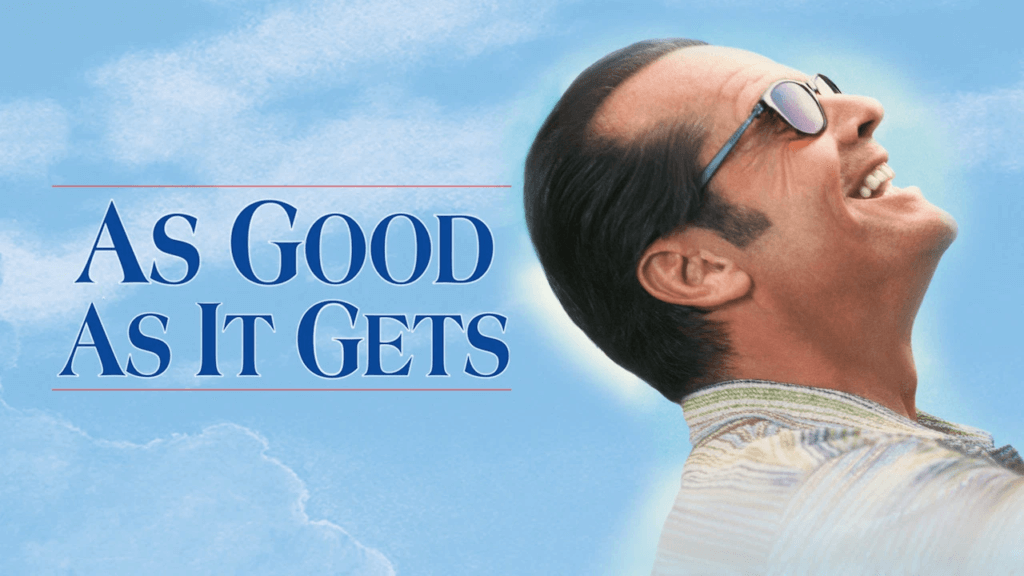 A 1997 romance comedy/drama about an unlikely trio of people facing major difficulties. Melvin, played by Jack Nicholson, is a surly romance writer who repels other people. Carol, played by Helen Hunt, is his waitress with a son who is sick. Simon, played by Greg Kinnear, is Melvin's neighbor, a gay artist who is assaulted and robbed. As they attempt to face some of the toughest situations life can dish out, the three begin to like each other.
Why it's Worth Watching
Although this is technically a rom-com, the romance is the part of the movie I like the least. I don't buy Jack Nicolson and Helen Hunt together, in character or not. But that said, this movie has so much heart it's hard not to love it, giving a satisfying glimpse of people persevering through pain. "As Good as It Gets" also deserves praise for including a real, three-dimensional gay character in a time when being LGBTQ was more often a punchline in pop culture.  
Stepmom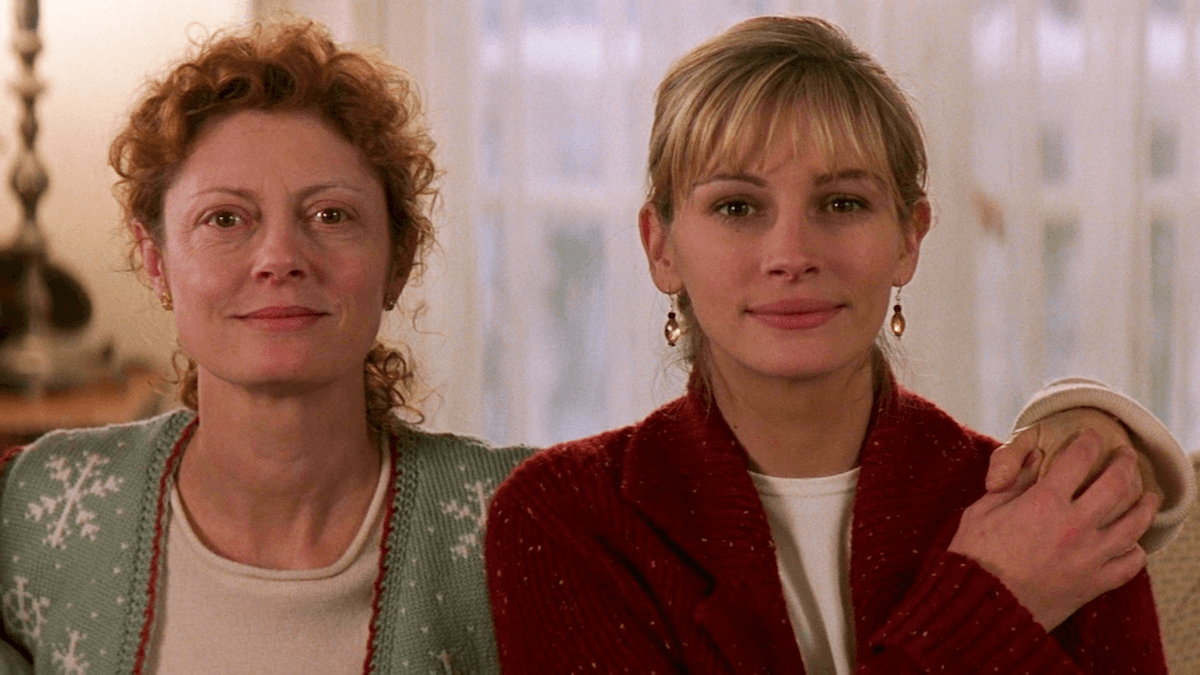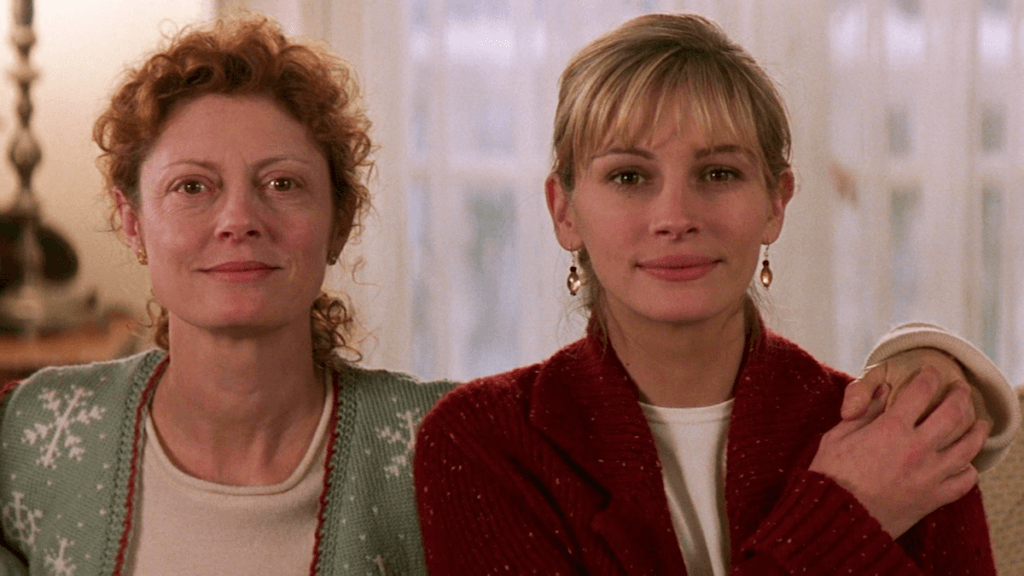 Julia Roberts and Susan Sarandon star in this 1998 drama about a broken family and then patched back together. Sarandon's character Jackie has divorced from her husband Luke, played by Ed Harris. Luke's new girlfriend Isabel is helping to raise their kids. The two women can't stand each other or their parenting style. When Jackie reveals she has a terminal cancer diagnosis, they find a new reason to try to make things work.
Why it's Worth Watching
The heartbreaking emotions brought on by divorce are some of the worst people experience in their everyday lives. Watching two women go through that genuine and terrible situation can be tough. However, they both rise to the occasion and make it work. As families are strained under quarantine, we too often find that we have to do the difficult thing and make life work even when it's tough. Watching Julia Roberts and Susan Sarandon make it through might help.
Hot Tub Time Machine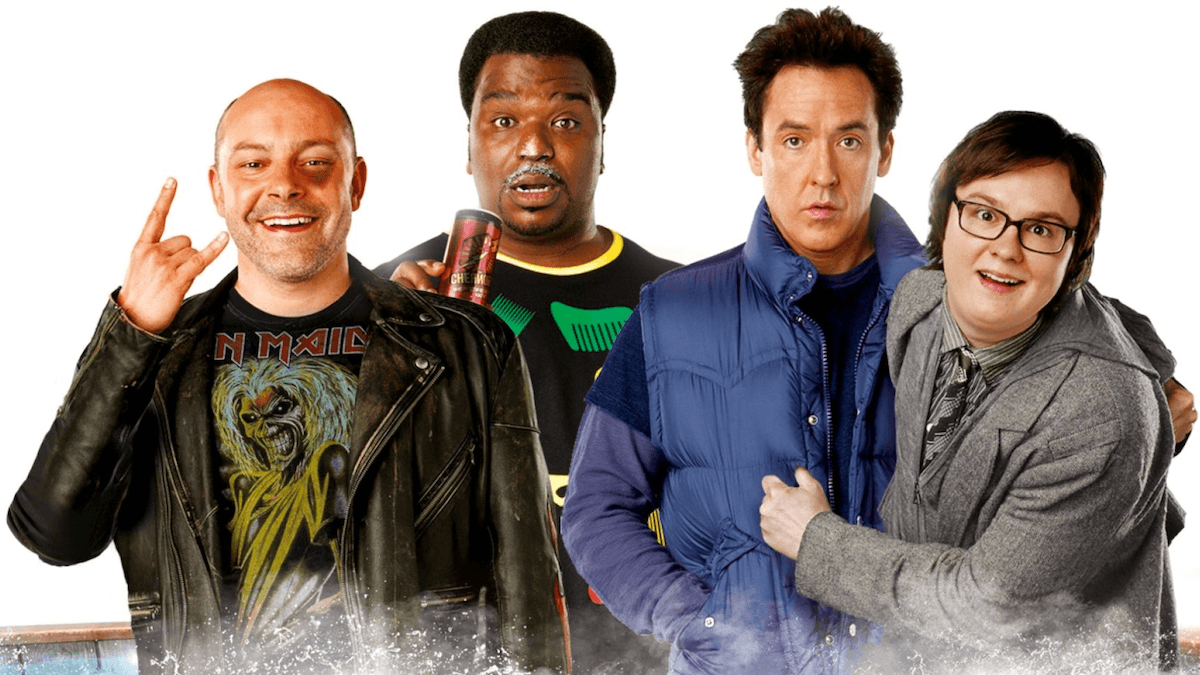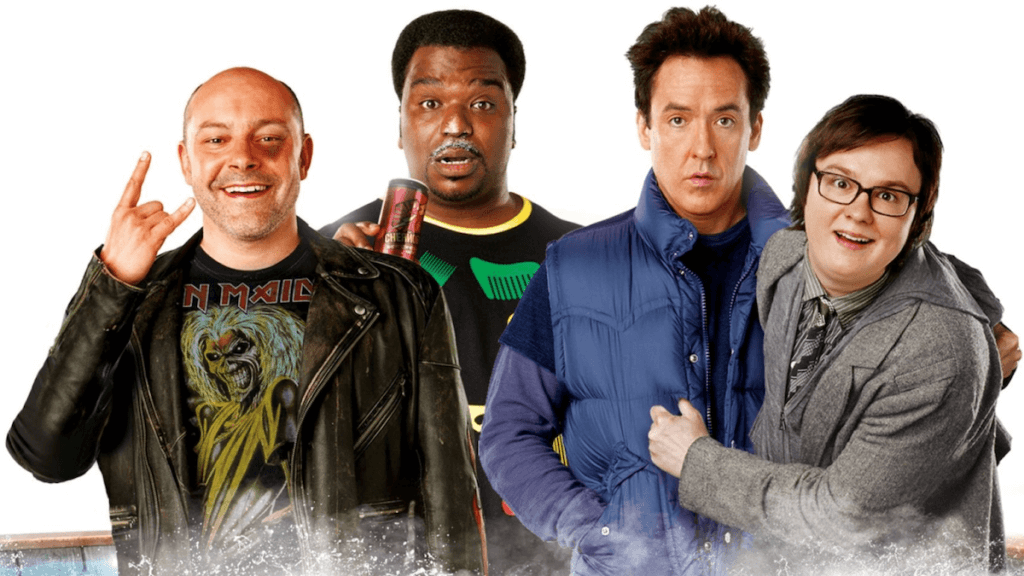 A group of depressed friends reunites and goes back in time to the 1980s in this 2010 comedy. Their vehicle ends up being a hot tub that has been fueled with a Russian energy drink. It stars John Cusack, Rob Corddry, and Craig Robinson, with Clark Duke as the nerdy young Jacob who accompanies them. While back in the past, they attempt to reenact their past lives while also trying to get back to the present.
Why it's Worth Watching
A bonkers concept if ever there was one, "Hot Tub Time Machine" was just weird enough to work for many people. At its heart, it is an arrested-development guy movie, which has sometimes limited appeal but works here due to that odd premise and its cast of oddball characters. To be a completionist with time travel movies, as I aspire to become, this one is a strange but necessary movie to see.
Great Movies Still on Starz
There are some great movies still on Starz from months prior. We keep a running list below.
Inside Out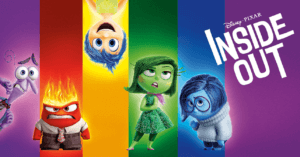 (Watch on Starz – available March 6)
Pixar's "Inside Out" is a computer-animated comedy released in 2015 which depicts the child Riley's emotions as cartoon characters. Riley must cope with the stress of moving from Minnesota to San Francisco and starting at a new school, wreaking havoc with Joy (Amy Poehler), Sadness (Phyllis Smith), Anger (Lewis Black), Fear (Bill Hader), and Disgust (Mindy Kaling.) Complicating it all is her new pre-pubescent volatility and the disruption of her "core memory" islands. As is the case with so many pre-teens, Riley is soon left with only the negative emotions at the wheel.
Why it's Worth Watching
So technically this movie is a comedy, so why then do I bawl like a baby whenever I see it – even for the 10th time? In fact, my kids like to count how many seconds into the movie it will be before I start to tear up. "Inside Out" is one of those masterpieces that it seems only Pixar is able to make – somehow simultaneously very funny but also incredibly meaningful. From its animated depiction of abstract mental processes to the astute emotional manifestations in each character, "Inside Out" shows insight born of years of effort. For a parent, the movie doesn't so much tug on the heart-strings so much as it yanks them brutally about before putting them back together.
Juno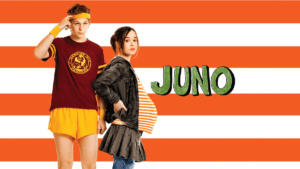 Elliott Page stars in this 2007 comedy/drama about an unexpected teenage pregnancy. Page is Juno, a smart no-nonsense teen who conceives after an encounter with her friend Paulie, played by Michael Cera. Juno attempts to cope with both high school and being pregnant with the help of her friend Leah (Olivia Thirlby) and her dad (J.K. Simmons). While looking for adoption possibilities, Juno decides on a married couple, the well-off Vanessa (Jennifer Garner) and Mark (Jason Bateman). However, the couples' relationship difficulties make her question both her decision and her faith in love.
Why it's Worth Watching
"Juno" is well worth watching if only for its quirky aesthetic and the likeability of Juno and the circle of people around her. However, it also deserves a spot on the watch-list because of the controversy it caused. People who supported abortion rights and people who were anti-abortion found fault in the storyline, making it great fodder for thought and conversation for the modern viewer. That topic is not going anyway any time soon, after all. After that, just revel in the fun of good people being kind to one another, another theme that (I hope at least) will last a long time.
Indecent Proposal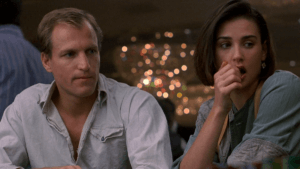 This 1993 drama features Diana (Demi Moore) and David (Woody Harrelson), a married couple in need of cash. When they go to a casino to try to win it, they encounter John Gage (Robert Redford), a billionaire who offers them a million dollars if Diana will spend the night with him. Doing so, however, leads (perhaps predictably) to strain on the marriage. Paid infidelity might not turn out to be all they hoped it would be.
Why it's Worth Watching
Although the movie is clunky in a few ways, it was still a commercial success, perhaps because the premise was so scandalous. Indeed, my interest in the movie largely stemmed from the fact that I was too young to watch it when it first came out. But watching something because it transgresses social norms is totally valid, I say. Give it a try and revel in the sheer inappropriateness of it all.
St. Elmo's Fire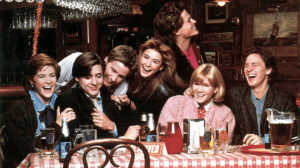 An ensemble, "Brat Pack" cast stars in this 1985 movie about university graduates in Washington D.C. Among them is Rob Lowe, who plays Billy, once a frat boy and now a miserable husband and father. Ally Sheedy plays Leslie, who is dating the yuppy Alec played by Judd Law. Emilio Estevez is Kirby, who is in love with medical student Dale, played by Andie MacDowell. Also in the group are Demi Moore's Jules, Mare Winningham's Wendy, and Andrew McCarthy's Kevin. The group tries to deal with adult life while debating the merits of marriage and commitment.
Why it's Worth Watching
"Adulting" wasn't a word back when this movie came out. But really, that's what it's about – trying to work through a new and alien world. As we slowly creep out of our COVID quarantines, we might just feel like we are new to the world, too. Plus, if you are a Parks and Recreation fan, you will enjoy this very un-Chris Traeger-like Rob Lowe, complete with the 80s do and dangly earrings.
Peggy Sue Got Married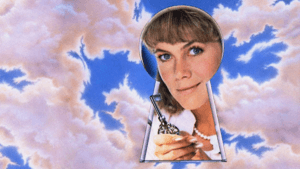 Kathleen Turner stars in this 1986 comedy/drama as Peggy Sue, a 42-year-old woman thrown back in time to her senior year of high school. This time around she has the chance to do things differently – including maybe to not marry her high school sweetheart Charlie (played by Nicholas Cage). Their marriage in the future is on the rocks due to his infidelity. While in the past Peggy Sue must figure out what she really wants and who she wants to be with. Also, starring is Barry Miller, who plays the high school geek turned into a future billionaire.
Why it's Worth Watching
We all wonder what would have happened if we had done things differently. The recent hit book "The Midnight Library" by Matt Haig explores the possibility of enacting that possibility in the world of fantasy, and back in the 1980s, this movie did much the same thing. "Peggy Sue Got Married" has the advantage of being directed by Francis Ford Coppola, giving it more heft than you might expect. Plus, you get a woman as the protagonist of this adventure – and time-traveling stories featuring women can be few and far between.
Elf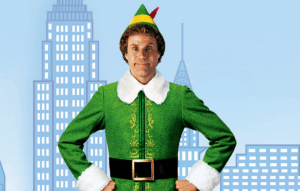 A modern Christmas classic, "Elf" has charmed audiences since 2003. Will Farrell plays the elf himself, Buddy, although he is actually a human raised by elves, including Santa (Bob Newhart.) With a combination of live-action and stop-motion animation that pays homage to the 1964 Rudolph special, "Elf" tells the story of Buddy trying to ingratiate himself in with his human family, including dad played by James Caan – who happens to be on the naughty list. Buddy must woo his dad to the good side of the Christmas list and win the affections of the quirky Jovie, played by Zooey Deschanel. Thankfully he knows the best way to spread Christmas cheer is singing loud for all to hear – and putting syrup on spaghetti.
In addition to the movie "Elf," Starz will also have various special features on "Elf" including a sing-along version. See how to watch Elf for free!
Why it's Worth Watching
With the holiday season just around the corner, "Elf" is going to be a must-watch for many families. And considering how much we will be inside, I'm anticipating my family will have this one on repeat. It isn't just because Will Farrell is hilarious, although he is – I will never not laugh when he screams "Santa!" in the department store. It isn't just because of the supporting cast, which is the spot-on top to bottom. It's also because it manages to be so satisfyingly heart-warming without being syrupy sweet (unlike Buddy's flavor preference.) Even Scrooge himself would have a holiday twinkle in his eye after watching "Elf," and these days, we should take a twinkle whenever we can find it.
Frozen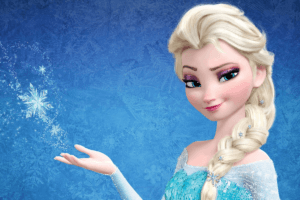 The phenomenally popular Disney movie "Frozen" isn't just on Disney Plus. You can find it on Starz, as well, bringing the world of princesses Anna, Elsa, and snowman Olaf to an even bigger audience. The movie came out in 2013 when legions of fans praised Kristen Bell as Anna and Idina Menzel as Elsa for their portrayal of estranged sisters. Elsa has ice powers that she can't quite control, coating the kingdom with snow. Anna is naïve and perennially optimistic. On their journey to reconciliation, they meet a cast of quirky characters, including Olaf, and belt out songs, including "Let It Go," that continue to echo in living rooms the world over.
In addition to "Frozen," Disney movies "Big Hero 6" and "Monsters University" are also coming to Starz.
Why it's Worth Watching
With "Frozen" the Broadway show (on hiatus), "Frozen 2" the sequel, and the ubiquitous merchandising, it's hard to imagine now that we ever lived without Anna and Elsa. "Frozen" took the world by an ice storm, with people cramming in to see the movie again and again and belting out "Let it Go" at every opportunity. One reason, at least for this mom of girls, was its celebration of sisterhood. Anna and Elsa don't actually need a man: they save each other, and what better morals could a parent ask for? But it also benefits from gorgeous animation, strong joke density, and a soundtrack that lets people relate to each song's emotions. "Frozen" is a must-see as a movie as well as a cultural institution.
Office Space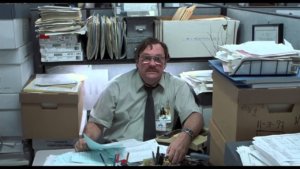 Cult classic "Office Space" gives the world view from a cubicle and how dreary it is. Ron Livingston plays Peter, a guy just zoning through the constant mild irritations of life at a software company. After attending a hypnotherapy session with his girlfriend, he has an epiphany of sorts and begins to give work its due, which is very little. With that off his mind, Peter can concentrate on getting together with a similarly frustrated waitress named Joanna, played by Jennifer Aniston, and on hatching a scheme with his coworkers to get even with the company for its workers' poor treatment.
Why it's Worth Watching
Is it possible that there was a time before we knew about the sweet satisfaction of smashing a printer to bits in an open field? Or that we didn't know about the agony of TPS reports? "Office Space" launched as many memes as it did because it managed to show so adeptly what millions of workers know: office work can be soul-sucking. Give it a watch, validate your own experience of frustration, and then order your own red stapler, which Swingline started making after being popularized in the movie.
Looper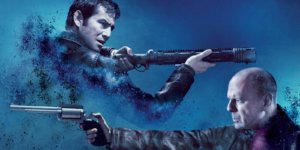 "Looper" from 2012 provided another take on time travel, this time involving assassins. Joseph Gordon-Levitt plays Joe, one such time-traveling killer aka "looper." Part of the deal is that he must eventually kill his future self, played by Bruce Willis. Older Joe, however, has a plan of his own. Emily Blunt also stars as Sarah, a woman with telekinetic powers. Many of the mind-bending paradoxes of time travel that we know and love come into play, combined with non-stop action-adventure.
Why it's Worth Watching
There are many iterations of time travel, from the cerebral in "Star Trek" to the funny suspense in "Back to the Future." "Terminator" gave us a glimpse of the sort of terror that could ensue when the future comes back to bite you. And then there is "Looper," which gets your heart pounding even as your head spins. Anyone who wants to know the full extent of time travel possibilities will want to give it a watch.
Starship Troopers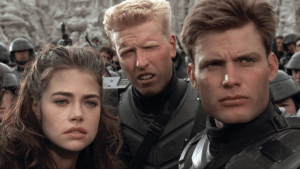 This 1997 science fiction movie explores a future where humanity is at war with a race of insect-like aliens. A group of young friends signs up to fight in different ways, with Johnny Rico (played by Casper Van Dien) in the Mobile Infantry. Neil Patrick Harris plays Colonel Carl Jenkins, a psychic who ends up in the intelligence agency, and Denise Richards is his girlfriend who becomes a starship pilot. They battle the bugs in increasingly desperate and gory ways as they attempt to save the human race from destruction.
Why it's Worth Watching
Robert A. Heinlein's 1959 novel "Starship Troopers" is decidedly too right-wing and militaristic for many people now (as I'm sure it was then as well.) Based on that book, this movie also skewers it a bit by going over the top with its nationalism and propaganda images. The result is a critique of hawkish war-worship, sort of, while keeping the drama of it. It's a bit of a case of having your cake while eating it too, and while it doesn't work for everyone, at the very least, it's an interesting take on how to adapt a questionable original work.
Annie Hall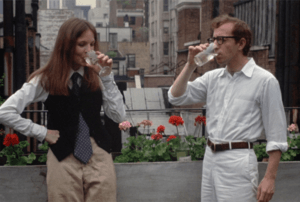 Woody Allen and Diane Keaton star in 1977's "Annie Hall." Alby and Annie, their characters, get together and talk, have trouble and talk, and finally break up and talk some more. Along the way, Allen pontificates on life, his anxiety, and the nature of relationships. The supporting cast includes Carol Kane, Paul Simon, Shelley Duvall, Christopher Walken, and Colleen Dewhurst. The movie won four Academy Awards, including Best Picture.
Why it's Worth Watching
"Annie Hall" is a study in anxiety, a love letter to New York, and a trendsetter in relationships filled with ennui. While many romance comedies cover the lead up to getting together, this film examines the slow and painful process of falling out of love. It does that so well, in fact, that "Annie Hall" has a film legacy, much of which comes from the wordy banter in trademark Woody Allen-style. The situations are well-known as well, like when Aldy sneezes all over a pile of cocaine. Plus there's Annie's fashion, like wearing a man's tie, that was copied after the movie came out. It's hilarious, it's cringe-worthy, but it's also required viewing for any fan of the film.
Spider-Man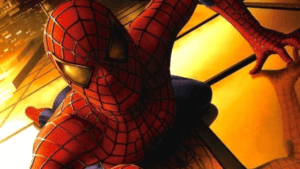 Before Tom Holland, before Andrew Garfield, there was the Tobey Maguire Spider-Man. This version, now on Starz, told the hero's origin story back in 2002. Maguire is nerdy Peter Parker, bitten by a spider and granted superpowers. Kirsten Dunst is his love interest Mary Jane, and James Franco is Harry, Peter's well-off best friend. Willem Dafoe hams it up as Harry's father, a brilliant scientist who transforms into the villain Green Gobin.
Why it's Worth Watching
With this movie's inclusion, Starz now has the version that began the modern 21st-century obsession with the hero. Sure, you could stick with Tom Holland, who fits so neatly into the Marvel Cinematic Universe since 2017. But the Tobey Maguire trilogy that starts with this one has its own charms. You can feel how fresh it felt to have a radioactive spider bite a guy back then. Maguire is adorkable too, which may be just one of the reasons the upside-down kiss in the rain between him and Dunst is as glorious a lip-locking as you could hope for.
Titanic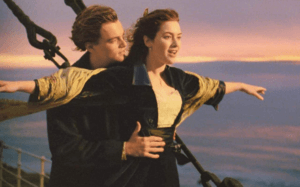 The story of the Titanic shipwreck in 1912 was re-told in an elaborate and expensive style in 1997's "Titanic." Kate Winslet is Rose, a first-class teen engaged to the overbearing but rich Cal, played by Billy Zane. Her world opens up as she encounters the third-class Jack, and they start a steamy secret romance. Upon meeting an iceberg, however, everything falls apart – most notably, the ship. "Titanic" achieved spectacular popularity after it came out and caused legions of movie audiences to swoon and cry in equal measure.
Why it's Worth Watching
The rocket of "Titanic" 's success was fueled largely by teenage girls, and I will admit that I was one of the most enthusiastic of all of them. I saw it many times in the theater with my friends, I belted out the cheesy theme song "My Heart Will Go On," I planned for my bridesmaids' dresses to be modeled after Rose's wardrobe. Oddly enough, perhaps, I haven't seen it since then. It was just so popular in the late 90s that it would naturally lay fallow for a while. Now, however, it seems like a great time to visit the movie. Is it a bit melodramatic? Perhaps. But it's hard to match it for romance and sheer spectacle – and beyond that, for the fact that it's the general story of a tragedy happened.
Glory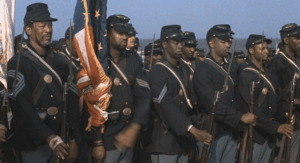 "Glory" depicts the first African-American regiment in the American Civil War, led by the white Colonel Robert Gould Shaw (played by Matthew Broderick.) Included among the soldiers are Private Trip, played by Denzel Washington, and Sergeant Major John Rawlins, played by Morgan Freeman. Even as their reasons for fighting are personal, being ex-slaves, the soldiers also struggle to get the supplies, pay, and status as their white counterparts.
Why it's Worth Watching
Historical dramas are fascinating – and often deeply flawed. It's a strange phenomenon to watch something purporting to be a "true story," as "Glory"'s trailer states, while also knowing that certain events and certainly dialogue are fabricated. In fact, there are several inaccuracies in the movie "Glory," including one in the text shown after the movie's conclusion. The fort they attacked did, in fact, fall later. However, that said, these kinds of movies and this one, in particular, are still important. Knowing abstractly that there was a black regiment in the Civil War like this one and watching the soldiers' emotions play out are two different things. Watching it all brings awareness as well as entertainment. Just take the details with a grain of salt.
The Dark Crystal (1982)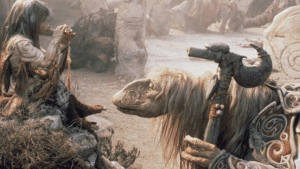 In 1982, the incredible puppeteer Jim Henson created "The Dark Crystal" based on the idea that children should be sometimes scared by their fairy tales. The movie is indeed scary at times, but it is also high fantasy done completely with puppets and animatronics. It follows Jen, a "Gelfling" tasked with saving her world of Thra by fixing the broken and powerful dark crystal. This will rid the world of the cruel Skeksis, bird/dragon creatures.
Why it's Worth Watching
Anyone with Netflix has been able to watch its prequel series, "The Dark Crystal: Age of Resistance," since 2019. To truly appreciate all that is going on with this prequel, though, you need to see the movie, which has been considerably trickier to find. Watching "The Dark Crystal" on Starz will give you everything you need to know about this rich and complicated fantasy world – and as a bonus, you will also be in on the shared nightmare fuel we all share from the puppets.

Chicago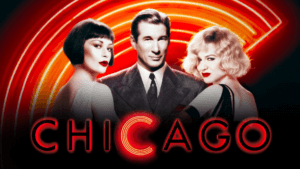 The gritty jazz scene of 1920s Chicago comes to life in this musical film made in 2002. Renee Zellweger is Roxie, a housewife who pines for a glamourous life as a singer at a club. Her idol is Velma, played by Catherine Zeta-Jones. Both Roxie and Velma land in jail together for murder, Roxie for killing a lover who dismissed her as having no talent, and Velma for killing her sister and her cheating husband. Sultry musical numbers illustrate the story as they both try to avoid being hanged with the help of sleazy but sophisticated lawyer Billy Flynn, played by Richard Gere.
Why it's Worth Watching
"Chicago" has been captivating audiences since 1975 when the stage musical first came to Broadway. The revival has been on Broadway longer than any show other than "The Phantom of the Opera." This film version won an Academy Award for Best Picture, which is unusual for musicals. The appeal has a lot to do with the jazz music and Bob Fosse's legendary slinky choreography – it's mesmerizing to watch. But the story also resonates with audiences, particularly the way the women use forbidden music and crime to vent frustration over their lack of power. They must manage the push and pull over what society demands and what they crave. Most of the time, they are selfish, and sometimes they spill blood, but when they do it in sparkles and feathers, it's ceaselessly entertaining.
Bridget Jones' Diary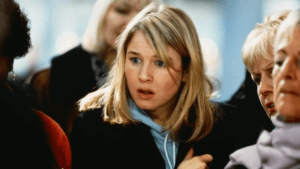 The popular book "Bridget Jones's Diary" was adapted into this film of the same name in 2001, bringing Renee Zellweger into the lead role. She plays Bridget, a woman who struggles with her job, her weight, and her love life, keeping a diary about the process as a way to cope. However, things change for her when two men come into her life: there is Hugh Grant's dapper Daniel, her boss, and Colin Firth's grumpy Mark Darcy. Bridget must awkwardly navigate the choice between the two. Her further adventures are explored in two sequels, 2004's "Bridget Jones: The Edge of Reason," and 2016's "Bridget Jones' Baby."
Why it's Worth Watching
Bridget Jones is certainly not the most stellar example of a modern, feminist woman. None of us aim to obsess over our weight that much, and her diary's obsession with men means she might not pass the Bechdel test with herself. That said, these are things that women (and people in general) think about, and we don't do ourselves any favors denying it. Sometimes it is just fun to poke fun at ourselves. The book is also known to be loosely based on Jane Austen's "Pride and Prejudice," which means that these obsessions have the heft of classic literature.
Spy Kids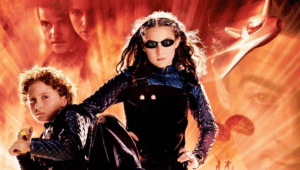 Carmen and Juni Cortez (played by Alexa Vega and Daryl Sabara) are kids who think their parents are just normal, not-cool people. However, they soon find out that their parents, played by Antonio Banderas and Carla Gugino, are top spies – spies that have been captured and need rescue. It is up to Carmen and Juni to figure out how to work all their parents' tech and infiltrate the lair of Fegan Floop (played by Alan Cumming), a tv show host and maker of nefarious robots. "Spy Kids" was popular enough that three sequels, "Spy-Kids 2 followed it: The Island of Lost Dreams" in 2002, "Spy Kids 3-D: Game Over" in 2003, and "Spy Kids: All the Time in the World" in 2011. The first three are all on Starz.
Why it's Worth Watching
Kids love to feel powerful. Heck, don't we all? "Spy Kids" started a franchise of movies that celebrate kids' abilities to not only cope with the world's problems but also to face them head-on. Even better, this movie involves actively rescuing parents, those symbols of the Man who are always keeping kids down. At the same time, however, it celebrates family integrity and family loyalty in ways that please the older set.
Panic Room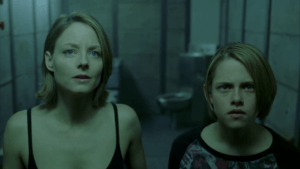 This horror movie from 2002 gave people a whole new way to be terrified of home intruders. In it Jodie Foster plays Meg, a divorcee who moves into an old Brownstone with a quirk: it has a panic room with closed-circuit television monitoring the entire house. Unfortunately, she and her 11-year-old diabetic daughter have to use it immediately as intruders break-in during their very first night there. The panic room does not turn out to be a safe-haven, however, as the criminals will stop at nothing to get what they want – which turns out to be inside the room.
Why it's Worth Watching
Why watch horror movies at all? During scary times it is a little odd to think of watching something scary for fun. However, it can be empowering to face some of your fears in the limited, controllable world of film. Watching Meg take on the horror of a home invasion, compounded by the danger to her daughter, can be cathartic. If she can take on big bad guys with nothing but unpacked boxes and moxie, maybe we can take on a pandemic with fabric masks and handwashing.
Men in Black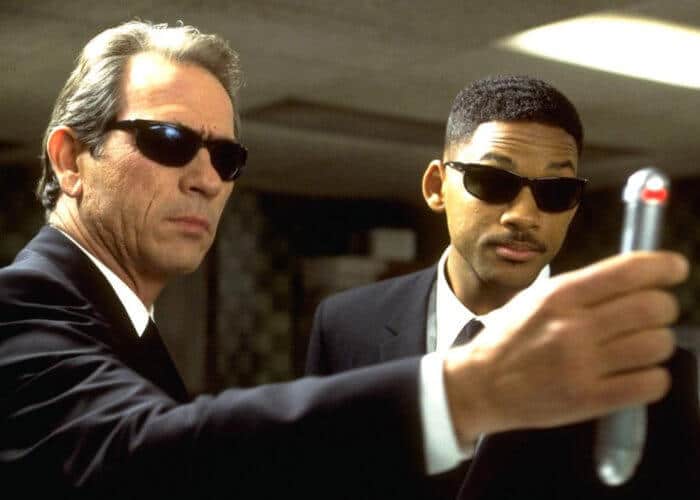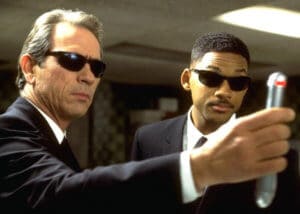 What if there were a top-secret agency tasked with dealing with alien forces at work on Earth? Such is the premise of "Men in Black," 1997's movie starring Tommy Lee Jones as a seasoned agent who has seen it all and Will Smith, a new recruit. The two don sunglasses and cool black suits and encounter aliens of all kinds, from the silly to the bizarre to the malevolent. The movie was popular enough that a series was made including "Men in Black II" in 2002, "Men in Black 3" in 2012, and "Men in Black: International" in 2019. All except "Men in Black 3" will be on Starz.
Why it's Worth Watching
While shape-shifting aliens may seem crazy, what comes off most unlikely these days is that a secret agency would operate with some level of competence and ethics. We were a bit more trusting in 1997, I think, and it feels nice to go back to that time. A secret agency keeping things from us for our own good? Sounds perfectly legit and reassuring. Also, "Men in Black" blends science fiction and humor in a way that we haven't necessarily seen since, and that alone makes it worth a watch.
Sleepy Hollow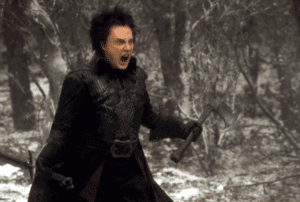 The classic American tale "The Legend of Sleepy Hollow" was adapted into this movie in 1999 by Tim Burton, known for his dark and bizarre style. This version stars Johnny Depp as Ichabod Crane, a New York City constable sent to investigate beheadings in the town of Sleepy Hollow. There he encounters the enchanting Katrina and a host of townspeople terrorized by the murders. Ichabod must confront his own fear and piece together the mystery before it is too late.
Why it's Worth Watching
Winter isn't when we necessarily watch gothic horror, but a bit of a weird aesthetic might be welcome these days. When day after day starts to look the same, stories of fantasy, even dark ones, become more appealing. While Depp is often the craziest in the room, this movie lets him be more of a straight man and instead surrounds him with the macabre. This leaves us with a sense of foreboding in the creepy colonial surroundings and the characters themselves.
What Lies Beneath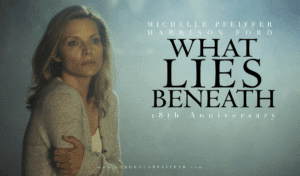 A pair of empty-nesters become involved in a terrifying paranormal mystery in this movie from 2000. Michelle Pheiffer and Harrison Ford are Claire and Norman, a Vermont couple who has just sent their daughter off to school. Pheiffer begins to hear strange voices and see scary images, leading her to investigate the mysterious occurrences. Unfortunately, what she finds hits far too close to home.
Why it's Worth Watching
There are horror films aplenty about teenagers stumbling into their terrible doom. In a twist, this movie uses two older adults for its suspense, notably older adults we know pretty well. Harrison Ford, in particular, is our beloved Solo and Indiana Jones. Seeing him unravel is particularly unsettling, like Jimmy Stewart in "Rear Window." The reality today is pretty darn unsettling too, but at least when watching this movie, you know nothing bad will actually happen to you. Vent few your frustrations with a few old-fashioned scares.
Zero Dark Thirty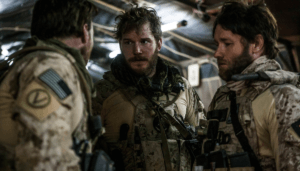 Jessica Chastain stars in this drama about the real-life hunt for Osama Bin Laden. It came out in 2012, one year after Bin Laden was killed. Chastain plays Maya, a CIA analyst who helps investigate the decade-long manhunt for the Al-Qaeda leader. She acts as a liaison to the military personnel that carries out the successful raid. The film is critically acclaimed and gained five Academy Award nominations.
Why it's Worth Watching
We all have an obligation to grapple with our history, both in the distant past and in recent decades. Bin Laden's death was considered a triumph of President Obama's presidential years, but this movie examines the human cost involved in the effort. Particularly controversial is its depictions of the torture used to extract information from the people involved. Bearing in mind that it is fictionalized, this movie still gives an important perspective on historical events that are continuing to unfold.
Hulk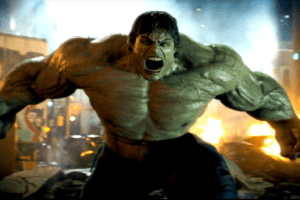 Before the Marvel Cinematic Universe made comic book movies commonplace, there was this "Hulk" movie in 2003. It is not set in the MCU, but it tells the origin story of the Incredible Hulk character previously told in comic books. In this version directed by Ang Lee, Eric Bana is the Hulk, aka Bruce Banner, a scientist exposed to gamma radiation and subsequently turns into a green monster when upset. Jennifer Connelly plays his girlfriend Betty, and Nick Nolte plays David Banner, Bruce's absent and unstable father.
Why it's Worth Watching
The number of Hulks that we have had rivals perhaps only the number of Spidermen. This movie was followed up by a Marvel reboot only five years later, with Ed Norton going green that time. When it came time for "The Avengers" four years after that, Marvel recast the Hulk with Mark Ruffalo, who has played the character ever since. The latest Hulk news comes not about the Hulk himself but about "She-Hulk," a Disney Plus series coming out in 2022. While we wait with bated breath to see the glorious Tatiana Maslany play the title character, we can prepare by watching this and other recent Hulk appearances.
Lara Croft: Tomb Raider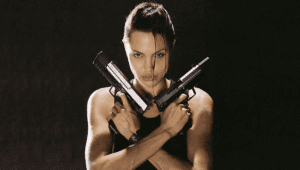 Angelina Jolie stars in 2001's "Lara Croft: Tomb Raider," an action movie based on the Tomb Raider video game series. Lara has to travel the world and fight bad guys to find strange and mysterious artifacts. Iain Glen plays Manfred Powell, a sometimes partner, sometimes adversary, in her quest.
Why it's Worth Watching
Angelina Jolie's cropped little shorts and tank tops hardly represent appropriate archaeological gear. From the costume to the camera angles, much is designed to give the male viewers something to ogle. That said, she is a super cool female action star who kick-punched her way past bad guys with the likes of all the other male heroes that dominated the 90s. Lara Croft may have been only a step along the way, but she's an important one to know in terms of female action heroes.
Girl Interrupted
The 1999 film "Girl, Interrupted" stars Winona Ryder as Susanna, a teen who spends 18 months in a psychiatric hospital in the late 60s. There she encounters other girls dealing with their own rough issues, including Angelina Jolie's rebellious Lisa and Elizabeth Moss's fragile Polly. The movie is based on the popular memoir of the same title.
Why it's Worth Watching
How to deal with your mental health is a question we have always faced but perhaps never so much as right now. What's normal life angst? What requires treatment? What goes so far as to require you to take a break from life? The group of young women in this book-turned-movie is teenagers when shifting cultural mores, making their mental state even more confusing. It is the work of all of us now to try to cope with what life is throwing at us – we might as well do it while watching Susanna's story.
The Other Boleyn Girl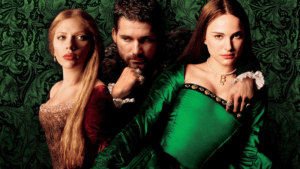 This 2008 historical drama portrays some of the intrigue and horrors of King Henry VIII's love life. Natalie Portman is Anne Boleyn, who becomes the king's mistress and eventually his wife to gain social standing for her family. Scarlett Johansson plays her sister Mary, the "other" Boleyn girl, who also becomes mistress to the king. The siblings bond and bicker as they endure the tragedies of being a woman without any power in that era.
Why it's Worth Watching
Many of us just finished off the latest season of "The Crown," and I know I, for one, am not nearly ready to be done with historical drama. However, in this case, a woman is not in charge. In fact, quite the contrary. Anne and Mary have very little ability to exert control in their own lives, even to the point of if they live or die. It can be profoundly frustrating to watch, but Portman and Johansson give such rich performances you understand their situation's intricacies. Just have another historical drama ready to go as soon as you are done.
My Hero Academia: Heroes Rising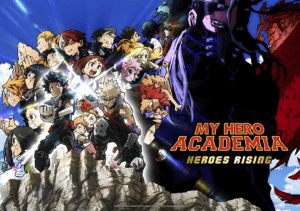 This the second movie featuring characters from the "My Hero Academia" animated series. It came out in the U.S. in February 2020 and featured Izuku Midoriya in his continual attempts to be the best in his school for heroes. In this film, he and his fellow students from Class 1-A must defend an island and its inhabitants from a group of villains.
Why it's Worth Watching
Right before the world shut down, "My Hero Academia: Heroes Rising" was released in U.S. theaters. If you weren't one of the fans to see it right away, you would be happy to see it in Starz's roster. The movie gives you everything you have come to expect from the anime, including plenty of superpowers or "quirks." Here you get a chance to see the heroes engaging in a quest outside of school- making them more plus ultra than ever. Whether or not this is the final movie in the series, it is a must-see for fans of Izuku, his nemesis/classmate Bakugo, and their fellow students.
The Mask of Zorro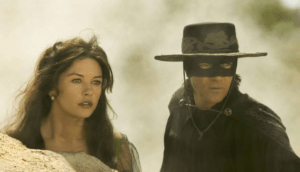 The swashbuckling hero Zorro became popular again with 1998's "The Mask of Zorro." Anthony Hopkins plays the original Zorro, aka Don Diego de la Vega, a masked hero to mistreated Californias in the 1800s. He trains Antonio Banderas' Alejandro in sword fighting so that he can take up the title. Both are aiming for revenge on men who wronged them. Hopkins' Zorro must face Don Rafael Montero, played by Stuart Wilson. Years ago Montero had kidnapped Diego's daughter Elena as a baby and then raised her himself. Played by Catherine Zeta-Jones in the movie's present day, Elena must discover her true father and face her feelings for Alejandro. The 2005 sequel, "The Legend of Zorro," will also be on Starz.
Why it's Worth Watching
In trying times, we often turn to superheroes to cope. Clear-cut good guys and bad guys make the world less complicated. Zorro is something like a Robin Hood for the American west, conquering the bad guys with panache and his signature "Z" cut-out with his sword. If you have watched all the Avengers movies multiple times, consider trying out a more low-tech version but still lithe, clever, and cathartic to watch.
Friday the 13th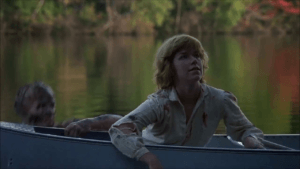 This horror movie series began in 1980 with the original "Friday the 13th," which featured Camp Crystal Lake ready to open after a boy named Jason apparently drowned there the previous year. However, Jason himself is found to be alive and in the many subsequent movies is the cause or inspiration for many more murders.
Why it's Worth Watching
With the sourdough bread-baking portion of quarantine over, some of us may be turning our attention to a new endeavor, like catching up on the pop culture of the past. There are few as pervasive or influential as "Friday the 13th" when it comes to horror franchises. Many scary movies that came afterward used the movie as a template that should be considered required for students of the genre. Who knows, perhaps a little bit of pretend fear will give you an inoculation against the real-life threats around us.
Godzilla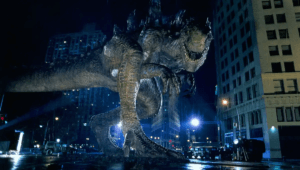 A huge lizard-like monster threatens New York City in this 1998 movie. Based on the long-running Japanese series of movies, Hollywood's first take on the well-known character. It stars Matthew Broderick as Nick, a scientist investigating evidence of the monster's appearance and realizes it was created due to nuclear testing. Along with his reporter girlfriend Audrey, played by Maria Pitillo, Nick must try to figure out how to bring down Godzilla before it can wreak even more havoc and destroy the city.
Why it's Worth Watching
We have a fascination with monster movies. The idea of our huge, busy cities made to seem miniscule is horrifying enough to be fascinating. Of course, they are sometimes brought to a standstill in real life for scary reasons, like COVID. But taking that fear and making it a bit ridiculous is a way to cope. Is this movie the best example of the genre? Not by a long shot. That said, you can sit back and soak up the ridiculousness, maybe even adding your own commentary like "Mystery Science Theater 3000." It beats watching the scary things on the news.
The Amazing Spider-Man (2012)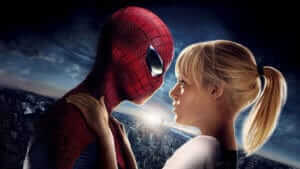 After Tobey Maguire but before Tom Holland, there was Andrew Garfield. In this 2012 film, Spider-Man's origin story is told once again, complete with slick effects and all the catharsis of seeing an angst-ridden teen given superpowers. Uncle Ben is there as well as Aunt Mae, played notably by Sally Field. The villain he faces this time is the reptilian lizard. This iteration of Spider-man got one sequel before the franchise spun off to Disney.
Why it's Worth Watching
Just how many times can we watch Peter Parker get bitten by a spider, be surprised by his powers, and finally take to heart that with great power comes great responsibility? Well apparently our appetite for his origin story is never ending. This SpiderMan came about soon after Sam Raimi's SpiderMan trilogy starring Tobey Maguire. Modern audiences are probably more familiar with the Disney versions from the Marvel Cinematic Universe starring Tom Holland. Do we need Andrew Garfield in there too? Well, why not. If there's anything we learned from "Spider-man: Into the Spider-verse," endless variation on a theme can be endlessly entertaining.
Philadelphia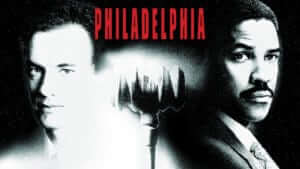 "Philadelphia" caused waves when released in 1993 because it was one of the first major movies to address homophobia and AIDS discrimination. None other than the popular Tom Hanks played the subject of that discrimination, a lawyer named Beckett, who has AIDS. He sues his company for wrongful termination because of the disease. Denzel Washington plays the lawyer who takes his case despite his homophobia. "Philadelphia" received acclaim for its bold message and the acting and makeup used to show Beckett's decline.
Why it's Worth Watching
"Philadelphia" remains an important movie for modern audiences, especially for those hoping to understand the history of discrimination against LGBTQ people and the horrors of the AIDS epidemic. Even those of us who were around at the time probably did not realize the full extent of the havoc AIDS caused in the lives of people who already faced tremendous difficulty. Additionally, we must understand the past to help face today's struggles with equality. Sadly even thirty years later, the fight for LGBTQ rights continues. "Philadelphia" can give crucial context to that battle.
Center Stage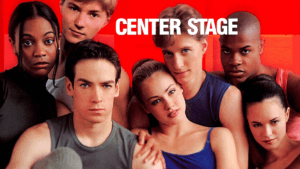 An elite New York ballet academy is the setting for "Center Stage," 2000's teen drama about dance. Amanda Schull plays Jody, a sweet student who isn't quite good enough to compete with the other dancers, including star Maureen (played by Susan May Pratt) and the sassy Eva (played by Zoe Saldana in her debut performance.) Jody struggles with self-confidence and love interests as she finds herself in the world of dance.
Why it's Worth Watching
Is this movie cinematic gold? Well, perhaps not. But if you are a ballet fan, or maybe if you'd like to introduce your teenager to ballet, this movie is a way to see some great dancing. Following along on the characters' soap opera drama gives you an in to appreciating the dances in the movie and maybe even ballet dancing in general. As far as gateways to dance appreciation, there are many less fun than a weeknight watching "Center Stage."
Into the Woods
Disney adapted the Stephen Sondheim musical 1986 "Into the Woods" into this movie of the same title in 2014. Much adored among theater fans, the show brings together fairy tale characters and has them angst over the implications of their actions – and the unintended consequences of them. Meryl Streep is the Witch, who menaces baker James Corden and wife Emily Blunt with a curse that can only be lifted by a trip "into the woods" for three magical objects. They encounter other characters, including Cinderella, played by Anna Kendrick, encounter dangers and luck good and bad, and ultimately learn that happy endings are not all they seem.
Why it's Worth Watching
I absolutely adore "Into the Woods," so I am simultaneously in love with and irritated by this adaptation. That said, it is an absolute must for anyone with a drop of musical theater blood in their body. The cast of this production can't be beaten, with James Corden being as dorky and loveable as you could desire, and Anna Kendrick providing a Cinderella just as quirky and conflicted as she needs to be. Plus, Meryl Streep as the witch! It's so much fun to see them all singing together in the spooky woods that Disney has conjured. Nevertheless, "Into the Woods" is a delicate balance of energy and ennui, and the changes from the stage show throw that into a bit of disarray. I was particularly sad to lose the songs "Ever After" and "No More." But now beggars for the stage can't be choosers, and this version will do well while we wait for theater to return happily ever after.
Waitress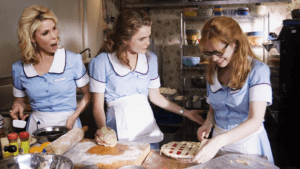 Waitress Jenna, played by Keri Russell, longs for more out of her life in this 2007 movie. Her marriage to her abusive husband is miserable, with her only real outlet being making creative and amazing pies. An unexpected pregnancy further complicates matters – at least until she falls for her handsome OB/GYN. Supporting her are her friends and fellow waitresses Becky (Cheryl Hines) and Dawn, played by Adrienne Shelly. Shelly also wrote and directed the movie, but tragically died before its premiere.
Why it's Worth Watching
"Waitress" provides a tremendously satisfying arc for Jenna as we watch her get the nerve to stand up for herself. But it's even more fun to see what pies she makes to symbolize what's going on in her life. A smashed-berry pie is called "I hate my husband," while she creates a luscious dark chocolate pie during her affair with the doctor. The pie gives us all a unique insight into what Jenna is going through. After watching, check out clips online from the "Waitress" musical, which brilliantly sets up Jenna's plight in song.
Maid in Manhattan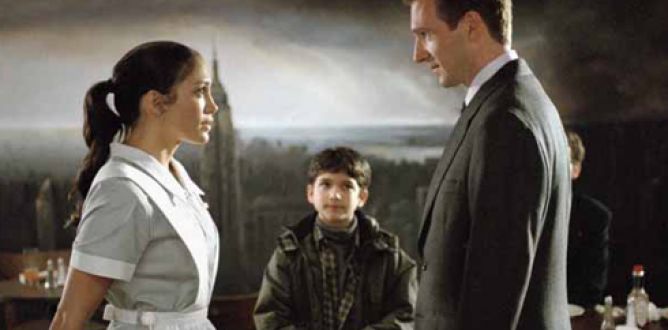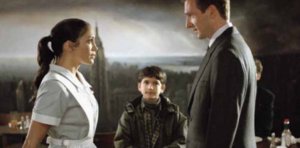 The classic Cinderella story gets another telling in this 2002 rom-com. This time Cinderella is Jennifer Lopez, playing a maid in a Manhattan hotel. While she is trying on a guest's fancy coat, she meets a well-to-do senatorial candidate played by Ralph Fiennes. Fiennes' character is smitten with her, assuming she is a hotel guest, and antics ensue. Along the way, the audience is treated to makeover scenes with gorgeous gowns and all the classic rom-com tropes our modern cynical hearts could desire.
Why it's Worth Watching?
What if Lord Voldemort got together with a fabulous rock star?! For me, that is the hidden subplot of this movie. Any Harry Potter fan will be wide-eyed with muggle wonder at Ralph Fiennes' portrayal of the dashing leading man. I mean, of course, he's an actor, but don't tell that to the images of him as a nose-less villain lodged in my subconscious. Almost equally bizarre is the idea that Jennifer Lopez could be considered anything other than glamourous. Her luscious curls and perfectly lovely lashes are not dampened by hard manual labor, it seems. Nevertheless, my rom-com-loving self can't help but enjoy this movie, and if anything, its oddities in casting give it even more intrigue.
Open Season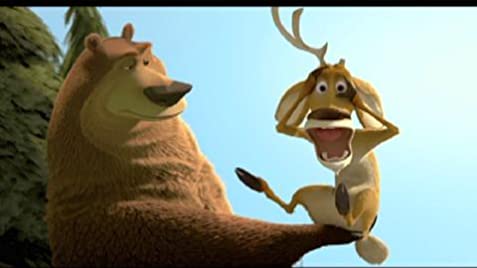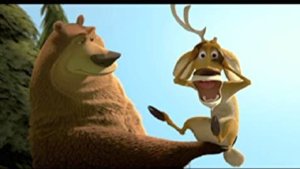 This animated movie from 2006 led to a series of sequels, two of which are currently on Starz ("Open Season 2" and "Open Season Scared Silly"). In the first movie, a bear played by Martin Lawrence ventures out from his home with a human park ranger and rejoins life in the wild. He is joined by Elliot, a mule deer played by Ashton Kutcher. The other creatures in the forest provide a slew of slapstick comedy. The bear and mule deer must band together with the forest animals to repel the human hunters that threaten their safety.
Why it's Worth Watching
Rampant silliness may not be an adult's cup of tea, but kids will get a kick out of animals being weird. Fish-out-of-water stories are always rife with comedic possibilities, and in this case, it can be great fun to see a bear be the fish. Plus, if the kids like this one, parents can happily put on the sequels secure in the knowledge that they will get a few hours' peace.
Annie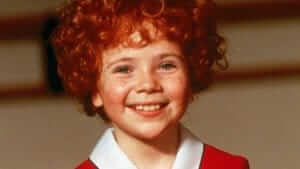 At this point, you have your choice of "Annie" movies to watch, but this 1982 version will always be the one nearest and dearest to many people's hearts. In it Aileen Quinn is Annie, the orphan red-head with spunk that we all know so well. She rapidly goes from rags to riches when she is taken in by Oliver Warbucks, a billionaire without a family of his own. The musical numbers are lavish. The acting is wonderfully over the top, especially in the case of orphanage matron played by Carol Burnett and her brother and his girlfriend, Tim Curry, and Bernadette Peters, respectively.
Why it's Worth Watching?
Somehow we all can't get enough of Annie. Her story started in the 1920s with a comic book and continued in the Broadway show in 1977. This movie, then, was already treading on hallowed ground when it came out five years later. Though not universally adored at the time, it has come to be must-see viewing for fans of musicals. Even with newer adaptations made in the last few years, this version remains compelling for its dance and its drama. It also remains an illuminating peek into the disparity between the glitz of the rich and the desperation of the poor that was in full force in 1933 – but also continues today.
Before Midnight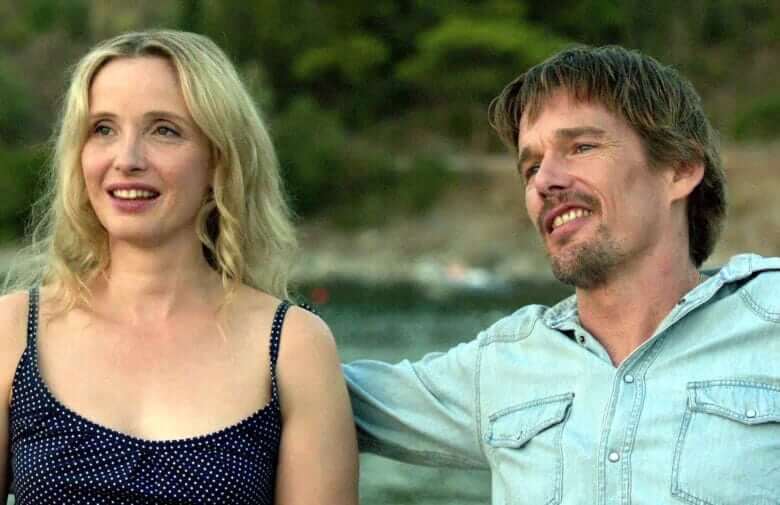 Ethan Hawke and Julie Delpy star in this romance drama from 2013. Remarkably, it is the third in a trilogy that started 18 years prior. "Before Sunrise" in 1995 had the two actors playing the same characters meeting on a train as two young adults, deciding on a lark to spend the night walking around Vienna. In 2004 the characters met again with more walking and talking in "Before Sunset." Finally, in 2013 "Before Midnight" yet again moved the pair nine years into the future. This last movie has them married with twin girls and faces the rewards and stress of a long-term relationship.
Why it's Worth Watching
This trilogy should be required viewing for film fans, if only because it is so amazing that they were made over 18 years. Rarely do we get the chance to examine a relationship in such detail and over such a long time. The subtleties of the acting and the dialogue add depth to that treatment, letting us truly see how two people might find their feelings for each other changing over time. Is it jarring to see young love transform into mature frustration? Yes, of course. But it also feels true, and that is a truth that we all need to see as we grow older like the two characters. Who knows, maybe in 2022 we'll get to see the couple entering their golden years.
Shakespeare in Love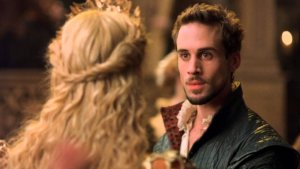 Before he chilled us with his performance in "The Handmaid's Tale," Joseph Fiennes gave us an altogether more charming view of what humanity can accomplish in 1998's "Shakespeare in Love." Fiennes plays the Bard himself during some severe writer's block. He finds inspiration in Lady Viola de Lesseps, a noblewoman played by Gwyneth Paltrow, who loves the theater. Their relationship helps to inspire the "Romeo and Juliet" play that we all know and love so well.
Why it's Worth Watching
Controversy hit the Academy Awards when "Shakespeare in Love" won the Best Picture award over "Saving Private Ryan." Many felt it was undeserved – but at least as far as I'm concerned, it is worthy if only for the enduring legacy of Gwyneth Paltrow's passion for theater and gorgeous dresses. Fans of the stage were granted a gift with this movie, with Paltrow showing just how far we'd go for a life of poetry and adventure. We also gained in-jokes, references to the Bard's plays, and a host of witty quotes that persist backstage today.
Ice Age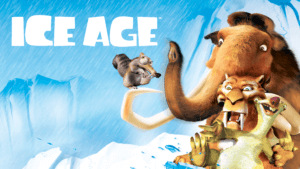 Today the "Ice Age" franchise includes five movies, seven shorts, two television specials, and even a live show. But it all began back in 2002 with the original "Ice Age" movie. Two of the sequels, "Ice Age: The Meltdown" and "Ice Age: Dawn of the Dinosaurs", are also in its streaming library. Sid's original features are a sloth, going on a quest to help a human baby with Manny the mammoth and Diego the saber tooth tiger.
Why it's Worth Watching
With distance learning over for the summer and many camps closed, today's kids have a lot of time. It's great to start a franchise with lots of movies to enjoy, especially one that is almost certainly a sure thing. "Ice Age" was the top animated movie in 2002, as were many of its sequels. The antics of a sloth, mammoth, and tiger, and maybe most notably the zany squirrel with his acorn, are sure to provide a cool way to spend the hot summer months.
The Notebook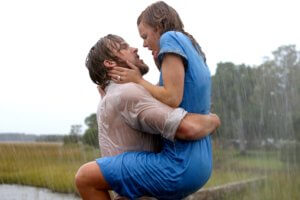 You might love "The Notebook," or you might hate it, but at the very least, you will have the chance to weigh in for yourself on this polarizing 2004 romance. Rachel McAdams stars as heiress Allie who falls for lumber yard worker Noah in 1940. Their romance faces great hurdles in the form of distance and her disapproving parents. The story is narrated by an older man, speaking to a woman with dementia in the present. Though the movie proved to be far too melodramatic for some, it retains a following today due to its sweeping Southern sets and costumes and, most of all, its passionate romance.
Why it's Worth Watching
"The Notebook" is probably the epitome of cheesy romance movies, and while this has earned it some scorn, the film also enjoys a substantial cult following. Rachel McAdams and Ryan Gosling are all in on their performances, giving each desperate look and welp of joy all the drama they can take. As such, the chemistry between them is palpable, and the "will they won't they" tension reaches epic proportions. By the time you reach the ending, the cheese is following freely, but if you are like me, you don't particularly mind. Who doesn't love a good helping of cheese, after all?
Little Women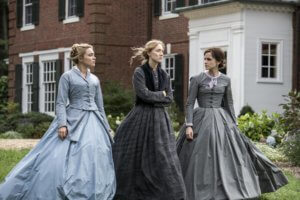 Louisa May Alcott's classic 1868 novel is given a modern makeover in this version of "Little Women," which came out late last year. Like the other movies made from the book, this film tells the story of the four March sisters who come of age in the 19th century. However, this version, directed by Greta Gerwig, moves around in time and focuses on the characters mostly as adults. Much of the narrative focuses on Jo, an aspiring writer played by Saoirse Ronan. Jo rejects traditional notions of love and marriage and wants more accomplishments in her life.
Why it's Worth Watching?
For women today who want still appreciate classic novels, it is great to have an option like "Little Women." The story is reasonably intact, but the values portrayed reflect a more modern sentiment, making it a good choice to show kids. You can simultaneously love the wardrobe, the romance, and the sisterhood, while also relish the girls' independence and feisty spirit.
Million Dollar Arm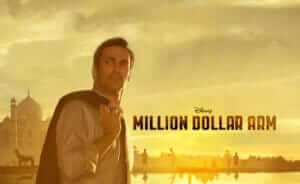 "Million Dollar Arm," from 2014, tells the true story of teens from India who are recruited by an American agent to play baseball. Jon Hamm plays the agent, J.B. Bernstein, who is desperate for new talent. The teens' journey from playing cricket in their native country to baseball in the U.S. is rocky, but ultimately both inspiring and heartwarming. The movie also stars Bill Paxton as the pitching coach and Suraj Sharma and Madhur Mittal as the teens.
Why it's Worth Watching
Fresh off his success as Don Draper in "Mad Men," who wouldn't want to watch Jon Hamm doing just about anything? He is particularly fetching as an agent who believes in the underdog. Add to that the fact that you get to watch people from different countries mingling together, a novelty in the times of COVID. The spectators in the baseball stadium are even not made of cardboard.
Need More Information?
If this article didn't answer your specific question, head over to our Home Page! It will guide you to affordable internet providers, streaming services to meet your needs, information on antennas, and many more tools and resources to help you save money on TV and Internet access.
For tips and tricks on cutting the cord and other tech topics be sure to join our Facebook Page.
Join Millions of Cord Cutters
Disclosure: Grounded Reason is supported by a small commission for purchases made through some product links on this website. We do not accept compensation from companies attempting to sway our review of products.