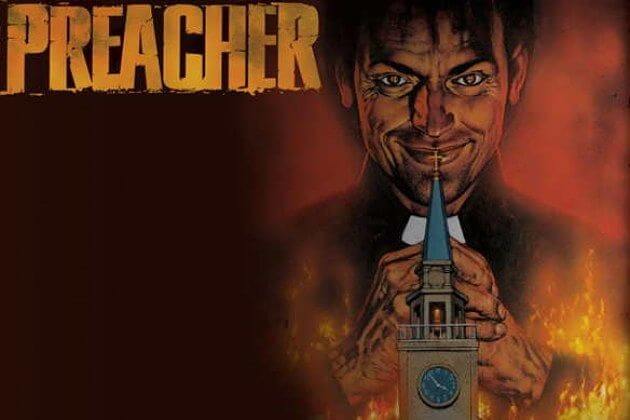 AMC is premiering it's adaptation of the hit DC comic book, 'Preacher', tonight at 10pm EST. I wanted to cover all the ways you can catch the show without having a cable TV subscription.
Watch 'Preacher' on AMCs Website
AMC has been pretty good about giving you the first episodes of their top shows online to get you hooked on a show. After that however, you are going to need another method to watch the rest of Preacher's first season. I'm basing this suggestion off what they have done with shows like 'The Walking Dead' and 'Better Call Saul.' If they are airing it for free you will be able to watch it here.
If AMC does make the premier available online to everyone, they may not provide online access to 'Talking Preacher' which airs immediately after. 'Talking Preacher' is a 'Preacher' based talkshow panel hosted by Chris Hardwick similar to 'Talking Dead.' To catch both shows I recommend one of the solutions below.
Watch Preacher on Sling TV
If you want to catch both 'Preacher' and 'Talking Preacher', or you are looking to watch episodes after the premier then the easiest way is through Sling TV. Sling TV provides access to AMC without a cable subscription. Sling TV Also Provides access to ESPN, ESPN2, ESPN3, TBS, TNT, CNN, Food Network, Cartoon Network, ABC Family, A&E, History Channel, Disney Channel and much more for $25 per Month.
Sling TV can be viewed on various devices, so you aren't forced to watch on a computer browser (like you would be watching on AMC.com) For more information check out my post on all the channels available on Sling TV.
That's a great value considering that those are the most watched cable TV networks. There is no contract required and you get a 7 day free trial. If you sign up for 3 months, they'll even give you a free Roku.
It's just like having AMC through cable, but without all the hassle and expense of cable TV. You get to watch Preacher online live with just as if you had a cable TV subscription.
Watch Preacher on Playstation Vue
Much like Sling TV, Playstation Vue offers AMC over the internet without a cable TV subscription. It's live so you can watch 'The Preacher' online as it airs. Playstation Vue also offers a free trial, so there is no risk to try. However, be aware that I have received comments from Vue customers expressing frustration over being locked out from the service if your internet service providers assign dynamic IP addresses (most ISPs do).
Purchase the Entire Season of 'Preacher'
If you can wait a day to watch, you may want to consider purchasing the entire season of 'Preacher' from Amazon Instant Video. You can purchase a season pass for $18.99 in SD and $24.99 in HD. Episodes are available the day after the show is initially broadcasted on AMC. I find this a very affordable way to watch hit shows on cable. If you only follow a few shows a year, it may only cost you $100 dollars a year to watch the entire current season of your favorite cable TV shows.
Season 1 of The Preacher is also available on iTunes.
About 'Preacher'
Preacher is a TV adaptation of the identically titled DC cult comic created by Garth Ennis and Steve Dillon. The TV show will premier 10pm EST on AMC and will star Dominic Cooper and Ruth Nega. The first season will consist of 10 episodes, the first premiering on May 22nd 2016.
Need More Information?
If this article didn't answer your specific question, head over to our Home Page! It will guide you to affordable internet providers, streaming services to meet your needs, information on antennas, and many more tools and resources to help you save money on TV and Internet access.
For tips and tricks on cutting the cord and other tech topics be sure to join our Facebook Page.
Join Millions of Cord Cutters
Disclosure: Grounded Reason is supported by a small commission for purchases made through some product links on this website. We do not accept compensation from companies attempting to sway our review of products.