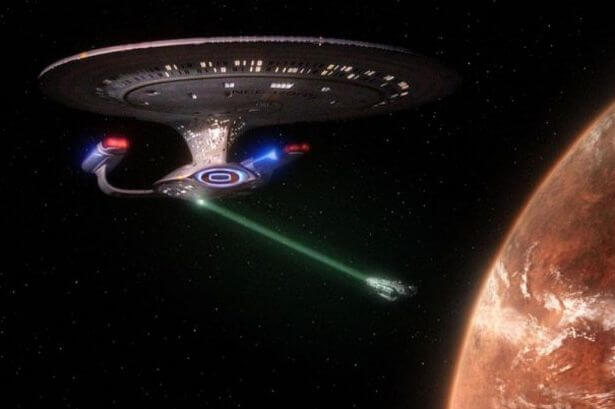 Great News for all the Trekkies and cord cutters alike. CBS All Access has every episode of Star Trek available for streaming online.
That's right! Star Trek: The Original Series, Star Trek: The Next Generation, Star Trek: Deep Space Nine, Star Trek: Voyager, and Star Trek: Enterprise are all available online without a cable TV subscription.
Not only can you view CBS All Access in your web browser, but you can stream all episodes to any TV with Roku, Apple TV, Android TV and Google Chromecast.
Watch Star Trek Online
You can access the link to all the Star Trek Series below.
Watch Star Trek The Original Series Online – (1966-1969) – Starring William Shatner, Leonard Nimoy, and Deforest Kelly.
Watch Star Trek The Next Generation Online – (1987 -1994) – Starring Patrick Stewart, Jonathan Frakes, and LeVar Burton.
Watch Star Trek Deep Space Nine Online – (1993- 1999) Starring Avery Brooks, Nana Visitor, and René Auberjonois.
Watch Star Trek Voyager Online – (1995 – 2001) Starring Kate Mulgrew, Robert Beltran, and Tim Russ.
Watch Star Trek Enterprise Online (2001 – 2005) Starring Scott Bakula, Jolene Blalock, and Conner Trinneer.
A New Star Trek Series in 2017
Since the original series debuted in 1966, Star Trek has been a cult phenomenon. Loyal legions of fans have since enjoyed 5 hit TV series and a more than successful film franchise.
Recently, CBS had more great news for Trek fans and announced that a new Star Trek TV series will be airing in January 2017.
This is welcome news for Trek fans, as there has hasn't been any new Star Trek TV content since Star Trek: Enterprise ended in 2005. In fact it's currently difficult to catch any Star Trek on TV outside of Star Trek: The Next Generation.
However, there is a bit of a interesting news with this new Star Trek Series. It will not air on broadcast TV, but only be available via streaming on CBS All Access.
So not only is CBS All Access currently the only place you can legally stream every episode, of every season, of every Star Trek TV series ever made, but it's the only place you will be able to catch the new series.
This make CBS All Access a must have for any "Trekkie". In addition to the over 700 episodes of various Star Trek Episodes, CBS All Access provides online streaming access to all current seasons of CBS Prime Time shows. It also provides On-Demand access to over 7500 CBS shows.
You can try CBS All Access free for 1 week, and after that it only cost $5.99 a month. There is no contract required, so you can cancel any time you like. You can even sign up, binge watch the over 700 episodes of Star Trek, and then cancel when your done (in 2020).