Karen Beck is a writer, photographer, teacher, yoga enthusiast, tree hugger, and sci-fi buff. She likes her books big, her comedy British, and her fandoms crazy intense.

Latest posts by Karen Beck (see all)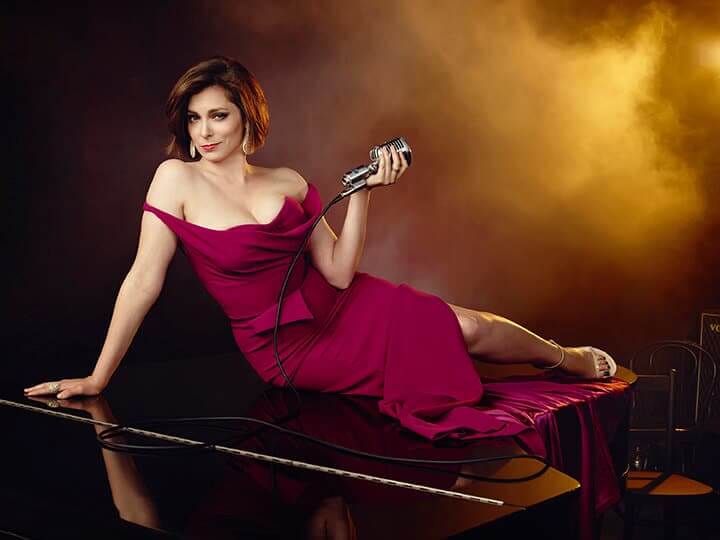 To cope with your mental illness, might I suggest jazz hands?
At least, that's the strategy of Rebecca Bunch, who frequently bursts into song as the titular "Crazy Ex-Girlfriend" in the CW's musical satirical rom-com. The fourth and final season premieres Friday, October 12. Rebecca taps, she tangoes, she shimmies in her Spanx. There are enough sequins to satisfy the most ravenous Broadway enthusiast.
At the same time, she's raunchy, raw, and struggling with some of the darkest ailments the human psyche can produce. Rebecca has depression, anxiety, and borderline personality disorder – and they lead her down paths range from zany to bizarre to criminal. In the first episode, she follows her ex-boyfriend Josh across the country, leaving a high-paying New York job as a lawyer to go to West Covina, California (only 2 hours from the beach!).
There she makes friends with Josh's sarcastic bartender friend Greg and a motley crew of employees from her new, sub-standard law office. She also finds an enemy in Josh's slinky yoga teacher girlfriend, Valencia.
And yes, they all sing and dance too, and thank goodness for that. The musical numbers are unlike anything else on TV – full not only of production value but also cunning commentary. "Crazy Ex-Girlfriend" has a lot to say about subverting tropes, like the "Sexy Getting Ready Song," which sounds and looks like a pop video but adds in gross shots of Rebecca plucking and waxing her bloody way into beauty.
The songs are geeky, too, like "The Math of Love Triangles," in she compares her own love triangle to a math lesson. A line up of tuxedoed men sing to her in a shiny blue gown:
"Let's take a look at what this line bisects," to which she says, "Is that spelled BI-SEX?"
Then again, you can sit back and enjoy the sheer silliness of the delightfully-wrong puns in "We tapped that ass," when Rebecca's ex's come together and tap dance. Clever lyrics abound, so much so Rebecca Bunch can come off as a feminist Weird Al.
But as fantastical as its brilliant musical numbers are, "Crazy Ex-Girlfriend" treads remarkably often into harsh reality. One character is an alcoholic, one has an abortion, another tries to commit suicide. The show earns these moments by taking a deep dive into who these characters are, what brought them to this point, and how they will recover.
A razor-sharp wit and strong joke density keep it all from getting too melodramatic – and the poop jokes help too, of course. "Crazy Ex" is never above singing about body functions – from a number dedicated to the agony of constipation to the elation of discovering "My sperm is healthy."
Fortunately, you do not need cable to sing along (which you'll do many, many times.)
How to watch Crazy Ex-Girlfriend online
Season 4 premiers tonight at 9 pm ET. You can watch it on the CW (old school on your TV antenna) or the CW app for free. To catch up on the first three seasons, your best bet is Netflix. All episodes of season one, two, and three are streaming. Netflix costs between $7.99-$13.99/month, depending on how many screens you use at the same time.
Vudu has individual episodes for $1.99 each and a sale on seasons one, two, or three for $19.99. On Itunes , Google Play, and Amazon Prime Video, episodes are $2.99 each or a season pass for $14.99 (season one) or $19.99 (seasons two-three).
Need More Information?
If this article didn't answer your specific question, head over to our Home Page! It's designed as a guide to our most important articles to help you ditch pay TV.
For tips and tricks on cutting the cord and other tech topics be sure to join our Facebook Page and follow us on Twitter @Grounded Reason.
Grounded Reason Top Deals of The Month
When you subscribe to Verizon Fios Gigabit Internet you get a $100 Visa® Prepaid Card, your first month of YouTube TV covered, and an entire year of Disney+ on Verizon!!! Check out this Amazing Offer!
With 58 live channels and a cloud DVR for just $20 per month, Philo TV is one of the best deals you 'll find online. Try a Free Trial to Philo Now! No credit card required!
Join Millions of Cord Cutters
Disclosure: Grounded Reason is supported by a small commission for purchases made through some product links on this website. We do not accept compensation from companies attempting to sway our review of products.