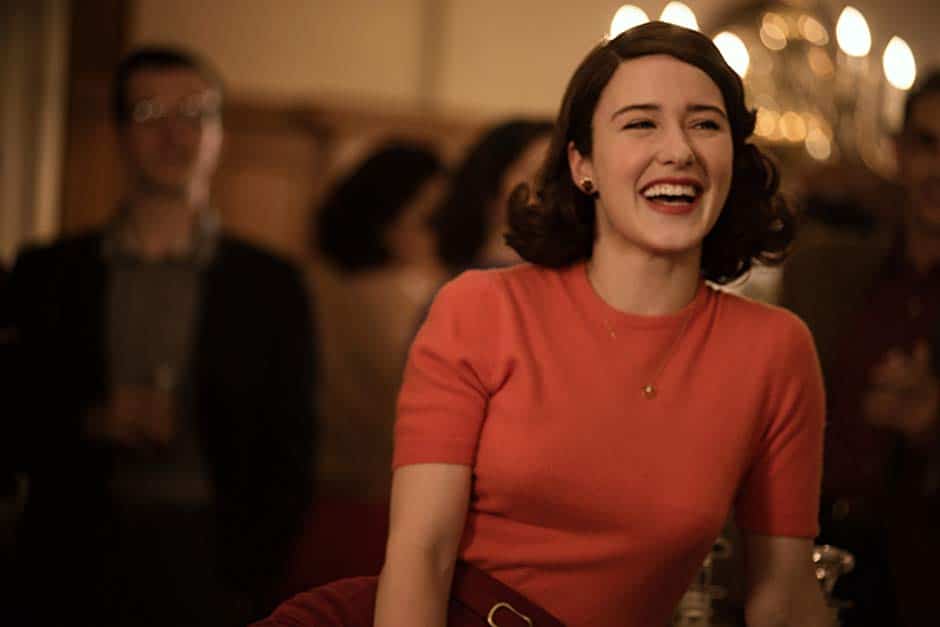 What's an Upper West Side girl like you doing in a Greenwich Village club like this? If you're The Marvelous Mrs. Maisel, you are earning big laughs—and a bevy of awards. Not caught up on last season's runaway streaming smash yet? Then stay tuned for a quick catch up on what to know, why to watch, and where to get a fix before the second season drops.
True confession: I first saw the pilot of The Marvelous Mrs. Maisel in March of 2017 on a cross-country flight. I downloaded it on impulse in the airport terminal, as I frequently load up my Amazon Prime Video app with a few options for long flights. Amazon had just that week released a handful of pilots for new fall shows. By the time I was done those 56 minutes, I was charmed, delighted—and devastated that I had to wait indefinitely for more Midge Maisel, played by the hilarious Rachel Brosnahan, and the triumphant return of creator Amy Sherman-Palladino.
By April 2017, The Marvelous Mrs. Maisel was picked up for two seasons, and the pilot's growing buzz turned into a roar in November, when the full first season dropped. It reached 94% fresh on Rotten Tomatoes, and has since racked up two Golden Globes, two Critics' Choice Awards, and most recently stole the show with eight Primetime Emmy Awards.
All About The Marvelous Mrs. Maisel
Brosnahan stars as Miriam "Midge" Maisel, a 26-year-old, Bryn Mawr-educated, Jewish wife and mother in late-1950s New York. Her picture-perfect life is everything she wanted until her less-than-perfect husband Joel (Michael Zegen) announces he's been having an affair and walks out of their luxury apartment. Midge's sudden spiral takes her to the stage of the Gaslight Café, where she discovers her own voice, to big laughs, and starts on a new path as a stand-up comic.
The show was created by Amy Sherman-Palladino, who also writes and directs at least half the first season's eight episodes, and every episode is imbued with her trademark energy, wit, and patter, beloved by fans of her other series Gilmore Girls and Bunheads. The creator says The Marvelous Mrs. Maisel was inspired by memories of her father, a standup comedian based in New York City, and her admiration for Joan Rivers and other early female comics.
In addition to the Primetime Emmy Award for Outstanding Comedy Series, The Marvelous Mrs. Maisel scored Sherman-Palladino Emmy awards for both Directing and Writing for a Comedy—and she made history as the first woman to take home both. Acting Emmys went to Rachel Brosnahan and co-star Alex Borstein, who plays the tough-talking but big-hearted Susie Myerson, who spots Midge's talent at the Gaslight Café and encourages her new career path. (Gilmore Girl fans will recognize Borstein, known from her voice talents as Lois Griffith on Family Guy, as the cranky harpist Drella in the first season and reunion specials of Gilmore Girls.)
The final two Emmys, for Music Supervision and Casting, are no surprise, given the range of authentic late-1950s tunes that the show employs and the solid cast of regular and guest star talent. The music, which flits between both iconic hits as well as lesser-known songs of the era, is used throughout to underscore both the time period and Midge's ever-shifting world. Perhaps one of the most poignant moments of season 1 is an opening montage that contrasts the creating and dissolving of Midge's apartment life with Joel, beautifully staged to Barbara Streisand's soulful "Happy Days are Here Again."
The show's cast is an A-list of TV and film character actors, from guest stars Wallace Shawn and Jane Lynch, to Marin Hinkle, Kevin Pollack, and the ever-wonderful Tony Shaloub as Midge's Columbia University professor father, Abe Weissman. (In fact, Shaloub and Lynch also scored Emmy nominations.)
Beyond the constant crackling dialogue and fly-by jokes, perhaps one of the most endearing elements of the show is the balancing act that Sherman-Palladino walks of demonstrating Midge's growth as an independent woman, without really demeaning the traditional life she had. The modern lens on the midcentury picket-fence (or Upper West side elevator apartment) dream is slightly cynical nostalgia, but not mocking, and it charmingly dismantles 1950s upper-middle-class ideals without reviling the women who lived them. Even as we may occasionally roll our eyes at the gentle pokes Sherman-Palladino makes at the beauty standards of the time, we aren't laughing at these women, or at least not maliciously. Midge never despises what she once aspired for in her home life, despite her new perspective. 
At the end of the day, it is about a woman finding her own in a shifting world. As Brosnahan said in her Emmy speech, "One of the things I love the most about this show…[is] that it's about a woman who is finding her voice anew. It's something that's happening all over the country right now. One of the most important ways that we can find and use our voices is to vote."
How To Watch The Marvelous Mrs. Maisel
The Marvelous Mrs. Maisel is an Amazon Studios production, meaning it's currently only available through Amazon Prime. However, that makes it free to all Amazon Prime subscribers to watch season 1 now. If you aren't an Amazon Prime member yet, they offer a free 30-day trial, and then subscription options include:
A video-only plan for $8.99 a month

Monthly Amazon Prime rate of $12.99, including all Prime benefits

Annual Amazon Prime rate of $119, including all Prime benefits
(Look for the small print, there are also discounted plans for students and members with valid EBT or Medicaid cards.)
Episodes can be streamed on the Amazon website, or watched through any device that hosts the Amazon Video app, including Roku, Apple TV, Tivo, as well as smart TVs, gaming consoles, and mobile devices. Shows and movies can also be downloaded for offline viewing in-app.
One more side note. I wouldn't be me if I didn't take a second to mention the clothes. The Marvelous Mrs. Maisel's marvelous wardrobe lights up the screen and is even sometimes a target for humor itself. The mileage that Susie and downtown lawyer Michael Kessler (Max Casella) get out of the glossy and matchy perfection of Midge's style is priceless, and the first season poster art may have lured me in on the power of that pink swing coat alone.
Although a release date for season two hasn't been given, Amazon dropped the trailer in August and Sherman-Palladino has teased fans it will be this year—and the studio has also already issued a deal for a third season. Season two promises more of the characters we love, more great New York moments, and adventures outside of the Big Apple. Also returning are guest stars Jane Lynch as Sophie Lennon and Luke Kirby as real-life comedian Lenny Bruce. Joining the cast is TV-fan-favorite Zachary Levi (Chuck, Alias Grace), whose social media was abuzz mid-September with the wrap of season 2 filming—and some more shots of some of that gorgeous late-50s style.
Need More Information?
If this article didn't answer your specific question, head over to our Home Page! It will guide you to affordable internet providers, streaming services to meet your needs, information on antennas, and many more tools and resources to help you save money on TV and Internet access.
For tips and tricks on cutting the cord and other tech topics be sure to join our Facebook Page.
Join Millions of Cord Cutters
*
Disclosure: Grounded Reason is supported by a small commission for purchases made through some product links on this website. We do not accept compensation from companies attempting to sway our review of products.