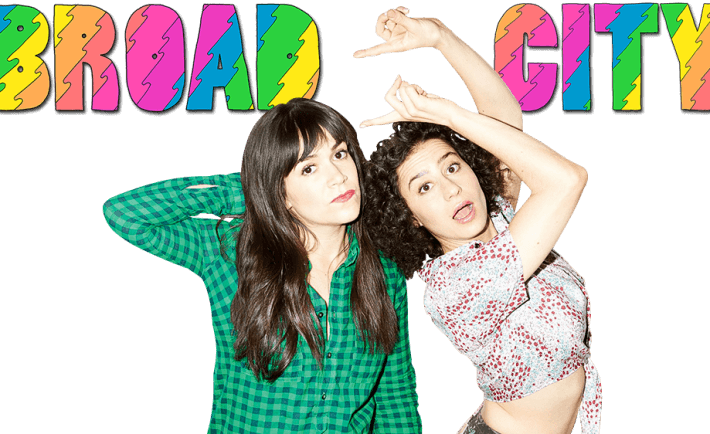 As far as "shelationships go, it doesn't get much more real than Abbi and Ilana.
The Millennial duo's madcap mishaps in NYC in Comedy Central's "Broad City" can put any bromance to shame. The milquetoast word "friendship" just can't cut it. In a uniquely feminine way, they share the raw, the raunchy, the perverse in life –all while being there for each other and giving their viewers all the feels.
They talk poop. And sex. And drugs. And politics. A lot. They test the boundaries of their intimacy and get offended and make-up. Abbi is a struggling artist, searching for success and love. Ilana is an intense, zany free spirit. Together, they have misadventures that are both mundane and existential – returning a TV remote, learning to use a bidet, ridding an apartment of a #2 that won't flush. As they do, they illuminate and celebrate the everyday affection (and bizarre help) women give each other.
It all spawns from the minds of show creators Abbi Jacobson and Ilana Glazer, who met in 2007 while in the Upright Citizens Brigade comedy group. They started with a web series (you can still find it on YouTube) which evolved into the Comedy Central show in 2014. It recently ended after five seasons, leaving us with treasures like the word "wizness" – or woman-owned business, and hilarious takes on a blue dress, Bed Bath and Beyond, and bagels.
It's all wildly inappropriate but also somehow adorable and relatable – perhaps due to the fact that the stories are often exaggerated versions of things that actually happened to Jacobson and Glazer. Incidentally, it turns out that Ilana Glazer and Rachel Bloom of "Crazy Ex-Girlfriend" were roommates IRL right after college, just adding to the fun of having all these folks as my virtual BFFs. I'm loving this glut of great Jewish women's humor on the small screen.
Now, it must be said, I can't relate to everything they do. I haven't necessarily been on the receiving end of a Facetime chat with a friend that ends up being *otherwise occupied* with her boyfriend at the same time. Nor has a friend ever told given me sage advice about storing marijuana in certain intimate places.
In fact, above all, the pair to me seems just plain young. I'm almost twice the age of these women – a fact that occurred to me when Ilana mentions she was born in 1994 (I was driving in 1994!!!). In a way, their trials and triumphs are far away from where I am now on the other side of 40. Watching it now feels like a virtual trip to a far more free-wheeling, way less inhibited version of my college shelationships.
But women's friendships do get crazy real, at any age. With all the gross stuff we go through, how could they not? In fact, I've found that as women age we only have more weird and disgusting stuff to share with each other. After watching, you realize how crucial it is to celebrate the complicated and ever-evolving ways you interact with the women in your life.
Recently the five-season run of "Broad City" came to an end, but Abbi and Ilana's legacy will live on for years to come. Fortunately, even though it aired on Comedy Central, you don't actually need cable to check out the show.
Streaming "Broad City" Seasons 1-4
The easiest way to watch most of "Broad City" is a free trial to Hulu. The first four seasons are included in its traditional streaming library, available starting at $7.99/month. It is convenient for Hulu to remember where you stopped watching and for the show to be listed among the others you're in the middle of watching on that app. For more details on the service, check out our full review of Hulu.
Streaming the Fifth and Final Season of "Broad City"
To watch the fifth season of "Broad City," currently you need to access the episodes via the Comedy Central app. For that, you'll need someone's cable log in and password – or you can use an online platform that signs you up for Comedy Central. Currently, Philo is the best value to unlock new episodes (for $25/month, including 58 channels). You can watch "Broad City" free using this free trial to Philo. For more details on their streaming service, check out our review of Philo.
Buying Episodes or Seasons of "Broad City"
You can also buy the show by the season or by the episode. On Itunes, it's $2.99 per episode or $19.99-24.99 per season. This also gives you the option of buying the uncensored episodes – which might be a big draw for some, since the "bleeping" button is used well and often. On Amazon, Vudu, Google Play, or YouTube, you can buy them for the same prices or slightly cheaper for SD.
Need More Information?
If this article didn't answer your specific question, head over to our Home Page! It will guide you to affordable internet providers, streaming services to meet your needs, information on antennas, and many more tools and resources to help you save money on TV and Internet access.
For the latest news tips and tricks on cutting the cord and other tech topics be sure to follow our Google News Feed, like our Facebook Page and Follow Us on Twitter.
Join Millions of Cord Cutters
*
Disclosure: Grounded Reason is supported by a small commission for purchases made through product links on this website. We do not accept compensation from companies attempting to sway our review of products.