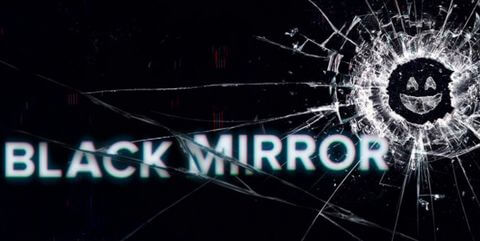 Are you feeling a little too content? Are you aglow with a sunny optimism about where we're heading?
"Black Mirror" is here to help you fix that.
Since its inception in the UK 2011, the science fiction thriller show has been shocking viewers into taping over their web cams and swearing off the latest tech for as long as they can stand. Every of the 20 (so far) episodes is a different take on just how fancy technology plus human nature can go awry (often in horrific ways).
Like "The Twilight Zone" of years past, "Black Mirror"'s anthology format allows you to watch episodes in any order and to dive deep into an intriguing new concept each time. Applying today's special effects to the task allows the show to stun in all kinds of chilling new ways.
For instance, in the episode "Nosedive" we see what happens when your social status is determined by your "likes" online – and the devastating consequences when they plummet. In "Playtest" you witness the horror of an inescapable virtual reality game programmed with your worst fears.
Nosedive Featurette
On rare occasions the stories are hopeful, like "San Junipero" or "Hang the DJ," both of which feature romances of a quite unconventional sort. More often the episodes haunt your nightmares. Sometimes they go way too far, shocking viewers with things so appalling that the meaning is too overshadowed to comprehend. Even hard core fans might steer others away from the first episode, "The National Anthem," for just going way beyond the pale.
But at its best Black Mirror is brilliant – revealing more about ourselves than we might care to know. Take, for example, the episode "USS Callister," which posits that man creates a Star Trek-like game to spend his free time in. The ship and the effects are so well done it could easily pass for the show so beloved by Trekkies, and any of them can identify with his fantasy – until it all goes horribly, horribly wrong of course.
Recently Black Mirror has examined new technology with new technology in "Bandersnatch," an episode that lets you pick between various outcomes as you watch it. It's a choose your own adventure show about a choose your own adventure video game made about a choose your own adventure book – and that doesn't even begin to cover how mind-bending it is.
You'll feel like you are in a deeply disturbing Philosophy class, pondering questions like do we have free will?! Does anything even matter?? Why are all my choices so gruesome?
With "Bandersnatch" and other episodes, Black Mirror does just what science fiction should: it shows us potential consequences of the advances that we take for granted. That said, it is an art form best taken with plenty of time to digest. My recommendation is to never, ever binge it (and if you do, have your therapist on call.)
Currently, there are four seasons of "Black Mirror" as well as Bandersnatch. They are pretty much exclusively on Netflix, which purchased the series in 2015. A fifth season is coming later in 2019. Fortunately, you don't need cable to catch up on all the horrors the near-future could unleash.
Watch Black Mirror on Netflix
All episodes of Black Mirror, including Bandersnatch, are streaming on Netflix. Netflix costs between $7.99-$13.99/month, depending on how many screens you use at the same time. It is not available on any other streaming platform.
Note that while watching Bandersnatch, you will need to be able to select from different choices presented on screen. Because of the requirements of this technology, you will get an error message if you try to watch with Apple TV or Chromecast. It works well with Netflix on Roku, desktop, and phone.
Purchasing Episodes or Seasons
Episodes and seasons are not currently available to purchase in the U.S. at Amazon, Itunes, Vudu, or Google Play.
DVD sets of Black Mirror sets are available for sale at various sites including Amazon.
Need More Information?
If this article didn't answer your specific question, head over to our Home Page! It will guide you to affordable internet providers, streaming services to meet your needs, information on antennas, and many more tools and resources to help you save money on TV and Internet access.
For the latest news tips and tricks on cutting the cord and other tech topics be sure to follow our Google News Feed, like our Facebook Page and Follow Us on Twitter.
Join Millions of Cord Cutters
*
Disclosure: Grounded Reason is supported by a small commission for purchases made through product links on this website. We do not accept compensation from companies attempting to sway our review of products.