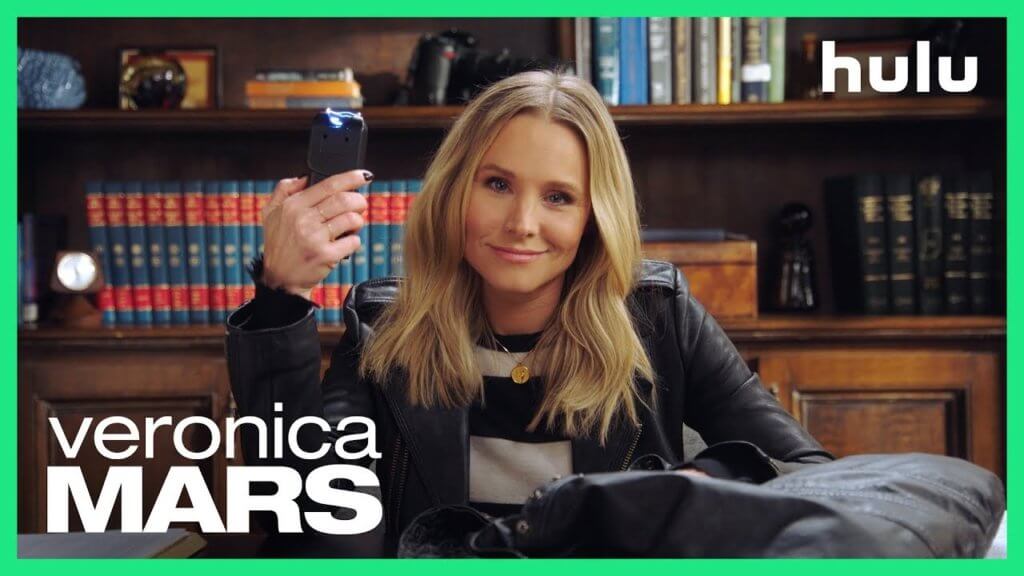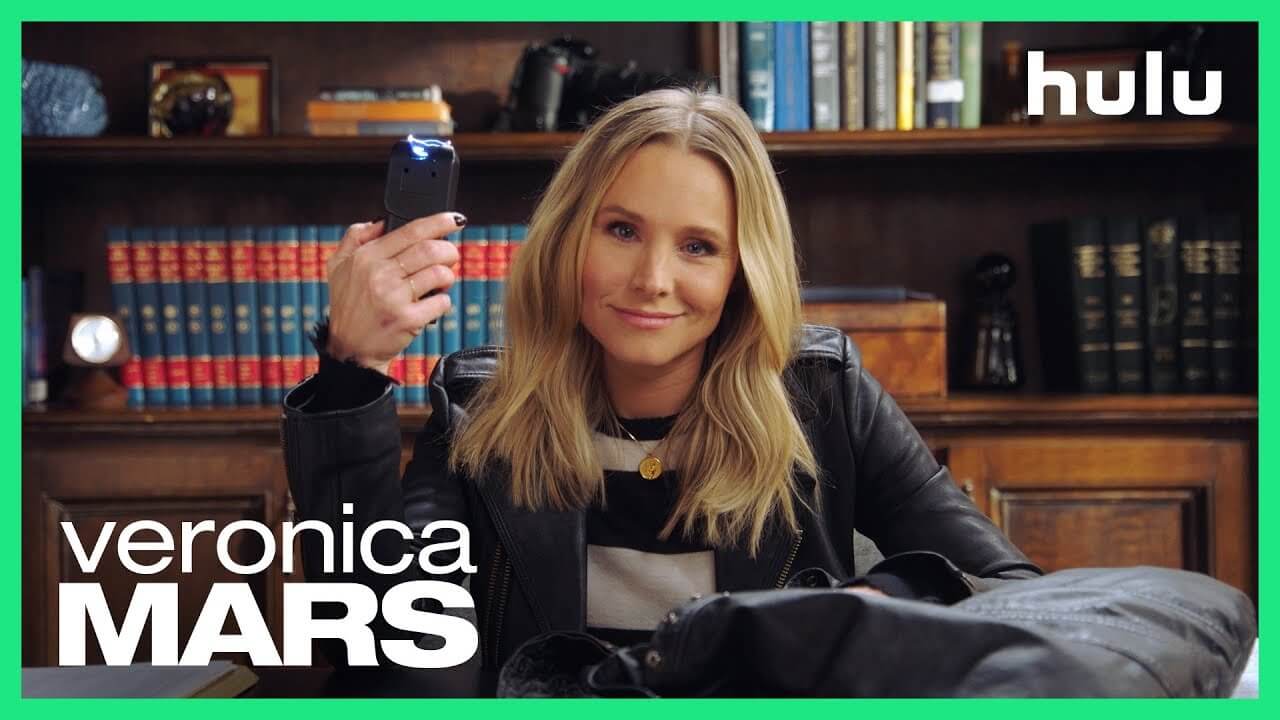 Here we go again, marshmallows. Our favorite teen detective is back. A little less teen and a little more grit, the cult series Veronica Mars returns this summer on Hulu with an all-new season 4. The stakes are raised as a serial bomber is taking out prime summer spots in the decadent, scandal-torn beachside town of Neptune, California. There is only one woman for the case, and she returns July 26. Here are all the ways to catch up on the story before the return of Veronica Mars.
A Brief History of Veronica Mars
In 2004, the UPN (soon to be CW) launched a dark and complex teen noir mystery series about a California blonde who used to have everything, before murder and scandal ripped up her life. Veronica Mars, played by Kristen Bell (The Good Place), was once part of the in-crowd and daughter of the town's sheriff, but now is a social outcast, following her father's fall from grace in the wake of her best friend's murder and high-profile investigation.
The critically acclaimed but short-lived series was created by screenwriter Rob Thomas (iZombie, Party Down), and only lasted three seasons, following Veronica through the end of her turbulent high school career and into college. However, the appeal of the dark, female-led mystery series meant it built not only a strong following when on the air, but became a steadily growing cult phenomenon well after it ended. Regularly ranked at the time as "one of the best shows on TV," it still holds a solid 95% average on Rotten Tomatoes.
Season 1 introduced us to a jaded and cynical Veronica, who narrates the episodes, and we discover through flashbacks to the devastating events that left her and her dad, Keith Mars (Enrico Colantoni), struggling to maintain Mars Investigations detective agency. As new evidence comes to light regarding the death of her best friend, Veronica begins a quest to find out the truth of what happened to Lilly Kane (Amanda Seyfried), which become the overarching mystery of the first season. However, while the big conspiracy is always lingering, the series also took on a case-of-the-week model, with Veronica begrudgingly solving the cases of her fellow classmates and citizens of Neptune—for a price.
The series also starred Jason Dohring as Logan Echolls, Lilly's troubled boyfriend and the son of a wealthy but violent A-list actor. Despite their initial animosity, Logan soon becomes Veronica's epic on-off-maybe love interest throughout the series. Veronica's closest friends and associates include Percy Daggs III as Wallace, the new kid and basketball star; Tina Majorino as computer genius Mac; and Francis Capra as "Weevil," leader of the PCHers biker gang. Other recurring characters include Ryan Hansen as spoiled rich surfer Dick Casablancas; third-season addition Chris Lowell as Stosh "Piz" Piznarski; and Jessica Jones herself Krysten Ritter as Gia Goodman, the mayor's daughter and lone survivor of a mysterious bus accident that kills several classmates in season 2.
Where to Watch the First 3 Seasons
The First three seasons of Veronica Mars are available to Hulu subscribers on July 1st, 2019. That's just in time for a healthy binge session before the July 26 debut. On or after July 1st just can grab a free trial to Hulu and start watching.
They are also available for purchase or rent. Prices vary, with episodes start at $1.99 for SD/$2.99 for HD, and seasons for $8.99/$9.99 for season 1, and $29.99 for season 2 or 3. They are available via Amazon, iTunes, Google Play, Vudu, and YouTube.
The 2014 Veronica Mars Movie
Fans and stars alike stayed vocally attached to the franchise well after its cancellation. There was much talk for some time about a spin-off or follow up movie, and eventually, nearly 10 years later, it happened. In 2013 Thomas and Bell came together to try to raise funds for a follow-up Veronica Mars film. After Warner Bros. opted not to fund it, they reached out to fans online, in what would be one of the most successful Kickstarter campaigns to date. The drive raised it's $2 million goals in less than 11 hours, reaching a total of $5.7 million in the end. The film was released theatrically by Warner Bros., as well as same-day delivery to on-demand rent or purchase viewers, in March 2014.
In the film, we flash forward nine years from the series end to the gangs' 10th high school reunion. Veronica, now about to enter a prestigious law firm in New York, is determined not to return, but when a shocking high-profile murder implicates her ex Logan Echolls, back she rolls. While not quite as well-received as a film by critics, the movie is a delightful re-introduction to the series, with the majority of the original cast returning, if even for cameos, as we slowly watch Veronica revert to her gumshoe ways, complete with still-intact sarcasm and iconic telephoto zoom lens. Not to mention lays some important groundwork and character development going into season 4.
How To Watch The Veronica Mars Movie
The film is currently available to stream through an HBO subscription (or through an HBO add-on on Hulu or Amazon) or to rent or purchase via Amazon, iTunes, YouTube, Vudu, and Google Play.
The New Season of Veronica Mars
All that brings us to this summer, and the debut of the long-awaited season 4 on Hulu. The eight-episode season takes us back to Neptune, and the aforementioned mysterious serial bombings. Back on the case is Veronica Mars, joined by her stalwart dad (Colantoni), as well as Logan, Wallace, Weevil, Dick, and xx. New to the scene are a very sketchy looking J.K. Simmons, as well as Patton Oswalt, Clifton Collins Jr., and Dawnn Lewis.
Check out all the action on Hulu starting July 26, or view the trailer now:
Hulu offers a free 30-day trial, and then costs:
$7.99/month with limited commercials
$14.99/month commercial free
$44.99/month commercial free + live TV of up to 50 channels, as well as on-demand feature.
Hulu can be watched through Hulu.com online, as well as apps for Apple TV, Roku, Chromecast, Amazon Fire, Xbox, and mobile devices.
Want More Veronica Mars?
Need a little more before July? Here are a few more tidbits for hardcore marshmallows (aka, fans of Veronica Mars, nicknamed for the definition of the prickly detective herself—soft and mushy inside).
Creator Rob Thomas worked with author Jennifer Graham to co-write two follow-up novels following the film's release: Veronica Mars: The Thousand Dollar Tan Line (2014) and Veronica Mars: Mr. Kiss and Tell (2015 Book). Both books are considered by the creator to be canon to the series and future incarnations. Bonus: the audiobook of the first volume is narrated by Bell herself, for fans who want true Veronica-style narration feeling.
In 2014, The CW launched Play it Again, Dick, a meta-comedy series that followed actor Ryan Hansen in a fictionalized portrayal of himself trying to convince Veronica Mars castmates that he needs to do a spin-off centered on his surfer-dude character from the series, Dick Casablancas. Originally launched for the CW Seed in 2014, the series is now available to purchase by episode on YouTube, iTunes, and Google Play. View the trailer: https://www.youtube.com/watch?v=WHpFc4JO1sQ
Need More Information?
If this article didn't answer your specific question, head over to our Home Page! It will guide you to affordable internet providers, streaming services to meet your needs, information on antennas, and many more tools and resources to help you save money on TV and Internet access.
For the latest news tips and tricks on cutting the cord and other tech topics be sure to follow our Google News Feed, like our Facebook Page and Follow Us on Twitter.
Join Millions of Cord Cutters
*
Disclosure: Grounded Reason is supported by a small commission for purchases made through product links on this website. We do not accept compensation from companies attempting to sway our review of products.