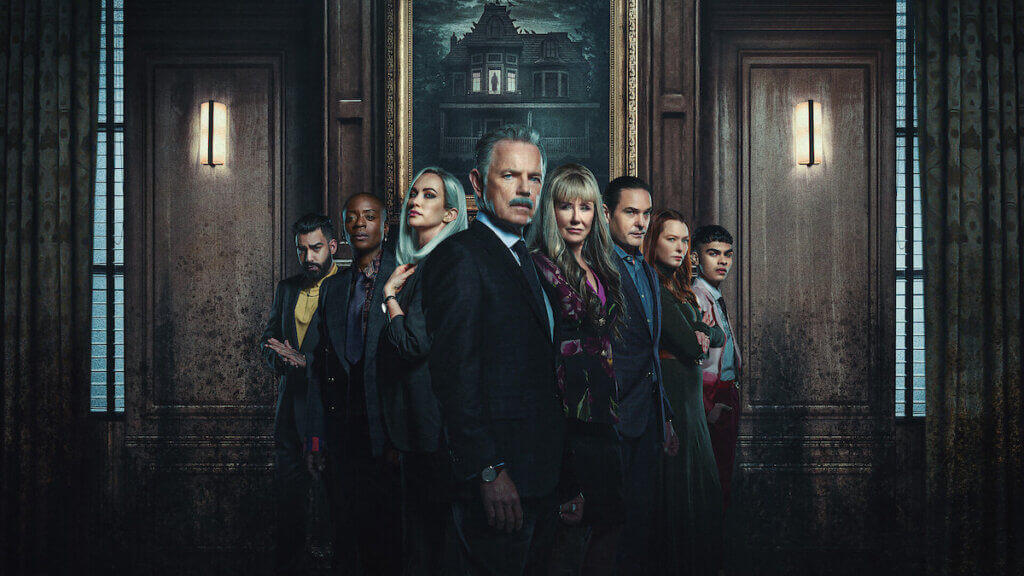 The new miniseries adaptation of the eerie work by Edgar Allan Poe, The Fall of the House of Usher is the latest series in a multi-year partnership between director Mike Flanagan and Netflix. Based on what we know, it may be the darkest of Flanagan's works yet, following the crumbling of a family dynasty as one by one its heirs begin to die horrible, mysterious deaths.
Siblings Roderick (Bruce Greenwood) and Madeline Usher (Mary McDonnell) are ruthless in business and have built their pharmaceutical company into a powerful, privileged empire. When Venra (Carla Gugino), a mysterious woman from their past, returns, her supernatural powers are swiftly turned against Rodericks children, who are soon met with violent ends.
The Fall of the House of Usher Cast
In addition to Greenwood, McDonnell, and Gugino, the extensive ensemble cast includes Rahul Kohli, Kate Siegel, Henry Thomas, T'Nia Miller, Samantha Sloyan, Zach Gilford, Willa Fitzgerald, Michael Trucco, Matt Biedel, Ruth Codd, Crystal Balint, Aya Furukawa, Carl Lumbly, Mark Hamill, Paola Nuñez, Kyliegh Curran, Sauriyan Sapkota, Katie Parker, Malcolm Goodwin, Daniel Jun, Annabeth Gish, Igby Rigney, and Robert Longstreet.
Many of the cast may be familiar with Flanagan's past Netflix projects: The Midnight Club, Midnight Mass, The Haunting of Bly Manor, and The Haunting of Hill House. However, after several years of delivering trauma and scares to audiences on Netflix, this may be their last partnership. Last year, Flanagan and collaborators signed an exclusive deal with Amazon Studios. Word has it they are currently adapting Stephen King's fantasy epic The Dark Tower into a series.
But for now, his work is on Netflix., where you can watch The Fall of the House of Usher this spooky season, starting Thursday, October 12. Netflix plans start at just $6.99, and you can read more about all the options below and how to subscribe below.
Where to Watch: The Fall of the House of Usher will be on Netflix.
Watching The Fall of the House of Usher
The Fall of the House of Usher is available exclusively on Netflix, and you can subscribe via one of the following plan options:
Premium – $19.99 per month – 4K HDR – allows four simultaneous viewings
Standard – $15.49 per month – HD – allows two simultaneous viewings
Standard with ads – $6.99 – HD – but you have to watch ads, and can't download content for offline viewing.
Also, check out our review of Netflix for more information on the service.
Netflix is available through the company's app, available on any of the following supported devices:
Roku
Fire TV
Nvidia Shield
Apple TV
Chromecast
Android Devices
iOS Devices
Windows Phones
If you don't have any of the devices above and are watching on your browser, you can connect your laptop to the TV to watch Netflix.