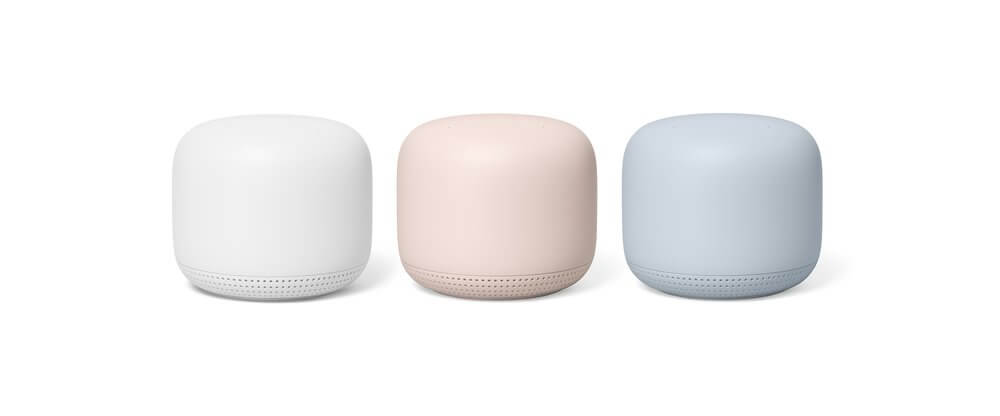 A few years ago, I upgraded my home network to a Google Wifi mesh network, and it was one of the best networking decisions I've ever made. I have whole home wifi coverage. I can check the network when I'm not at home. I can shut down my kids' devices when they won't put them down. Life was good.
However, every few years, I get the upgrade bug, and Google updates their mesh routers with the newer Google Nest Wifi. First, I'll go over the design and specs of the newer Google Nest Wifi compared to it's predecessor. Then, we can take a look at when Google Nest Wifi is worth the upgrade.
Google Nest Wifi
Google Nest, like Google Wifi, is a mesh network. Instead of having a single router connected to switches, and wireless access points, a mesh network wirelessly connects routing devices into a single Wifi network. This is done dynamically, getting you the fastest direct connection on your network for efficient and reliable network communication.
Unlike Google Wifi, Google Nest Wifi consists of two distinct devices, the Google Nest Router and The Google Nest Point. Previously Google Wifi nodes were the same Google Wifi puck.
You build your mesh network by connecting the Google Nest Router to your cable modem or optical network terminal. Once the router is configured through the Google Home app and set as the primary, you can then easily add nodes in the form of Google Nest Wifi Routers and Points.
Google Nest Wifi Router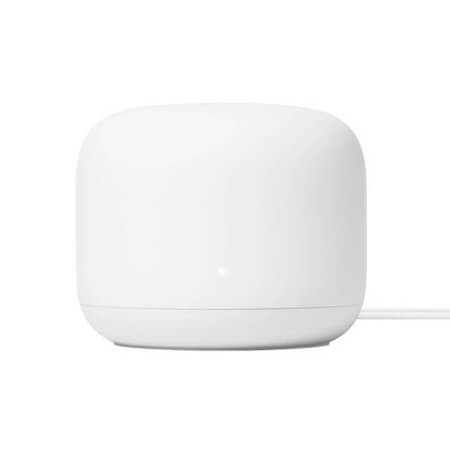 The Google Nest Looks much sleeker than its previous iteration. While the aesthetics are much improved, like Google Wifi, the Google Nest Wifi router sports two Ethernet ports. Both support the 802.11ac standard with beamforming and MU-MIMO. However, the newer Google Nest Wifi Router uses a barrel-type power supply instead of USB-C power and comes in three colors, Snow, Sand, and Mist.
The significant differences are on the inside. Google Nest Wifi routers have an AC2200 rating, with four spatial streams (4×4) for 5GHz and two spatial streams (2×2) at 2.4GHz. This will provide a theoretical maximum throughput speed of 1733 Mbps on 5GHz and 400 Mbps on 2.4 GHz.
The older Google Wifi consists of two spatial streams (2×2) on a 2.4GHz band and two spatial streams (2×2) on a 5GHz band. This translates to a theoretical maximum throughput of 400Mb/s and 867Mb/s, respectively. That equates to an AC1200 wifi standard.
All things equal, the Google Nest Wifi router has double the throughput of Google Wifi on 5GHz devices. The Google Nest Wifi router also doubled it's processing speed to 1.4 Gbps on a 64-bit quad-core processor with double the RAM, now at 1GB. Both devices have 4GB of Flash RAM.
Each Nest Wifi Router provides an estimated maximum wifi coverage of 2200 square feet compared to Google Wifi's maximum of 1500 square feet.
Google Nest Point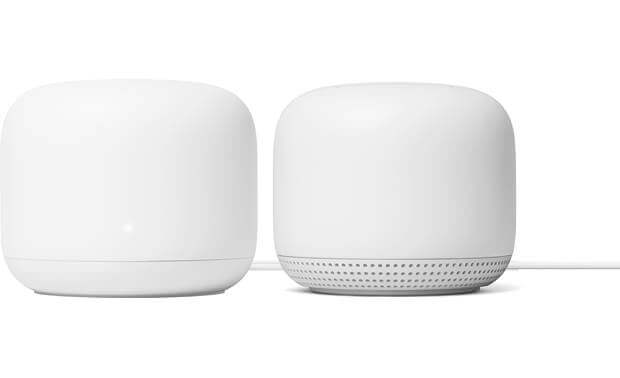 Google Nest Wifi Points connect to your network to add additional wifi coverage to your mesh network. They do not have ethernet ports and thus cannot be used as the primary network device. They do, however, come built-in speakers and microphones. This allows Google Nest Points to function as Google's virtual home assistant, Google Assistant.
The Nest Point Wifi capabilities are the same as the older Google Wifi (AC1200 wifi.) While the processor is doubled at 1.4 Gbps on a 64-bit quad-core processor, the Point has less onboard memory than Google Wifi with 768 MB RAM and 512 MB Flash.
Google Nest Point is compatible with Google Wifi, so if you have a Google Wifi Network, you can add a Google Nest Point and easily add Google Assistant to your home. They are sold individually for $149.
Each nest point will provide a maximum of 1600 square feet of additional wifi coverage.
Google Nest Wifi Setup
Setting up your Google Nest Wifi is relatively easy. If you are setting up a Google Nest Router as the primary device, then you conduct the setup through the Google Home app. If you are adding a Google Nest device to your current Google Wifi mesh network, use the Google Wifi App.
It makes sense to keep Google wifi as your primary mesh router if you are merely adding a Nest Wifi Point. However, if you purchased a Google Nest Wifi Router, adding it to a Google Wifi Mesh network will not allow you to take advantage Nest's upgraded hardware. You will want the faster device as the primary mesh node. Also, know that Google Nest Wifi devices do not support onHub devices.
You can find full setup instructions on Google's support page. Below is an abridged version of the setup:
If you don't have the Google Home App, download the latest version of the Google Home app on Android or iOS. Open it. If you don't have a Home in the app, create one by tapping "Add" and following the instructions.
Choose a location for your router and Connect the Ethernet cable to your Nest Wifi router's WAN port. Then, connect the other end to your modem or ONT.
Plug your Nest Wifi router into a power outlet. After about a minute, the light will pulse white to indicate that it's on and ready for setup.
On your phone or tablet, open the Google Home app.
Tap Add Set up device and follow the on-screen instructions.
When finished setting up the primary device, you can add more Wifi points by tapping Add then Set up device.
Under "New devices," tap Set up new devices in your home and follow the on-screen instructions.
If you have a Google Wifi Network and want to add Nest devices to it, Google has excellent instructions on their support page.
Should You Upgrade Google Wifi to Google Nest Wifi
Generally speaking, if you are like me and have a Google Wifi mesh network, there is little reason to upgrade to the Google Nest Wifi. The Google Nest Wifi has more antennas and processing power than its predecessor. However, if Google Wifi is getting the job done, upgrading it will be an expense that doesn't show a good return on most home networks. The current throughput on Google Wifi is more than enough for most home internet connections. If you want to add Google Assistant to your Home, then purchase a Nest Wifi Point and add it to your Google Wifi network.
If this is your first foray into mesh networks, then, by all means, go with Google Nest Wifi. It's a reliable mesh network that is easy to set up, and there is virtually no maintenance. Google will even automatically update your network devices for you.
Furthermore, if you have coverage issues with your Google Wifi network, it may make sense to pick up the Google Wifi Nest Router and Point pack. Then you can set up the Nest Wifi Router as the primary device, add the Nest Point to add Google Assistant to your home and use your older Google Wifi Pucks to expand your Wifi coverage.
Where To Buy
If you want to purchase more than one Nest Router in a bundle, you can find the following on Amazon:
You can buy 4 variations from Google's online store. They sell the following configurations in three colors (Snow, Sand, and Mist):
a single Nest Wifi Router – $169
Nest Wifi Router and Point – $269
Nest Wifi Router and 2 Points – $369
A Single Nest Wifi Point – $149
Need More Information?
If this article didn't answer your specific question, head over to our Home Page! It will guide you to affordable internet providers, streaming services to meet your needs, information on antennas, and many more tools and resources to help you save money on TV and Internet access.
For the latest news tips and tricks on cutting the cord and other tech topics be sure to follow our Google News Feed, like our Facebook Page and Follow Us on Twitter.
Join Millions of Cord Cutters
*
Disclosure: Grounded Reason is supported by a small commission for purchases made through product links on this website. We do not accept compensation from companies attempting to sway our review of products.