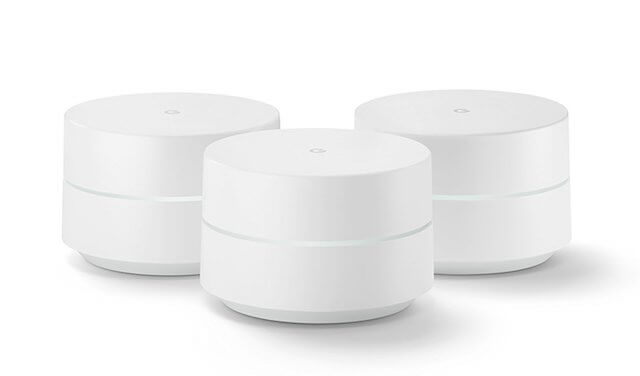 The biggest headache any cord cutter can face is buffering or poor quality video. The majority of these issues are typically called by poor quality Wifi in the house. Most folks get their router, plug it in, and expect it to work. However, there are a number of things to consider if you don't want sub-standard Wifi.
Google Wifi System has simplified these considerations. You can now purchase a wifi mesh network which literally took me 10 minutes to set up.
Google Mesh Wifi Review
Previously, I used wired connections on streaming devices in my house to ensure a good connection. However, I recently got the bug to eliminate or hide as many wires as possible in my home. Therefore, those ethernet cables had to go. After hours of research, I ultimately decided to try Google Wifi System to put a wifi mesh network in my home. I was not disappointed.
What is Google Mesh Wifi?
Google Mesh creates a mesh network of routers that wirelessly communicate to create a quilt of Wifi connectivity. This eliminates dead zones and ensures you are always on the optimal network point with the best connectivity. It even puts each device on its optimal channel and Wifi band. This ensures your devices have fast, consistent connections to the network.
Typically your router is in one location in the house. If you are too far away from it your connection is terrible. You can install wireless extenders and repeaters, but that can be a big hassle. If your router and extender aren't the same brands, it can be a nightmare.
A single Google Mesh Wifi Router will cover between 500 and 1500 ft. However, you can buy them in 3 packs for coverage up to 4500 ft. If you need to cover more space, it's simple to just plug in another Google Mesh Router and add it to the mesh.
Google Wifi System Technical Specs
You can buy single Google Wifi Point for just under $120 or a 3 pack for around $260. This puts them on par with what you would spend for a decent router and wifi extenders. Each Google Wifi Point comes with a 15W power adapter and a quickstart guide. Both the single and 3 pack come with just one 6.5 ft Ethernet cable that connects to your ISP router\moden or Optical Network Terminal in the case of something like Verizon Fios.
Each Google Wifi Point has the following specs:
Size is a 4.1-inch diameter, with a 2.7-inch height, and a weight of 12 ounces
AC1200 2×2 Wave 2 Wi-Fi
Expandable mesh Wi-Fi
Simultaneous dual-band Wi-Fi (2.4GHz / 5GHz) supporting IEEE 802.11a/b/g/n/ac
TX Beamforming
Bluetooth® Smart Ready
512 MB of RAM with 4GB eMMC flash
Quad-core ARM CPU — each core up to 710 MHz
Security is WPA2-PSK with Infineon SLB 9615 Trusted Platform Module for hardware security
2 Ethernet Ports (The point that connects to your ISP is a WAN port. The other port is a Lan that you can use for Ethernet if you like. Google Wifi Points not connected to your ISP's modem treat both ports as LAN ports.)
Why I Recommend The Google Wifi System
For anyone that streams a lot of video content online and needs a consistent dependable Wifi connection, Google Wifi System is the best wifi mesh network I've looked at. It has all the latest standards and specs you would want out of a modern home router and it automatically manages all the networking tasks that are either a headache or ignored by most people. Here is a list of things the Google Wifi System features:
It automatically puts devices on the least congested channel
It automatically connects you to the fastest point
It automatically manages the band based on your device
It automatically does security updates
Easily create a guest network for your friends and provide them access to devices on your main network.
You can stay on top of screen time using family Wifi controls
You can prioritize devices to give them more bandwidth for a certain amount of time
Track device bandwidth usage.
Monitor network performance for dead zones to see if you need another access point.
The Google Wifi System eliminated all the Wifi dead zones in my house. Furthermore, the network is consistent everywhere in my house. A wifi mesh network is preferable to using range extenders which degrade speed when handing off to the router. Google's wifi mesh is one consistent stable network.
The family controls are excellent. You can pause the wifi of individual devices or create a label for each child that groups devices you want to pause.
If you are streaming or downloading a game to an Xbox or PlayStation, you can prioritize that device on the network to give it the most bandwidth.
All of these features are controlled by the app on your smartphone.
Google Mesh Wifi Setup
Setting up the Google Wifi System is one of the easiest tech-based things you will ever do. I set up 3 Google Wifi points and it only took 10 minutes. Here is what you need to get started:
A Google Account
Android device (Android 4.0.3 or higher) or iOS device (iOS 8.0 or higher)
Google Wifi app
Once you've downloaded the Google Wifi app.
Connect the provided Ethernet cable to the WAN port [] of your Google Wifi point. Then connect the other end to your modem. This is your main Wifi point.
Now plug your Google Wifi point into a power outlet. The light will slowly flash blue to indicate that it's powered on and ready for setup.
Place the Wifi point in plain view. It's very pretty and sleekly designed, so show it off. It will make it easier for the WiFi signal to travel
Open the Google Wifi App on your smartphone and follow the on-screen instructions.
First, it will find your wifi point ask you to scan the QR code on the bottom of the main Wifi point. This will automatically connect your phone to the Wifi point.
It will then ask you to label to Wifi point so you tell them apart in the app.
The app then wants you to name the network and create a password.
For each additional Wifi Point, Hold your phone close to your Google Wifi point and tap Add Wifi point.
Once added, tap Test Now to check the strength of its Wi-Fi connection and to determine if it can be moved to a better location.
Do this for each additional Wifi Point.
When all points are set up you will see an overview your entire mesh network
After your Wifi points are set up, the app will download and install the Google Wifi software, which includes the latest features and security measures. This can take up to 10 minutes. Your Wifi points will restart and your Wi-Fi network will be down until the Wifi points fully turn on when the light is solid teal.
Below is a video that shows the steps I outlined above.
https://youtu.be/z7PPYNs5Xao
Bottom Line
Google Wifi is one of the best investments you can make in your home. With live video streaming, smart home technology, and video communication, quality home wifi is must-have in today's world. The Google Wifi System is a worry-free mesh wifi network that provides consistent wifi throughout your house while automatically managing the security and performance of your network. This is an easy 5 out of 5-star recommendation.
Need More Information?
If this article didn't answer your specific question, head over to our Home Page! It will guide you to affordable internet providers, streaming services to meet your needs, information on antennas, and many more tools and resources to help you save money on TV and Internet access.
For the latest news tips and tricks on cutting the cord and other tech topics be sure to follow our Google News Feed, like our Facebook Page and Follow Us on Twitter.
Join Millions of Cord Cutters
*
Disclosure: Grounded Reason is supported by a small commission for purchases made through product links on this website. We do not accept compensation from companies attempting to sway our review of products.