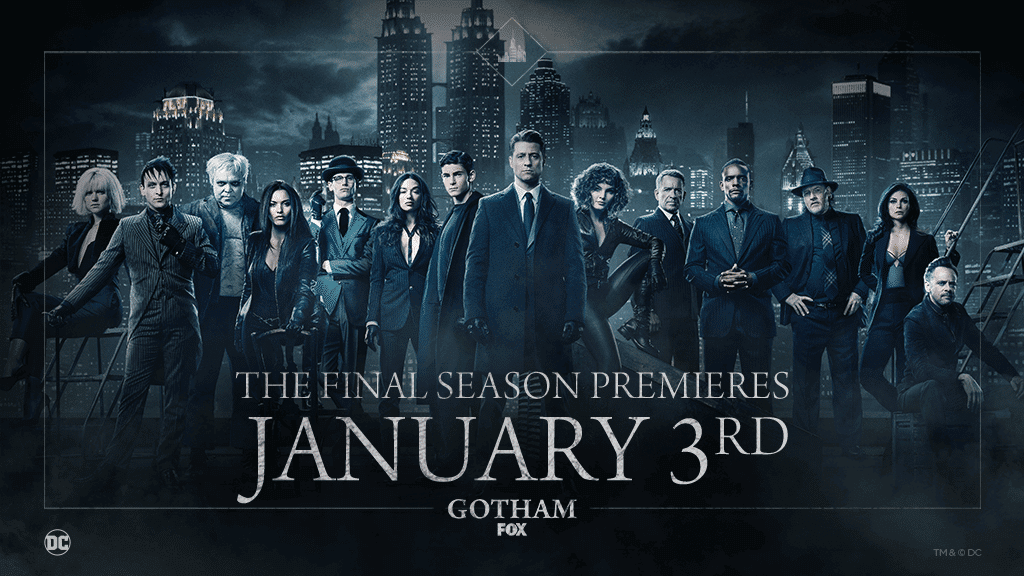 Villainy never looked so good, and in Fox's Gotham, there is no shortage of it. The gritty superhero drama might be one of the most delicious comic book universe shows you're not watching, balancing between a stylish cop mystery and ridiculously over the top comic book moments that are irresistible. The series will debut it's fifth and final season January 3, 2019, so here's a quick guide on why to watch, and how to catch up, before the Dark Knight rises and the curtain goes down on Gotham.
Based on DC Comics' Batman series, and developed by Bruno Heller (The Mentalist), Gotham is set in the early days of Detective Jim Gordon's career, kicking off with his first big case—the murders of Thomas and Martha Wayne. The show starts with both feet mostly in the procedural crime drama, focused on mobsters, corrupt cops, and political conspiracies, but quickly Gotham's soon-to-be most wanted are introduced and we watch not just the origin stories of Gordon and Bruce, but those of Penguin, Riddler, Catwoman, Scarecrow, Solomon Grundy, and more evildoers than you can throw a batwing at.
James Gordon (Ben McKenzie) begins on the Gotham police force as an idealistic, honest cop in a clearly corrupt city. Over the series he struggles with darkness, compromises, and the toll the job takes on his morals. In contrast to his clean cut look and clear-cut view of good and evil is his scruffy, sarcastic partner Harvey Bullock (Donal Logue), a sloppy, ethically compromised, but basically good cop.
Bruce Wayne is almost a second tier storyline in Season 1. He's a grieving, lonely13-year-old (David Mazouz), but as his interest in his family's history and the complexities of Gotham's underworld grow, he starts down the path to his destiny as the city's protector. Both Bruce's storyline, and Mazouz's ability to carry the weight of the role, develop throughout the series to really bloom in seasons 3 and 4. Sean Pertwee plays Bruce's most loyal protector, Alfred Pennyworth, with less polish than other iterations, embracing a street-bred attitude and leaning into Alfred's military ops background—he's a butler with a proper waistcoat and a vicious right hook.
Gotham Season 1 Trailer
There is also a strong supporting cast of female actors. Befriending Bruce early on is Selina "Cat" Kyle (Camren Bicondova), a young, tough, street-wise thief with catlike instincts and fierce survival instinct. Erin Richards plays Gordon's initial love interest Barbara Kean; Jessica Lucas is the whip-cracking Tabith Galavan; and Morena Baccarin as Dr. Lee Tompkins.
Gotham is littered with an innumerable cadre of iconic characters that that cross the heroes' paths, from friends to foes—frequently both simultaneously. The ensemble of ne'er-do-wells is led by Robin Lord Taylor as Oswald Cobblepot, who starts at the bottom of the mob food chain, but rapidly begins his rise as Penguin, triumphantly taking over Gotham (and audiences) with a combination of vulnerability, charm, spite, and manipulation, plus an irrepressible grin and incredibly tailored suits. Honestly, Penguin's arc through the series is almost more interesting than either Gordon's or Bruce's, and Taylor regularly steals the show. Matching him blow for blow and suit for suit is Edward Nygma, played delightedly by Cory Michael Smith, who transforms from awkward and neglected office nerd to the dynamic and dangerous Riddler, continually battling his own duel personalities.
And just when you think your favorite villain has been taken down for good, don't forget, it's a comic book world, and no one stays dead for long.
A few more quick nods are owed to Jada Pinkett Smith, who oozes and sashays across the screen as the sinister Fish Moody; B.D. Wong as the gleefully evil scientist Dr. Strange; and Cameron Monaghan (Shameless), who gives a several good turns as Jerome Valeska, with a maniacal grin, wicked laugh, and penchant for chaos that take very clear influence from the Joker, but not the name. All of them are more than adept at just the right amount of scenery chewing.
And there is plenty of scenery to be chewed, as the production design of the series is a major part of its appeal. Filmed on location throughout New York City and digitally enhanced to build the fictional city, the show is gritty, stylish, and incredibly well designed. Producers were clever in an approach that hints at the past without trying to be a period piece, designed with a heightened timelessness. It feels at once contemporary and like an old film noir, with dark corners, classic styling, and vintage inspired costumes. Modern day tech like smart phones, computer gadgets, and spy gear are removed to keep it from being distinctly here and now. The dedication to design has paid off, and Gotham is consistently nominated for Creative Arts Emmy Awards including Production Design, Costumes, Special Visual Effects, Cinematography, and Sound.
All caught up? Refresh yourself with a season 4 summary, and check out the trailer for season 5.
How to Watch Gotham
Since Gotham airs on Fox, cord cutters can watch the premiere live on January 3rd using a TV antenna. If you don't want to mess with setting up an antenna, you can still watch live. Check out our guide to watching your local TV channels without cable for more information.
For those that don't mind waiting a day after new Gotham episodes air, you can try any of the streaming services below.
Fox.com
Gotham airs on Fox, and the network's website has the last five episodes available to stream, with new episodes available on demand beginning the day after airing.
Watch Gotham on Hulu
Like Fox.com, Hulu has only the last five episodes, but is a good way to keep up with the show when the new season starts airing. If you don't have Hulu yet, you can start with a free trial month, and then choose from several plan starting at $5.99. Hulu can be watched through Hulu.com online, as well as apps for Apple TV, Roku, Chromecast, Amazon Fire, Xbox, and mobile devices.
Past Seasons of Gotham on Netflix
Need to get caught up? The holiday break is a great time to binge, and Netflix has all four seasons so far available to stream. If you don't have Netflix yet, it's easy to subscribe, with three monthly plans starting at $7.99, plus a free trial month.
Gotham on Amazon and iTunes
Gotham can also be purchased through Amazon and iTunes, either by individual episodes for $1.99 SD and $2.99 HD, or $14.99 for the season. Both services offer apps to view purchased digital content through Apple TV, Roku, Chromecast, Amazon Fire, and many mobile devices, video consoles, and gaming systems.
Need More Information?
If this article didn't answer your specific question, head over to our Home Page! It will guide you to affordable internet providers, streaming services to meet your needs, information on antennas, and many more tools and resources to help you save money on TV and Internet access.
For tips and tricks on cutting the cord and other tech topics be sure to join our Facebook Page.
Join Millions of Cord Cutters
*
Disclosure: Grounded Reason is supported by a small commission for purchases made through some product links on this website. We do not accept compensation from companies attempting to sway our review of products.