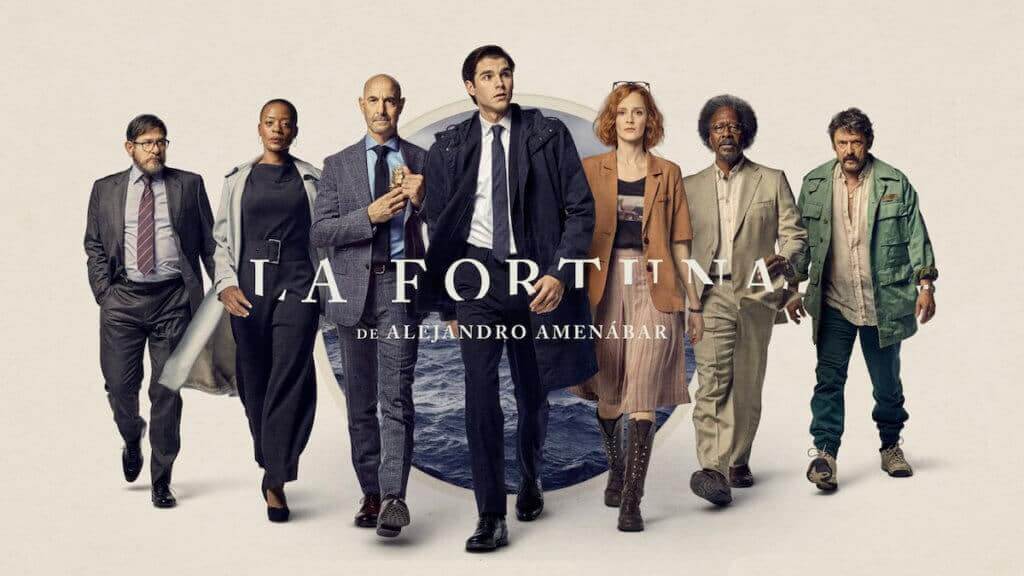 The new international thriller La Fortuna comes to AMC+ on Thursday, January 20, 2022. Starring Stanley Tucci and Clarke Peters, La Fortuna is a co-production between AMC and Spain's Movistar+, and the first television series created by film director Alejandro Amenába (The Others, The Sea Inside). La Fortuna is about a young diplomat played by Álvaro Mel who stumbles into an unlikey adventure with a mission to recover a sunken treasure stolen by adventurer and plunderer Frank Wild (Tucci). When Wild finds a shipwreck that rightfully belongs to Spain, the Spanish Ministry of Culture enlists maritime lawyer Jonas Pierce (Peters) to fight for their cultural heritage. The six-part miniseries also stars Ana Polvorosa, T'Nia Miller, Karra Elejalde, Manolo Solo, Alfonso Lara, Blanca Portillo, and Pedro Casablanc. Read on to learn how to stream La Fortuna without cable.
When Does La Fortuna Premiere: La Fortuna premieres on Thursday, January 20.
Where to Watch La Fortuna: La Fortuna is available on AMC+.
La Fortuna on AMC+
You can watch La Fortuna directly through the Prime Video App, Roku Channel, and Apple TV Channels if you subscribe to AMC+. Subscriptions to AMC+ are free for 7-days; after that, it is $8.99 a month, which includes ad-free access to shows on AMC, BBC America, Shudder, SundanceTV, and IFC. You can watch La Fortuna through AMC+ using the following methods.
Prime Video Channels: First, sign up for AMC+ on Prime Video Channels through your Amazon account. Then you can download the Prime Video App to your supported device and sign in with your Amazon account, and The latest episodes of La Fortuna will be available for you to watch through the Prime Video App.
The Roku Channel: While the Prime Video app is available on Roku devices, users of the Roku Channel can sign up for AMC+ through the Roku Channels App. You can do so through the Roku Channel app interface.
Apple TV Channels: While the Prime Video app is available on Apple TV, users may choose to sign up for AMC+ through the Apple TV channels interface.
For more information, see our review of AMC+.
About La Fortuna:
La Fortuna is an adventure thriller across the oceans, in which an international team works together to recover a stolen treasure and restore it to its proper home. Stanley Tucci plays an adventurer who travels the globe plundering lost treasures from the sea. Now, a young diplomat, combative public official, and a brilliant lawyer with a passion for pirate tales set out on an adventure to reclaim the treasure.