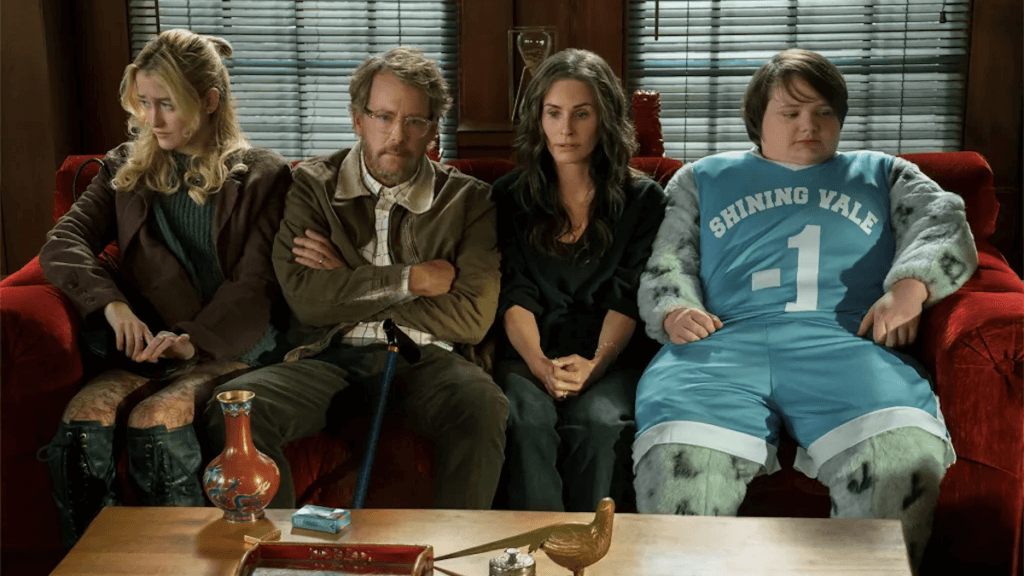 The comedy-thriller Shining Vale follows a dysfunctional family that moves to a small town for a fresh start, only to discover their new home is the site of terrible atrocities. Courtney Cox and Greg Kinnear led their unique blend of comedy and drama to their roles as a struggling couple trying to save their family, only to be confronted by a rather haunting presence. The series returns for a second season on Starz.
The Haunting of Shining Vale
Patricia "Pat" Phelps (Cox), a former "wild child" whose steamy novel of sex and drugs made her famous, and her husband Terry (Kinnear), have been struggling for a while. Pat has been feeling unfulfilled since her initial success; now sober and unable to write, she slips up and has an affair with the hot, young handyman.
Hoping to save their marriage and reconnect with their disgruntled teenage kids, Pat and Terry cash it all in to move the whole family to a large old house in the suburbs. At first, Pat seems to be the only one who notices and soon finds herself keeping company with a rather haunting companion (Mira Sorvino). Pat isn't sure whether she's depressed or possessed, honestly.
However, soon things get a little nuts for everyone, as the whole family begins experiencing supernatural occurrences. The series also co-stars Judith Light, Sherilyn Fenn, Merrin Dungey, Gus Birney, and Dyland Gage.
When Does Shining Vale Air: Shining Vale airs on Fridays at 9:00 p.m.
Where to Watch Season 1: The first season of Shining Vale is available on Starz (Free Trial).
How Many Episodes in Season 2: The first season of Shining Vale has eight episodes.
How to Watch Shining Vale When it Airs
Shining Vale airs on Fridays on Starz, and is available with a Starz subscription plan. Starz runs $8.99 a month, after a 7-day free trial, and can be streamed online or via the STARZ app on most streaming devices, including Roku, Apple TV, Amazon Fire, and Android devices. In addition, it can be purchased as an add-on with such services as Amazon Prime or Hulu for an additional $8.99 monthly after the same 7-day free trial period. See our guide to watching Starz online for more details on the service.