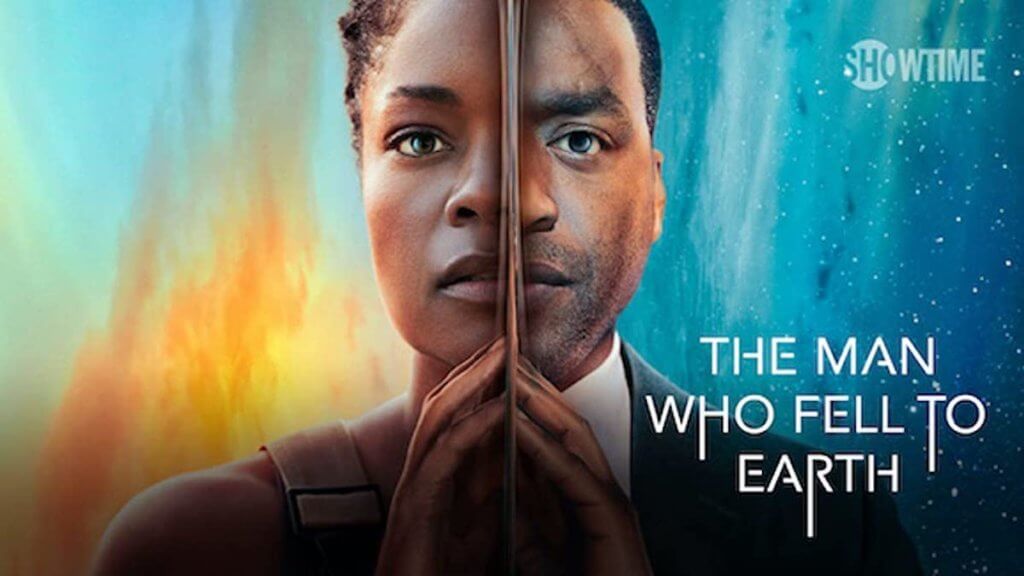 The Man Who Fell to Earth, a new science fiction series about an alien's arrival on Earth, premieres on Sunday, April 24, at 10:00 p.m. ET on Showtime. The series is based on the 1963 novel by Walter Tevis (and made into a 1976 film starring David Bowie*) and was created by Jenny Lumet (Star Trek: Strange New Worlds) and Alex Kurtzman (Star Trek). Chiwetel Ejiofor stars as an alien who landed on Earth in a quest to save his species–and help Earth avoid the same dire fate. He meets Justin Falls (Naomie Harris), the one woman who can help save his species, and they go on a journey to find the solution to survival, despite dangerous people on their tail. The series also stars Jimmi Simpson, Clarke Peters, Rob Delaney, Sonya Cassidy, Joana Ribeiro, Annelle Olaleye, Bill Nighy, and Kate Mulgrew. Read on for more on how to watch The Man Who Fell to Earth.
*Fun Fact: In reference to the previous adaptation starring David Bowie, all the episode titles in the new series are also the titles of Bowie songs.
When Does it Premiere: The Man Who Fell to Earth premieres on Sunday, April 24, at 10:00 p.m. ET.
When Does it Air: The Man Who Fell to Earth airs on Sundays.
How to Watch First Lady: The Man Who Fell to Earth is available on Showtime. Pick up a 30-day free trial and watch the entire miniseries free.
Where To Watch The Man Who Fell to Earth

You can stream The Man Who Fell to Earth on the Showtime app. Showtime costs $10.99 per month after a 30-day free trial. However, there is no commitment, and if you cancel within the trial period, you will not be charged. Once you subscribe, download the Showtime app to your supported device to watch First Lady and other Showtime Originals, movies, and more. The Showtime app is supported on Roku, Apple TV, Amazon Fire TV, Android TV devices, and modern browsers. You can also use the Showtime App on iOS and Android devices and LG, Xbox, and Samsung smart TVs. You can also sign up for Showtime through the following streaming services: Hulu, DIRECTV STREAM, Sling TV, fuboTV, YouTube TV, and Amazon Prime. Check out our guide on how to watch Showtime online without cable for more details.