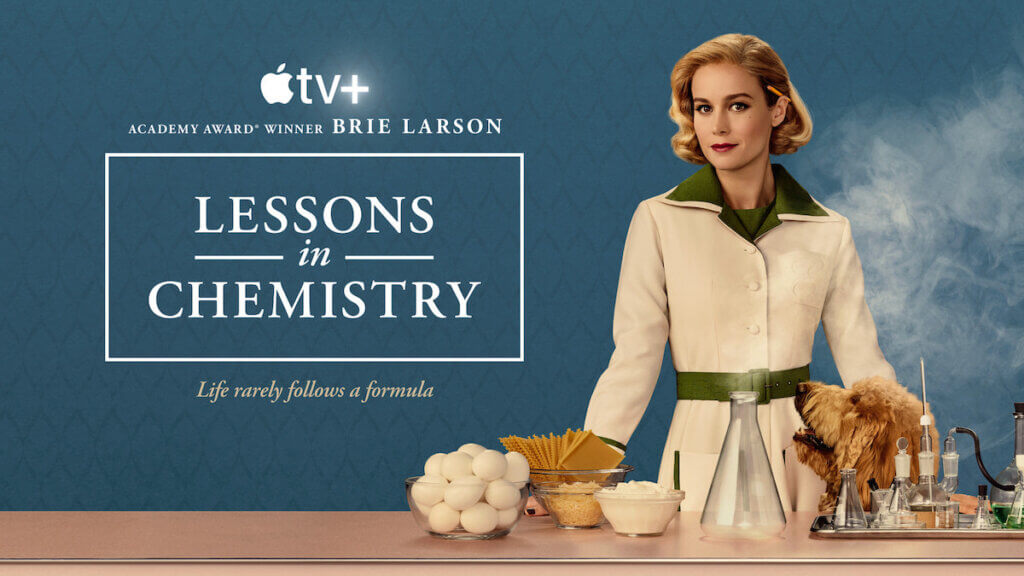 Bonnie Garmus's Lessons in Chemistry was a hit best-selling novel and on most lists of best debut fiction of 2022. Now, the story of a scientist-turned-cooking show host in the 1960s is becoming a stylish series from Apple TV+, starring Academy Award-winner Brie Larson.
About Lessons in Chemistry
Elizabeth Zott (Larson) is a no-nonsense scientist with a stern focus on her goal of being an established chemist. Thwarted by the patriarchal system of 1950s academia, she is denied first her degree and eventually her job. Struggling to make ends meet as a single mother, she finds unexpected success as a TV personality, hosting the afternoon cooking show, "Supper at Six," and turning it into an experiment of a different sort.
Unlike her contemporaries, Elizabeth does not look down on or underestimate her audience of housewives; rather, she talks through cooking like the science that it is, explaining complicated concepts and adding a serving of her modern sensibilities and strong sense of self-worth to each recipe.
Meanwhile, at home, she's raising her precocious daughter Mad (Alice Halsey) with help from her unusually intelligent dog, Six Thirty, and her kind neighbor, Harriet Sloane (Aja Naomi King). Note: This is one of the plotlines that deviate somewhat from the book, embracing a racial, Civil Rights-focused subplot in Elizabeth's friendship with Harriet, while in the book, the character is an older white woman in a loveless and sometimes abusive marriage.
Love and Loss
In addition to Elizabeth's rise as a TV chef, the show reflects on the love story that brought her to this point. During her time in academia, she developed a relationship with Calvin Evans (Lewis Pullman), a brilliant and somewhat awkward chemist. Both coming from troubled families, their unconventional relationship is nonetheless founded on unwavering love. Calvin's untimely death is the shocking catalyst that changes Elizabeth's life path.
In her own story, Mad goes on an exploration to learn more about the mysterious father she never met, aided in part by a young minister (Patrick Walker), who has his own questions about Calvin. The cast is completed by Stephanie Koening, Kevin Sussman, and Thomas Mann.
Lessons in Chemistry will be an eight-part series, airing weekly on Apple TV+, Apple's over-the-top streaming subscription service, home of such originals as Ted Lasso and the award-winning film CODA. Read on to learn more about how to watch Lessons in Chemistry on Apple TV+.
When Does Lessons in Chemistry Air: New episodes of Lessons in Chemistry premieres on Fridays
How Many Episodes: Lessons in Chemistry will have 8 episodes.
Where Can You Watch Lessons in Chemistry: Lessons in Chemistry is exclusively available on Apple TV+ (1-week-free-trial).
How to Watch Lessons in Chemistry
Lessons in Chemistry is exclusive to the Apple TV+ streaming service, which costs $9.99 per month after a 7-day free trial. There is no long-term commitment, and you can cancel at any time. You don't need an Apple device to view it, as in addition to Apple TV, iPhone, iPad, Mac, and iPod Touch, it is available on Roku, Amazon Fire TV, Samsung Smart TVs, LG Smart TVs, VIZIO Smart TVs, Sony Smart TVs, and more. For more information on this streaming service, check out our review of Apple TV+.