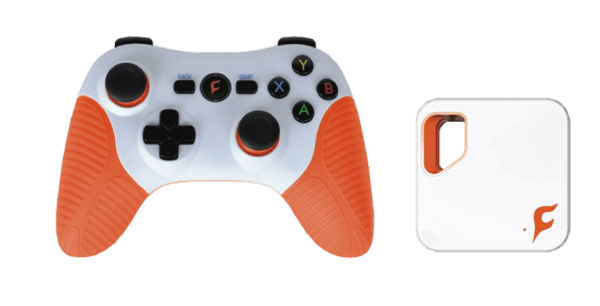 Kids love video games. Not only is it fun for them, but recent studies show that it's a healthy activity for children to engage in. According to a study at Oxford university kids that play video games are less hyperactive, more social and happier than those who don't play at all.
While that is good news if your kid enjoys gaming, it can take a toll on your wallet. The time to beat a video game currently runs about 8-10 hours on average. At $50 a game,  that can get quite expensive. Luckily, FlarePlay offers a cloud gaming solution that provides a  vast library of games for a fraction of the cost of buying 1 new game.
Cloud Gaming on your TV
Flare Play doesn't require a bulky gaming console, endless game storage, or numerous peripherals and accessories.  Instead, an entire library of video games is made available for you to stream directly to your TV.
Upon signing up, Flare Play sends a controller and a candy bar sized micro-console to your house, which plugs directly into your television.  After an extremely easy setup, which I'll cover later in the article, you have access to about 150 video games that can be played by your entire family for as long as you like.
While all the games are streamed over the internet, the micro-console allows you to save the progress of those games as if you were playing them from a disk in your house. It's like Roku for video games.

Kids Video Games Online
Flare Play is perfect for kids and casual gamers.  The number a great kids video games available online make FarePlay a great option for parents that don't want to avoid constantly buying video games every month. Currently, you child can play titles like "Lego Marvel Superheroes", "Lego Harry Potter", "Lego Batman 3", "Disney's Planes", "Toy Story 3" and more. Flare Play also offers games for early childhood like "Olaf's Adventures" and "Dr. Bulbaceous : Puzzle Solver"
With over 150 titles to chose from and FairPlay adding titles every month there will always be a new game for your kid to try out.  And unlike other game subscriptions, every game is available all the time.
Getting Started with Flare Play
In order to stream games from FlarPlay you need to have a Flare Play Game Kit.  The Game Kit only cost $49.99 and includes a 1 month free membership. The game kit will be  shipped to your house and includes the Flare Micro Console and a Flare Controller. There is a 30 day money back guarantee and no contract so you can try it risk free and cancel any time.
Upon signing up you will choose your membership tier, which you will receive free for 30 days. These membership tiers are based on what typing of games you enjoy playing.  The following is a description of the different membership tiers.
Disney Game Pack
The Disney Game Pack costs only $9.99 after your 30 day free membership. Examples of the games currently available through the Disney Game Pack Tier are "Epic Mickey 2", "Cars 2", "Lego Pirates of the Caribbean", "Brave" and more. Titles are updated on a regular bases to keep you gaming.
The Disney Game Pack also includes Disney Stories. Disney Stories are interactive adventure story games your kids can play. Prior to Flare, these were only available as apps for mobile devices and tablets. Flare will make them available on your TV, avoiding the need for your child to use your phone or tablet.
Premium Game Pack
The Premium Game Pack includes popular games and other titles for casual players. Like the Disney Pack, the monthly cost is $9.99 after the 30 day free trial. Titles are added each month, and currently include "Lego Batman 3", "Gianna Sisters: Twisted Dreams", "Batman: Arkham Asylum", and "Lego: Hobbit".
The Premium Game Pack also includes loads of top notch mobile games that can be played on your TV. With Flare, games like "Nimble Quest", "Twin Robots",  and "Saturday Morning RPG" can be played on the big screen in your living room.
Combo Game Pack
The Combo Game Pack provides all the titles available from Flare Play for $14.99 per  month. This membership tier I recommend when signing up, as you get access to everything Flare Play has to offer free for 30 days. 
Set Up Your Flare Play Device
Flare Play Requirements
The Flare Play game kit includes the controller, micro console, and cables needed to get started. Flare Play requires a wireless network, as it does not currently support Ethernet. Flare Play recommends a dual-band router that supports 5GHz, but I used the service on a 2.4 GHz network and it performed just fine.
Setting Up Flare Play
Connect your Flare Play micro console to your TV with the supplied HDMI cable.
Connect the USB cable to the micro-console and plug the other end into the power adapter. It's possible to not use the power adapter if your TV has a powered USB port. However, if your device isn't powering on, it may be the TVs USB port isn't supplying power.
Once your TV and micro console are on, you should see a welcome screen. Make sure you're supplied Flare Play controller is turned on. The device will pair your controller via Bluetooth.
Once the controller is paired, the next screen will ask you to select your network. Choose your Wi-Fi network and enter your credentials.
When your device is on the network, the next screen will provide an activation code. Go to www.flareplay.com/activate and enter the provided code and accept the terms of service.
You will then need to enter the email and password sent to you via email when you signed up. If you do not have it, just click the "Forgot your Password?" link to have a new one sent. Do not sign up for a new account, it will not properly pair your device to your account.
Once logged in, complete and submit your profile details, and then you are ready to play.
Flare Play Features
30-day, money-back guarantee
Parental Controls
No game expensive game discs
No pricey game consoles
Dedicated support
Portable device you can take anywhere, great for travel
Who Should get Flare Play?
While Flare Play is one of the best values around for cloud gaming It isn't for everyone.  I recommend Flare Play for families with kids under 12 and casual gamers.  While Flare Play has tons of games available, these titles have been out for a couple years.
However, at $9.99 a month, you can't complain about having 150 video game titles at your fingertips to play whenever you want. This is especially good for kids that are always asking for new games. Flare Play adds new titles every month, saving you shelling out $50 a game.
I do not recommend Flare Play to those gamers that  always want to play the latest and greatest games. Hardcore gamers would wan't to stick with an established console like a PlayStation or Xbox.
However, if you are looking for a home video gaming solution for kids ad casual gamers it's hard to beat the value offered by Flare Play. If you are interested, sign up for Flare Play through this affiliate link.
Need More Information?
If this article didn't answer your specific question, head over to our Home Page! It will guide you to affordable internet providers, streaming services to meet your needs, information on antennas, and many more tools and resources to help you save money on TV and Internet access.
For the latest news tips and tricks on cutting the cord and other tech topics be sure to follow our Google News Feed, like our Facebook Page and Follow Us on Twitter.
Join Millions of Cord Cutters
*
Disclosure: Grounded Reason is supported by a small commission for purchases made through product links on this website. We do not accept compensation from companies attempting to sway our review of products.