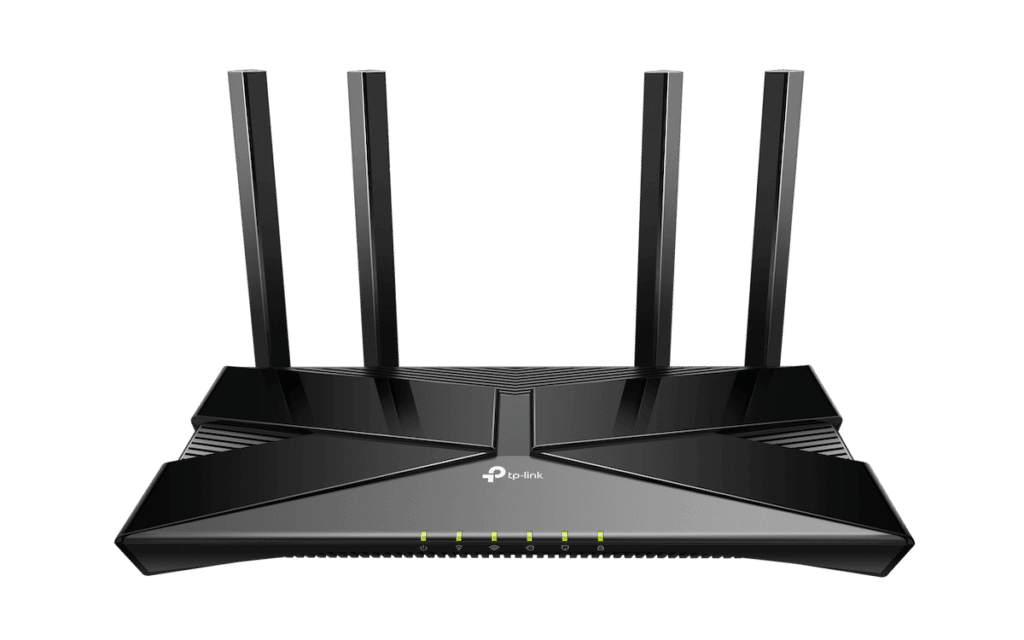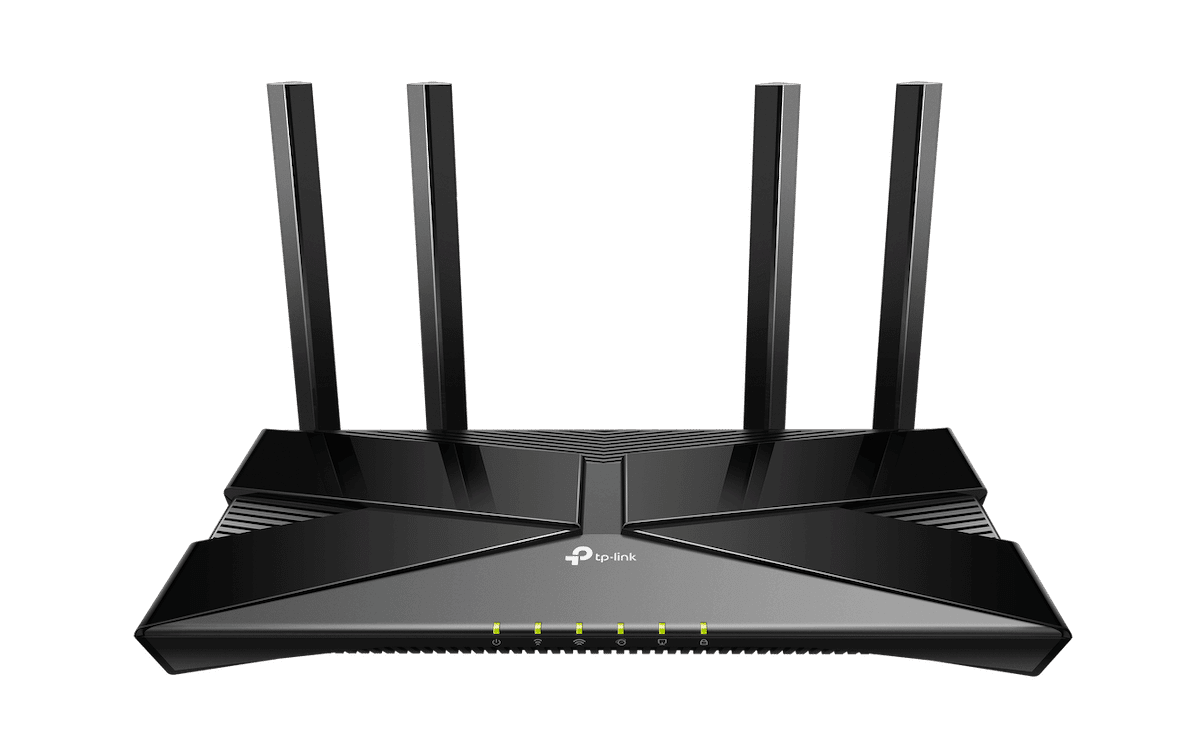 What I Recommend: The TP-Link wifi 6 AX1500 Smart wifi Router (also called the Archer AX10) delivers all the mainstream features you want out of a home or small office network while preparing you for the latest wifi Standard at around $70.
When I moved into a new office, I needed to purchase a wifi router. While my home network uses Google's wifi Mesh routers, I didn't want to shell out hundreds of dollars to get a wifi network up and running at my office. If you go online and look at some of the recommended routers from the top tech sites, you will see prices ranging from $200-$300 dollars, sometimes more. Why pay that when you can get a more affordable router without sacrificing much in the way of function or performance?
Working over two decades in IT, I love top-of-the-line technology. However, often I find we overpay for functionality. Why pay $300 for a router when you can meet your needs for under $100? Furthermore, we've had a slowdown in router innovation. The law of diminishing returns has never been more true when it comes to home networking.
That said, you want to look for a router with the latest wifi standard.  Wifi 6 (or 802.11ax) boasts faster speeds, better security, and more stability over 802.11ac. While I don't see a need to upgrade to wifi 6 (802.11ac is much faster than most internet connections), if you can get a wifi six router for under $100, why wouldn't you? 
The TP-Link wifi 6 AX1500 Smart wifi Router (also called the Archer AX10) delivers all the mainstream features you want out of a home or small office network while preparing you for the latest wifi Standard. Let's go over what those standards are, and why the TP-Link wifi 6 AX1500 is the one you want to buy to meet them.
What To Look for in A Home Router
Of course, you will want the basics, A wifi Access point, Ethernet capabilities, and security. However, there are things you want to look for to ensure you are ready for tomorrow's devices and upcoming technology. Let's take a look at what those technologies are.
Wifi 6 (802.11ax)
Wifi 6 is the latest wifi standard and backward compatible with previous wifi standards like 802.11ac, 802.11g, 802.11a, 802.11b, and 802.11n. It was released in 2019 and boasts the following improvements over 802.11ac:
Higher data rates
Increased capacity
Petter performance in environments with many connected devices
Better battery life on all your wifi 6 devices
Faster Throughput, Bigger Pipe
Wifi 6 implements a number of strategies to achieve fast speeds The first is increased channel width. The maximum width of a channel on a wifi 6 network expands from 80 MHz to 160 MHz. This expansion allows wifi 6 clients to send more packets in the same amount of time, increasing the overall speed of your data connections.
Wifi 6 also makes use of OFDMA, or Orthogonal Frequency Division Multiple Access. This technique allows the network to deliver bits (arranged in symbols) to multiple devices by marking the symbols within the data payload (called a packet.) Also, wifi 6 networks use 10-bit symbols within packets (1024-QAM.) The previous wifi standard utilized 8-bit symbols (256-QAM).
The wifi standard also expands MU-MIMO (which stands for multi-user, multiple input, multiple output) to 8 streams. MU-MIMO utilizes radio chipsets on the router and devices to communicate simultaneously. You will notice that wifi 6 routers will boast 8 x 8 MU-MIMO or eight streams. Previously MU-MIMO router came in 2×2, 3×3 or 4×4 variations (two, three and four streams)
So wifi 6 had a wider road (the channel), with more lanes, (8X8 MU-MIMO) with better-loaded trucks (the OFDMA packet), that carries bigger boxes (the 10-bit 1024-QAM symbol)
Limits Interference from Other Networks
The new standard also minimized interference from your neighbor's wifi networks with BSS Color (Base Service Station Color) This feature marks packets from nearby wifi networks, so they are ignored and don't interfere with your home network.
Saves Battery Life
Wifi 6 also saves battery life on devices on the network using Target Wake Time (TWT). This wifi 6 feature negotiates with clients to determine how often they need to wake up and transfer data.
While wifi 6 looks promising, 802.11ac is still the mainstream wireless standard. The only reason I'm discussing wifi 6 is the unbelievable price on the TP-Link AX1500. There are still few devices on the market that can use wifi 6, so 802.11ac will be around for years to come. If you are looking for a great deal on an 802.11ac routers, then the TP-Link Archer A7 is only $65 on Amazon.
Wifi Speeds
When looking at the speeds available from routers, don't expect to get the speeds advertised on the box. Those are theoretical maximum speeds. You will most likely find that your speeds are about a quarter of their theoretical maximum speeds.
For example, the TP-Link wifi 6 AX1500 Smart wifi Router provides 300 Mbps on 2. 4 GHz (802. 11n) + 1200 Mbps on 5 GHz (802. 11ax). The 300 + 1200 is where we get the AX1500 model name. And you might be thinking, "Hey, the Archer A7 has 450mbps for 2.4GHz and 1300Mbps for 5GHz, isn't that faster?"
Yes. Yes, it is. However, these numbers are theoretical, and in practice, you will find more stability and less dropped packets with the AX1500. The Archer A7 also lacks capabilities like beamforming, which I'll get to in a minute. From a value standpoint, the wifi 6 router is the better buy. If the speed question bothers you, you can purchase the TPLink AX3000, which boasts 2400 Mbps on 5 GHz band and 574 Mbps on 2. 4 GHz for $150. But then, we are over the $100 mark.
Speaking of Beamforming
I'm going to stay above the technical weeds on this one. This feature improves upon the router's ability to target its client. Instead of the router wasting its energy, sending its signal in all directions, it narrows multiple beams to its clients for better speed and performance.
Beamforming has existed long before 802.11ax. However, it's usage was standardized in 802.11ac and applied to MIMO techniques providing better speeds and reliability. You will want a router with beamforming capabilities.
Why I Recommend the TP-Link AX1500 
Before I get to the positives, let's talk about a few of the shortcomings of this amazingly affordable router. While the AX1500 is billed as a wifi 6 router, it doesn't take full advantage of all wifi 6's capabilities. For example, it uses 80 MHZ channels instead of the 160 MHz channel that wifi 6 can use. This is the main reason its speed is on par with TP-Links 802.11 AC routers. It also doesn't have any USB ports which means you will need another device to add Network Attached Storage.
That said, it delivers everything we've talked about so far for much less than $100. While it's not breaking any speed records, most homes won't be able to take advantage of speeds over a gigabit anyway due to limits on their internet plan and the speed of the WAN Ethernet port on most routers. Furthermore, in practice, you're lucky to get half of that speed with a $400 router. With that in mind, let's see what the TP-Link wifi 6 AX1500 delivers for just under $80.
Here are the specifications:
Supports wifi 802.11ax, and is backward compatible with 802.11ac, 802.11n, 802.11b, 802.11g, 802.11ax
It's Dual Band (300 Mbps at 2.4GHz and 1200Mbps at 5GHz)
It supports 802.11ac Beamforming
4 Gigabit LAN Ethernet Ports, 1 Gigabit WAN port
1.5 GHz Triple-Core CPU, 256 MB RAM, 16 MB Flash
As for performance, on the 5 GHz band, this router easily kept up with my internet connection. What impressed me was the stability of the network speeds. In the same room with the router, I was getting around speeds of around 700 Mbps. When I would move two rooms over, speeds were still about 600 – 650 Mbps.
The 2.4 GHz band on this router only utilizes the 802.11n devices, which most people won't be using. Those speeds will get up to 100 Mbps near the router but drop to the 30s and 40s a few rooms away.
As I said, all router makers love to put theoretical maximums on the box. The speeds quoted on the box are theoretical. Also, when I tested speeds, it was with no one on the network. You will most likely find that your real-world speeds are somewhat less than what I show in my tests above.
This router also provides the ability to create a separate guest network. This provides an easy way to provide secure internet to your house guest while keeping them separated from your home or office network. This router also provides a Quality of Service engine for setting up QoS rules and parental controls.
Setting up this router is a breeze, has multi-language support, and it comes with live 24/7 technical support.
Tips for Installing your TP-LINK AX1500
To ensure you get the best performance, I wanted to go over some of the things I've done in my home network to ensure peak performance. The following tips don't just apply to the TP-LINK router, but any wifi router you install.
Wifi Router Placement
Wifi signals have a better range and reliability when they are angled downward. This is why it's best to install your router on the second floor or on the top of a high surface on your first floor. I know many people like to install the router in the basement, but that will hinder your wifi network performance.
It's equally important not to block or hide your router. It impedes the signal, lowering network coverage in your home or office. I understand that most people don't want to look at a router as it doesn't add much to décor. If you put it up high on a shelf or cabinet, you get better wifi coverage, and no one can see it anyway.
Set Up Two Wifi Networks
This tip is straightforward to do with TP-LINK routers. All you have to do is set up one Wireless network name SSID for the 5 GHz network, and another SSID for the 2.4 GHz network.
Connect your wireless devices with 802.11ac to the 5 GHz network and all the other wireless devices to the 2.4 GHz network. Connecting all devices to the same SSID regardless of wifi standard causes the potential to slow throughput to your more modern devices.
In the office, devices like an iPhone 10 and MacBook get connected to the 5 GHz network as they both support 802.11ac. While an iPhone 5c would use the 2.4 GHz network.
Use Gigabit Ethernet
The more devices on your wifi network, the slower it will perform. Households today have multiple computers, tablets, phones, and printers on their network. If your family cut the cable cord and watches TV over the internet, you're sometimes adding multiple over-the-top streaming devices to the equation.
Considering the number of devices in today's households, it makes sense to put your stationary devices on wired Ethernet. This frees up wireless bandwidth for devices that require it, like smartphones, laptops, and tablets.
At home, I ensure all streaming devices like Roku utilize an Ethernet connection. While most won't even notice, a correctly installed wired Ethernet connection will always be more reliable than wireless.
I know what you're thinking, "You just told you to put the router high up on the shelf, now you want me to run 4 Ethernet cables from it?"
Not at all. You can simply use 1 Ethernet port and run the Ethernet cable to a smart switch. The difference between a managed, unmanaged switch is a topic for another day. But, unless computer networking is a hobby for you, you'll want a smart switch.
The smart switch should be located where you can easily run Ethernet connections to the rooms you require. I recommend the basement. It's possible to run the smart switch to another smart switch.
For instance, let's say you have an Xbox One, PC, and Roku in the same location. You could run the router to your smart switch in the basement. Then, you could run 1 Ethernet cable to the entertainment center. You could connect the Ethernet cable to another 5 port smart switch and use the other three ports for the Xbox One, Roku, and PC. The diagram below illustrates this setup.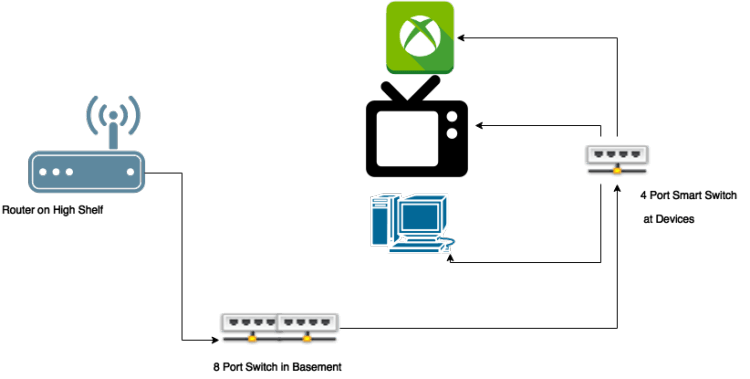 Be advised that you share the 1 Gbps bandwidth on that single port between the switch in the basement and the 4-port switch at the entertainment center. This typically isn't an issue, but if you're running all three devices at full capacity, they will be sharing that 1 Gbps line back to the switch in the basement.
With this example, even at full blast, you shouldn't notice a problem. However, I would advise against daisy-chaining more than two switches, as it can pose a throughput problem. If you need more ports, get a larger switch. Smart switches for home networks are relatively inexpensive.
Bottom Line
There is no need to buy a $300 router when you can get the functionality you need for a third of that price. Furthermore, you can take a fraction of that $200 you saved and set up a Gigabit Ethernet network in your house.
An ethernet network, coupled with a properly configured wifi network, will provide optimal video streaming performance. You will be the envy of any cord-cutter— even the guy with the $300 router.
Need More Information?
If this article didn't answer your specific question, head over to our Home Page! It will guide you to affordable internet providers, streaming services to meet your needs, information on antennas, and many more tools and resources to help you save money on TV and Internet access.
For the latest news tips and tricks on cutting the cord and other tech topics be sure to follow our Google News Feed, like our Facebook Page and Follow Us on Twitter.
Join Millions of Cord Cutters
*
Disclosure: Grounded Reason is supported by a small commission for purchases made through product links on this website. We do not accept compensation from companies attempting to sway our review of products.