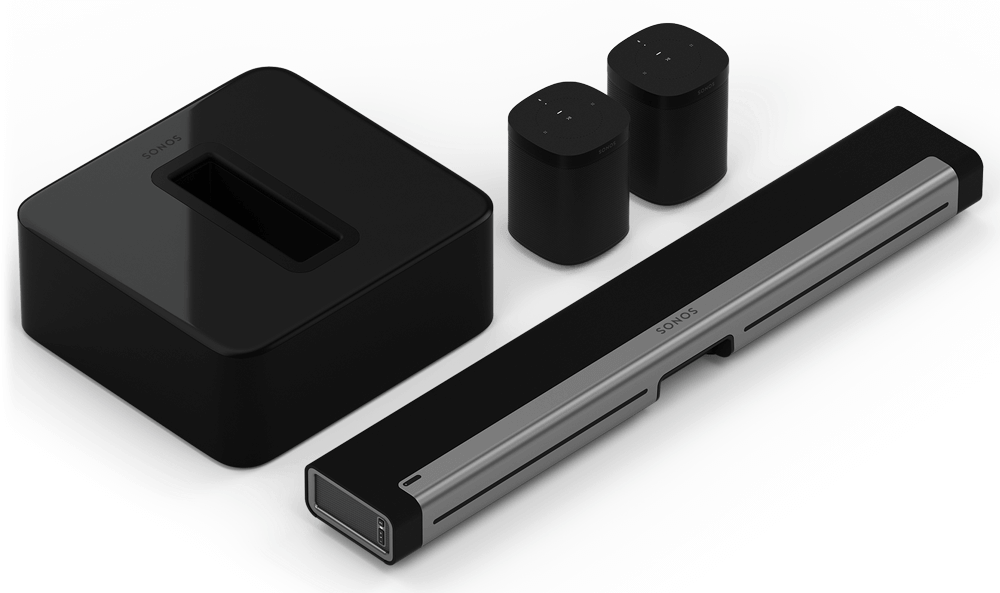 I recently decided I wanted to add surround sound to my cord cutting solution. Up until now, I was using the default audio on my TCL Roku TV. The sound was adequate, but I was looking for an upgrade.
My Sonos Surround Sound System
Before I get into why I picked Sonos over the myriad of choices out there I wanted to go over my surround sound configuration. Later in the article, I'll also go into set up and speaker positioning.
You have quite a few speakers to choose from when it comes to Sonos. You can buy the exact configuration I did in a surround sound package for $1678.
That is about what one would pay for a mid-range surround sound system. However, at that price, I get a smart voice control surround system, with wireless speakers I can easily move anywhere in the house if I needed to.
The surround package I purchased consists of the following:
Sonos Playbar


The Sonos Playbar has 9 speakers built into it. While the Playbar is a massive upgrade in sound over your TV's audio you can add 2 Sonos Speakers and a Sonos Subwoofer for full 5.1 surround sound. In that configuration, the Playbar acts as your center, front left, and front right speakers.
The Sonos Playbar can take the place of an AV receiver as long as all your devices connect to your TV. For example, I have my Xbox One connected to my Roku TV via an HDMI cable. The Roku TV connects to my Playbar and I play Red Dead Redemption 2 with amazing audio. I can almost feel the bullets whizzing past my head.
The Sonos Playbar costs $699, and the quality sound is worth every penny. Sonos also makes the more affordable Sonos Beam for $399. Both come in your color choice of black or white. While the Beam has built-in voice control through Alexa, it only has 5 speakers built in and the sound is inferior to the Playbar.
If you are aiming for a 5.1 surround system then the Playbar is what you want. Furthermore, as I'll show you in a moment, you can add voice control to your Sonos system with 2 Sonos One surround speakers.
Sonos One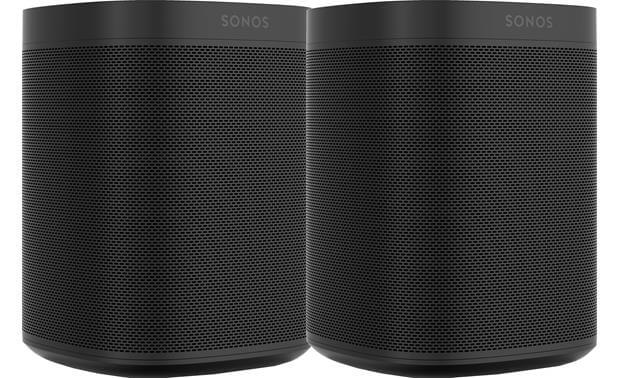 My surround sound uses 2 Sonos One Speakers for the left and right surround speakers. These little speakers pack quite a sound. They are 4.7 x 4.7 x 6.3 inches and way less than 5 pounds. They sound great on their own, but even more amazing when brought into a configuration with other Sonos speakers.
In surround sound configuration they act as the left side and right side surround speakers. However, you can pair these two as a stereo tandem for a richer stereo sound.
The Sonos One Gen 2 speaker has an internal microphone with Amazon Alexa are built right in so you can play music, check the news, set alarms, get your questions answered, and more, completely hands-free.
You can pick up a 2 Sonos One speakers directly from Sonos for $379. One Sonos One speaker retails for $199 each. They come in your choice of black or white. I personally find that the Sonos one is more than enough sound for your left and right surround speaker, but for those that want more, take a look at the Sonos Play:3 or Sonos Play:5.
Be aware that the Play:3 and Play:5 don't have Alexa built in like the Sonos One. Frankly, that was the main reason I got the Sonos Ones. The sound quality was great and I could move the speakers anywhere in my house or even outside and voice control the music on the speaker.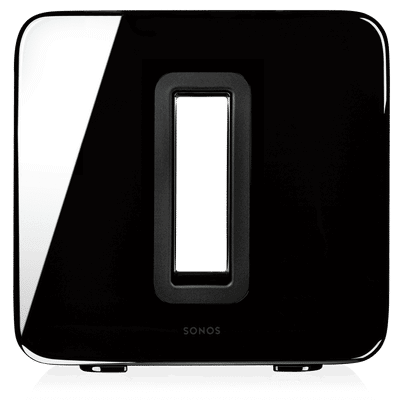 Sonos Subwoofer – In order to have true 5.1 surround sound, you will need a subwoofer. This bad boy adds a low end that gives a massive boost to your audio. In fact, if you just have the Playbar and looking to better your audio, I would recommend getting the Sonos Subwoofer before picking up side speakers.
The Sonos Subwoofer costs $699. As with the Playbar and Sonos One, the Sonos Subwoofer comes in both Black and White.
Setting Up Sonos Surround Sound
Sonos supports 5.1 surround sounds. This is 6 channels of sounds. the "5" in the 5.1 is the center, center left, center right, left surround, and right surround. The "1" in 5.1 is the low-end subwoofer.
Surround Sound Speaker Placement
The first thing to consider when setting up your Sonos for surround sound is speaker position. The general idea of speaker placement is pictured below.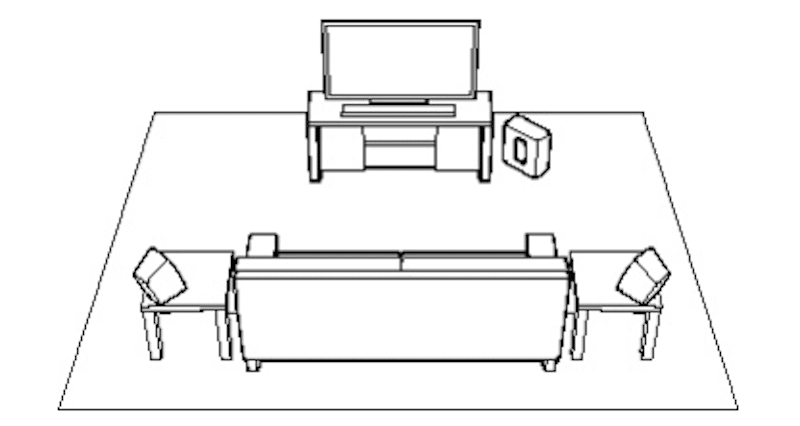 Your setup doesn't have to look exactly like this. Basically, the Playbar goes directly under the TV and acts as the center left, center, and center right speakers. The subwoofer is placed either to the left or right of the TV on the floor. The side surround speakers should be located 90-110 degrees off-axis from the prime viewing area. For the best sense of audio realism, the side speakers should be about 2 feet above ear level.
Connecting Your Sonos Speakers
The system is wireless so you just need to supply power to each speaker. Setting up Sonos is extremely easy but before I go through the steps I wanted to let you know that The Playbar will be connected to your TV using a Digital Audio In optical port. The TOSLINK cable to connect your TV's optical audio out to your Playbar is included with the Playbar. Most modern TV's will have an Optical out port. All TCL Roku TVs do. They look like the image below.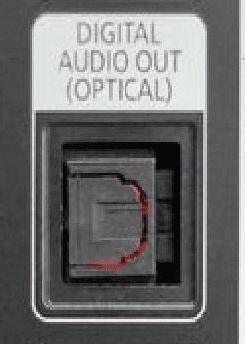 If you are using a Roku streaming device. I recommend connecting your Roku device to your TV and then connecting the TV to the Playbar. If you are having trouble, check out this Roku surround sound support article.
The following steps will set up your Sonos Surround Sound
Download the Sonos App on your Android or iOS smartphone or tablet.
Place the Playbar or in the appropriate location and apply power.
Connect the supplied optical audio cable from the digital audio out (optical) of your TV to the audio input of the Playbar. Be careful not to twist or bend the cable.
Open up the Sonos App and Select "Set up a new Sonos system".
Follow the in-app instructions to complete the setup. The Sonos app will walk you through configuring your TV's remote to work with the Playbar. It will also walk you through adding any surround speakers you may have.
If you are an iOS user you can tune your surround system using TruePlay by following the steps below.
Open the Sonos app. From the More tab, tap Settings > Room Settings.
Tap the room you wish to tune. If tuning has not yet been performed for a room, a red dot will appear next to the room name.
Tap "TruePlay Tuning" and follow the in-app instructions to complete tuning.
Why I Picked Sonos
Purchasing a surround sound system can be intimidating even for the technologically inclined. The prices vary from $300 to $8000 and there are numerous configurations to choose from.
I ultimately went with Sonos for quality and flexibility. It provides a platform to easily have high-quality audio in every room in my house.
It's also easy to add speakers in the future. In fact, If you aren't sure you want to invest in an entire surround system, you can start with a Sonos Playbar soundbar and add other Sonos speakers to bring your audio up to full 5.1 surround sound at a later date.
It's difficult to beat Sonos when it comes to quality sound and features at the cost of a Sonos system. Not only is Sonos a quality home theatre system, but Alexa is built into Sonos One so you can control what songs, albums, and playlists play on my Sonos with your voice.
Sonos Music Service Support
Sonos works with just about any music/audio streaming service out there. It supports Apple Music, Spotify, Amazon Music, Audible, Deezer, Pandora, TuneIn, iHeartRadio, Google Play Music, YouTube Music, and many more.
Sonos Whole Home Audio
Through the Sonos App, I can group speakers in my home and play different audio on each. For example, I can watch a movie using the Sonos Surround System in my TV room while my daughters rocks out to The Clash on speakers in her bedroom. You can easily group and ungroup speakers whenever you like making it easy to even play the same music source through the whole house during a party.
Sonos Voice Control
Sonos One Speakers have Alexa built in, but you can also use an Alexa Device or Google Assistant device to control your Sonos Speakers. Here is a listing of all the Sonos Alexa Voice commands and Sonos Google Assistant voice commands.
Be aware that the Alexa built into Sonos One isn't the full Alexa you would get with an Echo dot. In fact, if you use Apple Music, I would recommend using Airplay or an Echo Dot with the Sonos Skill to control your Sonos Surround.
Why 5.1 Surround and Not 7.1
People assume they always need the most powerful tech or newest standard. I find that is usually not the case. If you are having trouble deciding whether you want a 5.1 or 7.1 surround sound audio system, I can save you a lot of time and tell you to get the 5.1 system.
7.1 surround audio is going to be overkill in most home theatre setups. There is also the cost of diminishing returns. With the exception of audiophiles, 7.1 isn't going to sound much better than 5.1. Be aware that Sonos doesn't support 7.1 audio. While you can add 2 more speakers by grouping them with your Sonos Surround group it won't be 7.1 surround sound. It will be a 5.1 system with a stereo pair.
Need More Information?
If this article didn't answer your specific question, head over to our Home Page! It will guide you to affordable internet providers, streaming services to meet your needs, information on antennas, and many more tools and resources to help you save money on TV and Internet access.
For the latest news tips and tricks on cutting the cord and other tech topics be sure to follow our Google News Feed, like our Facebook Page and Follow Us on Twitter.
Join Millions of Cord Cutters
*
Disclosure: Grounded Reason is supported by a small commission for purchases made through product links on this website. We do not accept compensation from companies attempting to sway our review of products.