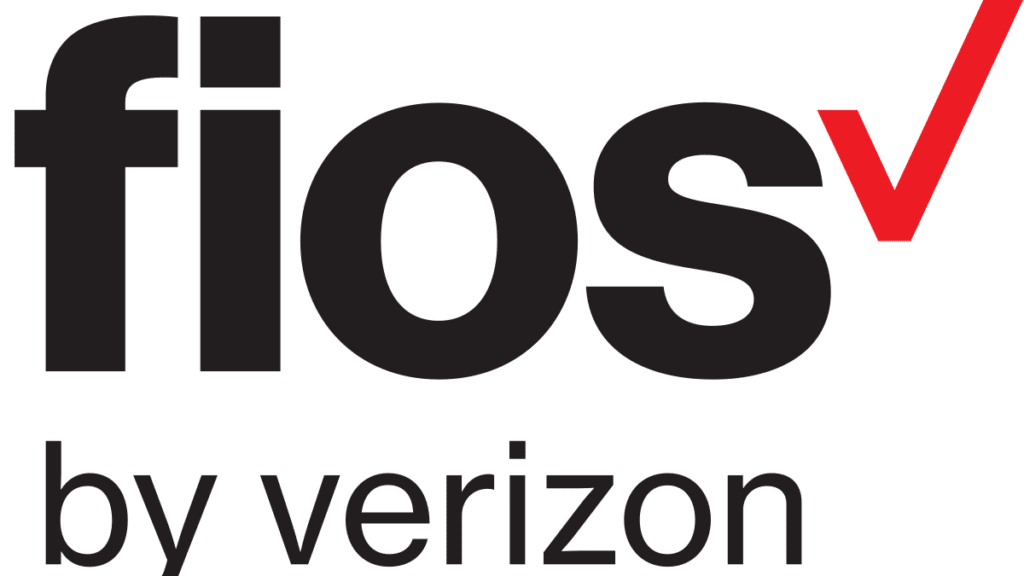 Verizon offers Fios internet plans without forcing you into a cable TV bundle. Verizon realizes the future of TV watching is streaming, so they don't force you into a TV package or make it burdensome to sign up for an "Internet-Only" plan. Affordable high-speed internet is a must, with so many people relying on dependable internet access for both work and school.
Download speeds on Fios plans range from 200 Mbps to a Gig and start around $40 per month. We've put together this comprehensive guide to Fios Internet plans and the deals they have available. Below is a list of everything covered in this article.
How Much is Fios Internet
Normally, Verizon Fios Internet costs start at $39.99 per month for 200 Mbps of bandwidth. Their most expensive internet plan offers a 940 Mbps connection for $89.99. Before we take a look at the details on what you can expect from Fios Internet, let's look at the deals, plans, and pricing of Verizon's current Fios offers.
Get 200 Mbps of internet service. This plan is just $39.99 per month and includes a discount for Verizon Wireless customers.
Get 400 Mbps of internet service. This deal includes a free Samsung Galaxy Tab A7 Lite — all for just $64.99 per month.
Get Gigabit Internet service. This deal includes a Samsung Chromebook 4 11.6" (32 GB), and comes with a Whole-Home Wi-Fi: Router + 1 Wi-Fi extender if needed with no router rental fees — all for just $89.99 per month.
Verizon Fios Gigabit Internet Plan
For those that need a lot of bandwidth, Verizon FIOS is also offering a gigabit internet connection (940/880 Mbps) for $89.99*. This deal includes a free Amazon Echo Dot (4th Gen), 12 months of Amazon Prime, and more. Fios will waive the setup fee when signing up through this link!
Here is everything this deal includes:
Samsung Chromebook 4 11.6" (32 GB)
A subscription to AMC+ for 12 months 
Fios Router rental included (Whole-Home Wi-Fi: Router + 1 Wi-Fi extender if needed)
Verizon Wireless Customers with an unlimited plan can save an additional $40 on their bill every month ($20 off their Fios bill and $20 off their Verizon Wireless Bill)
The $99 standard setup charged is waived when ordering online.
Verizon Fios 400 Mbps Plan
Get 400/400 Mbps of bandwidth for just $64.99 per month. This deal includes the following:
Samsung Galaxy Tab A7 Lite
A subscription to AMC+ for 12 months 
Verizon Wireless Customers with an unlimited plan can save an additional $30 per month ($15 off their Fios bill and $15 off their Verizon Wireless Bill)
The $99 standard setup charged is waived when ordering online.
Verizon Fios 200 Mbps Plan
Get 200/200 Mbps of bandwidth for just $39.99 per month. This deal includes the following:
A subscription to AMC+ for 12 months 
Verizon Wireless Customers with an unlimited plan can save an additional $30 per month ($15 off their Fios bill and $15 off their Verizon Wireless Bill)
The $99 standard setup charged is waived when ordering online.
Why We Recommend Fios Internet
I've been a Fios Internet user for over 12 years, and the stability and reliability of the network are head and shoulders above the competition. The best part about Fios is that the speeds are consistent. When you have a 200 Mbps internet plan, your speed will consistently be around 200 Mbps.
However, you don't take my word for it. The American Customer Satisfaction Index conducts surveys of ISP customers regularly. Their most recent survey stated, "According to customers, Fios is best in class for reliable service." The survey also indicated that "Verizon Fios leads the field for overall Wi-Fi quality."
Fios Offers More Than Enough Bandwidth
To stream video in 1080p HD without buffering, you will need about 5 Mbps of bandwidth per concurrent video stream. 200 Mbps is more than enough to run multiple streams to 5 devices and still comfortably surf the internet on multiple computers.
While 200 Mbps is plenty of bandwidth to stream video, it doesn't cost much more to upgrade to Fios Gigabit internet. This plan offers Fios' fastest speeds with 940 Mbps download speed and a 880 Mbps upload speed. Moreover, the speed promised is exactly what I get every time I test my internet speed.
Fios Internet Support
First, let me say that I can only remember two instances I needed to use support, and one of those was due to a lightning strike. That's how dependable the service has been. As cord-cutters, we rely on internet access more than most. Ensuring that internet service is always available is critical.
The times I've needed support, the techs on the other end of the line were knowledgeable and didn't waste my time asking silly questions. They always get me to the right level of support promptly, so I'm not spending my time on the phone. They've even troubleshot my issue over Twitter so I could multitask while my problem was resolved. My support experience has been night and day when compared to my previous cable internet provider.
Verizon Fios Internet Installation Process
Verizon Fios Internet requires a fiber-optic connection to your house. If you or a previous owner had Fios at one time, it's possible you already have fiber-optic wiring from the pole to your house. If so, you will have an Optical Network Terminal (or ONT) inside or outside of your home. The ONT will look like one of the pictures below and may be enclosed in a Grey Case which you should have access to.

If you already have an ONT, then you can do a self-installation to set up Fios Internet. When signing up for Fios Internet, select the Self Install option. Verizon will then send you the equipment you need to install. When it arrives, sign in to My Verizon or the My Fios app (your user name and password are created when you order service) and follow the step-by-step instructions to get Fios up and running inyour home. Of course, you can always request a technician to come out and do the installation (Normally, a $99 standard setup is charged but waived when ordering online)
If a Fios Technician Does the Install
If your ONT is outdated, you don't have an ONT, or prefer to have Fios professionally installed, Verizon will send a technician to set up your Fios installation. When the technician comes out, they will do the following:
Install the Optical Network Terminal (ONT) if needed
Install the Power Supply Unit. The technician will need access to a three-pronged outlet close to where the ONT will be installed
Install the Battery Backup Unit (if ordered)
Connect your router to the network and your computer to the Router
Help you connect your Wifi device
Connect cables to your home's coaxial splitter for Fios TV access
Activate your service at activate.verizon.com
Make sure you do the following before the technician comes out:
Have an adult (18 years or older) present to answer any questions the technician may have regarding the installation
Find the area where your utilities enter your home or garage. Nearby this area, you will need an indoor grounded electrical outlet that accepts three-pronged power cords. A switch must not control this outlet.
Clear a path for the Verizon Technician to work near the location where Fios will enter your home and any devices you want to be connected to your network.
Using Your Own Router with Fios
When you use Verizon Fios for internet access, you can save a lot of money on device fees using your router instead of theirs. By default, Verizon Fios will send you a cable modem router combo to set up your in-home Wifi Network. However, Fios is a fiber-optic network to your home. They use an ONT or Optical Network Terminal in your home to transfer the signal to the coaxial cable in most U.S. homes. What is interesting about Fios' ONT is that it can also transfer that signal to Ethernet. Therefore, Fios Internet-only customers don't even need a cable modem. They can use just about any router they wish. You can ask the technician who installs your service to set it up on Ethernet. If they didn't, I explain how to do this in detail here, but the basic steps are listed below:
Open the "Customer Access Panel" on the Fios ONT. You should see a MoCA output port with coaxial that runs to your Verizon Router
You will also see an Ethernet port. Run an Ethernet cable to your Verizon Fios Router. Make sure you use Cat 5e or Cat 6 ethernet cable. Cat 5 ethernet caps out at 100 Mbps. We want both Ethernet and coaxial running from the ONT to the router, so there isn't an interruption in service when we make the switch.
Contact Verizon Fios customer support at 1 (800) 837-4966 and request they turn off the MoCA output (coaxial port) and enable the ONT Ethernet port.
They may have to escalate the call to a higher level phone technician. If they are busy, they may ask you to schedule a time for the switch (they do this remotely, so a tech doesn't need to come on-site.) Either way, wait until they have made the switch.
After the switch is complete, unplug the coaxial cable from the Verizon router and verify that you still have access to the internet. Next, we are going to replace the Verizon Router with your router.
Using a web browser, log into your Fios Router. Unless you've changed any default network settings, the router IP address is http://192.168.1.1. The username is admin, and the password is on a sticker on the router. (As an aside, it's always a good home network security practice to change these)
Release the IP address on your Fios router. This step is essential. Usually, if a person has trouble getting their router to work with Fios, it's because they didn't release the IP address on the Fios router. To release the IP address on the Fios router:

Click on the My Network icon at the top of the page
Click Network Connections from the menu on the left.
Click Broadband Connection
Click Settings
Scroll down and click Release under DHCP Lease. Then apply changes. After the changes apply, turn off your Fios router.

Unplug the Ethernet cable from your Fios router's WAN/Internet port and plug it into your routers WAN/Internet Port. (Make sure the other end is still plugged into the ONT Ethernet port.)
Turn on your router. It should then get a new address from Fios.
You should now have Internet access with your router.
Fios Stream TV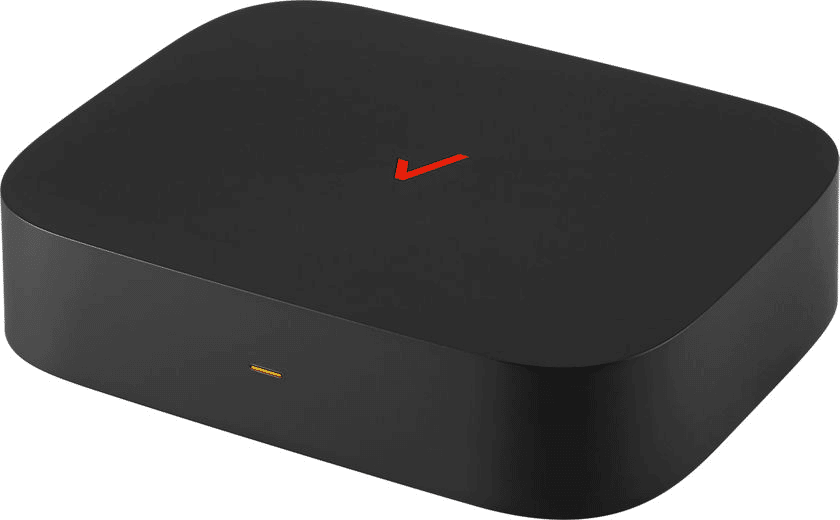 You may have noticed that Fios offers a "Free Stream TV" device. So what is Stream TV? It's Verizon's Android TV device. Stream TV normally costs $69.99. Since the device is built using Android TV, you can download streaming apps from the Google play store. Stream TV includes the following features:
stream your favorite movies and TV in 4K UHD resolution with HDR
uses Chromecast built-in so you can stream video from your smartphone or tablet to your TV
Voice remote with Google Assistant
very compact at 5x4x.87 inches
Fios TV Choices
While you can choose internet-only, Fios does have some intriguing options when it comes to television. In a move away from "double play" and "triple play" bundles, Fios now lets customers mix and match their Internet and TV, so you can pay for what you want. They will even let you choose a streaming service instead of Fios TV!
For example, when you sign up for Fios Home Internet for $39.99 per month, YouTube TV is available as a choice. Just take a look at the new TV options when signing up for Fios online!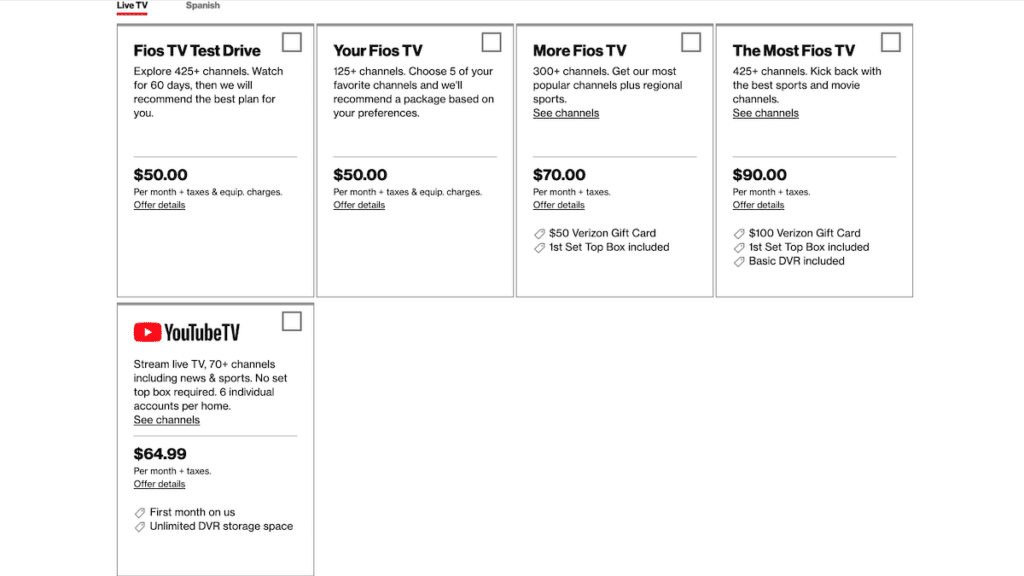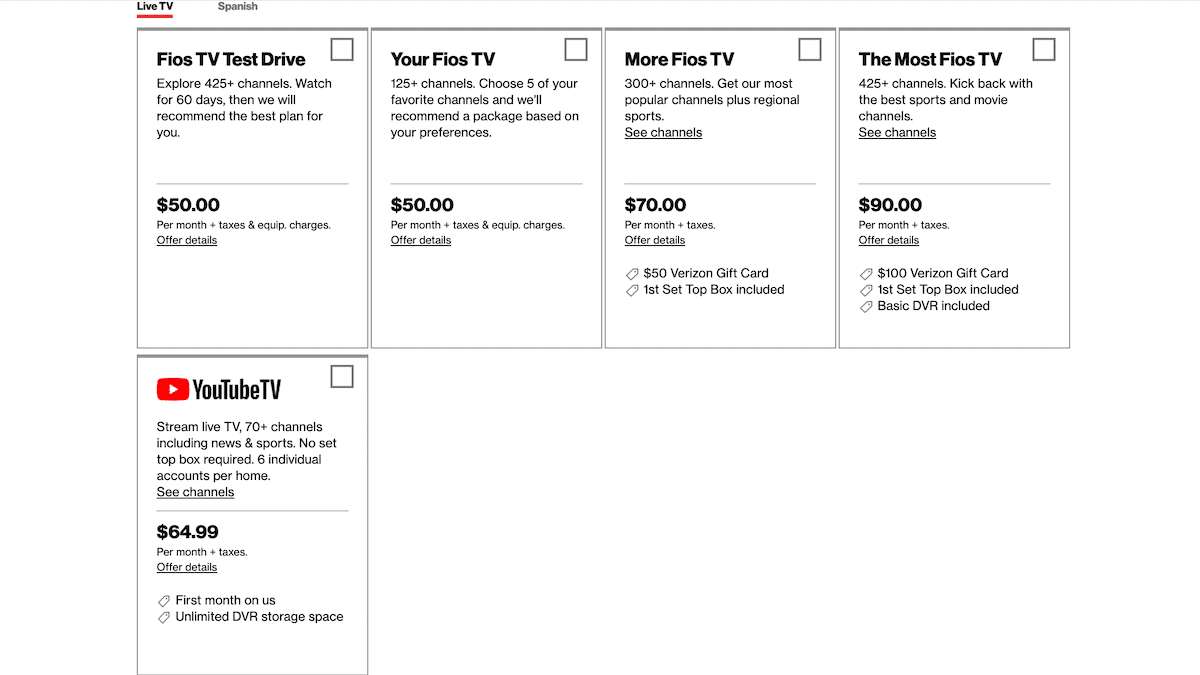 Choose your Favorite Channels
Instead of choosing YouTube TV, cord-cutters may be surprised if they opt to try Fios TV. While not totally "a la carte," Fios is separating itself from its cable TV competitors.
Instead of saddling you with a bunch of TV channels, you don't watch, subscribers can opt for "Your Fios TV" for $65 per month. They then chose their 5 favorite channels from which Fios puts together a 125 channel lineup based on their favorite. Of course, major broadcast networks like ABC, NBC, Fox, ABC, CBS, Telemundo, and Univision are included in all TV packages.
No Set-Top Box?
In another surprise move, Fios will let you opt to get a digital adapter and not get a set-top box to avoid the additional device fees. However, opting not to have a set-top box means you will not have features like on-demand, HD, or even an on-screen guide. If you chose a set-top box, Fios is upfront about how much it will cost you in additional fees per box.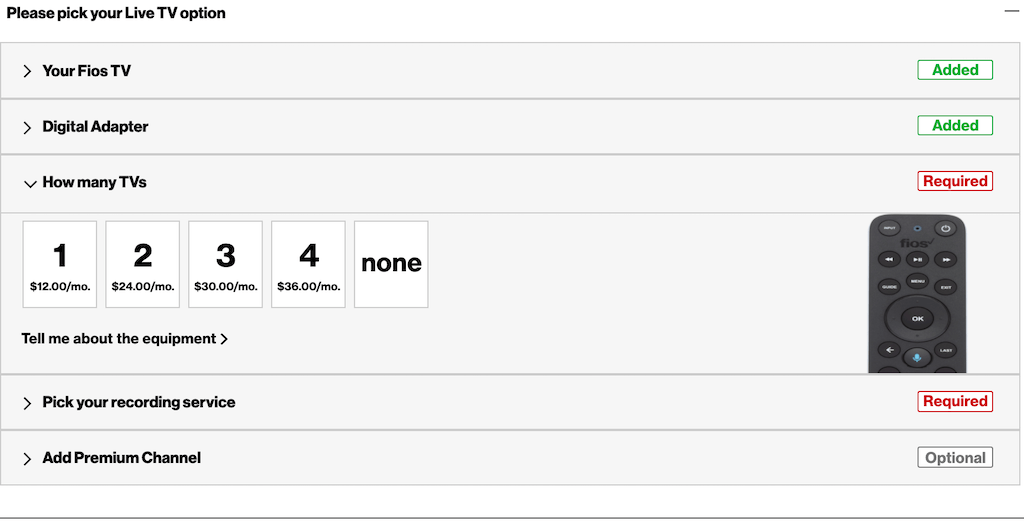 The way Fios has set up these options, a person could get 200 Mbps internet, use their own router, and opt-out of a set-top box. Doing this would eliminate all device fees (sacrificing HD, on-demand, and a guide, of course). However, the price would be very close to the advertised price of $89.99 per month ($39.99 internet and $50 TV.) Depending on the channels you selected, and where you live, there will likely be broadcast and licensing fees. Still, this is probably the most affordable traditional TV service you can find. Not that I would personally go this route. I just found the options intriguing.
Verizon Fios Availability
Verizon Fios Internet is available in New York, New Jersey, Maryland, Virginia, Pennsylvania, Rhode Island, Massachusetts, Delaware, Connecticut, and Washington D.C.
Linked below are many of the cities and towns you will find Fios.
Other Verizon Internet Options
Currently, you can check if Fios is available in your area and get special pricing through this offer page. The prices typically run less than $1 per Mbps, so it's perfect for those looking to cut the cord and need an internet service provider.
Verizon Fios is currently available in and around the areas of New York, New Jersey, Maryland, Virginia, Pennsylvania, Rhode Island, Massachusetts, and Washington D.C. If you do not live in one of these areas, Verizon offers 5G Home Wireless internet in Houston, Indianapolis, Los Angeles, D.C, Detroit, Atlanta, and Sacramento.
Need More Information?
If this article didn't answer your specific question, head over to our Home Page! It will guide you to affordable internet providers, streaming services to meet your needs, information on antennas, and many more tools and resources to help you save money on TV and Internet access.
For tips and tricks on cutting the cord and other tech topics be sure to join our Facebook Page.
Join Millions of Cord Cutters
*
Disclosure: Grounded Reason is supported by a small commission for purchases made through some product links on this website. We do not accept compensation from companies attempting to sway our review of products.