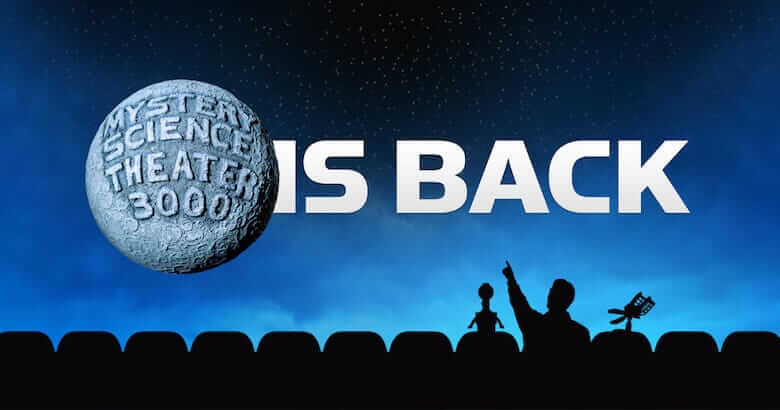 Last year I witnessed a woman walk into a packed theater dressed up like a robot puppet, complete with the head of a bubble gum dispenser. Instantly, everybody cheered and she had to take a bow. That's because, thankfully, she was with her people – that is, MSTies, those of us who profess undying love for the show Mystery Science Theater 3000 (aka MST3K).
That show came as part of the live tour, which showcases the in-person hilarity of show's stars and robot sidekicks as well as their signature act of making fun of bad movies. It premiered way back in 1988, bringing creator Joel Hodgson's bizarre premise and campy humor to the tiny screens of appreciative geeks. As seen first on local TV then later on cable, Joel's role was a space janitor condemned by crazy "mads" to watch bad movies, saved only by his snarky robot friends (as anyone can tell you who has heard the catchy theme song.)
From start to finish, we watched along with them as they poked fun at every last detail of the often-awful movies. Peppered in with the movie are variety-show style bits with songs, costumes, and weird inventions. Running gags get MSTies grinning to this day – like the line "watch out for snakes!" in a caveman movie, delivered so terribly that it's delightful.
The show lasted on cable until 1999 and recently was revived due to a Kickstarter campaign. In 2017, a new generation got to join in on the insanity with the Netflix release of 14 new episodes. Jonah Ray stars as the newest to suffer the fate of the awful movies, while the new "mads" are Patton Oswald and Felicia Day, sporting a bone in her hair.
Fortunately, the charm of the original run is still going strong  – simple sets, cheesy puns, and all. As ever, there's something endearing about how our stars are so willing to throw off any semblance of dignity and just embrace the silliness of a bit. And beyond the cheese, MST3K provides jokes in a way that is hard to find these days: the slow burn. These jokes are built on minute after minute of appreciating the precise absurdity of a situation. In fact, silly as they are, you'll miss these jokes if you look at your phone while you're watching. You've got to bear witness to the running gags, you've got to allow yourself to be surprised. To appreciate an MST3K episode requires a bit more attention than your typical comedy, but it's worth it when your cheeks ache from laughing – and you realize you've learned a bit about effective movie making (and storytelling in general).
Fortunately, although it's a campy cult hit, MST3K is not hard to find if you don't have cable. There are a number of places to watch it for free, although Netflix is the easiest way to watch the new seasons.  That's where I'll be tuning in to get the all-new season premiering on Nov. 22 called "The Gauntlet" – six episodes of Jonah and the crew and their wacky adventures.
Where to Watch MST3K
MST3K on Netflix
For the recent seasons, including the new "Gauntlet" series which started on Nov. 22, the easiest way to watch is Netflix. However, you can also purchase the episodes a few other places. Google Play has some of them for $2.99 to rent or $5.99 to buy while Itunes has some for $3.99 to rent or $9.99 to buy.
Netflix also has 20 of the classic episodes, including must-see's "Manos: Hands of Fate" and "Eegah!"
Netflix costs between $7.99-$13.99/month, depending on how many screens you use at the same time.
Shout Factory TV
To catch up on the venerable history of MST3K, your best bet may be the streaming service Shout Factory TV. Watch forty-three episodes of MST3K on Shout Factory TV from the first 10 seasons for free on the service which specializes in cult programming. The app is available on Apple TV, Roku, Amazon FireTV, and other platforms, or you can watch on the website.
Shout Factory TV also has a live channel streaming episodes of various TV programs, which for the month of November consist only of MST3K. It also showed the traditional Turkey Day marathon.
PlutoTV
PlutoTV also has a Mystery Science Theater 3,000 channel where you can watch MST3K for free – you just can't pick which episode you're watching.  There is a chat window on the side, however, which lets you discuss what's on with fellow fans (who needs newfangled Twitter or hashtags, anyway?).
YouTube, Vudu, Google Play, and Itunes
Likewise, the MST3K channel on YouTube lets you watch 23 of the movies for free.
If you can looking for specific episodes, you can buy some of them (82 of them, at least) on Vudu for $8-9.99 each (or $2.99 to rent). Google Play also offers a wide variety to rent for $1-2.99 or to buy for $5-7.99. Itunes has some episodes available for $3.99 to rent or $7.99 to buy.
Need More Information?
If this article didn't answer your specific question, head over to our Home Page! It will guide you to affordable internet providers, streaming services to meet your needs, information on antennas, and many more tools and resources to help you save money on TV and Internet access.
For tips and tricks on cutting the cord and other tech topics be sure to join our Facebook Page.
Join Millions of Cord Cutters
*
Disclosure: Grounded Reason is supported by a small commission for purchases made through some product links on this website. We do not accept compensation from companies attempting to sway our review of products.