This giveaway has ended.  For details on the outcome check:  https://www.groundedreason.com/win-mohu-leaf-giveaway-update/
Who Wants To Win a Mohu Leaf Antenna?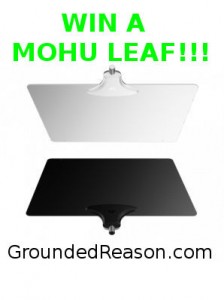 Grounded Reason will be giving away a Mohu Leaf 30 on January 1st. One lucky person can start off the New Year with a NEW ANTENNA and kick the cable habit as their New Year's resolution.
On January 1st we will be picking 1 account from all of our Twitter Followers, Facebook Page Likers, Google+ Followers, and Email Subscribers. So if you sign up for all 4 that means 4 chances to win. The winner will be notified through the account we pick from the hat.
Existing subscribers and followers are already entered, so why not join them at a chance for some free HD television. To enter the contest just  follow us by using the "Connect With Grounded Reason" section to the right of the page. Below that, you can also subscribe via email for an entry.
My hope is to build interaction with readers on these pages to share ideas, tech tips and tricks on not only cutting the cord, but anything tech related that streamlines your day to day lives, or saves the family some money.  Feel free to add content to the Grounded Reason social pages and interact with fellow Cord Cutters and fans of Technology.
Good Luck and Happy Holidays from Grounded Reason.
Contest Rules
Winning account must have a U.S. mailing address for shipping.
Drawing will be held 1/1/2015 at 12:00 pm EST.
Winner will be notified through the winning account drawn.
Winner will have 48 hours to respond. If the winner does not respond within 48 hours of initial notification,  another winner will be chosen.
About the Mohu Leaf 30
Designed by Mohu, the Mohu Leaf 30 is a sturdy, yet paper-thin antenna that can discretely be placed in any home and receive digital TV signals.  This is a highly rated antenna that performs as one of the best indoor antennas on the market.