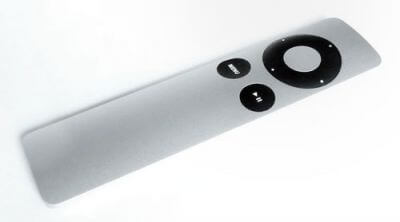 When our family learned how to watch TV without cable we settled on the Apple TV for content streaming. It's been fantastic and hasn't let us down once.
However, while the Apple TV remote is easily the most attractive remote you will ever lay your clicking hand on, you will endure a life that involves the occasional 30 minute search for your lost Apple TV remote.
Since the remote is only about a centimeter thick, it slides nicely into the couch cushions and can fit just about anywhere. Furthermore it's beautiful metallic silver, making it appealing to nearly every toddler on the planet. In other words, make sure you check the toy bins.
We've had our Apple TV for almost 2 years now. While we've lost and found our Apple TV remote over a dozen times, we have gone days without catching a glimpse of it. Luckily, you have a couple of options aside from the Apple TV remote to control your Apple TV.
First, can use the iOS remote app and control the Apple TV with an iPhone or iPad. Alternatively, you can set up a third party remote to control the device.

The Apple TV Remote App
The Apple TV Remote App works in a pinch. However, an iPhone or iPad screen doesn't have the tactile response received from pushing a button.  It doesn't work nearly as well as the Apple TV remote, but you will need to download it in order to set up a third party remote.
In order to use the Remote app with your Apple TV Home Sharing needs to be running on your Apple TV. Furthermore, both the Apple TV and the Remote App device must be on the same network.  If it isn't, you are going to either borrow a friends Apple TV remote, or buy a new one.
Home Sharing allows users to share media in iTunes libraries across your network to Apple devices. If you are still in possession of your Apple TV remote I advise setting up Home Sharing on your Apple TV now.
Even if you do not plan on sharing media over your network, having Home Sharing turned allows the remote app to sync with Apple TV.
Since you own an Apple TV, I'm assuming you have an iPad, iPhone, or iPod Touch.  Simply download the Remote app. Once it's installed, open the app and tap the "Set Up Home Sharing" button and enter your Apple ID and password.
Assuming Home Sharing is active and the Apple TV is on, an Apple TV icon should appear on the Remote app screen. Tap the Apple TV icon to sync the remote app with your Apple TV. If your Apple TV isn't showing up, check for a small light on the front of the Apple TV device.  If the light isn't on, unplugging the Apple TV and then reconnecting the power should wake up the device.
To control the Apple TV with the Remote app, simple swipe your finger to make a selection and tap the screen to select an option.  The "Menu" option will back out of the current screen much like the Apple TV remote control.
Using a Third-Party Remote with Apple TV
If the Remote app meets your needs, then you are set, but you may still want a standard remote.  In that case, you will need an infrared remote. Simply follow the steps below to pair the third party remote with the Apple TV.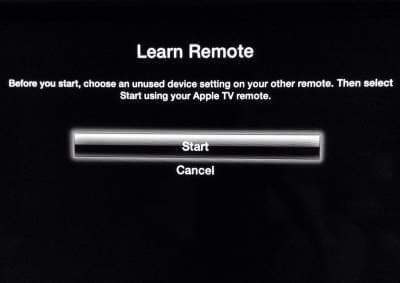 Select Settings > General > Remotes
Select "Learn Remote"
Chose an unused device setting on your remote to control the Apple TV (AUX, VCR, DVD, etc) and click that button on the new remote
On the Apple TV Remote or Remote app select "Start"
Starting with "Up", Apple TV will display icons that represent the controls of the standard Apple TV remote
Using the third party remote, press and hold the button you want to be "Up" until the progress bar is full.
Repeat the last step for all the buttons and the remote is ready for use.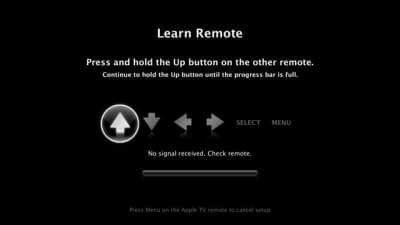 In Summary
Make sure Home Sharing is turned on for the Apple TV or you won't be able to pair it with the remote app. I advise everyone to install the remote app on their iPhone or iPad whether you can locate your Apple TV remote or not. You won't regret doing so.
Also note, not owning an iOS device or Home Sharing being turned off on the Apple TV will require either borrowing or buying an Apple TV remote.
If you are in those dark times where your Apple TV remote has abandoned you, I hope this article alleviates your strife until your little silver friend returns. If you know where your shiny buddy is, I recommend taking the precautions outlined in this article. Don't think he won't abandon you without warning.
Need More Information?
If this article didn't answer your specific question, head over to our Home Page! It will guide you to affordable internet providers, streaming services to meet your needs, information on antennas, and many more tools and resources to help you save money on TV and Internet access.
For tips and tricks on cutting the cord and other tech topics be sure to join our Facebook Page.
Join Millions of Cord Cutters
Disclosure: Grounded Reason is supported by a small commission for purchases made through some product links on this website. We do not accept compensation from companies attempting to sway our review of products.