I just updated my guide to TV Antennas with a section on how to choose the best TV antenna based on your location and other concerns. This post highlights that update.
When I chose our TV antenna I used the using this channel locator toolfrom Mohu.  Ultimately, I went with the Mohu Sky 60 and my family loves it. However, different situations may require different TV antennas. This article will consider those variables and help you chose the best TV antenna for you or your family. First, you will need to get a signal report to see which channels are available to you.
Get a Signal Report
Signal power is one of the most important factors when choosing a TV antenna. To discover the signal power in your area use this great tool from tvfool.com. Once you enter your address, you should receive a signal report like the one below.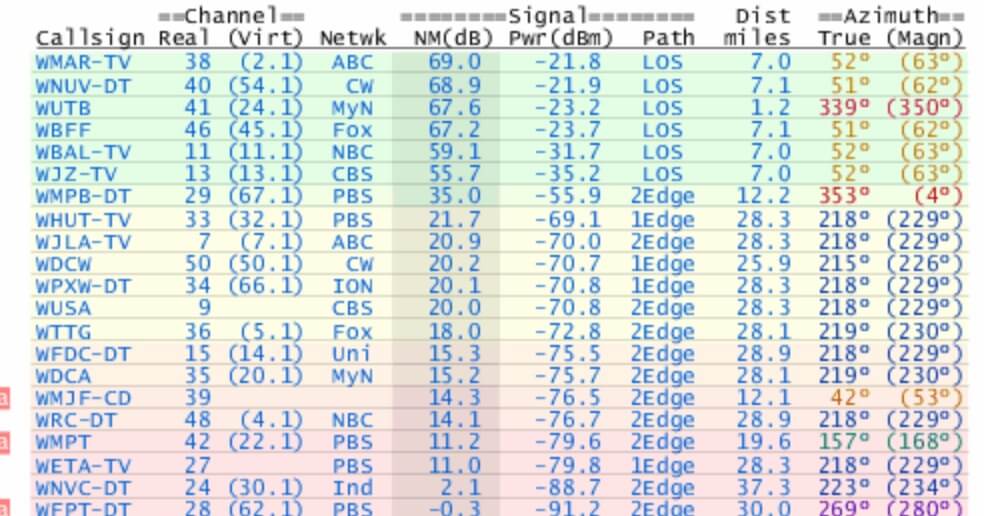 While the report is color coded to see which channels require an indoor vs outdoor antenna, there are a number of factors that this color coding doesn't address. I'll go over the details of what this report means in this guide. However, I've put together an episode of the Grounded Reason Podcasts that walks you through using TV fool.
For the purposes of this guide, you want to note the "Netwk" column. For every "must have" TV network in that column, write down the values below.
Real TV Channel is in the "Real" column.  The channel that you see on your TV is the virtual channel.  Stations do this to keep their channel brand while broadcasting on a higher powered virtual channel.
Noise Margin or NM (dB) is the amount of signal loss or attenuation the TV signal can withstand and still be received. Many things can cause signal loss and I cover in the main TV antenna guide.  The important thing to know is once the noise margin hits 0, the channel will not come in.
"Dist miles" is the distance in miles your house is from that channels TV tower.
The true direction of the station or the "True" column is the compass direction the TV tower is located.
These values will help you pick the best TV antenna. Before covering my antenna recommendations there are a few things we should consider like indoor Vs outdoor, UHF\VHF, and the importance of direction and gain.
Indoor Vs Outdoor
An outdoor antenna will always be better at receiving TV channels than an indoor TV antenna. I always recommend going with an outdoor antenna when possible. However, you will usually be able to pick up a TV channel with an indoor antenna as long as the noise margin or NM (dB) column is greater than 40.
That said, there is a reason I advise against blindly trusting the color-coding on TV fool. The biggest is the difference between UHF and VHF channels.
UHF Vs VHF
TV channels are split on to three difference bands. Channels 2-6 are on the VHF-Lo band. Channels 7-13 are on the VHF-Hi frequency, and channels 14-69 are on the UHF frequency. Majority of indoor TV antennas are designed to pick up UHF channels. Below is the chart from my TV fool that breaks down the spectrum.

When it comes to indoor antennas, I've had the best luck with old fashioned rabbit ear antennas when it comes to receiving a VHF signal. This is due to requiring long pole elements to capture VHF signals. To make matters worse, many signals in today's digital world interfere with channels on the VHF spectrum.
While this can be frustrating, I have had some luck picking up channels in the VHF-Hi spectrum in my area using both the Mohu Leaf and the Winegard Flatwave. However, this will be dependent on the interference in your area.
Generally, I recommend using an outdoor antenna if you are dependent on receiving VHF channels. Although, there are antenna hacks like using a UHF/VHF signal joiner to combine your UHF antenna with a pair of rabbit ears for VHF channels.
Directional Vs Omnidirectional
Directional TV antennas are antennas designed to pick up signals in the direction you point them. Omni-directional antennas are designed to pick up channels in all directions. This tradeoff off is done by focusing the antenna gain, which is different from amplifier gain.
With a directional TV antenna, gain is built into the TV antenna to focus reception in the direction. This gain is measured by adding the gain value of the antenna to the noise margin (NM db). For example, a channel with a noise margin of 30 in the TV Fool report can be read as 45 if you point a directional antenna with 15 dB gain toward it.
Omni directional antennas balance their gain to pick up channels in all directions.
The Best TV Antenna for You
Now that we have a general idea about the things that matter when it comes to antenna reception, we can get into the best antennas to consider for given situations. Of course, if you want to know more about concepts like noise margin, refer to the previously mentioned full guide.
UHF channels with NM above 40 dB
In this situation; you should be fine with an Omni-Directional indoor antenna like the Mohu Curve or a Mohu Leaf. The Winegard Flatwave is also a good option. The Curve and Leaf are very similar in function. The choice here comes down to aesthetics. It's possible for these solutions to work for VHF-Hi channels as well, given they are with no more than 10-15 miles away. They are both available to purchase directly from Mohu.
UHF channels with a NM below 40 dB
In these situations, I recommend an outdoor antenna. The type of antenna really depends on the channel locations and the noise margin.  If the UHF channels have noise margins are above 15, but are in multiple directions you can use an omnidirectional antenna like the Mohu Sky. It's the one we use and it's aesthetically pleasing to the eye. It's also very easy to install and we get a couple of VHF-Hi channels with it.
The noise margin also has to account for noise in the line (which I cover in the main antenna guide).  A noise margin of 15 should be more than enough,  but it's possible you may need a bit more signal power.
If you do need a bit more signal power and you channels are roughly in a a 180 degree arc of one another then the Channel Master ULTRATenna 60 (CM4221HD). It's multidirectional as is casts a wide arc and even adds about 9 dB of gain to your noise margin.   If you need a bit more gain you can get the ULTRATenna 80 which provides 12 dB gain.
If you need a bit more gain you can give the Antennas Direct DB4e Ultra a try. While the arc on this antenna is about 60 degrees it packs a bit more gain at 15.8 dB. You can even get a bit more gain with the DB4e Extreme.  It provides 17.4 dB of gain, but it's reception arc is 28 degrees.  This one is also a bit of a bear to install.
UHF and VHF-Hi Channels
While I was able to get VHF-Hi channels with my Mohu Sky, not everyone will have the same experience due to interference patterns varying by location. If you are having issues receiving VHF-Hi channels there are antennas designed to do a decent job with both UHF and Hi-VHF channels.
The Antennas Direct Clearstream 2V is a good option for these situations. It pulls channels within a 70 degree arc and adds about 8 dB of gain to the noise margin. While Antennas Direct considers this an indoor/outdoor antenna, it's a bit to bulky for me to consider this an indoor antenna. If you must go indoor, then I would give the Winegard FV-30BB a try.
If you need a bit more antenna gain you can try the Winegard HD7694P. It requires more precise aiming than other antennas, but will pull channels at long distances in the VHF-Hi spectrum. It's offers a gain between 10-13 dB depending on the channel you are trying to receive.
Channels in Lo-VHF, VHF-Hi, and UHF
Some areas of the country have digital channels in the VHF-Lo range. These are channels 2-6 in the "Real" column.  If all the channels you want are within 45 miles then go with the Channel Master CM3016. For longer distance channels, I'd try the Winegard HD8200U.
Need More Information?
If this article didn't answer your specific question, head over to our Home Page! It will guide you to affordable internet providers, streaming services to meet your needs, information on antennas, and many more tools and resources to help you save money on TV and Internet access.
For tips and tricks on cutting the cord and other tech topics be sure to join our Facebook Page.
Join Millions of Cord Cutters
Disclosure: Grounded Reason is supported by a small commission for purchases made through some product links on this website. We do not accept compensation from companies attempting to sway our review of products.