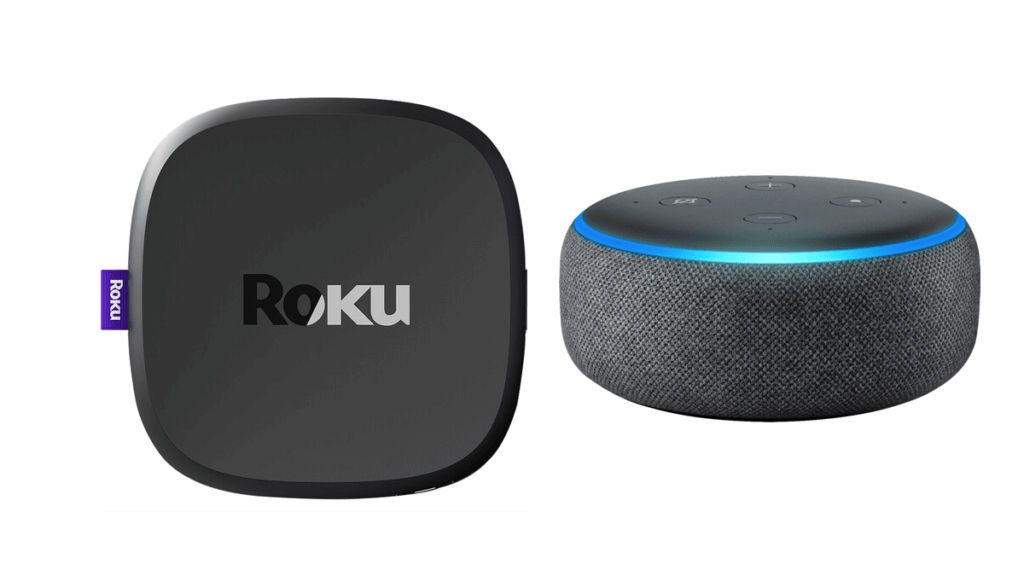 My wife, 2 kids, and I moved into a new home last year. We were moving from a rancher to a house that had multiple floors. Instead of yelling through the house to communicate when we were on separate floors, we decided to buy a few Echo Dots and use Alexa as intercoms to communicate to various rooms in the house. We got them for under $30 at the time, which is much cheaper than other solutions we could think of. It was a pleasant surprise to learn we could use Alexa to control our Roku and  Roku TV.
Set Up Alexa on One or More Roku Devices
For Alexa to communicate with Roku, you need to set up the Roku Skill on your Alexa app. Following the steps in this guide will link your Roku devices to your Alexa device so you can control your Roku TV and issue Roku commands through Alexa. Even if you have set up the Roku Skill on your Alexa app in the past, I recommend following the steps I laid out here to ensure proper functioning.
Steps Before You Set Up the Roku Skill
The Roku Skill was a bit buggy on its initial release. Those bugs have been worked out, but it's best to start with a clean slate. So the first thing we will do is disable the Roku Skill if you already enabled it. We will also make sure your Roku account is set up properly and your Alexa App is up to date. Before setting up the Roku Skill on Alexa, follow the steps below.
Sign in to your Roku account at Roku.com
Scroll down to the "Linked Devices" and make sure your Roku devices are listed there. Register them if they aren't. Alexa will use this list to discover your devices.
On your smart device, update your Amazon Alexa app. You will want the current version.
In the Alexa App, tap "More" then "Skills and Games." Next, tap the "Your Skills" section.
If you see a "Roku" Skill, tap it and select "Disable Skill" (skip this step if you don't have the Roku skill enabled)
Setting Up Your First Roku on Alexa
Below are the steps to set up Alexa to control your first Roku device:
In the Alexa App, tap "More" then "Skills and Games." Next, tap the search spyglass icon in the screen's upper right. Search "Roku
Tap on the "Roku" skill (It has a low rating because it was initially hard to work with)
Tap "Enable to use" You will then be log in to Roku.com, where you can login with your Roku credentials. Read the user agreement and accept the terms if you agree.
Select the Roku devices you want Alexa to control and tap "Continue."
Ensure the Roku Device list and tap "Link to The Alexa App. You can also choose to "Auto-link" future Roku devices.
Click "Continue to Alexa App," then click "Close."
The Alexa app will take a minute or so to discover your Roku devices.
Select the Roku device you want to set up first and tap continue.
Then Choose the Alexa device you want to control this Roku. It's preferable to have one TV on each Alexa to avoid confusion. Tap "Link Devices"
Your Roku Device is now linked to Alexa. We'll go over some voice commands you can issue to Alexa later in this article.
Setting up Multiple Roku Devices on Alexa
Once you set up your first Roku on Alexa, follow the steps below to set up other Roku devices in your house.
In the Alexa App, tap "More" then "Skills and Games." Next, tap the "Your Skills" tab. Select "Roku" from the List
Tap "Settings," then tap "Manage in TV and Video."
Then Tap "Link Another Device"
The same way you selected your first Roku device, choose your next Roku device.
Chose the Alexa device to link this Roku to and elect "Link Devices" (If an Alexa device is already linked to another Roku, it can't be selected)
The Roku is linked to the Alexa device. Continue steps 3-5 to link more Roku devices to Alexa.
Controlling Roku With Alexa
There are slight differences between a Roku and a Roku TV on the commands Alexa will issue. For example, the following commands only work on a Roku TV:
Turning your Roku TV on and off by saying "…turn on office Roku TV"
Controlling your TV volume with commands like "…turn up the volume on living room Roku" and "…set volume to 20 on den Roku"
Muting your Roku TV by saying "…mute on bedroom Roku"
If you have a TV antenna on your Roku TV you can change channels with commands like "…change to channel 7.1 on living room Roku"
You can switch your TV imputes by saying "…switch to HDMI 2 on kitchen Roku"
Note: To power your Roku TV on and off you with Alexa, you need to enable "Fast TV Start." This allows the Roku TV to wake up with voice commands. To enable Fast TV Start, go to Settings > System > Power > Fast TV Start.
The commands below will work on both Roku TV and Roku devices like Roku Ultra and Roku Streaming Stick+:
You can control apps and media playback with commands like

"…pause on Roku"
"…fast forward on Roku"
"…rewind on Roku"
"…launch Hulu on Roku"
"…go home on Roku"

You Can Search for content with commands like

"…find Avengers on Roku" will search for "The Avengers" in Roku Search
"…show comedies on Roku" will search for Comedy results on Roku
Need More Information?
If this article didn't answer your specific question, head over to our Home Page! It will guide you to affordable internet providers, streaming services to meet your needs, information on antennas, and many more tools and resources to help you save money on TV and Internet access.
For the latest news tips and tricks on cutting the cord and other tech topics be sure to follow our Google News Feed, like our Facebook Page and Follow Us on Twitter.
Join Millions of Cord Cutters
*
Disclosure: Grounded Reason is supported by a small commission for purchases made through product links on this website. We do not accept compensation from companies attempting to sway our review of products.