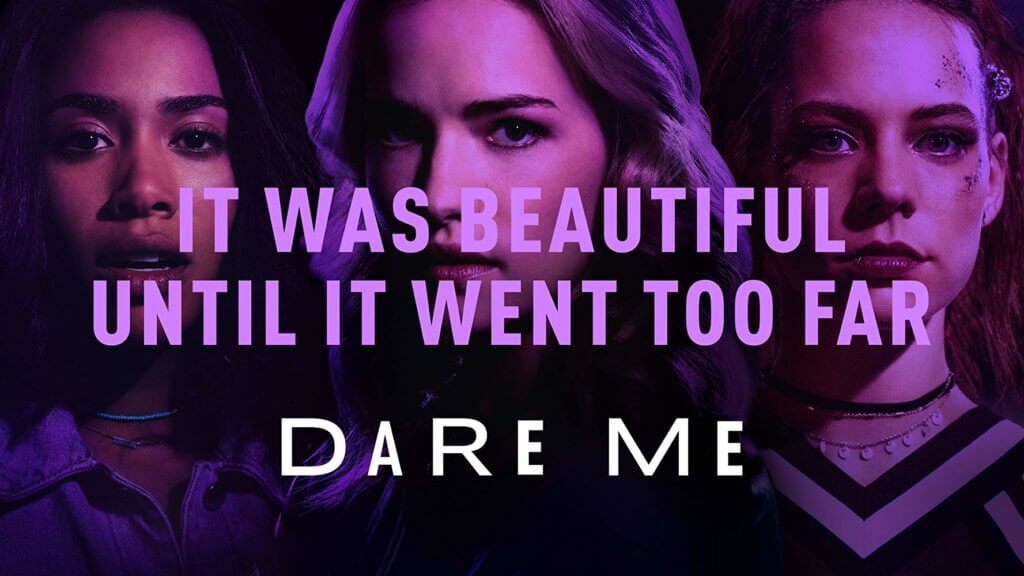 Girls are made of sugar and spice and everything nice, right? Well, no, probably not all girls and probably not all things nice are in there. But it still is endlessly fascinating to see shows which turn this idea on its head – including "Dare Me," a new show premiering on USA Network on December 29th.
High school, in particular, makes for a juicy setting. Back in 2004, "Mean Girls" played with the viciousness of teen girls. Someone wearing pink who taunts and tortures you until you are hit by a bus? It's so not fetch. But anyone who has been a female in high school (or known one) will get it – girls can work out their social pecking order in painful ways.
The modern era has "Dare Me." Like "Mean Girls," it takes place in high school and features a popular girl and her sycophantic friends. This time they are on a cheer squad, and things get dark. The trailer even shows some glitter dramatically washing off the cheerleaders. It is based on the 2013 bestselling novel of the same name and is being billed by its host network USA as "part coming-of-age story, part small-town drama, and part murder mystery."
Fortunately, you do not need to have cable to check out all that "Dare Me" has to offer. You can watch USA Network on a variety of streaming services which allow you to watch live or shows on demand. Alternatively, you can watch a streaming service that includes "Dare Me" in its line up, or you can buy "Dare Me" by the season or the episode.
Watching Dare Me Online
Here are the ways you can watch USA Network online in order of price.
Watch Dare Me on Sling TV
USA Network is offered in Sling's base Blue package for $30/month, but they offer a 1-week free trial.
Sling TV provides a live stream of USA so you can watch what would be airing on USA Network just as if you had cable, including "Dare Me." It is included in its Cloud DVR program, so you can record shows for later if you pay an additional $5/month.
Sling TV is available on Roku, Amazon Fire TV, Chromecast, and more, so it's not a problem to enjoy it on a TV, tablet, computer, or other smart devices. There are more channels than I've mentioned available on Sling TV than what I've discussed here. To find out more about what Sling TV has to offer, and more information about Sling TV device compatibility, check out this detailed review of Sling TV.
The review includes information on a Sling TV free trial and ways to get discounted (and free) streaming devices, so be sure to check it out. Currently, there are offers for a 7-day trial and free Amazon fire stick if you sign up for two months.
Watch Dare Me on FuboTV
FuboTV is an excellent place to go for sports channels but also for more general channels like USA Network. Over 90 channels are offered in its Standard package for $54.99/month (after seven day free trial). The FuboTV app is available on major platforms, including Apple TV, AndroidTV, Roku, and Amazon FireTV. You can sign up for fuboTV or check out our review of FuboTV for more details.
Watching Dare Me on Hulu Live TV
Previously Hulu was known for its vast on-demand streaming library. Recently, they have added a Hulu Live TV service for $44.99 a month that offers live USA Online Streaming. Hulu Live TV is one of the best live TV streaming services available. It includes the following features:
Unlimited cloud DVR storage. (Recordings save for 9 months)
Watch on 2 screens at once. (Upgrades available)
Comes with 6 customizable profiles
Includes entire Hulu streaming library
Check out Hulu's free trial here.
Watch Dare Me on YouTube TV
YouTube TV also offers USA Network streaming live, as well as limitless storage space for recording your shows. Your library of recorded shows can be streamed anywhere. YouTube TV costs $49.99 a month. YouTube TV supports Android, iOS, Apple TV, Fire TV, Chromecast, and more. The YouTube TV app has also returned to Roku devices after settling a dispute between the two companies. See our YouTube TV review for more details.
Watch Dare Me on DIRECTV STREAM Now
DirecTV Now has changed into AT&T Now, a service that offers you another way to watch USA Network. It is offered as part of their "Plus" package. At $65 per month, you get more than 45 channels, including HBO. You can check out everything this service offers by reading our DIRECTV STREAM Now review.
Watching Dare Me on the USA app
You can watch full shows on the USA Network app, including Dare Me, as of December 29th. However, you will need to enter your login info for Hulu Live TV, YouTube TV, FuboTV, or DIRECTV STREAM Now. It is available on almost every streaming device on the market. However, as I said, this requires a subscription log-in.
Buying Episodes of Dare Me
"Dare Me" should be available for purchase by the episode or by the season on a variety of platforms, including Itunes, Google Play, and Vudu. Episodes of USA shows are usually about $2 for SD and $3 for HD and seasons about $17 for SD and $25 for HD.