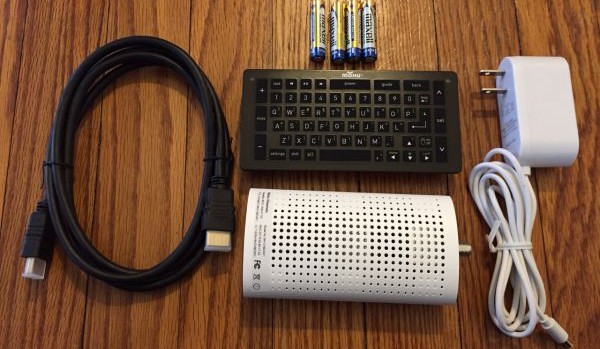 UPDATE: This streaming device has been discontinued is no longer available.
For those of us that watch TV without cable, the TV antenna has never gone out of style. Since TV broadcasts went digital in 2009, TV antennas have produced a higher quality, clearer picture than what is provided by cable and Satellite TV. Add a streaming media player and you can save thousands by cutting cable TV.
Mohu Channels is a device that brings together the video streaming of a media player with the local over the air broadcasts of an antenna in one device. It connects to any antenna (Mohu makes quality antennas, but it works with any you own) and combines all your local networks in the same guide with all your streaming apps. Mohu recently sent me their Mohu Channels device to take a test drive and share my experience with you.

Mohu Channels Review
Channels is built on a modified android mobile operating system and allows you to install just about any app available on the Google play store.  I was able to install Netflix, Hulu, Sling, and a slew of other apps. Aside from allowing the installation of apps, it's also one of the few streaming media players with a web browser. This allows channels users to watch anything browser accessible on a mobile device.
Channels goes a step further allowing you to make any web page a "channel" that shows up in the Mohu Channels guide. This is the same guide that includes all the local broadcast TV networks from your antenna, and any installed apps. You can have NBC, Fox, ABC, Hulu, Netflix, Facebook, and Grounded Reason all show up as a channel in your Mohu Channels TV guide.  This flexibility isn't offered in media streamers like Roku and Apple TV.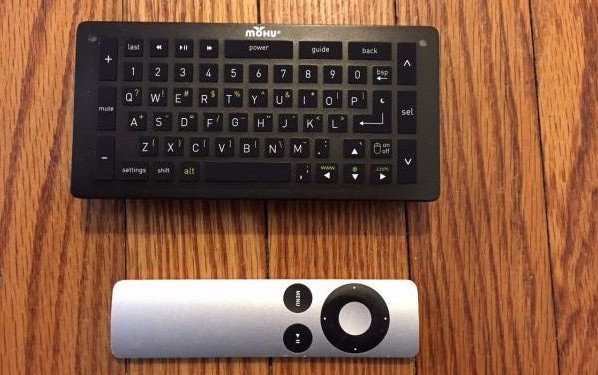 The remote that comes with channels is a fully functional QWERTY keyboard, which is great for searching Netflix, browsing the web, and other natural keyboard functional.  It feels very comfortable in your hands and it easy to set up and use.  You can also program it to control your TV so you won't need multiple remotes.
However, Channels mobile operating system seems to be a ported touch based interface which requires a pointer to simulate touch.  To accommodate this, Mohu made the remote tilt based.  Essentially, if you haven't used a Nintendo Wii controller, using the pointer on the remote will feel awkward and will take a bit of getting used to.  Personally I feel this style of control to be a bit clumsy.
Another issue I have is the load times.  Switching channels seems a bit slower than what I'm used to. Furthermore, there was a few second refresh load every time I opened the main guide screen. The waiting was a bit more than I am used to with Apple TV or Roku. Channels can update it's firmware remotely, so hopefully the sluggishness can be worked out.
One area where Mohu knocked it out of the park was the experience while watching local broadcast stations like NBC, FOX, ABC,  an CBS.  Channels loads the program information for you, so not only do you have a guide telling you what is available over the next few days, but you also have full program descriptions of what you are watching. It's head an shoulders above what I'm used to by simply plugging my antenna into the TV.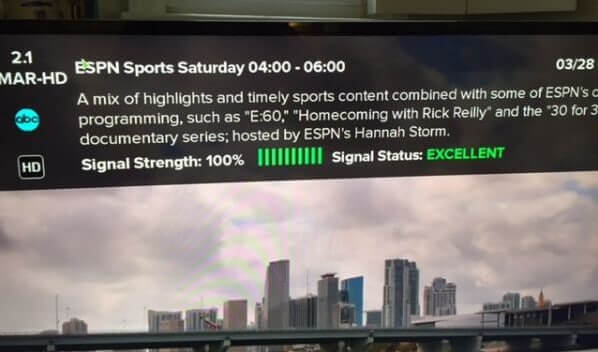 Mohu is known to produce some of the best omni-directional antennas on the market. Their Mohu Leaf has been a favorite among cord cutters for years. Additionally, the  Mohu Curve delivers that same performance while being one of the most attractive antennas you can purchase.  It's only natural that Channels augments the antenna based over-the air TV viewing experience.
Mohu Channels Setup
Mohu Channels comes with everything you need to set it up.  The box even included an HDMI cable which isn't always an assumption you can make when buying streaming media players. Along with the cable, you'll receive a Mohu remote with the 4 AA batteries required to power it, the Mohu channels device, and a power supply.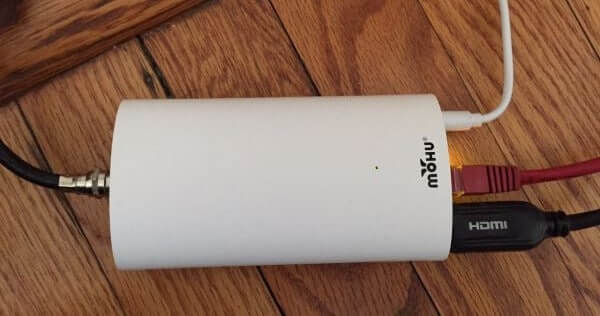 Setting up Mohu Channels is pretty straightforward.  Simply connect channels to your home network via Ethernet. Connect your antenna's coaxial cable to Mohu channels and hook it to the television with the included HDMI cable. Lastly, hook up the power supply and turn on your TV.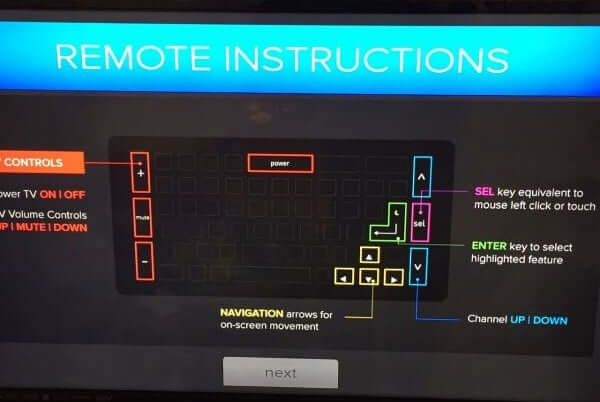 The first screen of the setup process explains the function of the Mohu Remote. The setup screens are step by step and even walk you through programming your Mohu remote to control your television. This will allow you to control the volume and power of your TV with the Mohu remote.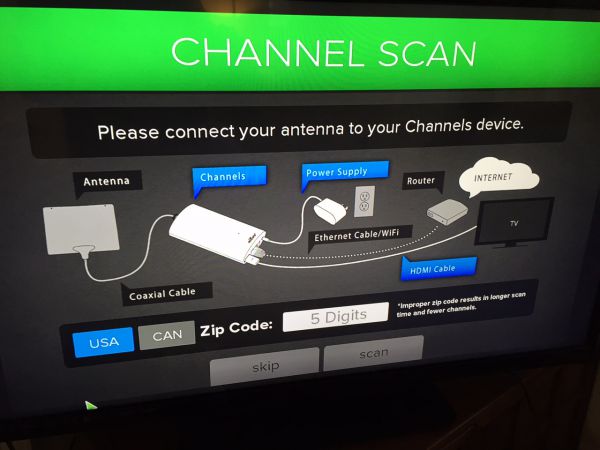 After setting up the remote Mohu Channels will walk you through the channel scan. Ensure all the connections are set up properly, select USA or Canada, enter your postal code and hit scan.  Channels will then configure your program guide based on the channels you can receive.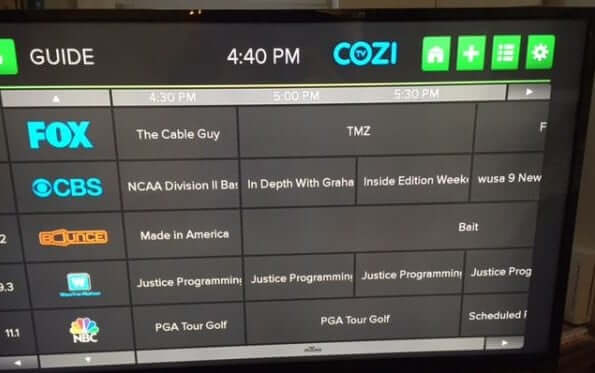 Above is an image of the TV guide I now have with Mohu Channels.  Next,  hit the "plus" button in the upper right hand corner of the screen to add apps from the Google play store or add your favorite web pages as channels on the guide.
Once you start the Google play store, you can install apps like Sling, Netflix, and Hulu Plus. It works just as it would installing the app on your smartphone.  Once installed, the app appears in the guide with the rest of your over the air TV channels.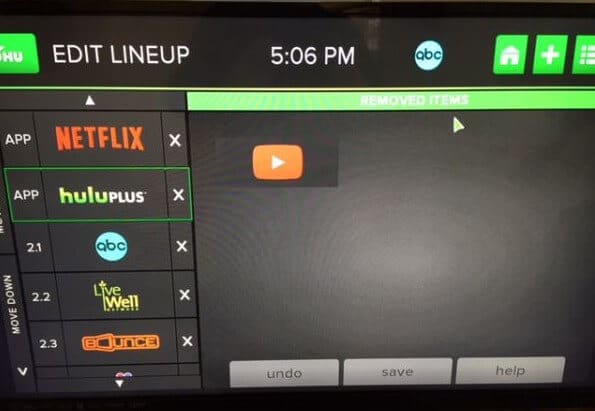 The guide is easily customized.  You can add your apps and web pages anywhere you like. However, any time you add a new app, it shows up at the bottom of the guide. I personally use my apps more than my local channels so I'm forced to edit the menu and move them to the top of the guide. It's a slight annoyance.
Bottom Line
Mohu Channels is a good attempt at bringing an antenna to a media streaming device. However, I feel this device is more for a cord cutter that wants to tinker with web pages and android apps to broaden their video arsenal. A person new to cutting the cord may be happier with the plug and play experience delivered from a Roku 3 or Apple TV.
The clumsy pointer on the remote and time it takes to install apps and set them up in the guide may be off putting to people that don't enjoy tinkering with tech toys.  On the other hand, the flexibility of web pages as channels and mobile apps on your TV has the potential to make this a winner with seasoned cord cutters.
Product: Mohu Channels
Rating: 2.5 out of 5
Reviewer: Dennis Restauro on April 27, 2015
If you are interested, please purchase Mohu Channels through my affiliate link below and enter "SASchannels" at checkout for $50 off your purchase.