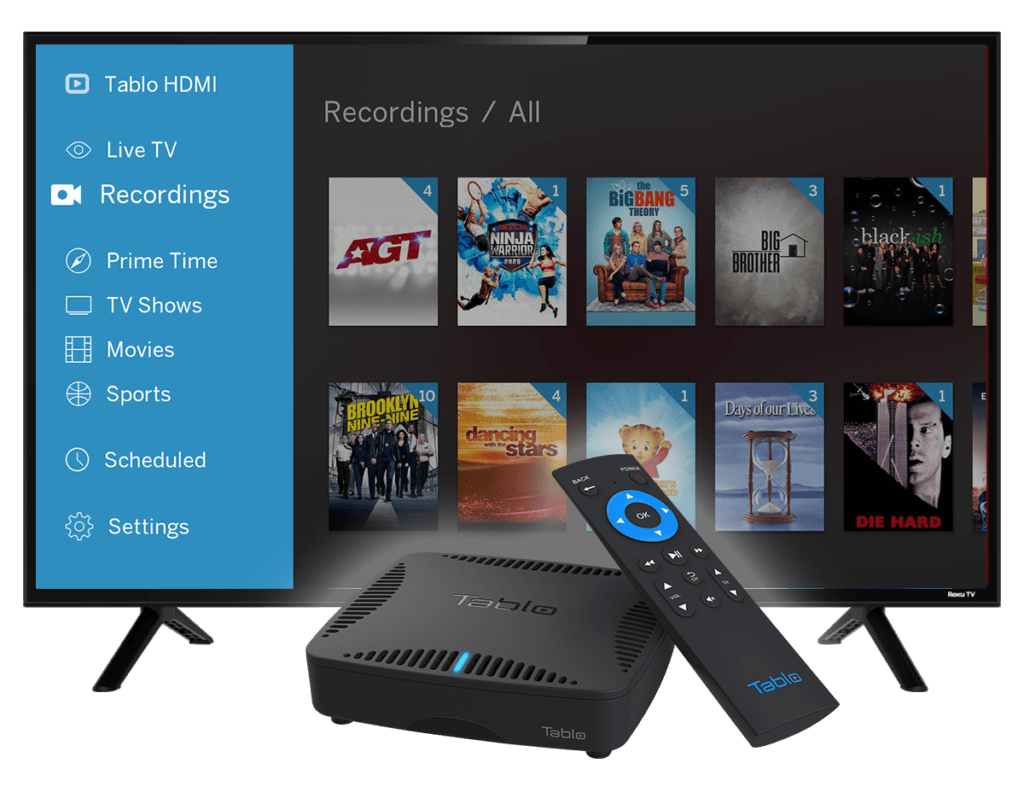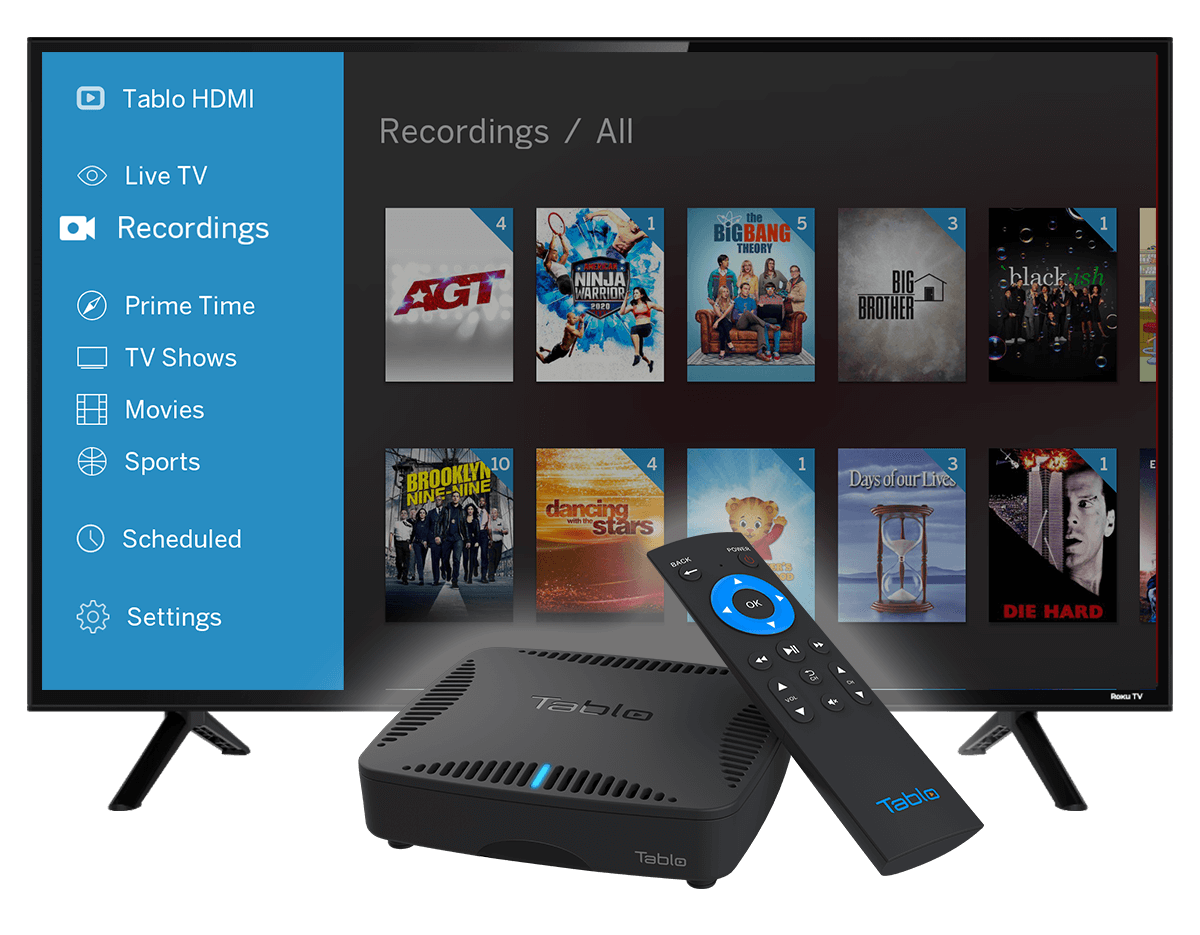 Tablo by Ottawa-based Nuvyyo has been our favorite DVR for recording live TV from over the air channels received with a TV antenna. Personally, I prefer a DVR that plugs into my router and can be accessed from anywhere on my home network. However, some people want to be able to connect their DVR to their TV. The Tablo Dual HDMI allows you to do just that.
What is The Tablo Dual HDMI
The Tablo Dual HDMI is a DVR that connects to your TV via an HDMI cable and a TV antenna. You can then use the Tablo Dual HDMI to record TV shows from your TV antenna. Unlike previous Tablo DVR's, the Tablo Dual HDMI is a separate input on your television that you control with the included Tablo remote. However, these TV-connected Tablo DVRs also offer the flexibility to stream live and recorded TV to additional televisions within the home via select streaming devices and Smart TVs. You still need to connect your Tablo to the internet for the program guide to work, so it only makes sense to let you stream to other TVs not connected to your Tablo.
When you purchase a TV- Connected Tablo, you will receive the following
the Tablo DVR
a Tablo remote
two AAA batteries for the remote
an HDMI cable
an ethernet cable
a power adapter
a Quick Start Guide
a free 30-day trial of the Tablo Guide Data Service and Tablo's Premium Service so you can try out all features Tablo has to offer.
The Tablo Remote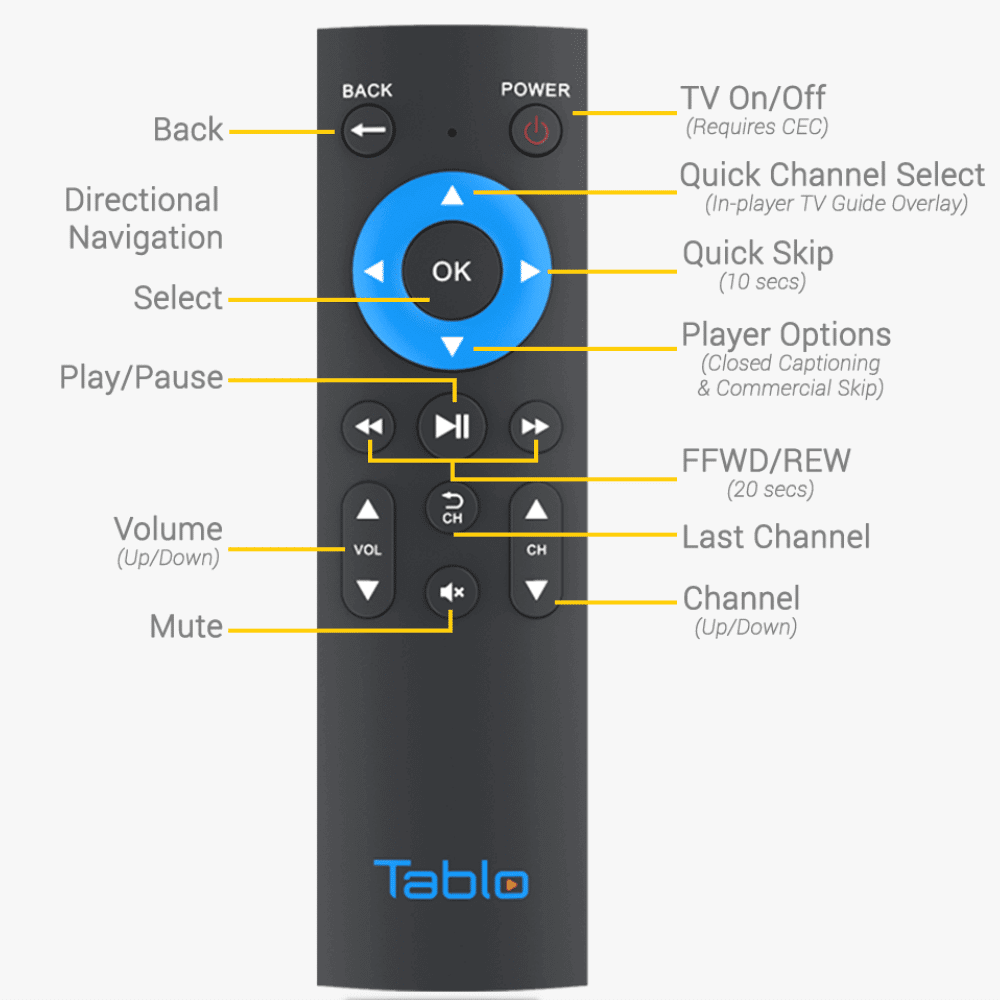 Since you are plugging your Tablo into one of your TV's HDMI inputs, you will need to use the Tablo remote to navigate your Tablo DVR. The Tablo remote will allow you to do the following:
control the power and volume of supported TVs.
use the Tablo guide grid to select and record shows
watch live TV directly from your antenna
play shows you have recorded on your TV- connected Tablo
The Tablo Dual HDMI is available for purchase on Tablo's website.
TV-Connected Tablo Features
Your Tablo Dual HDMI also has some other very cool features.
Automatic Commercial Skip – Tablo's Premium Service enables the Automatic Commercial Skip feature, making it possible for your Tablo OTA DVR to play most completed recordings without ads on Roku, Amazon Fire TV, Android TV, Apple TV, iOS, and Android mobile devices. This feature is also available on the interface of TV-Connected Tablo DVRs.
5.1 Surround Sound – As long as your Tablo uses version 2.2.22 (or higher) of the Tablo firmware, you can enable 5.1 surround sound on your Tablo Dual HDMI and supported secondary streaming devices.
Raw MPEG2 Video – Tablo DUAL HDMI records and displays Over-the-Air TV in raw MPEG2 video format at the resolution and bitrate in which it is broadcast, including 1080i @60fps, where available.
Less Reliant on Internet – While The Tablo Dual HDMI requires internet to set up, this Tablo is unlike other of it's kind. It will allow you to watch live and recorded programming on your primary television without internet access for up to two weeks.
Setting Up Your Tablo Dual HDMI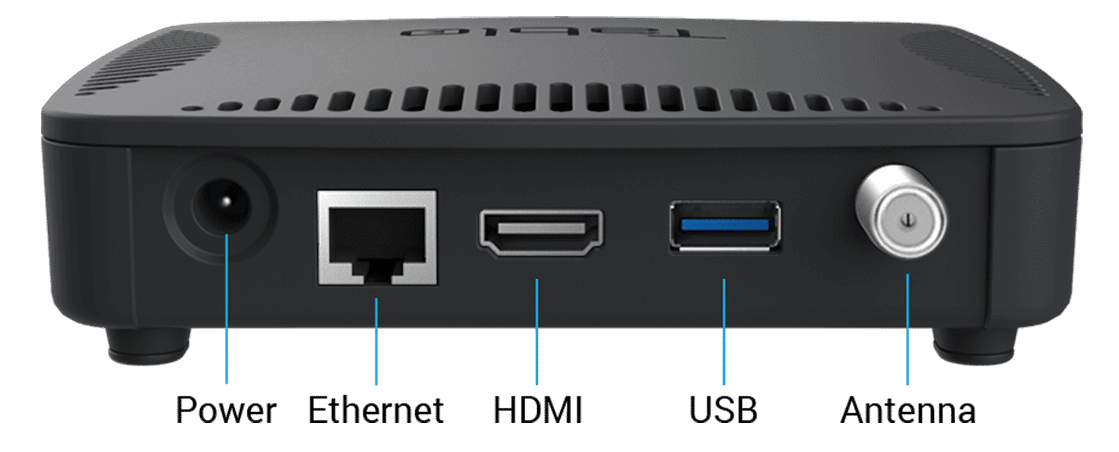 To set up your Tablo Dual HDMI DVR, you will need the following:
A TV Antenna
An internet connection
An external hard drive for storing recordings (USB 2.0 or 3.0, 1 TB to 8 TB in size) we recommend this Seagate Drive
A TV with an HDMI port. All TVs manufactured in the past 10 years have these.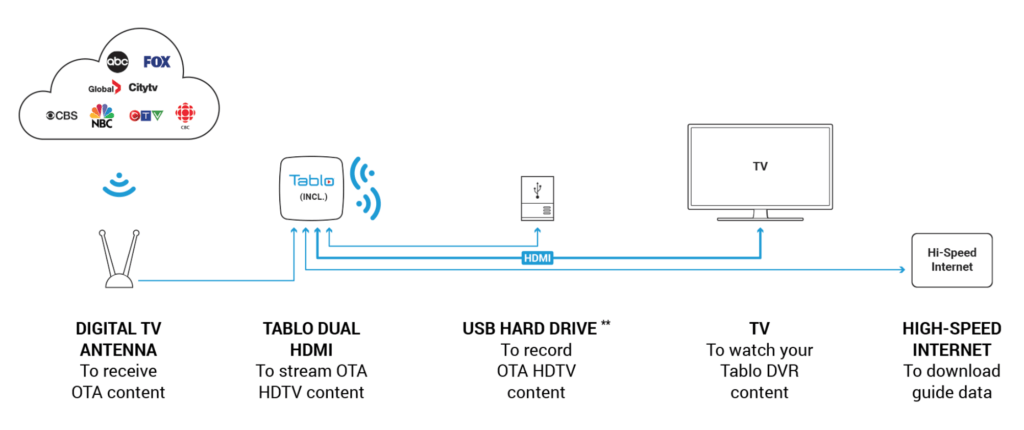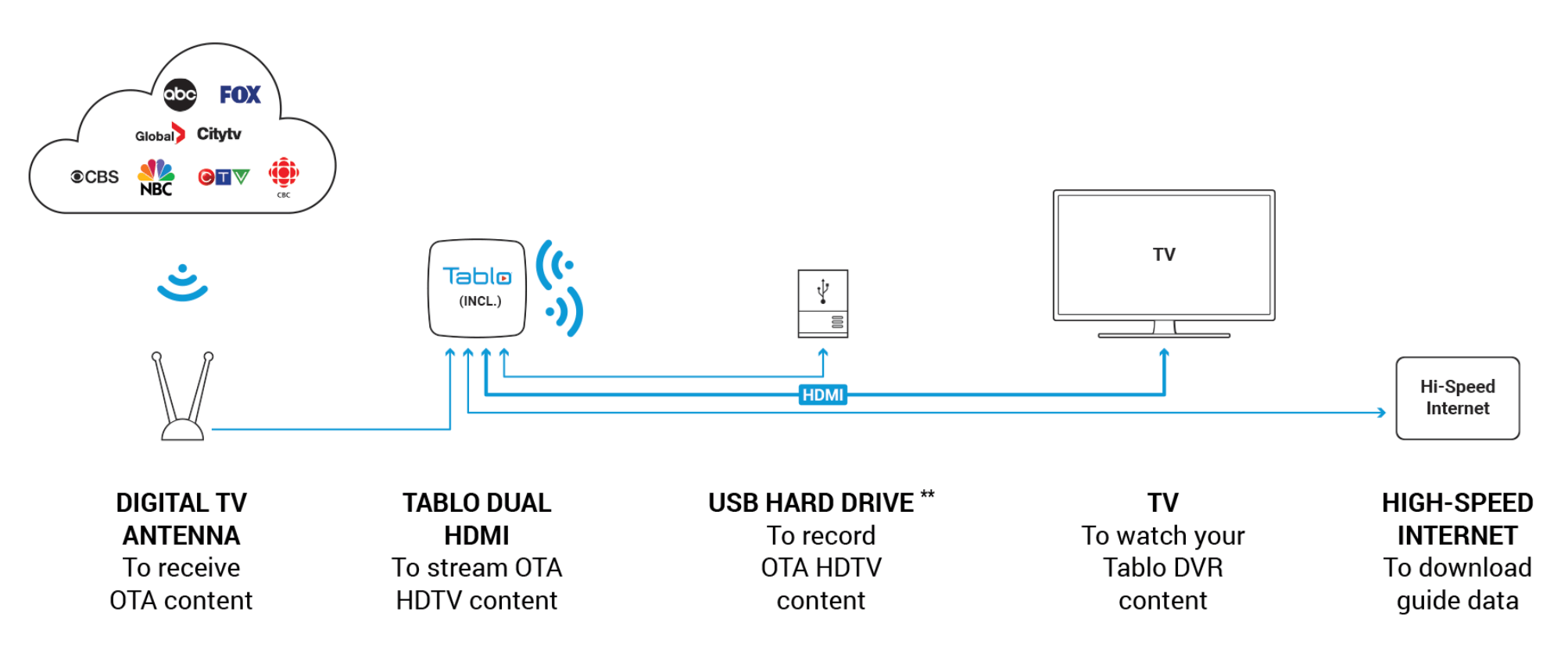 Follow these steps to get your TV Connected Tablo up and running.
Connect your TV Antenna to the Tablo antenna port with a coaxial cable
Plug in your USB hard drive to the Tablo USB port
Connect your Tablo to your TV with the included HDMI cable
If you want to connect via ethernet, connect your Tablo to your home network via ethernet cable. (Wifi is explained later)
Connect the Tablo Power adapter
Using your TV remote, switch to the HDMI input your Tablo is connected to
Put the included batteries in your Tablo remote. It should automatically pair with your Tablo.
Follow the on-screen steps to set up your wifi if you didn't connect to your network in step 4
follow the on-screen instructions to do a channel scan
Once you select 'Continue,' the first 24 hours of the program guide will begin to download. This process will take several minutes per channel.
Connect Other Playback Devices
The Tablo Dual HDMI allows you to watch shows you record on up to two other secondary devices simultaneously. Here are the devices currently supported:
Roku Ultra (all model years)
Roku Ultra LT (all model years)
Roku-enabled Smart TVs (all brands)
Amazon Fire TV Cube (all model years)
Fire TV-enabled Smart TVs (all brands)
NVIDIA SHIELD PRO (all model years)
NVIDIA SHIELD TV (all model years)
Chromecast with Google TV (2020)
Android TV-enabled Smart TVs (all brands)
The following devices cannot access Tablo DVRs:
Apple TV
Smartphones or tablets
PC/MAC
Smart TVs powered by Samsung TIZEN or LG WebOS
Xbox
Download the Tablo app to your device from their channel store or app store and follow the on-screen instructions to connect to your Tablo Dual HDMI. While Roku sticks and Fire TV sticks may support the Tablo app, it is not recommended to use these devices with your Tablo Dual HDMI.
Tablo TV Guide Data Subscriptions
While you can manually record shows within a 24-hour window without the Tablo subscription service, the guide subscription will enable the following features like series recording, out-of-home streaming through Tablo Connect for network-connected Tablo DVRs, and in-home streaming to secondary televisions for TV-connected Tablo DVRs. The guide pricing is as follows
Monthly -$4.99
Yearly – $49.99
Tablo does offer a lifetime guide subscription for their network Tablo devices, but not the Tablo Dual HDMI device.
To enable Automatic Commercial Skip, you would also need to subscribe to Tablo's Premium Service for an additional $2.00 per month or $20 annually.
Need More Information?
If this article didn't answer your specific question, head over to our Home Page! It will guide you to affordable internet providers, streaming services to meet your needs, information on antennas, and many more tools and resources to help you save money on TV and Internet access.
For the latest news tips and tricks on cutting the cord and other tech topics be sure to follow our Google News Feed, like our Facebook Page and Follow Us on Twitter.
Join Millions of Cord Cutters
*
Disclosure: Grounded Reason is supported by a small commission for purchases made through product links on this website. We do not accept compensation from companies attempting to sway our review of products.