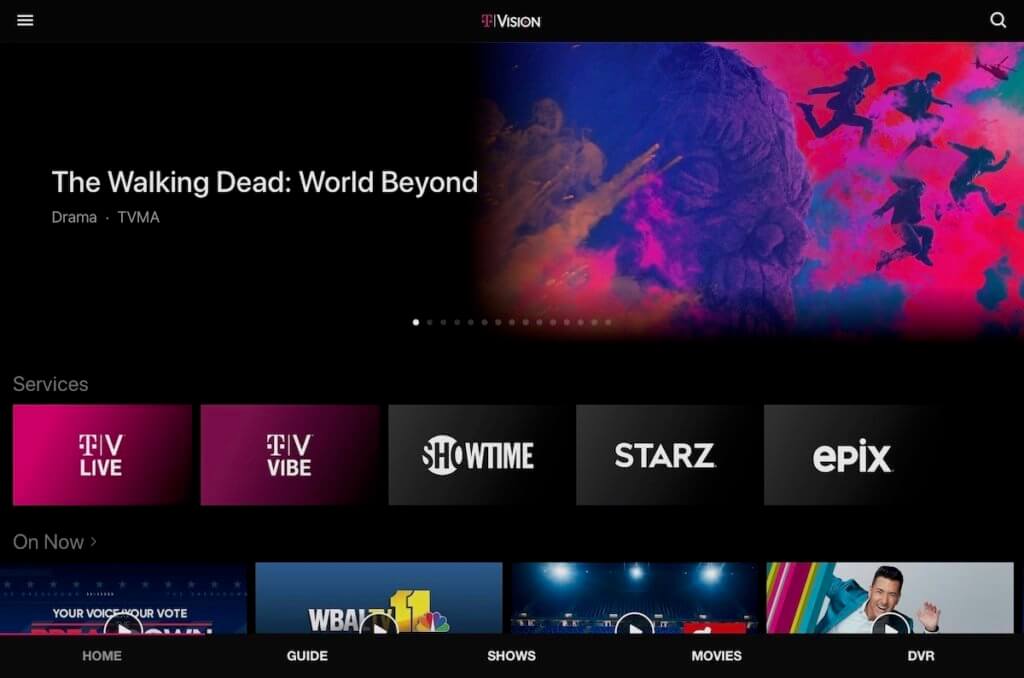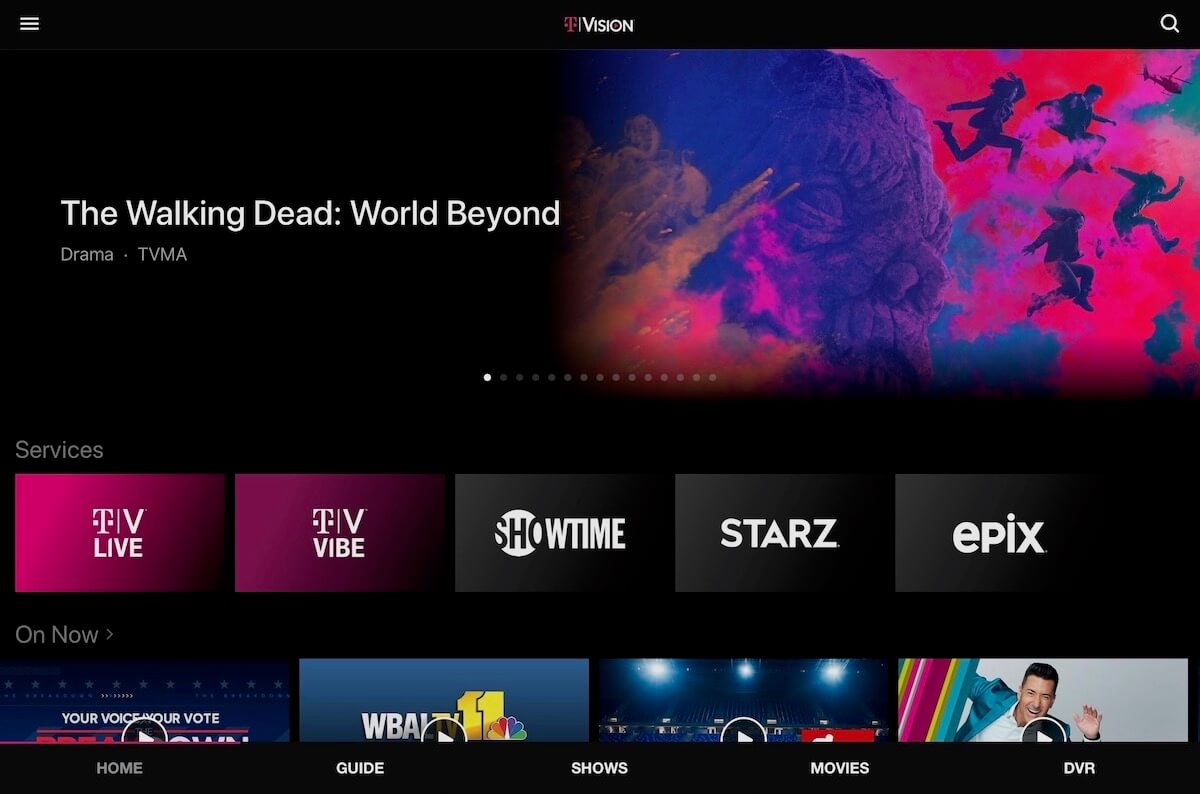 Update: After just 5 short months T-Mobile shut down TVision. The last day of service was April 29, 2021.
What is TVision
TVision is a Live TV streaming service from T-Mobile, focusing on replacing cable TV and helping more people cut the cord. The service starts as low as $10 per month, making it one of the lowest-priced live TV streaming services on the market. As of November 1st, you have to be a T-mobile postpaid customer to subscribe to T-Mobile. However, T-Mobile is looking to release to non-T-Mobile customers sometime next year.
While T-Mobile has been testing something called "TVision Home" in certain cities, this new TVision service is completely different. The starting price is much lower than cable TV, and you don't need to purchase any equipment to use TVision. (Even though T-Mobile is launching its own streaming device called TVision Hub as well)
TVision Plans And Prices
TVision is launching four different live TV plans TVision Live, TVision Live+, TVision Live Zone, and TVision Vibe. They are also launching a way to manage add-on premium services under a product called TVision Channels.
All TVision Live plans (not the Vibe Plan) include 100 hours of cloud DVR and give you the ability to stream to three devices at once.
There are no contracts or long-term commitments with any TVision plan. You pay month to month and cancel whenever you like. Let's look at the channels on each plan.
TVision Vibe Channels
The TVision Vibe plan provides a ton of entertainment channels and costs only $10 per month. The TVision Vibe plan allows streaming to 2 streams simultaneously and doesn't include the DVR. However, if you subscribe to the Vibe Plan, along with a TVision Live plan, you will be able to use the DVR and have a maximum of 3 streams on channels you get with the Vibe Plan. You can also add 100 hours of Cloud DVR for $5/month, which means you can get VIBE with a DVR for $15/month.
The channel lineup for the TVision Vibe Plan includes:
AMC
Animal Planet
BBC America
BET
BET Her
CMT
Comedy Central
Discovery Channel
DIY Network
Food Network
Hallmark Channel
Hallmark Drama
Hallmark Movies and Mysteries
HGTV
IFC
Investigation Discovery
MotorTrend
MTV
MTV Classic
MTV2
OWN
Paramount Network
SundanceTV
TLC
Travel Channel
TV Land
VH1
WE tv
BBC World News
Nick Jr.
Nickelodeon
Nicktoons
TeenNick
TVision Live Channels
The TVision Live Plan costs $40 Per Month and includes over 30 channels. This is a separate plan from the Vibe Plan. These plans are not "add-on" packages. You can decide if you would like to subscribe to either or both plans. Below are the channels included in the TVision Live Plan:
ABC
FOX
Telemundo
NBC
ESPN
ESPN2
FS1
FS2
NBC Sports Network
ABC News Live
CNBC
CNN
Fox Business Network
Fox News Channel
HLN
MSNBC
NBC News Now
Bravo
Cozi TV
E!
FX
FXX
National Geographic
Oxygen
Syfy
TBS
TNT
truTV
USA
Cartoon Network
Disney Channel
Disney Junior
Disney XD
Freeform
TVision Live+ Channels
TVision Live+ includes everything in the TVision Live plan but adds a little over 10 more channels, most of which are sports channels, for $50 per month. Here are the channels you get in the TVision Live+ plan.
All TVision Live Channels
ACC Network
Big Ten Network
ESPNews
ESPNU
ESPN College Extra
FXM
Longhorn Network
Nat Geo Wild
NBC Regional Sports Network
NECN (only in New England)
NFL Network
Olympic Channel
SEC Network
SNY
TCM
The Golf Channel
Regional Sports on TVision Live+
The TVision Live+ Plan adds regional sports channels. If you live in the broadcast region of the channels below, they will be available to you through TVision Live+
NBC Sports Bay Area
NBC Sports Boston
NBC Sports California
NBC Sports Chicago
NBC Sports Northwest
NBC Sports Philadelphia
NBC Sports Philadelphia+
Monumental Sports Network
NBC Sports Washington+
SportsNet NY
Longhorn Network
TVision Live Zone Channels
The TVision Live Zone plan costs $60 per month and includes all the channels in the TVision Live and Live+ plan in addition to the following channels:
Boomerang
CNBC World
ESPN Desportes
Fox Desportes
NFL Redzone
Universal Kids
Universo
MavTV
Outside
What is TVision Channels
TVision Channels is where you will find premium networks like Epix, Starz, and Showtime in the TVision app. Below are the subscription prices for each:
Starz – $8.99 per month
Showtime – $10.99 per month
Epix – $5.99 per month
How TVision Works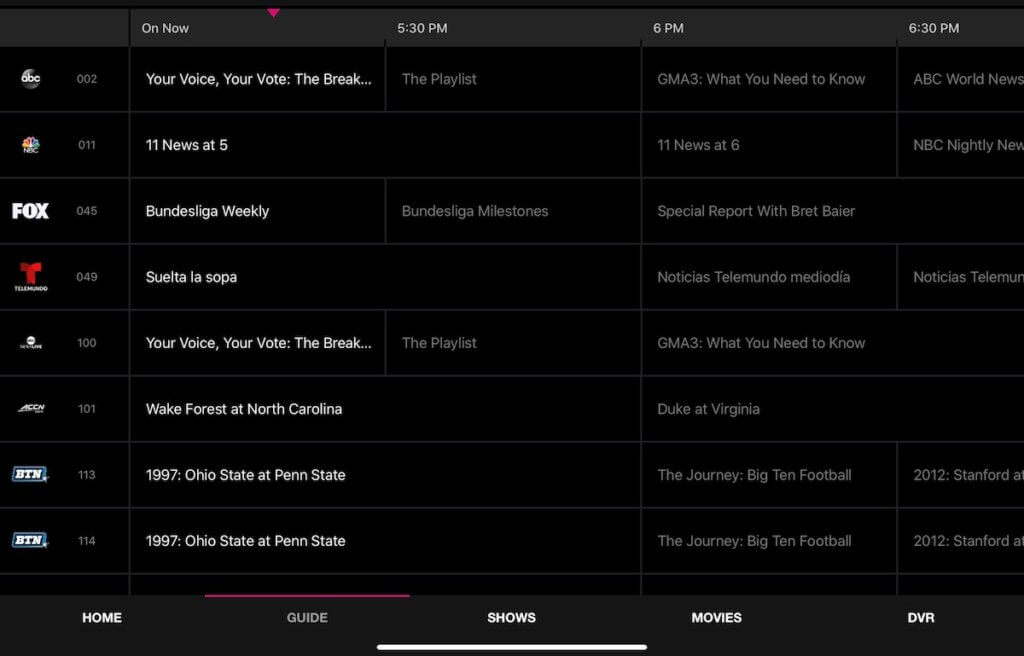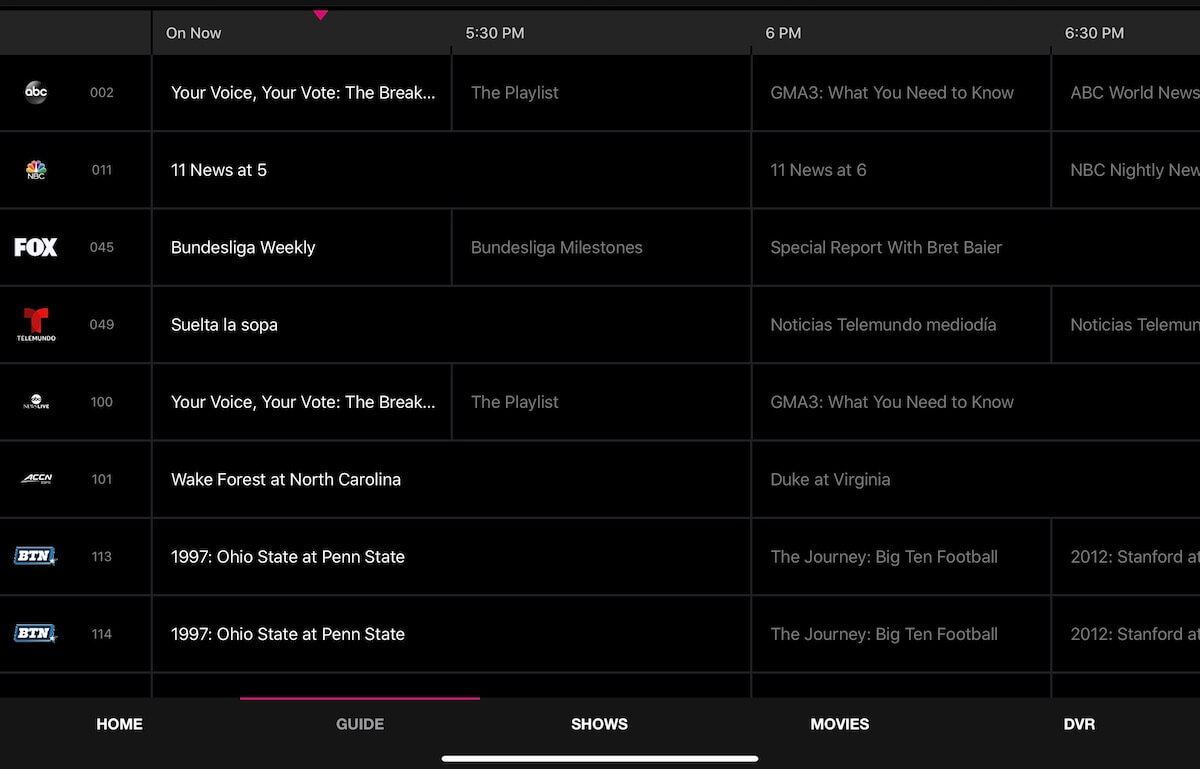 The TVision viewing experience is one of the closest to Cable TV compared to other live streaming services. Especially notable is how fast the channels switch when changing them. There is about a 1-second delay between pushing the channel up button on the remote and the next channel playing. The onscreen guide is very responsive and intuitive. The menu seems to navigate as fast as you can push the button.
It's straightforward to record shows from the guide. Any time you select a show, it gives you the option to record or watch. If you choose to record, you are prompted to set the DVR to record this just episode or the entire series. Recording while watching a show is also very accessible. Once you pause a show, an option to record the show appears on the bottom of the screen. There is also a lot of TV shows and movies on-demand. It looks as though if you have a channel through TVision, any On-Demand available through that channel is available though TVision.
TVision Device Support
You don't need a special device or set-top box to use TVision. Once subscribed to TVision, you can download the TVision App to any of the supported devices below:
Apple TV
Chromecast with Google TV
Amazon Fire TV
Android TV
iOS and Android mobile devices and tablets
TVision Hub (T-Mobiles New Streaming Device)
Unfortunately, TVision doesn't support Roku.
Is TVision a Viable Live TV Service
TVision hits the bullseye as far as live TV experience goes. Channels are very responsive. It's effortless to record shows and manage your DVR. We also like how TVision gives potential subscribers a few channel package options at affordable prices. We love that you can pick up the Vibe Plan for $10 per month and have access to HGTV, MTV, Discovery, Comedy Central, and more. Getting the Vibe Plan and adding 100 hours of cloud DVR makes TVision Vibe a viable alternative to Philo at $15 per month.
Live TV + Vibe is the Way to Go
The good news is that you can get Vibe and the Live TVision plan and get DVR access that can be used on the Vibe package channels. You could also watch all those channels on up to three devices at the same time. With TVision Live TV costing $40/month and Vibe priced at $10/month, you get the following formidable channel lineup for just $50 per month:
ABC
ABC News Live
AMC
Animal Planet
BBC America
BBC World News
BET
BET Her
Bravo
Cartoon Network
CMT
CNBC
CNN
Comedy Central
Cozi TV
Discovery Channel
Disney Channel
Disney Junior
Disney XD
DIY Network
E!
ESPN
ESPN2
Food Network
FOX
Fox Business Network
Fox News Channel
Freeform
FS1
FS2
FX
FXX
Hallmark Channel
Hallmark Drama
Hallmark Movies and Mysteries
HGTV
HLN
IFC
Investigation Discovery
MotorTrend
MSNBC
MTV
MTV Classic
MTV2
National Geographic
NBC
NBC News Now
NBC Sports Network
Nick Jr.
Nickelodeon
Nicktoons
OWN
Oxygen
Paramount Network
SundanceTV
Syfy
TBS
TeenNick
Telemundo
TLC
TNT
Travel Channel
truTV
TV Land
USA
VH1
WE tv
Those channels at $50 per month is a much better value than fuboTV or YouTube TV. The only thing that gives me pause is a lack of CBS when the other major networks are covered, but that can be remedied with a $5.99 subscription to CBS All Access. That combination would provide a channel lineup that bests the live TV lineup of any service on the market at $56 per month. Ultimately, TMobile's TVision is a welcome addition to the cord-cutting market, and I can't wait until non-T-mobile customers can purchase this service. (And Roku support would be nice.)
How To Sign Up For TVision
If you are currently a T-Mobile customer interested in trying TVision, you can sign up for their plan starting November 1st. Customers who sign up for TVision Live TV+ or Live Zone packages by December 31 will get Apple TV+ included for a year. Those customers will also have the option to add an Apple TV 4K for just $99 — an $80 savings after rebate.
TVision HUB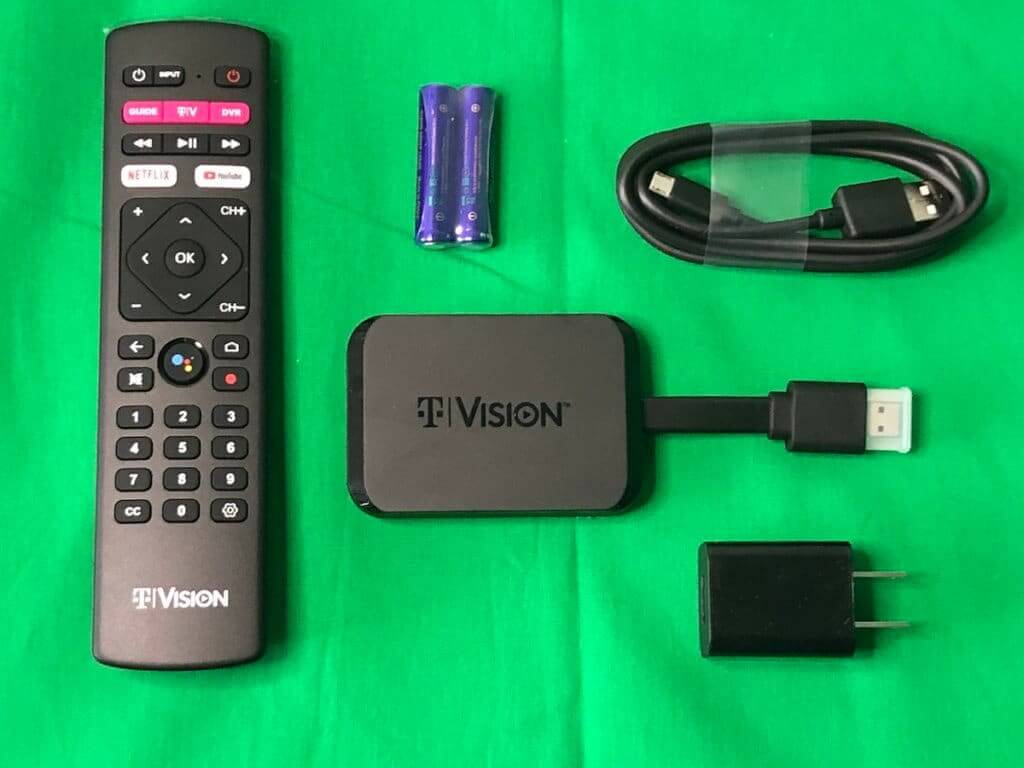 The TVision HUB is T-Mobile's Android-powered device that connects to your home Wi-Fi and plugs right into your TV via an HDMI port. In addition to the TVision app, you can add Netflix, Amazon Prime Video, Hulu, Disney+, CBS AllAccess/Paramount+, Max, and other streaming apps in Google Play Store.
The TVision HUB also supports over 8,000 applications, Google Assistant for live and recorded content, and shortcuts built into the home screen. You can even cast a show you are watching to it from mobile apps just like Google Chromecast. The HUB also supports BlueTooth accessories like headphones and game controllers. Here are some of the device features
Supports Dolby Atmos and Dolby Digital Plus audio
Supports 4K Video with HDR
Includes 2GB of Ram with 8 GB of On-Board storage for apps
Includes Remote You can Sync with your TV to control Power
Supports voice navigation and search with Google Assistant
What's In The Box
The TVision HUB retails for $50 and can be purchased directly from T-Mobile. A T-Mobile HUB comes with the following:
TVision HUB android device
Power Adapter and USB cable for power
TVision Remote with Google Assistant
2 AAA batteries
Set up is easy. The TVision HUB connects to your TV via a built-in HDMI cable. A USB power adapter powers the device. Once connected, follow the onscreen instructions to set up your device.