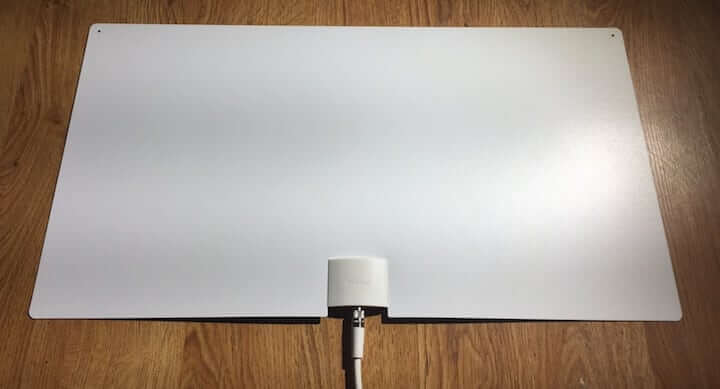 As I explained in my guide to choosing the best TV antenna, no single antenna will suit everyone. Which choice is the best can vary based on your location. One variable that is especially problematic when selecting an indoor antenna is VHF band channels. These are low-frequency channels that many indoor antennas, aside from a pair of rabbit ears, struggle to receive. However, the vast majority of TV channels are high-frequency UHF channels, which rabbit ears have a tough time picking up. People in this situation typically need to use an outdoor antenna to get both VHF and UHF channels in their area. The Mohu Leaf Glide attempts to remedy this and receive channels in both bands. However, it comes at the steep price of almost $90.
Mohu Leaf Glide Review
To get a good handle on how the Mohu Leaf Glide performs, I decided to run a test. I have both VHF and UHF channels in my area, and other flat antennas I've tried do struggle with those lower frequency UHF channels. So we're going to take a look at how the Glide performs, and then I'll discuss if this antenna is worth the high price tag.
Mohu Leaf Glide Performance
A VHF station is one where the Real channel is 13 and below. UHF are channels 14 and above. Some channels may show up as a channel below 14 on your television, but they are operating on a UHF frequency. That lower number channel is virtual and not VHF. I cover this topic in more detail in my guide to TV antennas. So you are probably wondering how we can tell the difference if some low number channels are virtual and genuinely running on a high-frequency channel? Lucky a TVFool.com signal report will give you this information. We can also use this report to get an idea of how the Mohu Leaf Glide performs.
If this is your first experience with a signal report, don't worry. All you need to know is the green area is generally something an indoor antenna should receive.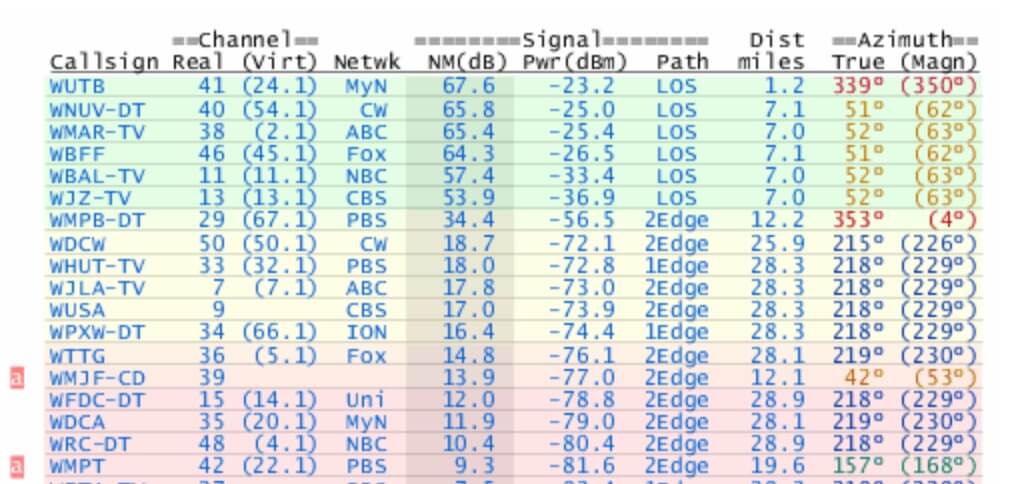 My standard Mohu Leaf holds its own and can pull all the green and even PBS 67, which real channel is 29. However, I occasionally have trouble receiving channel 11 with the standard Mohu Leaf. These reception issues usually happen in bad weather.
I didn't experience these issues with the Mohu Leaf Glide. Not only can I pull all the UHF channels up until WTTG 5 (it's UHF because the real channel is 36,) but I have no trouble with the VHF channels 11 and 13. I can even receive WJLA 7, which is a VHF channel nearly 30 miles away. The Glide performance completely shocked me. Not only is the Mohu Leaf Glide better than the standard Mohu Leaf, but it's also easily the best indoor antenna I have tested so far. However, that near $90 price tag gives me pause. It's almost triple the price of other flat antennas.
Mohu Leaf Glide Specifications
The Mohu Leaf Glide measures in at 21.5″ x 11.5″ and includes the following:
Jolt TV amplifier that filters out FM and cellular signal interference
16 feet of coaxial cable
Paper-thin and reversible Leaf Glide Antenna (black on one side and white on the other)
Pushpins and hook & loop tabs included for easy installation
Please note that I never install indoor antennas with the amplifier. You will find you typically don't need an amplified indoor antenna. Furthermore, the amplifier can hinder reception on nearby channels. I recommend installing the antenna without the amplifier first. You can always install the amplifier later and see if you receive more channels.
That said, installing the Mohu Leaf Glide is easy; follow the steps below.
Position the Leaf Glide in a location that gets good TV reception.
Most people would install the included "Jolt" amplifier. I skip this step, and 1st try the antenna without the amplifier. You can always try it with the amplifier later.
Use the included coaxial cable to connect the Mohu Leaf Glide to the Jolt TV amplifier
Turn on your TV and scan for channels
Should You Get The Mohu Leaf Glide
The Mohu Leaf glide excels at picking up channels in the VHF band. It also boasts a better range when it comes to receiving UHF channels. It is a definite upgrade in all regards over the standard Mohu Leaf. It looks similar in style, but it's a bit wider, measuring in at 21.5 inches long. If you are looking for an indoor antenna, it will be hard to find one better than the Mohu Leaf Glide. It does an excellent job of receiving on channels in both the VHF and UHF bands. It easily earns 5 out of 5 stars on performance. However, we need to factor in that this antenna will cost you around $90s. When factoring in value I'd rate the Glide at a 4/5 star antenna, which is still better than most indoor TV antennas.
Before spending big bucks on this antenna, I recommend trying something like the GE Ultra Edge Antenna for approximately $20. Try the more affordable antenna first. If you are missing a few must-have channels, then reach for the Mohu Leaf Glide.
If you are going to try the Mohu Leaf Glide, I recommend purchasing it through Amazon. With Amazon's return policy, it's easy to get your money back if the antenna doesn't receive the channels you need. The return policy is essential when purchasing a TV antenna, as many variables can impact TV reception that differs from place to place.
Need More Information?
If this article didn't answer your specific question, head over to our Home Page! It will guide you to affordable internet providers, streaming services to meet your needs, information on antennas, and many more tools and resources to help you save money on TV and Internet access.
For the latest news tips and tricks on cutting the cord and other tech topics be sure to follow our Google News Feed, like our Facebook Page and Follow Us on Twitter.
Join Millions of Cord Cutters
*
Disclosure: Grounded Reason is supported by a small commission for purchases made through product links on this website. We do not accept compensation from companies attempting to sway our review of products.