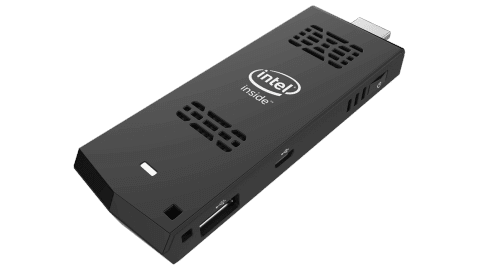 When cutting the cable cord, figuring out which streaming device to purchase can sometimes be frustrating. Every streaming service isn't always available on the device you would like to use. For example, Roku 3 doesn't support iTunes and Apple TV doesn't support Amazon. While some devices support more services than others, there will always be a blind spot . . . Until now.
Intel is releasing its new HDMI compute stick. The device is about the size of a Roku Streaming Stick and can run Windows 8 or Linux.  Simply plug the stick into an HDMI port on your television and you have a fully functional PC in your living rooms.
This provides you with the ability to install any streaming app you want. You can run Hulu, Netflix, Amazon, iTunes, or any service you wish. Furthermore, you can just open a browser and navigate to any website that provides video streaming. That means you can watch CBS.COM on your TV (or any broadcaster that has their shows available on the web).
Intel's Compute stick comes in two flavors. The Windows 8 version is priced in the neighborhood of $150 and contains an Intel 64 bit Atom Quad-core Processor, 2GB of RAM, and 32GB of SSD internal storage. The device communicates using the wireless 802.11 b/g/n standards and supports Bluetooth 4.0.

The Linux version contains the same hardware except that it contains only 1 GB and 8 GB of solid state storage. However, the price is about $50 less than its Windows cousin.
Perfect for a Media Hub
I recommend this device for cord cutters that enjoy a little DIY streaming. If you are more of a plug and play type, I would stick with your typical streaming media players. For those that want to experiment, the Compute Stick may be the device you've been dreaming of.
This device seems like it was made for Kodi (formerly XBMC). For those of you that are unaware of Kodi, it's a free, open source, media player and entertainment hub software that can be installed on Linux, iOS, Windows, OSX, and Android operating systems.
Kodi can be the interface to all your movies, music, pictures and TV shows. Furthermore, when combined with a device like HDHomeRun and a product like MythTV, Kodi becomes your personal video recorder (PVR).  This would add the ability to record shows from your TV antenna adding them to your existing media library.
External Storage and Ethernet
Since the Compute stick only comes with Wi-Fi capabilities and a single USB port, I recommend a device or two to make a media hub shine.  Instead of plugging an external hard drive into the compute stick, I would opt instead for an Ethernet dongle and a network attached storage (or NAS)  solution like My Cloud. This will give you the stability of Ethernet and the storage flexibility to access your media content from any device on the network.
Limitless Possibilities
Using Kodi with the Compute Stick is just one of numerous possibilities. Since this device essentially turns your TV into a PC, most anything you can do with an average PC will be possible on your TV. The Compute Stick is a must have for those cord cutters that enjoy a DIY project.