Dennis is the editor in chief at Grounded Reason. Before writing about using technology to save you money he spent 20 years working in the tech sector as a sysadmin, an analyst, and an enterprise architect.

Latest posts by Dennis Restauro (see all)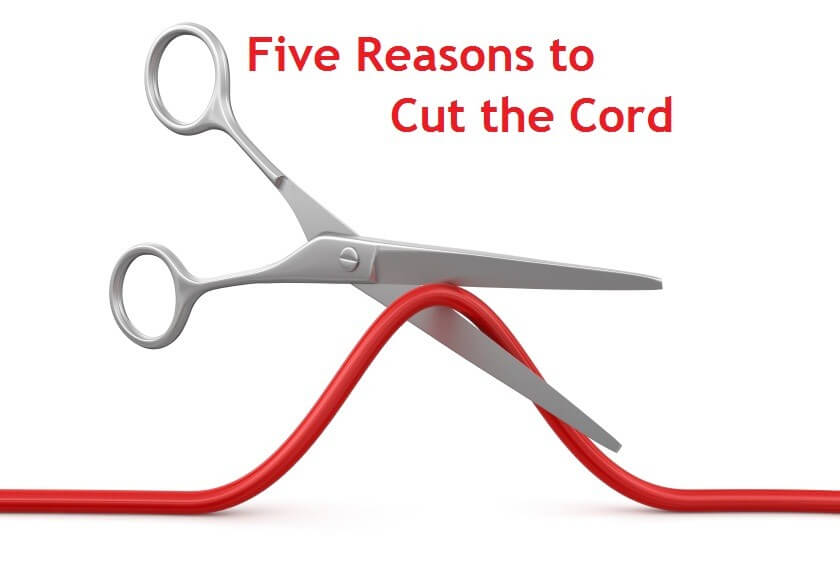 Have you been contemplating cutting the cord and getting rid of that monthly cable subscription? Here are 5 reasons why cable television is the bad habit you should drop in 2015.
1. Save Money
Typically a blog list of the "5 things to make everything awesome in your life" saves the best "thing" for last. However, I like to think of myself as atypical. Hence, the first course is the meat (or the Tofu for my vegetarian/vegan friends).
Money is the single best reason to drop your cable subscription and join the millions that stream their television content. My family is saving over $1000 a year by becoming cord cutters. Examining the price hikes from cable providers in recent years makes cutting the cord a great personal finance decision.

Chris Moran from The Consumerist put together an informative summary of recent FCC findings showing
Cable TV rates are now outpacing inflation
4 to 1. Basic service was $22.63 a month. However, a simple antenna will give you those channels in HD for free. The average monthly cost of expanded basic cable TV service was $64.41 in 2012. As explained in my
cord cutting guide
, an extremely robust streaming solution will run about $25 per month.
This data on cable TV pricing is from 2012. Consequently, today's cable TV prices have been through 2 quadruple inflation price hikes. Those prices are predicted to keep rising., so don't sign on for moke price jumps.
2. Everything is Online
Now that consumers will be able to purchase HBO without a cable subscription in 2015, there is little that cable TV provides that can't be obtained through less expensive means. Most broadcast networks make their shows available on their websites.
Additionally, a simple antenna can provide access to all the broadcast networks for a majority of TV viewers. Hit cable shows like "Mad Men", "Sons of Anarchy", and "The Walking Dead" can be watched online.
Furthermore, thousands of movies and hit TV shows are available from services like Netflix, Hulu Plus, and Amazon Prime. Previously, cord cutters would have a difficult time watching certain sports, but even that seems to be changing with services like MLB.TV being made available to viewers.
There is more than enough content available online today for an enjoyable TV experience. That content will only grow in the coming years.
3. Original Programming
Ever since Tony Soprano made it into our living room, the level of entertainment provided by original programming has been obvious to viewers. From "Breaking Bad" to "American Horror Story", the awards for quality television are being handed out to the Original Series.
While these shows are available to cord cutters and cable subscribers alike, the original programing available from streaming services can't be watched on cable TV. Netflix has taken home its own fair share of awards with quality shows like "Orange is the New Black", and "House of Cards." Amazon has captivated audiences with outstanding shows like "Orphan Black", and "Transparent."
These shows are instant classics, and there are only more to come. With Netflix inking a deal with Disney to exclusively produce the next five Marvel TV projects, some of the best TV in the future will not be available with a cable subscription alone.
4. Watch TV Anywhere
Having your TV content provided via the internet provides the freedom of watching TV on the go. No longer are you tied to your DVR. With an available internet connection, a laptop or mobile device is all one needs to enjoy their favorite shows.
With convenient devices like the Roku Streaming Stick, your TV habits can join you in hotel rooms around the country. As your life becomes more mobile, so should your viewing entertainment. Cutting the cord provides the means to watch TV whenever and wherever you have the time.
5. You will have More Time
Never again will you be sucked into burning an afternoon watching some reality show marathon you accidently stumbled upon. We all know deep down these things are a huge waste of time that provides us no value.
Cutting the Cord makes your TV viewing habits more of an active experience. You decide what you want to watch, not the TV networks. Ultimately, this translates into a better use of TV time. If you have kids, it will be much easier to regulate how much time they are spending in front of the tube.
Furthermore, there are little to no commercials, so that hour long TV show now takes about 45 minutes to watch. This leaves you with more time in the day for other activities. It's been a boon to my personal productivity.
Between fewer commercials and watching less garbage, I've added at least a couple hours to my day. Ultimately I turned that time into a fairly successful blog. Who knows what you might do with the extra money and time when you cut the cord?
Need More Information?
If this article didn't answer your specific question, head over to our Home Page! It's designed as a guide to our most important articles to help you ditch pay TV.
For tips and tricks on cutting the cord and other tech topics be sure to join our Facebook Page.
Join Millions of Cord Cutters
Disclosure: Grounded Reason is supported by a small commission for purchases made through some product links on this website. We do not accept compensation from companies attempting to sway our review of products.