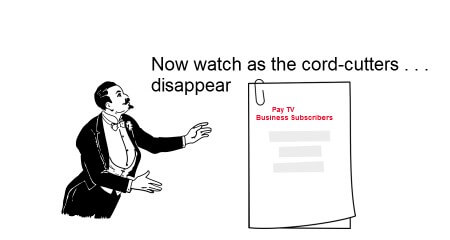 We spend a lot of time at Grounded Reason writing about how to cut the cord on cable. So naturally I have an interest in how many people are actually getting their TV and movies without a subscription to cable or satellite TV.
Lately, this topic has repeatedly surfaced in media reports. Typically, major media outlets get this type of information from their Wall Street desk from data derived from cable and satellite company subscriber numbers.
The Issue with Pay TV Subscriber Data
Using this data to figure out the number of current cord cutters or cord nevers, a problem arises. When companies report the number of cable TV subscribers, not only do they include residential subscribers, but business subscribers as well.
Including subscriptions for all the TVs you find in bars, hotels and gyms around the country will most definitely skew the data in regard to cord cutters.
For example, let's assume a cable company suffers a large amount of cancellations from residential cable TV subscribers. However, that same company has an equal number of new business cable subscriptions. The final result will appear as though no one dropped their cable TV subscription. Meanwhile, residential subscribers are actually fleeing pay TV in droves.

Cord Cutting is Actually Growing
Thankfully, Nielsen provides data based on residential households. I find those numbers much more relevant to the number of people ditching cable and cutting the cord.
The ratings company releases quarterly reports on how households watch TV. I've compiled data from these reports over the past 5 quarters to highlight the U.S. cord cutting trend.
The data is broken into 2 groups by quarter. First, the "Cord Cutters / Nevers" group is the number of U.S. households that watch TV without cable or satellite, using either an over the air antenna, streaming over the internet, or both.
The second grouping, "Cable / Sat / Telco", indicate the number of U.S. households that have a Pay TV subscription with a cable, satellite or telephone company.
U.S. Household TV Viewing in 1,000s
| | 2013 Q4 | 2014 Q1 | 2014 Q2 | 2014 Q3 | 2014 Q4 |
| --- | --- | --- | --- | --- | --- |
| Cord Cutters / Nevers | 12,559 | 13,244 | 14,091 | 14,739 | 15,301 |
| Cable / Sat / Telco | 102,767 | 101,832 | 100,935 | 100,596 | 100,769 |
These numbers show that 15.3 million households in the U.S. watched TV without a cable or satellite TV subscription by the end of 2014. That's an increase of almost 3 million households compared with the end of 2013.
Furthermore, about 9 million of those watching TV without cable also have a broadband internet connect allowing use of an over the top streaming device like Apple TV, Roku, Chromecast, or Amazon Fire TV. That's a lot of people getting by without cable TV. Certainly more than some reporters would lead us to believe.
But the Number of Cable TV Subscribers . . .
Numerous media outlets rely on external research firms for information gauging the number of people cutting the cord. The Leichtman Research Group is one of the research firms that tracks this type of information. However, Leichtman simply looks at the subscriber number regardless of it being residential or commercial. NPR recently reported that Leichtman pegged the number of pay TV subscriber losses at only "125,000 in 2014."
How can Nielsen show declines in pay TV households numbering close to 2 million and the Wall Street data only come in around 125,000 lost subscriptions? Considering Nielsen is only surveying residential households I would look toward business pay TV subscriptions as the reason for this discrepancy.
Unfortunately, many in the web news / blogosphere are also quoting these misleading numbers. Chris O'Brien at Venture Beat used the report to express:
"Cord cutting in general remains less of thing than many pundits would have you believe."
Will Richmond at Videonuze used the data to claim:
Despite all the talk of massive cord-cutting being just around the corner, evidence continues to demonstrate that the U.S. pay-TV business remains relatively healthy.
Daniel B. Kline at The Motley Fool had this to say:
That's a trickle, not a flood, and it shows that while cord cutting may happen at some point, it's not happening yet on a widespread basis.
However, not everyone ignores the indicators of people leaving pay TV in favor of the industry data. Jared Newman at Techhive drew a conclusion similar to mine from the Nielsen research saying:
The number of Internet-only homes more than doubled year-over-year in the fourth quarter, from 1.3 million to nearly 3 million.
And Sarah Perez at Tech Crunch found this juicy nugget in the Nielsen data:
"two in five U.S. households now subscribe to a streaming service like Netflix, Amazon Prime or Hulu Plus"
To Sarah and Jared's point, with 40% of the country already subscribing to a streaming service and the number of broadband only customers more than doubling in a year it hardly seems that cord cutting is "negligible." Combine their views with the compiled data table above, I would say cord cutting is obvious and hard to ignore.
To be fair, pay TV did see a gain of 173,000 households between quarters 3 and 4 of 2014. Although, that pales in comparison to the more than half a million households that joined the ranks of cord cutters and nevers over that same time. This is an indication that a larger number of newly formed households are opting for over the air and streaming alternatives instead of satellite and cable TV options.
To look at this from another perspective, by the end of 2014, 13.2% of U.S. households were watching television using only over the air antennas and over the top streaming devices. At the end of 2013, that number was only 10.9% of U.S. households. Therefore, within 1 year the number of households watching television without a cable or satellite subscription increased by over 20%.
Contrary to the minor pay TV subscriber losses reflected in the industry data, the numbers from Nielsen paints a dire picture for cable and satellite TV providers. The data clearly shows that nearly 2 million American households have dropped their cable, satellite and fiber TV subscriptions last year.
Furthermore, it's easy to see those households shifting to broadcast and broadband only television. Unless of course, you use the data provided by the cable and satellite companies to shareholders. Then, the reality facing the pay TV industry is a bit harder to grasp.
Data Sources
http://www.nielsen.com/us/en/insights/reports/2015/the-total-audience-report-q4-2014.html
http://www.nielsen.com/us/en/insights/reports/2014/the-total-audience-report.html
http://www.nielsen.com/us/en/insights/reports/2014/shifts-in-viewing-the-cross-platform-report-q2-2014.html
http://www.nielsen.com/us/en/insights/reports/2014/more-of-what-we-want.html
Need More Information?
If this article didn't answer your specific question, head over to our Home Page! It will guide you to affordable internet providers, streaming services to meet your needs, information on antennas, and many more tools and resources to help you save money on TV and Internet access.
For tips and tricks on cutting the cord and other tech topics be sure to join our Facebook Page.
Join Millions of Cord Cutters
Disclosure: Grounded Reason is supported by a small commission for purchases made through some product links on this website. We do not accept compensation from companies attempting to sway our review of products.